Savvy Stadiums – Take me out to the high-tech ballgame
November 2015: Olympic.ca is exploring the evolution of sport – more stories.
The price to attend a sporting event just seems to keep going up. A high-end product on the field can keep fans filling the seats, but so too can a high-tech stadium.
TV broadcasters have found ways to improve the watching experience and truly bring sports fans into the game. So why pay to see them in-person anymore? Team owners and stadium managers have realized they need to get with the times. Many have begun stepping up their game by adding new technology to their repertoires in hopes of attracting more fans and keeping them entertained while on-site.
Here are some innovations to keep an eye out for at your local stadium:
WiFi and 4G
Imagine going to a sporting event and NOT tweeting, snapping or posting on Instagram. What's the point of going then? In 2015, most stadiums have caught on that fans need WiFi or strong cell signal to engage with the game and stay updated via apps.
https://www.youtube.com/watch?v=TLtrJCFNeX0
It's not always easy to provide connectivity to thousands of people in a congested space, but it's becoming much easier to accomplish. Levi's Stadium (home of the NFL's 49ers) opened in San Fransisco last year, featuring over 400 miles of cables and 1,200 antennas serving their WiFi routers.
Game-Day Apps
Many teams and leagues have developed apps to show fans replays and statistics on the fly. Stadiums are now catching on and are also developing their own game-day apps. Do you want to reserve a parking spot, order food to your seat, keep an electronic version of their ticket, and even determine wait times at washrooms or concessions stands? Don't worry, there's an app for that. Or there will be one soon enough.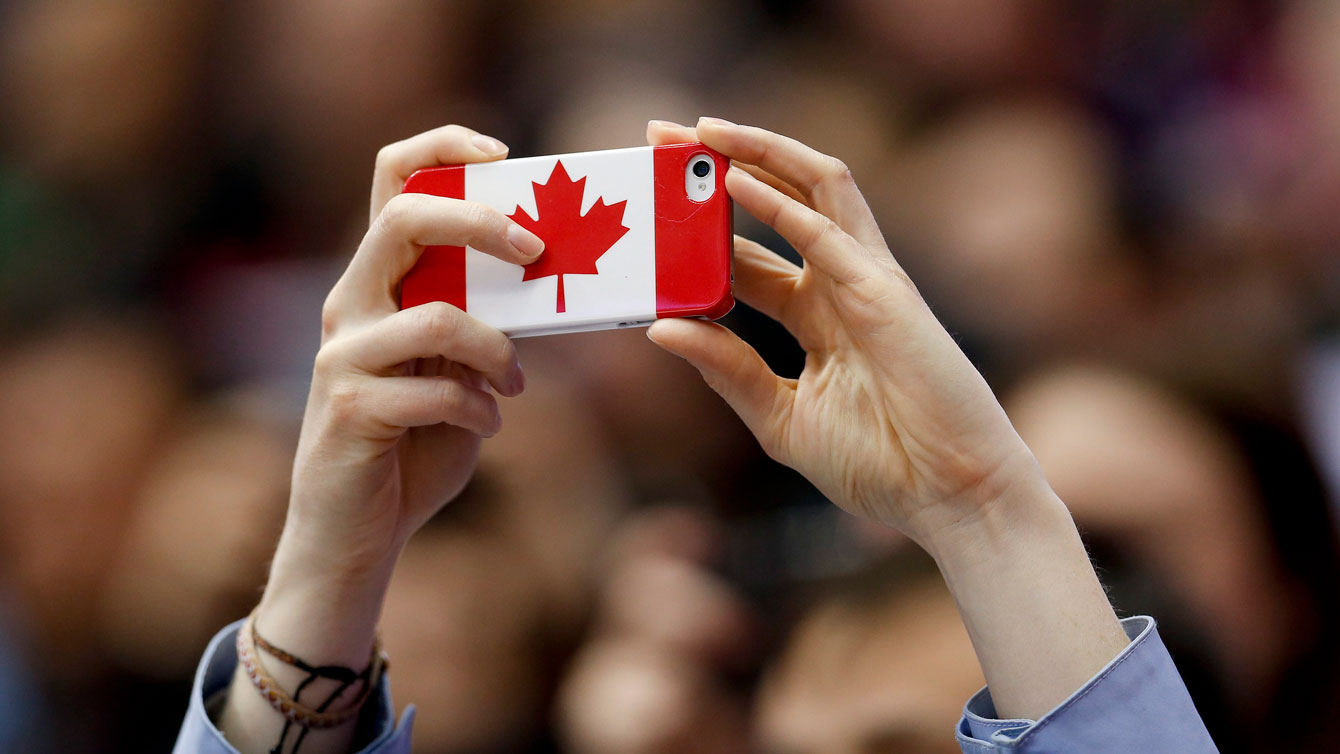 Charging Stations
What good is being able to use your phone at the game if it just dies while you are there? In today's digital age, many stadiums offer charging stations, equipped with any charger you could need, where fans can watch the game while charging their portable devices.
Drones & New Camera Angles
Many of the new apps also feature the ability to watch games from unique angles. At its simplest form, cameras are set up throughout the stadium to provide new angles to watch the game (behind the bench, in the rafters, etc). Some are taking it to the next level, though. For example, the Sacramento Kings have started flying drones through the stadium during practise and games to offer cool, new vantage points.
https://www.youtube.com/watch?v=35Zj3mo3JIg
iBeacon technology
One of the newer trends is the use of Apple's iBeacon transmitters to communicate with fans on-site. iBeacons use Bluetooth low energy signals to send messages or provide directions to nearby devices. Fans can now receive a welcome message when they arrive, directions on how to find their seat, and special concessions or merchandise offers. The Golden State Warriors use iBeacons to offer fans sitting in the upper sections a chance to upgrade to better seats. The Warriors claim that 15% of all seat upgrades are directly tied to these beacon notifications. 
Controllable LED Panels
Finding new and innovative ways to keep fans entertained is key to creating a good atmosphere. Prior to London 2012, over 70,000 panels featuring more than 630,000 LEDs were installed throughout the Olympic Stadium. During the Opening Ceremony, the organizers were able to use the LEDs to create messages and designs that brought the stadium to life for those on-site and at home.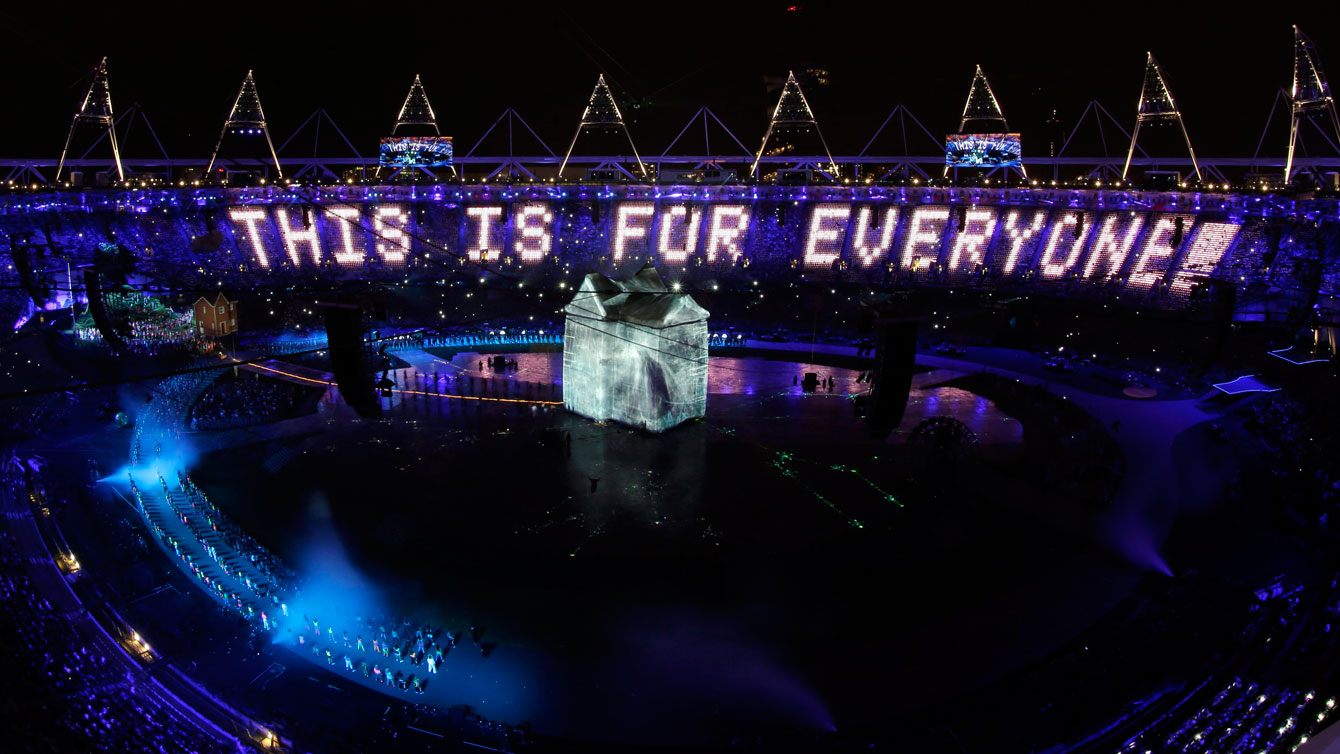 Cool Digital Executions
Is there anything more powerful than seeing a stadium filled with cheers of fans all donning the same colour? Technology offers new ways to bring a fanbase together. With one click on an app, the Dallas Cowboys' "Unite This House" execution uses the flash and vibrator on fans' cellphones to create a unified buzz throughout the stadium.
Fan Engagement Screens/Walls
Another way in which to help fans feel more connected to the game, many stadiums have started to pull in social media posts from their fans and display them on massive screens or walls. Allowing fans to see their own Tweets or Instagram posts in the stadium is a fun and easy way to improve their overall experience.
https://www.youtube.com/watch?time_continue=2&v=_Rgb3g3Gdv8
Unique In-Stadium Experiences
Some teams are looking at more original ways to entertain fans at the game. Last season, the Atlanta Hawks hosted a special Tinder night, called "Swipe Right Night", where fans could use the dating app to connect, and then meet in-person to watch the rest of the game from the Swipe Right Suite. Meanwhile Levi's Stadium, mentioned above, features a special Yahoo Fantasy Football Lounge, where certain fans can watch the game live, while keeping up with their fantasy team.
Loyalty Programs
If you are a true fan, then you are probably part of your team's official fan club (like our amazing Canadian Olympic Club). Many of these digital memberships include the ability to gain points by doing actions on-site. For example, the Montreal Canadiens' Club 1909 rewards fans for attending games, checking-in on social media and purchasing items at their boutiques and kiosks.
Virtual Reality
How cool would it be to watch a sporting event from the centre of all the action? Using virtual reality, teams can bring fans right into the stadium without having to leave their homes. The NBA recently broadcast the opening game of the 2015-16 season in VR. As it improves, users will be able to walk around the stadium and watch the game live from the middle of the field of play. It's not quite there yet, but the video below gives you an idea of how revolutionary this technology will be.
VR will actually make it a lot harder for stadiums to attract fans, but it is way too cool not to include on this list.
Did we miss any other cool technology? Let us know on Twitter or Facebook.