One Year Later: Reflections on Rio 2016
Oh how time flies.
One year ago, Team Canada was on its way to its best-ever medal haul at a non-boycotted Olympic Summer Games. There were so many outstanding performances by our athletes, who each had their own compelling story.
RELATED: Who won Canada's 22 Olympic medals in Rio?
But there was also a team behind that team, including those of us at Olympic.ca who did our best to give you, the fans, everything you were looking for from Rio. While on the ground, great memories were made. Here is just a glimpse of what we witnessed.
The Kids of Ipanema – Stephen Hosier
I arrived in Rio with Team Canada's digital team about a week before the Games began. It wasn't my first time visiting the city, but the vibe this time was certainly different than before. Just a few months earlier I had landed my dream job with the Canadian Olympic Committee as their video producer and now here I was landing in the host city for the Games of the XXXI Olympiad to capture Canadians chasing gold on the world's biggest stage. To say I was excited would be an understatement.
But before I hit the Olympic venues, I hit up Ipanema Beach with my camera to see what the locals were up to on the eve of the Olympics. With so much anticipation for the largest sporting event in the world now just days away, it came as no surprise that the locals were energetic and keeping active – a quintessential characteristic of Brazilian culture, of course. Here's a sampling of what we saw:
"It's Canada's Medal" – Beth MacDonnell
As a rugby fan, the Olympic debut of rugby sevens was much anticipated for me. Knowing that our Team Canada women's squad was a strong medal contender made it that much more exciting. I've always known that the Olympics were a time that united our country, but what I didn't expect was how tightly it brought together athletes from different sports. The sense of pride that every athlete I encountered had in competing for their country blew me away.
RELATED: Canada wins rugby bronze at inaugural Olympic tournament in Rio
My favourite memory and best example of this came just after the Canadian women triumphed over Great Britain to win bronze in the inaugural Olympic rugby sevens tournament. Just minutes after she received it, Captain Jen Kish offered me her medal, telling me "Try it on, it's Canada's medal".  After the seconds, minutes, hours, days, weeks, months, years of preparation and hard work that she had put into winning this medal, Kish humbly passed her medal to me to drape around my neck. The fact that she was able to dedicate so much of herself to bringing home this medal and at the end of the day still felt that it was the entire country that earned it, taught me a new level of gratitude. These Olympians will probably never know the extent of the happiness and inspiration that they bring others, but that feeling was one memory that I will never forget.
Reunited at Last – Camille Wallace
RELATED: Benfeito and Filion, one last in sync Olympic dive for bronze
Growing up, I always loved seeing Olympians celebrate their performances, especially when it meant they jumped over the stands to hug their families. However, it wasn't until I was on site in Rio that I realized many athletes didn't get this moment until hours later.
After divers Meaghan Benfeito and Roseline Filion won their second Olympic bronze in 10m synchro, they went straight into their media tour – which can take hours – without getting to see their families who were watching in the stands. Several athletes have to wait until after media appearances to finally see their families, however when the diving duo arrived at Team Canada's stop for a Facebook Live, we had their families waiting to surprise them.
Watching Meaghan and Roseline become filled with excitement as they rushed over to their parents – and vice versa – was one of the most heartwarming moments I had in Rio.
The Longest (Greatest) Night – Paula Nichols
I love watching swimming at the Olympic Games, so I couldn't have had a better assignment for the first week in Rio then to spend each night at the Olympic Aquatics Stadium. It got even better when Canadian swimmers won medals on six of the first seven nights and I was able to see firsthand their disbelief about the moment mixed with their belief in themselves. But there was no crazier night than when Penny Oleksiak won gold, pulling up from seventh after the first half of the 100m freestyle final.
RELATED: Penny Oleksiak: "She's awesome"
When she touched the wall and one red light appeared on her start block, I was so enthralled as a spectator that I grabbed the arm of my olympique.ca colleague Steve Boudreau so hard, I may have left a bruise. Then all heads swiveled to the results board and you could hear the buzzing as there was first confusion and then understanding of what it showed: identical Olympic record times for Oleksiak and American Simone Manuel. Writers for other National Olympic Committee websites congratulated me on the gold (though I personally had nothing to do with it) as I sprinted down a couple flights of stairs to the mixed zone where the great wait to talk to the Olympic champion began. It wasn't until after the medal ceremony and a press conference that Oleksiak came face-to-face with reporters. At almost 1:00 am, I walked out of the pool but my night wasn't over; there was still a story to write. It was 3:30 am when I finally went to sleep, re-living one of the most exhilarating events I had ever seen in person.
A Marathon of Sprints – Ariane Desrosiers
RELATED: Often in sync, Benfeito relishes individual Olympic podium
The team in Rio was always reminded that "covering the Olympics is a marathon, not a sprint". But let me tell you, despite that fancy motto, I did break a sweat more than once trying not to miss a medal moment – especially on August 18. At 6:30am I was already on the media shuttle to the Main Press Centre in the Barra Olympic Park to follow kayakers Hugues Fournel and Ryan Cochrane in the K-2 200m final on our TV screens. When that was over, I switched my focus to the preliminary rounds of about 10 different events in track and field, cycling and diving. Then I was off across the Park to the Maria Lenk Aquatics Centre to witness diver Meaghan Benfeito win her bronze medal.
But the clock was ticking towards the gold medal match for wrestler Erica Wiebe. So in less than an hour I had to publish a story, run to mixed zone to record Meaghan's thoughts and then zip through the Park to the Carioca Arena. I got there just in time to watch Erica's match from that mixed zone with a few other Canadian journalists before she came through in tears with a big smile on her face. The Games really are one heck of an emotional roller coaster, and that day's ride wasn't even over. Later that evening, Andre De Grasse grabbed the silver in the 200m to keep the crazy cycle going.
RELATED: Erica Wiebe's journey from "random person" to Olympic champion
It's a Small World After All – Mark Nadolny
The Main Press Centre (MPC) at the Olympic Games is filled with journalists, sport officials and other media members (including us social media types) from all over the world. You get the opportunity to interact with so many different people from all walks of life. There are also opportunities for "small world" moments. For me, one of those moments took place while I was heading for lunch one day.
Team Canada has one of the most recognizable uniform kits at the Olympics and upon noticing the maple leaf on my shirt, a man clad in Team Bulgaria gear stopped me to introduce himself as Georgi and ask where in Canada I lived. When I told him that I was from Ottawa, I could see excitement on his face and he said, "Really? I as well grew up in Ottawa. I went to Lisgar Collegiate High School and graduated in 1981". This completely shocked me. I had travelled over 8000km from Canada to Brazil, only to meet a man from Bulgaria who happened to go to the exact same high school as me 25 years prior. If that's not a "small world" moment, then I don't know what is. I have many sport-related memories from my four weeks in Brazil, but I never imagined to meet a new friend. Hope all is well, Georgi.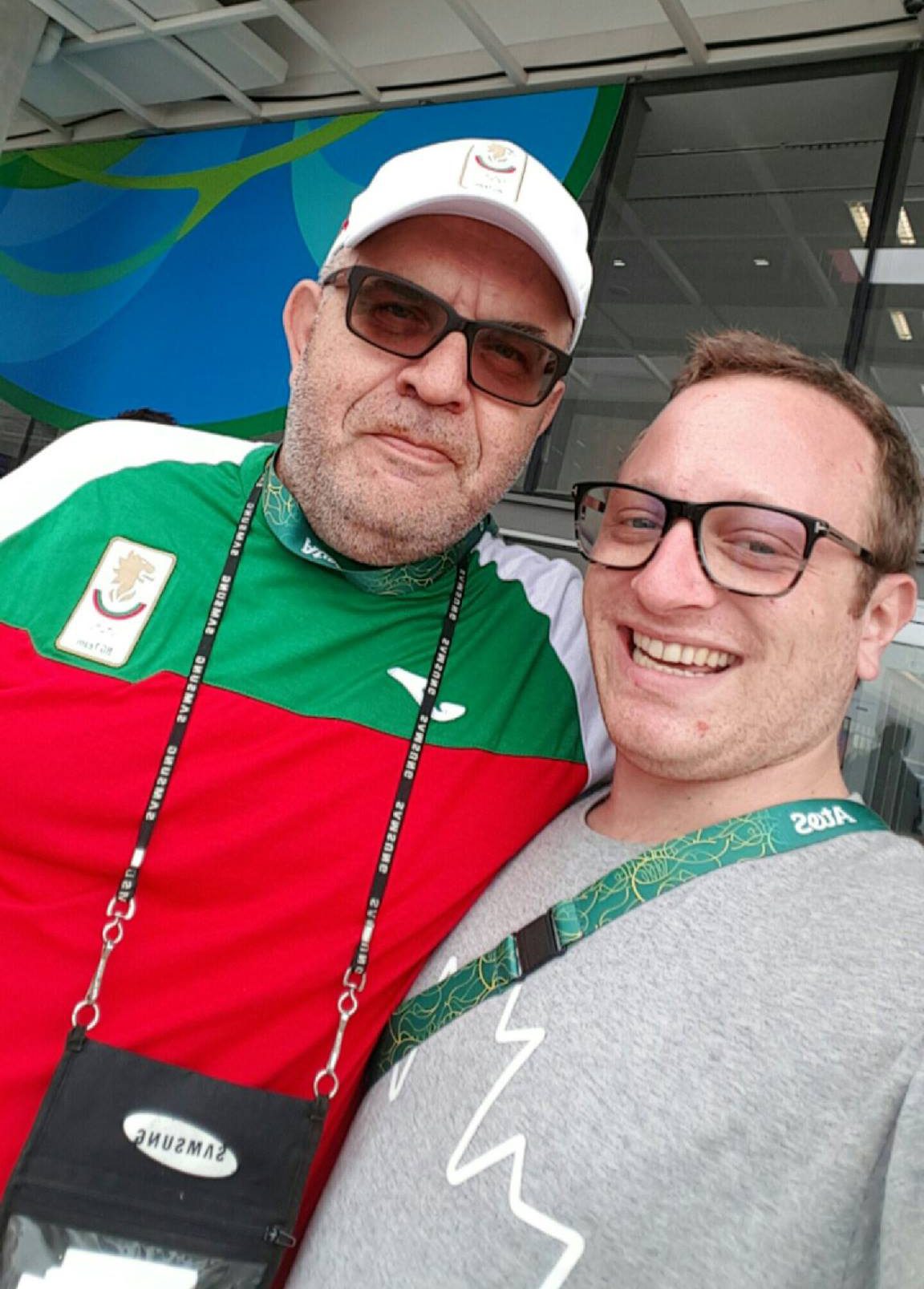 Olympian Cheerleaders
The life of an elite travelling athlete often comes down to the four walls of their hotel room and the mirror in their gym. So part of what makes the Olympic experience special is that Olympians sleep, eat, and lounge under one roof. A lot of memories were made in the Canadian quarters at the Vila dos Atletas (athletes' village) in Rio, in particular on the night of August 18.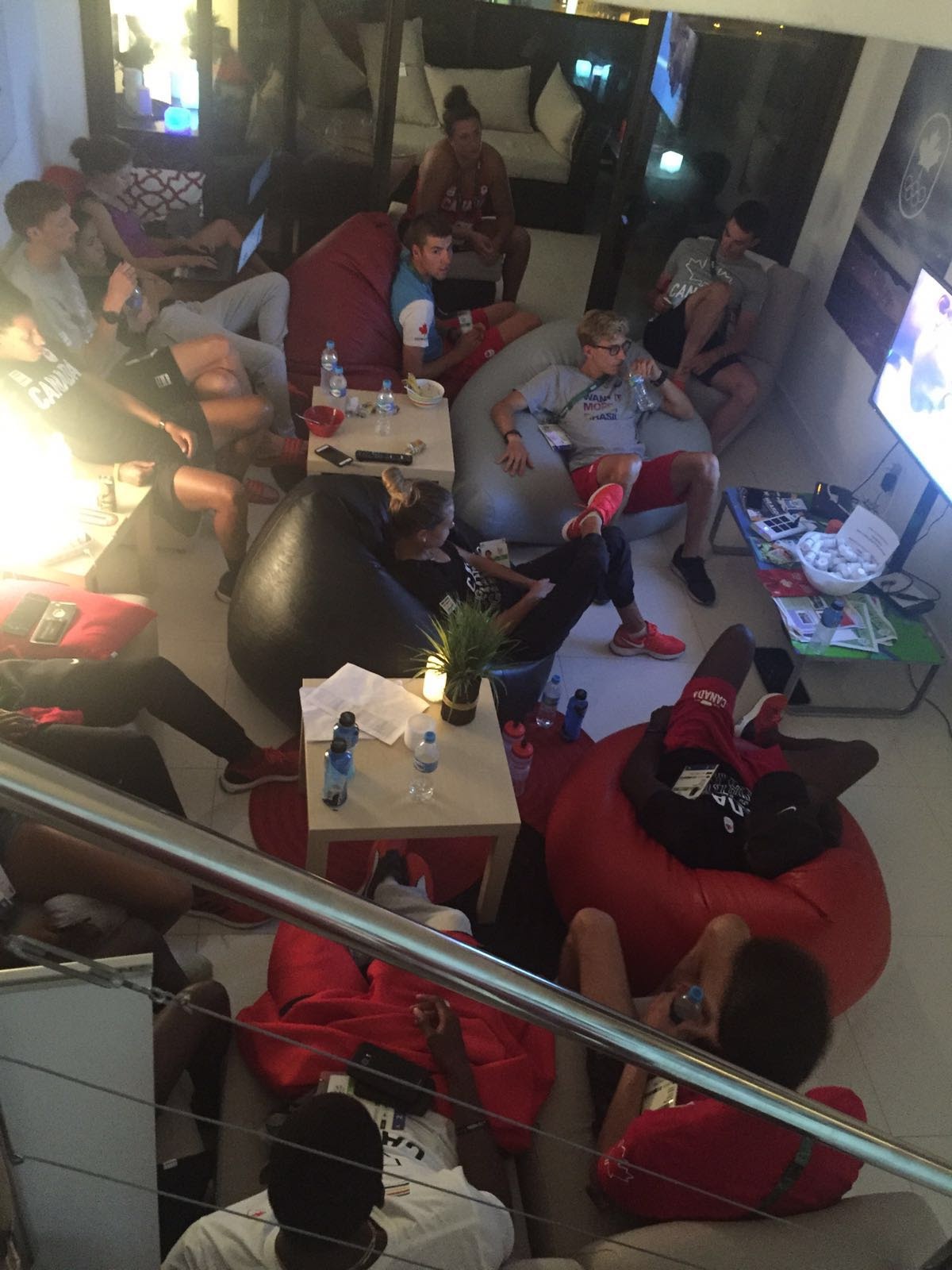 With all the TVs in use, a dozen athletes were found all crammed inside a room no bigger than a closet to watch track and field finals. Evan Dunfee, Angela Whyte, Taryn Suttie and Heather Steacy from athletics were there with cyclists Allison Beveridge, Jasmin Glaesser and Kate O'Brien as well as divers Philippe Gagné, Meaghan Benfeito and Jennifer Abel, not to mention basketball players Michelle Plouffe and Kia Nurse. No one wanted to miss a second of the action so they had pulled furniture out of the room so everyone could kind of see the TV. There were athletes on the sofa, on the floor and even sitting on folding chairs brought in from outside. Funny in the moment, it's actually something really special because when you sit back and reflect on it, you have people from so many different sports who are all great in their own way – including Olympic medallists – with a perfect mix of older and younger generations all bonding over this one moment.