Canada's best divers aim podium high at Gillette Canada Cup
For Canada's top four divers, 2014 is going well, which makes the mood at this week's Gillette Canada Cup very positive.
Olympic medallists Jennifer Abel, Meaghan Benfeito and Roseline Filion along with 2013 World Champs medallist Pamela Ware will compete this Thursday through Sunday. This is a Grand Prix event, which features a mix of international and Canadian talent. After three World Series stops, (the more elite tour), the group has eight medals between them. The Grand Prix in Gatineau is another chance to beat the world.
When you talk diving, the Chinese women come up a lot. They lead all world rankings right now. But on the 10-metre tower, Meaghan Benfeito is coming off a World Series silver, last week in London, UK. This is important: She finished ahead of World Series leader, China's Liu Huixia. Benfeito is also the Gillette Canada Cup defending 10-metre champion.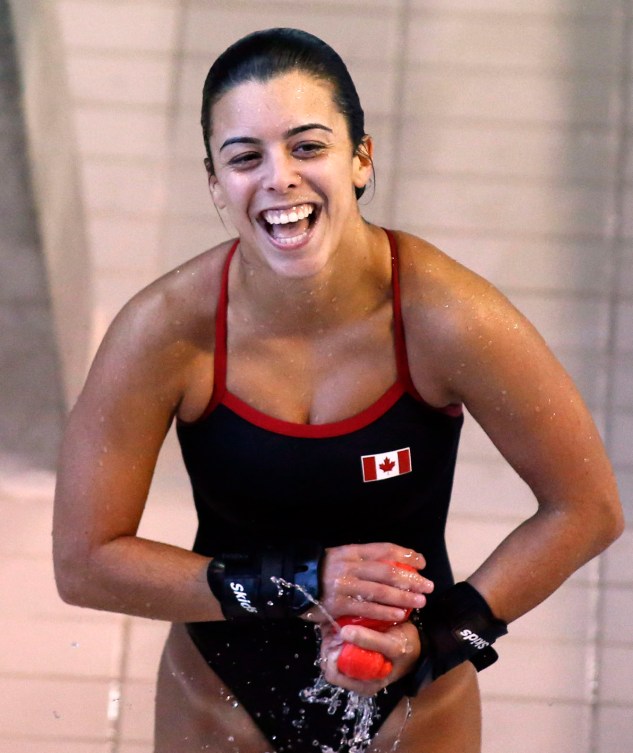 In Gatineau, Benfeito imagines the Canadian fans, "I like diving in front of a home crowd when it's not in Montreal," she laughs, "having competition at home is always good for us, for people to see us and come a cheer for us, just having the fans in the stands screaming makes us dive better. It gives us a lot of energy."
The Gatineau Sports Complex is all dressed up for the competition. The Gillette Canada Cup isn't only for the fans, the divers need this competition to go well. "Canada Cup is part of the trials for Commonwealth Games and World Cup so I need really good scores here," said Roseline Filion, looking ahead to this summer's premier competitions. She has begun well, and talks of extra time spent training through Christmas, with sparse competition, pushing her dives to the next level. She has made the podium in the 10-metre synchro next to Benfeito at each of the first three World Series, (two bronze and one silver).
On the 3-metre springboard, 21-year-old Pamela Ware is the youngest of the group, but she has rapidly established herself. As a World Series rookie, she is third in the standings. Before she only went because synchro partner Jennifer Abel had qualified, "This year now that I've qualified to do the World Series on my own it's been amazing, I'm diving super well and I hope I can keep it up for this week and the rest of the year," says Ware. She has been around the other three for some time, learning and developing. Being in a tandem with Abel was crucial. "I did the World Series in 2013 and World Championships in 2013 as well. I think that's where I understood I can be good and I should have more confidence in myself," she adds. We're not sure where the confidence clicked but we suspect it might have been on the podium after winning 2013 World bronze in the 3-metre springboard.
If you're interested, the Gillette Canada Cup can be seen here and will also air on Sportsnet and RDS, (TV schedule). For the athletes, it's good practice diving in front of Canadian fans. The first-ever World Series event in this country is at the end of the month, May 30 – June 1 in Windsor.