Canadian round-up: Skaters impress, Raonic finals, and Humphries debuts against men
Encouraging figure skating performances
Two Canadian ice dance teams made the podium at Skate Canada International, while Meagan Duhamel and Eric Radford won the pairs event during a successful Grand Prix event for Canada.
On Saturday night Kaitlyn Weaver and Andrew Poje, the world silver medallists who are now Canada's number one dance team with Tessa Virtue and Scott Moir spectating, posted the highest score in the world this season to skate to gold ahead of Piper Gilles and Paul Poirier. Americans Madison Hubbell and Zachary Donohue were third.
Earlier Saturday afternoon two-time world bronze medallists Duhamel and Radford, also the world's highest scorers this season, captured the first Skate Canada title for a Canadian pair since Jamie Salé and David Pelletier in 2001.
Mixed weekend for Milos
Milos Raonic was runner-up at the Paris Masters, losing to Novak Djokovic to conclude a tournament full of interesting consequences for the 23-year-old Canadian.
On his way to the final, Raonic beat Swiss great Roger Federer for the first time in seven attempts. After that quarterfinal milestone, Raonic got past Czech Tomas Berdych in the semis and in doing so ensured a berth in the ATP World Tour Finals (beginning in London this Sunday).
In the final on Sunday, Djokovic cruised past Raonic with a 6-2, 6-3 win. Looking ahead to London, this morning the ATP announced Raonic will be in Group B with Federer, Kei Nishikori and Andy Murray. Group A is Djokovic, Stan Wawrinka, Berdych and Marin Cilic. Raonic is the first Canadian and the first player born in the 1990s to qualify for the ATP World Tour Finals.
Humphries third in 4-man debut
On Sunday, two-time Olympic champion Kaillie Humphries took bronze at her first national championships piloting a 4-man sled, one day after easily winning another women's 2-man national title.
SEE ALSO: "I could not be happier": Kaillie Humphries reacts to mixed gender bobsleigh
Olympian Justin Kripps won the 4-man race in 1:50.91 ahead of another Olympian, Chris Spring, who clocked 1:51.37. Humphries raced to a time of 1:52.10 with her crew of Dan Dale, Joey Nemet and D.J. McClelland. They will now embark on the North America Cup circuit to earn race experience and try to qualify for a World Cup berth.
Kripps was also tops in the men's 2-man race, which was in fact his first national title. On another note, Humphries and new brakeman Melissa Lothalz won the women's crown by nearly three seconds.
Silver swimmers
Two-time Olympic medallist Ryan Cochrane and his Canadian teammate Coleman Allen both won silver medals in Singapore to conclude the FINA Swimming World Cup season.
For Cochrane it came in the familiar 1500m freestyle. His time of 14:35.97 was enough to beat South African bronze medallist Myles Brown but a reasonable distance behind Hungary's Gergely Gyurta who won in 14:28.35. The results are the fastest two times this year as Cochrane continues to tune up for the short course (25m) World Championships in Doha, Qatar next month.
Coleman Allen hammered his previous best time to win a silver in the men's 200m individual medley. The 21-year-old used great speed over the first 100m to finish in a time of 1:56.44. Two Japanese swimmers finished first and third, Daiya Seto winning in 1:54.14 while Takeharu Fujimori was two-tenths behind Allen in 1:56.68. London 2012 Olympian Alec Page was fifth.
Beach boys
Canada's Josh Binstock and Sam Schachter won the US$150,000 FIVB Paraná Open by beating Chilean cousins Esteban and Marco Grimalt 21-14, 21-12. The gold is Canada's second-ever on the FIVB World Tour and first since 1996.
"We are obviously ecstatic about our performance and result here in Argentina," said Binstock who was 17th at London 2012 with Martin Reader.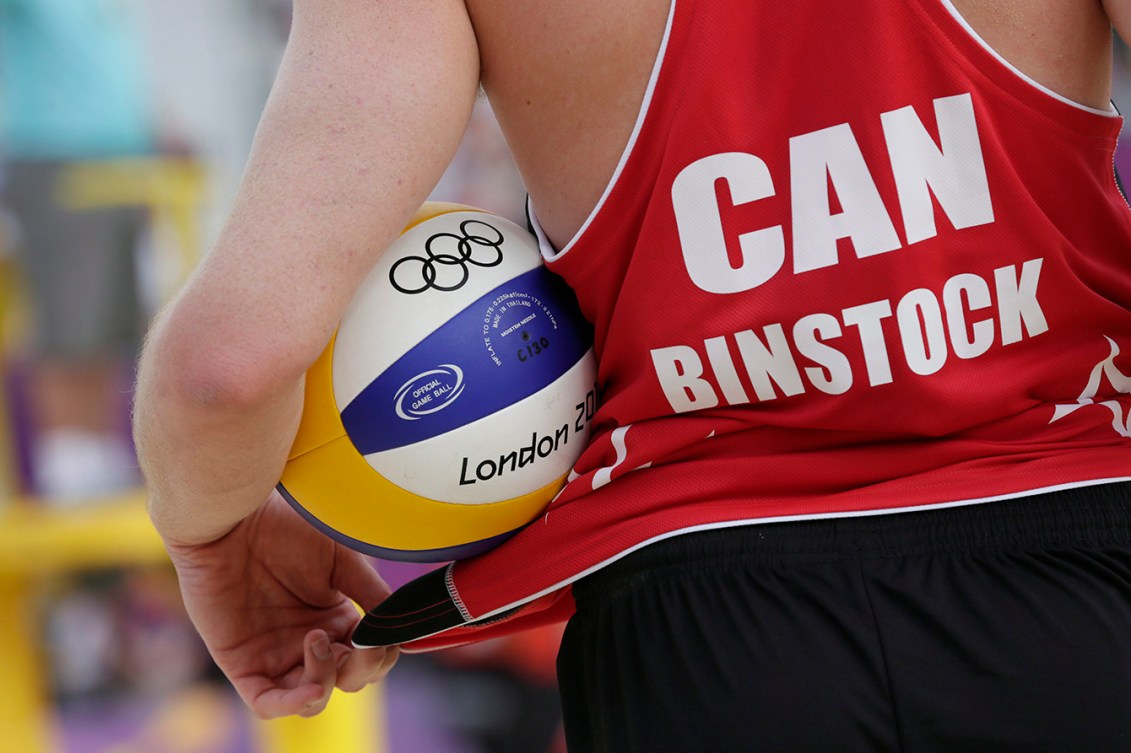 What's more is Albertans Chaim Schalk and Ben Saxton, the tournament's top-seeded pair, won bronze by defeating Germany's Thomas Kaczmark and Sebastian Fuchs. The win meant that for the first time in the history of the FIVB World Tour, two Canadian teams shared a podium.
Maple Notes:
Canadian judokas won three medals at a Grand Slam competition in Abu Dhabi, concluding over the weekend. London 2012 bronze medallist Antoine Valois-Fortier won silver in 81kg to move up to second in the world rankings, Quebec's Patrick Gagné won his first Grand Slam medal with a bronze in 66kg and world number four Kelita Zupancic was third in 70kg.
And…
Curling is back. Olympic champion Brad Gushue of St. John's, NL won the Masters Grand Slam of Curling event with an 8-6 win over Mike McEwen's rink from Winnipeg. Sunday's final in Selkirk, MB was full of great shots. Despite losing, McEwen threw this beauty in the 6th end to make it close:
Edmonton's Val Sweeting won her first Grand Slam title by beating Sweden's Margaretha Sigfridsson 5-4.