Coaching: The inside track with Gilmore Junio
From Canadian Olympic Foundation
To celebrate the one-year anniversary of Canada's success at the Sochi Games, the Help Build an Olympian campaign has partnered with six Sochi Olympians. Read their stories to learn about how the performance pillars fueled our athletes to Olympic victory.
Coaches play many roles. In addition to technical sport experts, they serve as leaders, motivators, support systems, parental figures, friends and mentors. Coaches inspire athletes to world-class performances. They set team culture. It is the coach's role to help athletes discover their own motivation. Even if that motivation isn't for an athlete's personal success – but for the success of the team.
"Speed skating is a team sport," said Gilmore Junio. "But it's a team sport where individuals compete."
More than a year after the Sochi Games, the world knows Gilmore and his incredible act of sportsmanship in Russia. You can read more about it here. It's an amazing story, and is completely indicative of Gilmore's character. It also speaks to the camaraderie that exists on the Canadian long-track speed skating team – a team philosophy that ultimately begins with the coaching.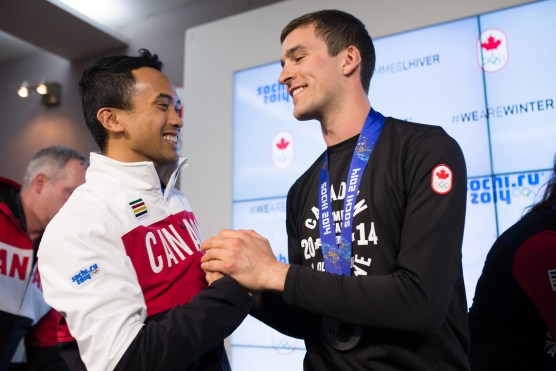 Gilmore began speed skating at age 13. He'd competed in hockey for most of his youth, but recognized that his smaller stature didn't bode well for a career in the sport. His father saw a television ad for a talent identification camp and a coach there recognized his smooth skating and referred him to join the local club at the Olympic Oval.
"I had a bit of a late entry into the sport," said Gilmore. "But it's not entirely uncommon. Cindy Klassen committed to speed skating at 18, so anything is possible. It's an easy sport to pick up – but it's difficult to master."
Enter a series of high-performance coaches that helped shape Gilmore into the Olympian and young man that he is today.
"Around age 17, 18, I decided I wanted to pursue speed skating as a career. My junior coach, Alan McIlveen, was instrumental in helping me realize what I can accomplish in the sport," said Gilmore. "He always made sure I was skating for the right reasons, and was a major support whenever I was feeling doubtful, or down about a particular result. He helped me develop both as a person and as a skater."
Mike Crowe is Gilmore's head coach today. He's responsible for the sprint training group of long track speed skaters at the national and high-performance development level.
"Denny and I train together, but Mike is my head coach. Over the past 4 years he has taken me from a skilled skater to an Olympic-level 500m specialist," said Gilmore. "He is so committed to our group of skaters and brings so much energy. He's great at calming nerves, and bringing my highs and my lows to a more even keel."
RELATED: Brad Spence's road to recovery
He's also a never-say-die kind of coach. In fact, it's their motto together.
"I had originally thought about giving up my spot in December (when Denny missed qualifying), but I knew Mike would have been disappointed if I didn't commit and prepare for the Olympics as if I was going to race the 1000m. Denny is one of the most decorated speed skaters in Canada. He's a mentor of mine, his gold medal in Vancouver was one of my inspirations to continue skating."
Although a tough conversation to initiate, Mike left the decision up to Gilmore and let Gilmore break the news to Denny himself. It's proved to be the easiest hard decision he's ever made, and has never regretted his choice.
"Our coaches have built a strong sense of teamwork and solidarity throughout the four years leading up to the Games. Ultimately that team environment is what led what happened in Sochi to occur."
Today, Gilmore continues to train under Mike Crowe and calls the Olympic Oval home. He's wrapping up another season following an 8th place finish at the World Single Distance Championships, and is looking forward to a strong summer of training.