Nesbitt announces retirement, shares stories from the journey
The news: On Thursday, three-time Olympian Christine Nesbitt announced her retirement from the sport of speed skating. In 11 international seasons the London-native earned two Olympic medals: Canada's first-ever gold in the women's 1000m, won at Vancouver 2010, and a team pursuit silver medal from Turin 2006. The first woman under 1:13, Nesbitt set a 1000m world record on Jan 28, 2012. She won 124 international medals in her career.
Christine Nesbitt is inside BC Place on February 18th, 2010. Her giant Vancouver gold medal suspends off her neck. Eyes glisten. Silver confetti showers down and as she stands there clutching her victory bouquet, she feels…horribly awkward.
"I was so embarrassed," she admits this week, "I didn't know what to do with my body, I felt so awkward," she laughs. "All I could do was smile and think 'Man, I'm the most un-smooth un-cool person ever."
Well then, coolness is a matter of opinion. The 'awkward' ceremony lives in Nesbitt's hall of best memories from her 12 years as a long track speed skater.
RELATED: Canada will host three speed skating World Cups next season
Her apparent shyness, and admittance to trouble with communication doesn't mean she's passive. Nesbitt's first world title in the 1000m almost never happened, and she spent an entire week not speaking to teammate Clara Hughes as a result.
In March 2009 the skaters were at the Salt Lake City airport after the season's final World Cup. "We were flying back from Salt Lake City to Vancouver," recalls Nesbitt who had World Championships in Richmond four days later, "I had already gone through security and then I couldn't find my passport when we needed to board the plane."
"I was freaking out," she says, and the team left her behind while panicked contingency plans were scripted. One included flying to a town near the Canadian border, and having someone come pick her up. "What am I going to do?" she remembers wondering.
"At two in the morning I'm back at the hotel and I get a phone call."
It was Xiuli Wang, one of the national team coaches: "Clara has your passport," said Wang.
"I was so angry," chuckles Nesbitt, "I flew the next morning to Vancouver and Clara was scared to talk to me, she bought me a book and an 'I'm sorry' gift. I would hardly say a word to her, I was fuming mad."
By the time the pressure of the week subsided, Nesbitt then 23 had won her first 1000m world title. At a dinner afterwards she reconciled with Hughes, who had accidentally grabbed the passport off their lunch table in Salt Lake City. "It was my fault as much as hers for sure," says Nesbitt, "That led to a friendship, she has had a mentor role as well in my career the last five or six years."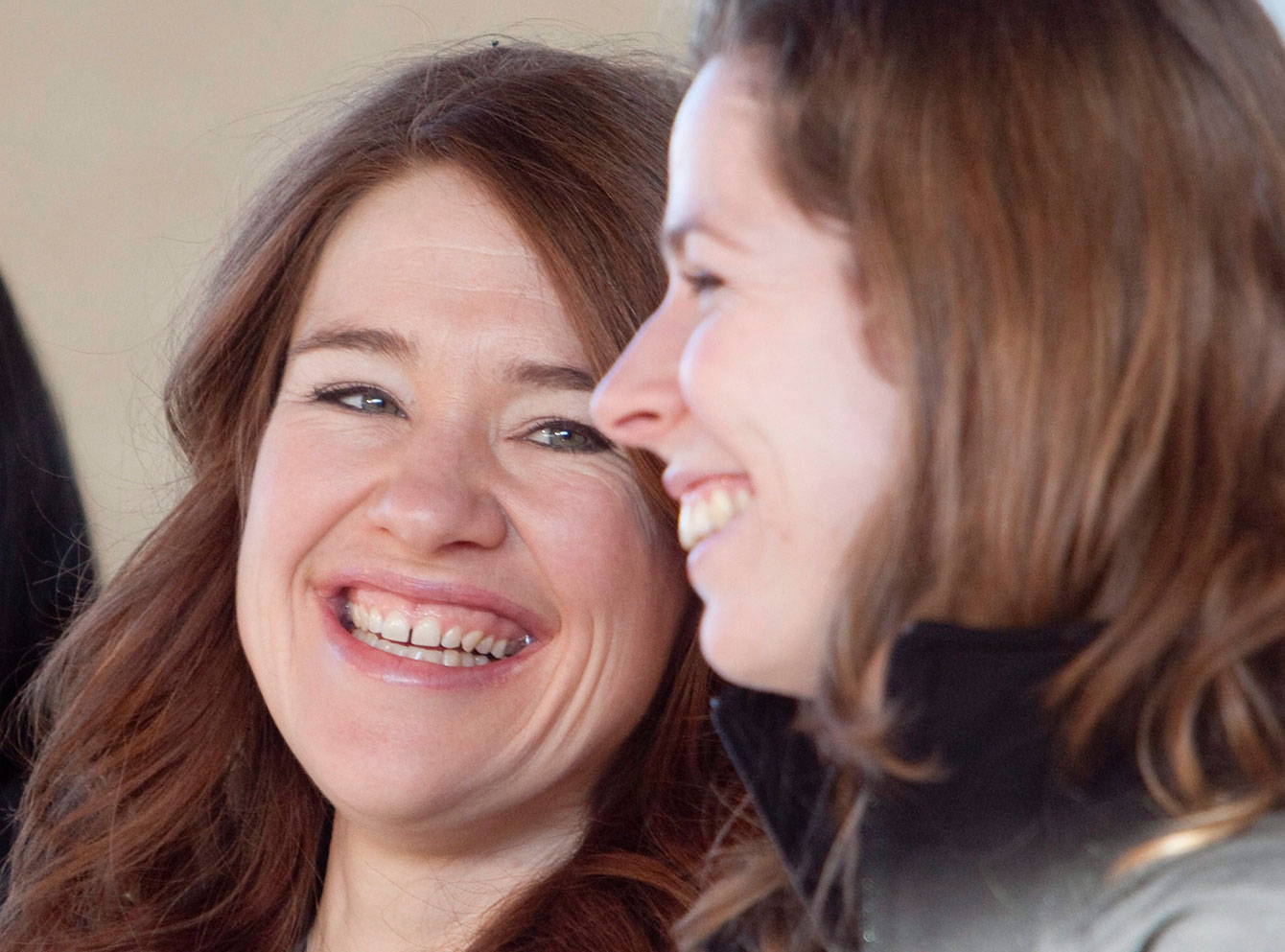 Almost one year after the passport debacle, Nesbitt was back in Richmond skating the 1000m at the Olympics. "In Vancouver I was a mess…I was way too nervous, I was not in the moment," she says. You can see it in the television footage. Her terror before the gun, and dismay at the finish line. Nesbitt won anyway, but barely, even after dominating the world cup season.  "I won that race but it wasn't even fun, it was just a relief that I won the medal everybody told me I was supposed to win." Her mental state was a tornado, but a powerful body pulled her through.
However unhappy and self-critical, Nesbitt had validated almost seven years of work with then coach Marcel Lacroix in Calgary, who helped turn her from transitioning short tracker into an Olympic champion. "He's a fantastic motivator," said Nesbitt of Lacroix's 'infectious' passion. "We just really clicked, for how fiercely I wanted to compete, he fiercely stood by me."
After 2010 it was desirous for Nesbitt to pursue a more complete race compared to Vancouver. The next season she partnered with master technician Xiuli Wang. Together they would refine Nesbitt's skating and improve her consistency. On January 28th, 2012 she became the first woman to break 1:13 in the 1000m, clocking 1:12.68 in Calgary for her first individual world record. Almost four seconds faster than her Olympic gold medal winning time.
"Skating has been a journey to learn who I am," says Nesbitt. "What's beautiful about that race, I can remember the joy in every movement and having complete control."
Over-simplified, the endurance Olympian pursues total command of efficient human movement, orchestrated by the mind, for long periods. Christine Nesbitt has done this. She has also failed to do this, "My 1000m race at the Sochi Olympics was my best Olympic race, ever. My body was what shut down on me." By 2014, Nesbitt had conquered herself but had been dealing with a debilitating left hip injury for almost two seasons. In Sochi her body just couldn't handle the strain of the final lap. She finished 9th.
Nesbitt hasn't skated since then. Coming home she dove back into her honours geology degree at the University of Calgary. She returned to low-impact training in October 2014 but was often derailed by painful injections for her hip and for the patella tendon in her right knee, which she tore compensating for the hip. The treatments left her hardly able to walk, sometimes for days.
By now, the 30-year-old is finding her ailments more manageable. And while her body will never allow her to train like before, she knows it granted her so much, and a contemplative rehabilitation period taught her to be proud, "I've been able to do far beyond what I thought I'd ever be able to do," she says.
Sometimes the body runs out before the mind does.
"I'm really happy to be an Olympic champion and to have had the opportunity to have these beautiful, perfect races."
Christine Nesbitt is completing her degree and will pursue graduate studies upon convocation.