The unique formula behind beach volleyball's improbable success
Cover photo: Jamie Broder (FIVB)
Steve Anderson is an Olympic volleyball coach with a calming southern accent and some interesting ideas.
Currently the head coach of Canada's beach program Anderson likes to tell a story about when he started in the winter of 2013. "We brought everybody into the boardroom and I asked the athletes 'When's the last time you got off a plane and expected to win a World Tour event?'" recounts the Kentucky native.
"I was laughed at. Literally."
Anderson countered, "As far as I know, hockey is Canadian and every Canadian hockey team gets off the plane expecting to win. As far as I'm concerned that's the Canadian sport attitude," he told the room, then filled with Canada's best beach athletes, developing, but at the time still unsuccessful on the world stage.
RELATED: Bansley & Pavan in Prague | Porec
RELATED: Broder & Valjas in Fuzhou | Lucerne
Today, two and a half years later, Canada's top women's teams are ranked first and second on the world-tour. A meteoric rise. Before this season the country had never won a single women's FIVB World Tour medal. Astonishingly, four medals have been won in six events; two for world leaders Jamie Broder and Kristina Valjas, and two for second-ranked Heather Bansley and Sarah Pavan.
Usually the big story, the men are trying to keep up. In early June, Josh Binstock and Sam Schachter won Canada's first men's medal at a 'major' in 18 years (since Child and Heese) and are fourth in the overall rankings. Ben Saxton and Chaim Schalk are ranked 14th.
RELATED: Binstock and Schachter earn beach silver at Porec Major
All this history and no one can really pinpoint why. Which might be the magic. High Performance Director Ed Drakich jokes about the FIVB asking to study Canadian success, "I've got news for you," he told them, "there's no silver bullet, it's everything."
Not currently on the Own The Podium funding list, and with limited resources, Anderson's beach program encourages athletes to hire their own coaches, and train anywhere they feel like. "Steve has a "hands-off" approach, in the sense that he is available to us if needed, but has allowed us to control our own training environment and competition plan with our coach," said Jamie Broder in an e-mail this week.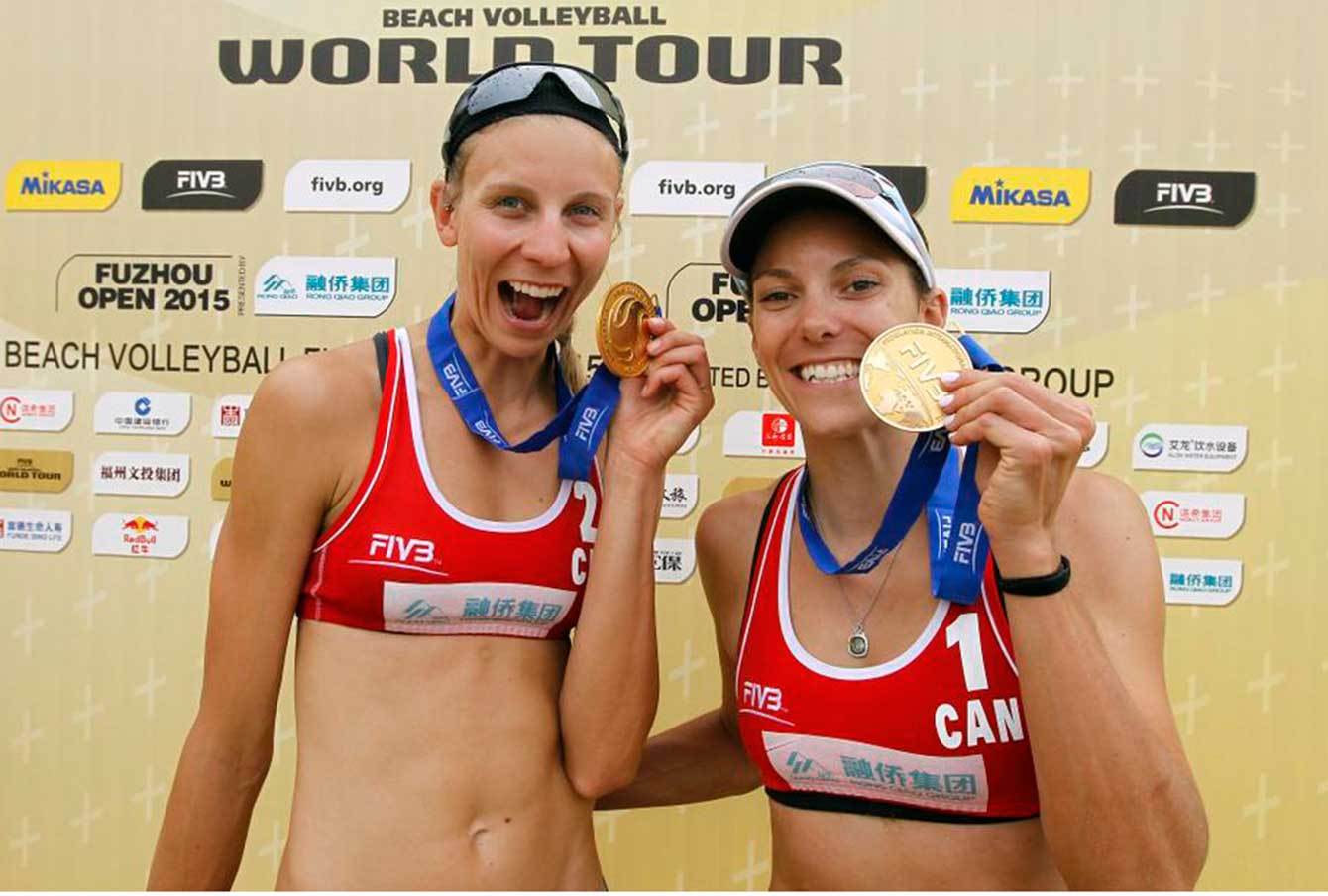 Broder and Valjas train full-time at Volleyball Canada's beach facility in Toronto's Downsview Park. Broder says their personal coach John May 'has made a huge impact' on their development. After indoor training, the top two men's and women's teams will fly south to California for varying lengths of time, to prepare outside in the wind and sun.
So if there is no definite 'why' there are certainly 'why nots'. Drakich estimates the Brazilian beach program has about $8 million in funding. 'Senior carded' athletes like Broder or 2012 Olympian Josh Binstock receive $1,500 per month, 'only enough to cover some living expenses' according to Broder. Drakich has repeatedly called that "bringing spoons to a gun fight," and while the top Brazilians sit in third place behind two Canadian teams, "I'd like to get some funding but we're getting pretty good at tossing spoons right now," he says.
Left to pay for everything from flights to hotels there is always an urgency for Canadian beach athletes. A program-driven meritocracy means they fight for their spots on tour, and when they get there the prize money they win pays for the trip. Broder and Valjas split $11,000 from their season-opening gold medal this season, and Drakich estimates it costs $60,000 per team to travel around during the eight-month beach season.
With the countless variables that can impact a beach volleyball game, it seems at the moment the mix is right for the rising Canadians, "Now that we have established that we are a medal threat and are here to stay, teams are starting to take notice," writes Broder. "The level of competition on tour is so high that we approach all competitors with the same mentality – everything is earned, nothing is given."