Synchro team comes through and defends Pan Am gold
Team Canada's synchronized swimmers have held on to their reign as Pan Am champions.
The group of eight: Gabriella Brisson, Annabelle Frappier, Claudia Holzner, Lisa Mikelberg, Marie-Lou Morin, Samantha Nealon, Jacqueline Simoneau, Karine Thomas with alternate Lisa Sanders topped the podium beating second-place Mexico and the United States in third-place.
As the gold favourites, performance pressure would have been on the Canadians and their 2.2354 point lead after Thursday's technical routine. Speaking of routines it's the same deal as duet; the 'technical' involves a required set of elements while the 'free' is anything a team chooses.
"We wanted a bigger gap from the technical routine, for us two points is not enough," said Calgarian Claudia Holzner, at her first Pan Am Games. The team began competing before Opening Ceremony day and had to wait for their free routine. On Friday they had a planned swim. It didn't happen. They slept a lot instead, arrived rested, "Our swim wasn't that hard, normally it's a really, really hard routine," observed Holzner.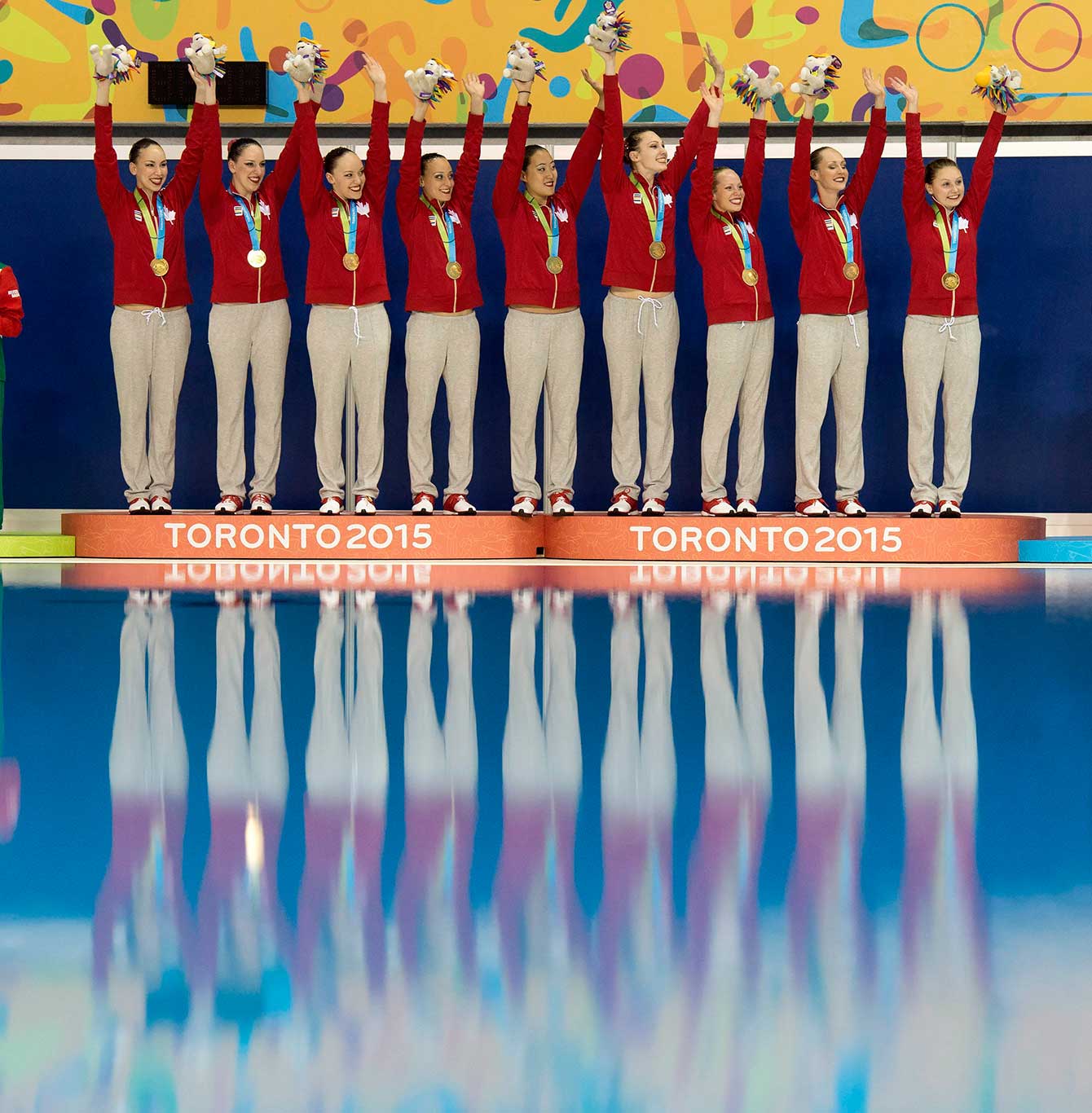 Everyone went to see the ceremony except Olympian Karine Thomas, the only veteran from the 2011 team, who'd been before and stayed home. Thomas and 18-year-old partner Jacqueline Simoneau were duet champions earlier on Saturday. The team is younger, all additions since Thomas went to London 2012, "It was hard, we lost pretty much all of our swimmers after the games, we have a brand new team now. I'm very proud of the work that we've done for the last three years," said the 26-year-old.
In the end, Canada extended their lead to almost six points over Mexico scoring 178.1094 while their Pan American rivals collected 172.5073. The United States swam to 166.0351 points, the combination of their technical and free routines.
The team will hop on a plane tomorrow and head to Slovakia for a training camp before competing at FINA World Aquatic Championships. The synchro competition will be held July 25th to August 1st.