Day 12 Recap: Pan Am's fastest man & 12 more medals
It was another huge day for Canadians at TO2015, with three medals in each of cycling, water skiing and at the track. In total Canada won 13 medals on Day 12.
Canada's other medals on the day came from waterski and wakeboard, boxing, fencing and taekwondo. Canada now sits at 173 total medals: 64 gold, 56 silver and 53 bronze.
Athletics
In the men's 100m Andre De Grasse lived up to the hype, taking gold in the marquee event of Toronto 2015. He ran 10.05 to finish just ahead of Ramon Gittens of Barbados, who ran 10.07, and Antoine Adams from Saint Kitts and Nevis.
Melissa Bishop made a late charge to win gold in the women's 800m. She finished in a time of 1:59.62 to take top place.
In the women's 400m hurdles, Sarah Wells ran her way to a silver medal. Wells ran 56.17 to finish behind American Shamier Little (55.50) and ahead of Deborah Rodriguez who ran 56.41.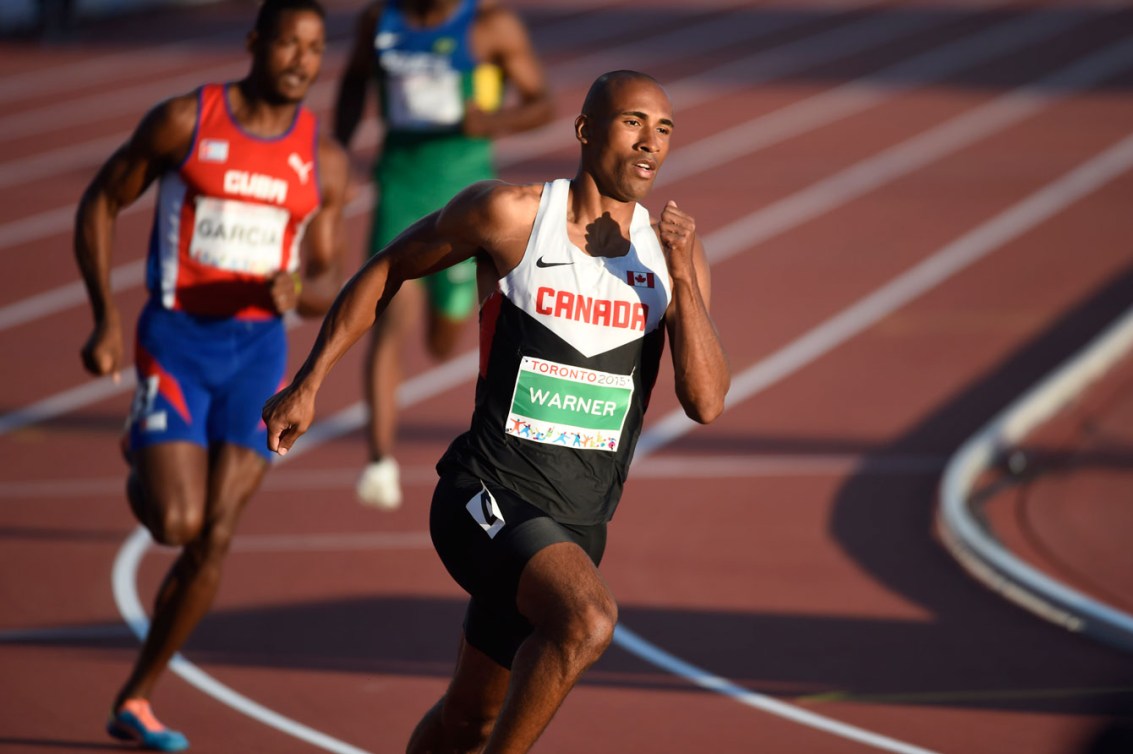 After the first day of competition in the men's decathlon, Damian Warner sits in first place with a score of 3534. He took first place in both the 100m and long jump events. Brazilian Felipe Dos Santos is in second at 3519 and Felix Kurt of Grenada.
Cycling – Road
It was a three medal day for Canada in the individual time trials. In the men's 37km event, Hugo Houle captured the gold medal in 45:13.48, finishing 1:17.87 ahead of silver medallist Ignacio Prado of Mexico. Fellow Canadian Sean MacKinnon, a bronze medallist in the team pursuit, finished 20 second back to take another bronze medal. With many family and friends in attendance from his small hometown Sainte-Perpétue, Quebec, Houle was racing for his brother Pierrik who died in December 2012 after a hit and run accident while jogging.
"I had a really hard time in 2012 when I lost my brother. Now I am back and I raced for him today so I am glad I made it (to the top of the podium). Sometimes it's hard. Sometimes it doesn't pay off. But we need to be strong and keep going. Today was a successful day and we made it and I'm happy for that."
In the women's event, Jasmin Glaesser, already with two medals at these Games in track cycling (gold in team pursuit, silver in omnium) added a silver medal when she finished 35.73 seconds behind American Kelly Catlin. Glaesser had suffered a flat front tire midway through 19.5km race that cost her about 30 seconds as she waited for her mechanic to change the wheel and some valuable focus.
"Obviously you're stopping your ride right there and you have to find your rhythm again after, and definitely I'm disappointed it happened today but it's part of bike racing and being able to hang on for second, I'm still proud of myself for that."
Water Ski and Wakeboard
It was a three-medal day for the water ski and wakeboard team on a gorgeous Wednesday. Whitney McClintock won the gold medal in the women's overall water ski event, in which athletes compete in trick, slalom and jump. McClintock scored 2796.3 total points to finish 126 points ahead of American Regina Jaquess. Jaret Llewellyn took home silver in the men's overall competition with a score of 2757.1, finishing just 20.5 points out of the gold medal position. In the men's wakeboard event, Rusty Malinoski won gold with a score of 89.11.
Boxing
In a night riddled with opportunity for Canadian boxers the host nation came away with two bronze and a shot for gold. Prince George, BC's Kenny Lally lost his bantam 56 kg semifinal by unanimous decision to Cuba's Andy Cruz. Because boxing gives out two bronze, Lally gets one. 
Later, Toronto's Arthur Biyarslanov kept the potential for gold alive, winning his light welter 64 kg semifinal bout. Biyarslanov will fight Cuba's Yasnier Toledo in the final on Friday night. Canadian heavyweight Sammy El Mais did not fight his semifinal, but still received a bronze medal. 
Fencing
Alanna Goldie fought to bronze in the women's individual foil. Goldie lost her semifinal bout against Colombian Saskia Loretta van Erven Garcia, which leaves her with a bronze.
Taekwondo
As Canada's last man standing Marc-André Bergeron closed out the taekwondo competition with a bronze medal in +80 kg. On his 24th birthday he had designs on the gold medal but was forced to take the repechage road to a bronze medal contest. For the hardware he beat Mexico's Misael Lopez 8-7. "My ultimate goal was to go for gold," said Bergeron afterwards, "When you're able to do the repechage it's like a second chance."
Canada finished the taekwondo competition with one silver and one bronze. 
For full Team Canada results from Day 12, click here.