Top Performers: Who to watch this Winter
Anyone else following the Toronto Blue Jays? Do I even need to ask? As we're sure many will agree, it's hard to even think about any other sports right now.
That being said, winter sports are almost ready to snatch back the spotlight. Get set for headlines about the return of Patrick Chan, the continued dominance of Dustin Cook and…of course…a lot of hockey-related news.
With so many great sports and athletes set to return to action, here are some names that we think you should keep an eye on this winter.
Erik Guay and Dustin Cook – Alpine Skiing
Some will say that they predicted the emergence of Dustin Cook as a super-G superstar, but most of them will be lying. We'll get to his meteoric rise in a moment.
Cook will have one of Alpine Canada's veterans and a leader of the Canadian Cowboys back at his side, as Erik Guay returns following a year off. In January 2014, Guay crashed hard in training, which led to a poor performance at the Sochi Olympics the following month. He finished the 2013-14 season with downhill gold at Kvitfjell, but the injury problems still lingered. Guay, Canada's all-time leader in World Cup podiums, decided to sit out the entire 2014-15 season in order to rehab his knee. This season he should be back with a vengeance and will be hoping to pad his World Cup podiums lead.
A member of Alpine Canada since 2007, Cook shocked the world with his super-G silver medal performance at last year's worlds. He then showed that he's not a one-hit wonder, taking a bronze at the World Cup super-G in Kvitfjell, Norway, before finishing the year with super-G gold at the final World Cup stop in Meribel, France. This year Cook will be looking to continue his charge to the top of the super-G standings.
Kaillie Humphries – Bobsleigh
The past couple years have been insane for the Calgary native. At the Sochi 2014 Winter Games, Kaillie Humphries made history when she became the first woman bobsledder to successfully defend her Olympic gold. The last World Cup season was also a monumental one for Humphries and women's sport in general, as the international federation finally allowed women to pilot mix-gendered crews in four-man races. Humphries was then named as the 2014 recipient of the prestigious Lou Marsh Award as Canada's top athlete.
This season Humphries will be aiming to maintain her status as one of the top female pilots with new brakeman Priscilla Lopes-Schliep, and eventually challenge for the podium in four-man races as well. The sky is the limit for Humphries.
Elisabeth Vathje – Skeleton
Elisabeth Vathje had a World Cup rookie season to remember in 2014-15. Starting six of eight races, she reached the podium in four of them. She won a silver medal in her World Cup debut in Lake Placid in December. A week later she earned her first World Cup victory on her home track in Calgary. She capped the season with a bronze medal at the world championships, making her a member of the skeleton elite just one year after having stood on the podium at the junior world championships. With all of this before her 21st birthday, it'll be interesting to see what Vathje's capable of in her sophomore season.
Patrick Chan and Nam Nguyen – Figure Skating
Are you a figure skating fanatic? If so, read this. Either way, you still likely know that Patrick Chan decided to take a year off from competitive skating following Sochi 2014. Chan was emotionally drained after missing out on the men's singles gold and took some time away from the stress of competition to perform in shows and refocus mentally. Admittedly nervous about showing off what that year has done for his skating, Chan is once again excited to be back out on the Grand Prix circuit.
Right there with him will be Nam Nguyen. The 17-year-old claimed the national title last year in Chan's absence and finished fifth at the world championships. Now with a quad in his short program and two in his free skate, he and Chan give Canada a formidable duo, reminiscent of the early 1990s when Kurt Browning and Elvis Stojko were sharing international podiums.
Justine, Chloé and Maxime Dufour-Lapointe – Freestyle Skiing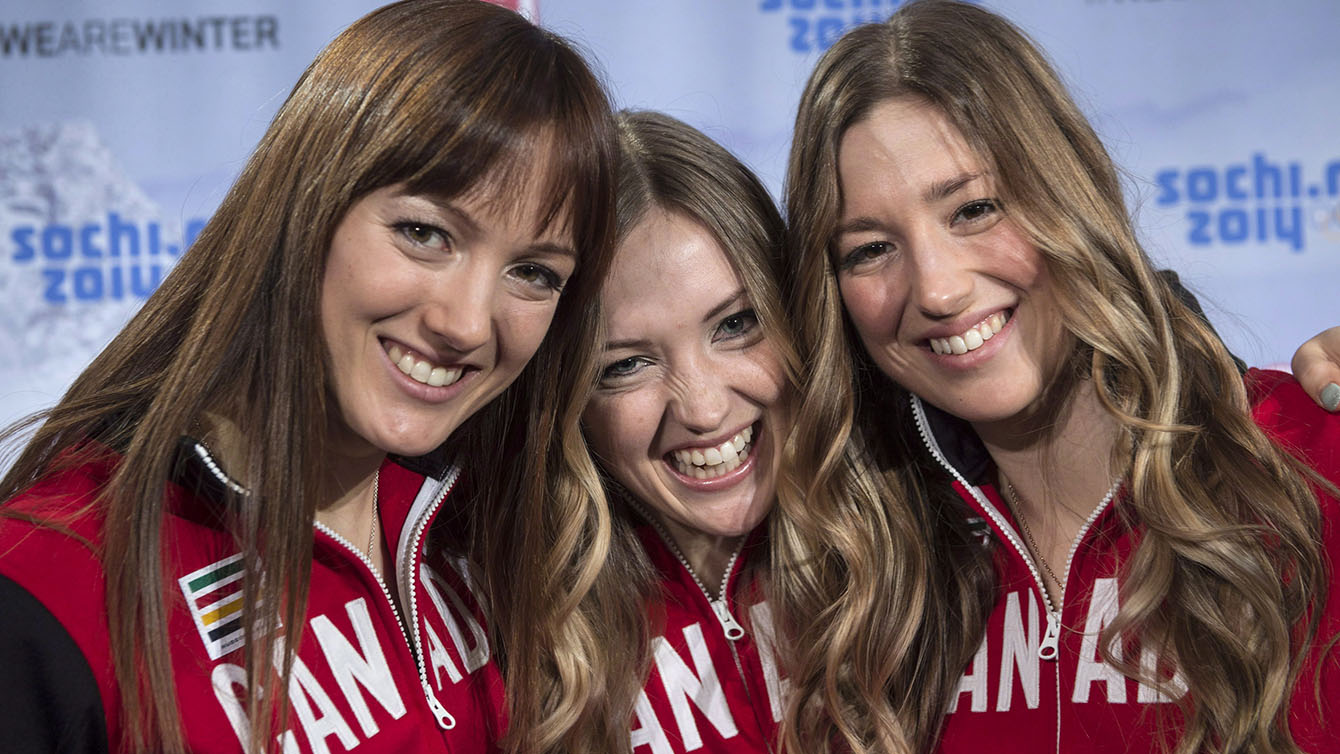 Canada's sweetheart sisters ploughed their way into Canadians' heart with their assault on the moguls podium at Sochi 2014. The sisters kept it up last season, with all three finishing top-10 in the World Cup standings (Justine second, Chloé third and Maxime sixth). This season, they have one less top competitor to ski against, with American Hannah Kearney having retired. The sisters will need to keep up their good skiing in order capitalize on the opportunity.
Of course, no talk of moguls would be complete without mentioning Mikaël Kingsbury, who is about to have another record-breaking season and is easily the world's most dominant moguls skier.
Mark McMorris – Snowboarding
Is there ever a reason not to watch Mark McMorris? He won a bronze medal at the Olympics while competing with a broken rib. He is the defending X Games gold medallist in both the snowboard slopestyle and Big Air competitions. MTV loved watching him so much, that they gave McMorris and his brother Craig a TV show on the network called McMorris & McMorris. Now, Red Bull has decided to make a movie about his past season, following him at competitions as well as during backcountry riding and other fun stunts.
Whether you're into his flipping awesome runs at the Winter X Games or his antics and fun personality, you have to admit that McMorris is fun to watch. This winter season should be a lot more of the same. He has a pretty great first name too.
Ivanie Blondin – Long Track Speed Skating
Only one Canadian woman stood on the podium at the 2015 World Single Distances Championships and that was Ivanie Blondin. The mass start silver was her first medal at a major championship. The newest Olympic speed skating event (the mass start will make its Olympic debut at PyeongChang 2018) has been her bread and butter. She won the overall World Cup title in the event last season, winning two races and reaching the podium in three more.
Other notables:
Meagan Duhamel and Eric Radford (figure skating), Alex Harvey (cross-country skiing), Charles Hamelin (short track speed skating), Marianne St-Gelais (short track speed skating), Nathan Smith (biathlon).
Also, don't forget about every male or female Canadian hockey player or curler. They could all end up making headlines this year. While we can name as many athletes as we like, there will still be some unexpected performances this year that will lead to names being included on next year's Who to Watch list.
All the above being said, Go Jays Go!
Did we miss someone who would have been on your Who to Watch list? Let us know on Facebook or Twitter.