On the final day of skating in front of home supporters, Canada's short track speed skaters delivered five medals in Montreal, bringing their total to seven for the opening weekend.
The ISU World Cup season in short track speed skating saw the first medals of 2015-16 awarded on Saturday (scroll down for that day's Canadian medallists). On Sunday, the mostly Quebec-based skaters made sure fans went home buzzing.
Marianne St. Gelais won a gold in the women's 500m ahead of Poland's Natalia Maliszewska and Sofia Prosvirvona of Russia. That brought St. Gelais to one individual gold and silver for the weekend. There were some mishaps and disqualifications en route to the final, which St. Gelais acknowledged.
"With or without falls, I'm very happy about my win in the first World Cup of the season. I also wish the Chinese (skaters) were in the final… I'm very pround of my win."
St. Gelais won a third medal later in the women's relay with Valerie Maltais, Kim Boutin and Kasandra Bradette. In earlier round Jaime MacDonald and Audrey Phaneuf took part in the Canadian cause. For Boutin it was her second medal of the weekend. South Korea took first place while Russia was third.
In men's races the major Canadian highlight was a 1-2 finish for Charles Hamelin and Samuel Girard in Sunday's 1000m final. Semen Elistratov of Russia skated to bronze.
"I'm so proud to share a podium with another Canadian," Hamelin said. "It reminds me of when I won (500m) in Vancouver 2010 with (Francois-Louis) Tremblay in third. Thanks to the announcer I knew I had Sam right behind me. I was more keen and easy on him when he passed me after the first lap because what we try to prove here is that Canada is strong and vying for the top."
Earlier in the day Charle Cournoyer, the Sochi 2014 bronze medallist in the 500m, sprinted to the podium in that distance for a silver medal behind Wu Dajing of China. Park Se Yeong of South Korea was third.
The skaters remain in Canada for the next World Cup stop in Toronto's inner suburb of Etobicoke from November 6-8 (get tickets).
Saturday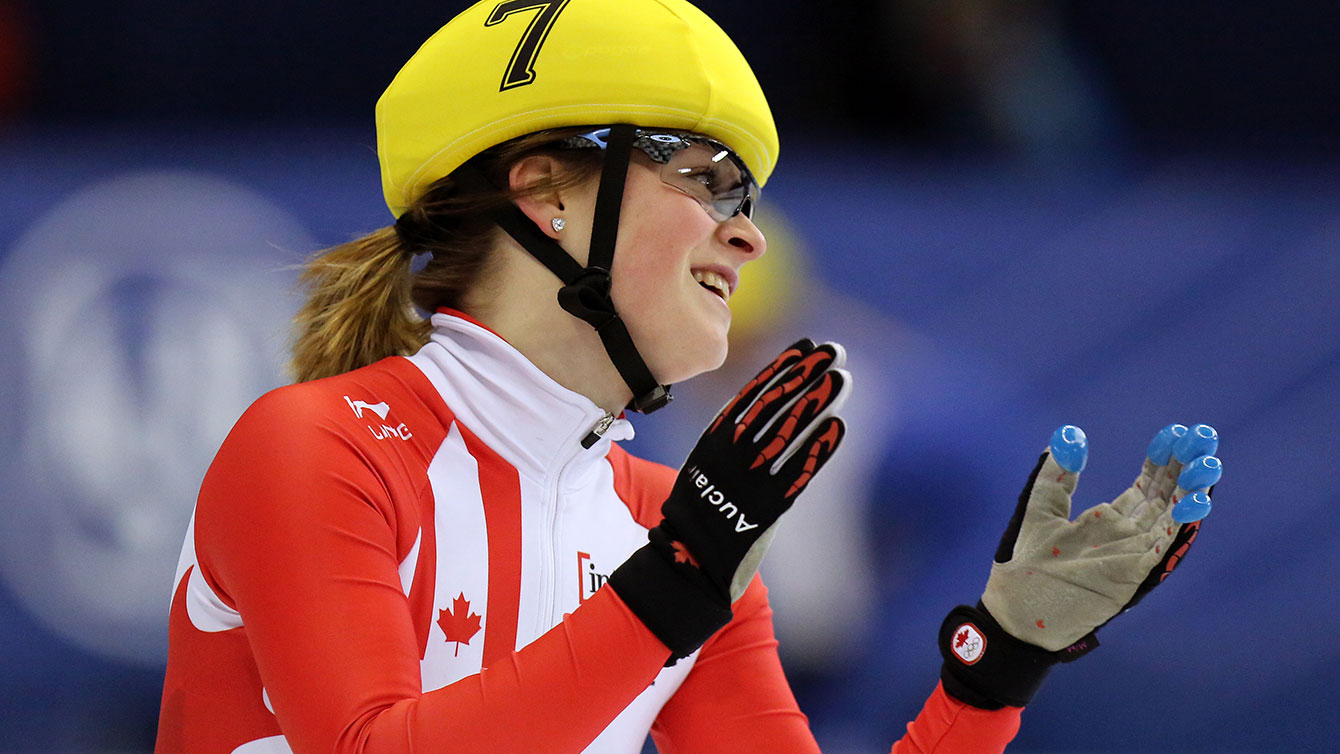 Canadians Marianne St-Gelais and Kim Boutin impressed a Montreal crowd on Saturday, both opening the short track World Cup season with a silver medal.
Veteran skater St-Gelais raced to second-place in the 1000m, bettered by South Korea's Choi Minjeong and beating China's Fan Kexin. In the 1500m final, burgeoning youngster Kim Boutin crossed the finish line in second spot behind South Korea's Shim Suk Hee and ahead of Germany's Anna Seidel.
The opening World Cup of the season is being held at Montreal's Maurice-Richard Arena, where the Canadian short track team trains.
"It was one of my objectives this year to earn a podium in the 1500m, so for me, a second-place finish is a great result," said Boutin, who at 20-years-old is emerging as the next big star on the women's team. Today's silver is a career-best result.
It's not that St-Gelais is withering by any stretch of the imagination, she's only 25 and won 12 medals over six World Cups last season.
"I felt I had strong legs with three laps to go, so I told myself I had to go for it. But the Korean skater had strong legs as well, there was no way anyone was going to get by her today. So this silver medal is a fair reflection of how things went," commented St-Gelais, who squeaked into the final by finishing second in her semi, only three one-thousandths ahead of the third-place skater.
On the men's side Patrick Duffy finished fourth in the 1500m final while Charles Hamelin, the 2014 Olympic champion in the event, fell during the race. François Hamelin was fourth in the 1000m.
Racing continues on Sunday with the second version of the 1000m, plus the 500m races and the 3000m relays.
All photos by Greg Kolz