Canadian Roundup: Olympic berths, Worlds medals and Crystal Globes
From a quartet of world championship medals in track cycling to five Olympic qualification spots in wrestling to a pair of Crystal Globes in moguls skiing, Canadians brought home a lot of hardware over the weekend.
Here's the breakdown of Canada's haul.
Track Cycling
Read: Track Cycling worlds: Canada leaves with four medals
Canada brought home four medals from the UCI Track Cycling World Championships in London. Annie Foreman-Mackey won the nation's first bronze medal in individual pursuit, Stephanie Rooda added another in the scratch race on day two. The women's team pursuit squad of Allison Beveridge, Jasmin Glaesser, Kirsti Lay and Georgia Simmerling won silver on day three, before Glaesser won the final medal after finishing second in the points race. With the Olympic qualification window now closed and quota spots to be confirmed in the near future, Canada appears to be in great shape on the velodrome for Rio 2016.
Freestyle Wrestling
Read: Wrestling Canada's golden girls qualify for Rio 2016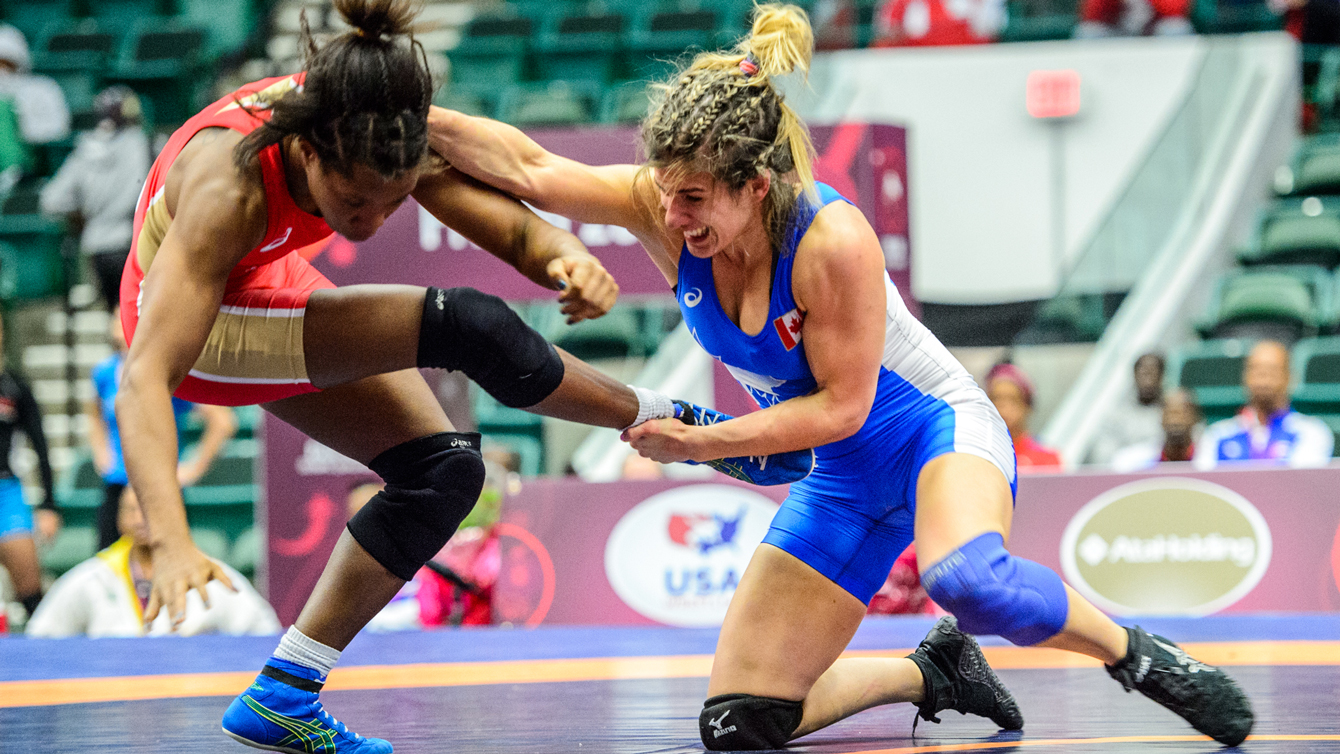 Jillian Gallays, Michelle Fazzari, Dorothy Yeats and Erica Wiebe won gold and punched their tickets to Rio 2016 at the Pan American Olympic qualifier in Frisco, Texas. The women's squad secured four Olympic berths on Friday, adding to the two won at last year's world championships, giving Canada the maximum six women's entries, one in every Olympic weight class. Korey Jarvis joined the Olympic team in men's freestyle after he finished second in the 125kg category on Saturday.
Artistic Gymnastics
Watch: Ellie Black wins bronze at American Cup
Ellie Black landed back on an international podium after winning bronze in the all-around at the prestigious American Cup on Saturday. Black scored scored 57.132 to finish behind reigning Olympic champion Gabrielle Douglas (60.165) and her American teammate Maggie Nichols (59.699).
Tennis
Read: Tennis Canada faces a tough battle at Davis Cup | Bouchard advances to Malaysian final
Canada went up against France in the World Group first round of the Davis Cup. Missing their top singles player, Milos Raonic and doubles player, Daniel Nestor the Canadians put up a tough fight before falling 5-0 to France. Genie Bouchard also fell to Ukraine's Elina Svitolina in the BMW Malasyian Open final 6-7, 6-4, 7-5.
Swimming
Read: Dominique Bouchard wins silver in Orlando
Dominique Bouchard finished second in the women's 100m and 200m backstroke events at the Arena Pro Swim Series stop in Orlando, Florida on Saturday. Katerine Savard also raced to two international medals, winning bronze in the 100m and 50m butterfly at the Marseilles Golden Tour in France
Freestyle Skiing – Moguls
Read: Kingsbury and Chloe Dufour-Lapointe win Crystal Globes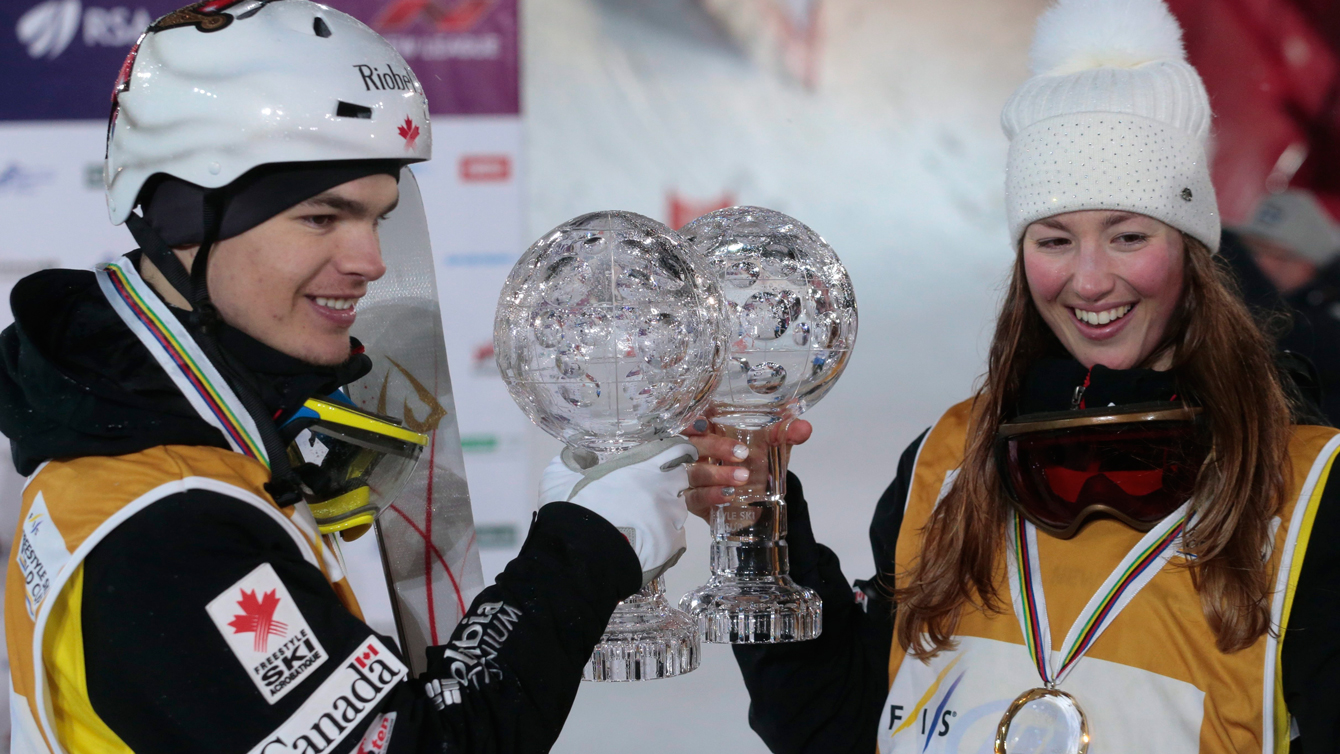 Mikaël Kingsbury and Chloé Dufour-Lapointe were awarded FIS Crystal Globes for finishing first in the overall World Cup moguls standings. Kingsbury and Philippe Marquis finished first and third respectively in dual moguls on Friday, while Andi Naude finished second in the women's event in Moscow. Canada also won the Nations Cup, awarded to the country with the most overall points. It was the fifth straight year in which Kingsbury has been the world's most consistent moguls skier.
Ski Cross
Read: Thompson and Del Bosco medal; Canada wins Nations Cup
Marielle Thompson and Chris Del Bosco won silver and bronze respectively at the final ski cross FIS World Cup event in Arosa, Switzerland. Thompson and Del Bosco finished second in the overall World Cup rankings, while Brady Leman landed third. Canada also won the Nations Cup for ski cross.
Cross-Country Skiing
Read: Alex Harvey sprints to World Cup silver in Quebec City
On the third stop of the inaugural Ski Tour Canada, Alex Harvey won Canada's first medal, taking silver in the men's sprint on Saturday. Following the first four stops in Quebec, Harvey sits in fourth place overall in the Tour standings as competition now shifts to Canmore, Alberta for the final four races of the FIS World Cup season.
Snowboard
Read: Brochu and Toutant find international podiums
Baptiste Brochu won his first FIS World Cup title in snowboard cross in Veysonnaz, Switzerland on Friday. Over in Colorado, Olympian Sébastien Toutant scored 80.95 to secure the slopestyle bronze at the US Open.
Long Track Speed Skating
Ted-Jan Bloemen finished fifth at the ISU World Allround Speed Skating Championships in Berlin this weekend for the best performance by a Canadian male since Denny Morrison in 2006.