The Olympic flame is passed from one torch to another after the official ceremonial lighting of the flame in Ancient Olympia, on April 21, 2016. (AP Photo/Thanassis Stavrakis)
Seven cool Olympic torch relay legs
Olympic torch relays are a fantastic opportunity to showcase the creativity and culture of a host country, often leading to some incredible moments.
Here, we give a nod to seven of the coolest legs that the Olympic torch has been lucky enough to experience over the years.
Melbourne 1956
Ahead of Melbourne 1956, there was a portion of the torch relay that took the flame to Stockholm, which would host the equestrian events five months before the rest of the Games. All of the torchbearers for this relay carried the flame on horseback. Australian law forced the separation of the equestrian events due to a six-month quarantine period before foreign horses could enter the country.
Grenoble 1968
During the Olympic flame's journey to Grenoble 1968, a diver swam across of port of Marseilles while holding the flame out of water (yes, out of water). The torches used were made from bronzed steel and had a protective covering for the flame, which helped ensure it stayed lit throughout this unique leg.
Montreal 1976
During Canada's first time as Olympic hosts, the flame was transmitted to Ottawa from Athens via satellite. Montreal 1976 was also the first time two people lit the Olympic cauldron together, the lucky torchbearers were teenagers Stéphane Préfontaine and Sandra Henderson.
Albertville 1992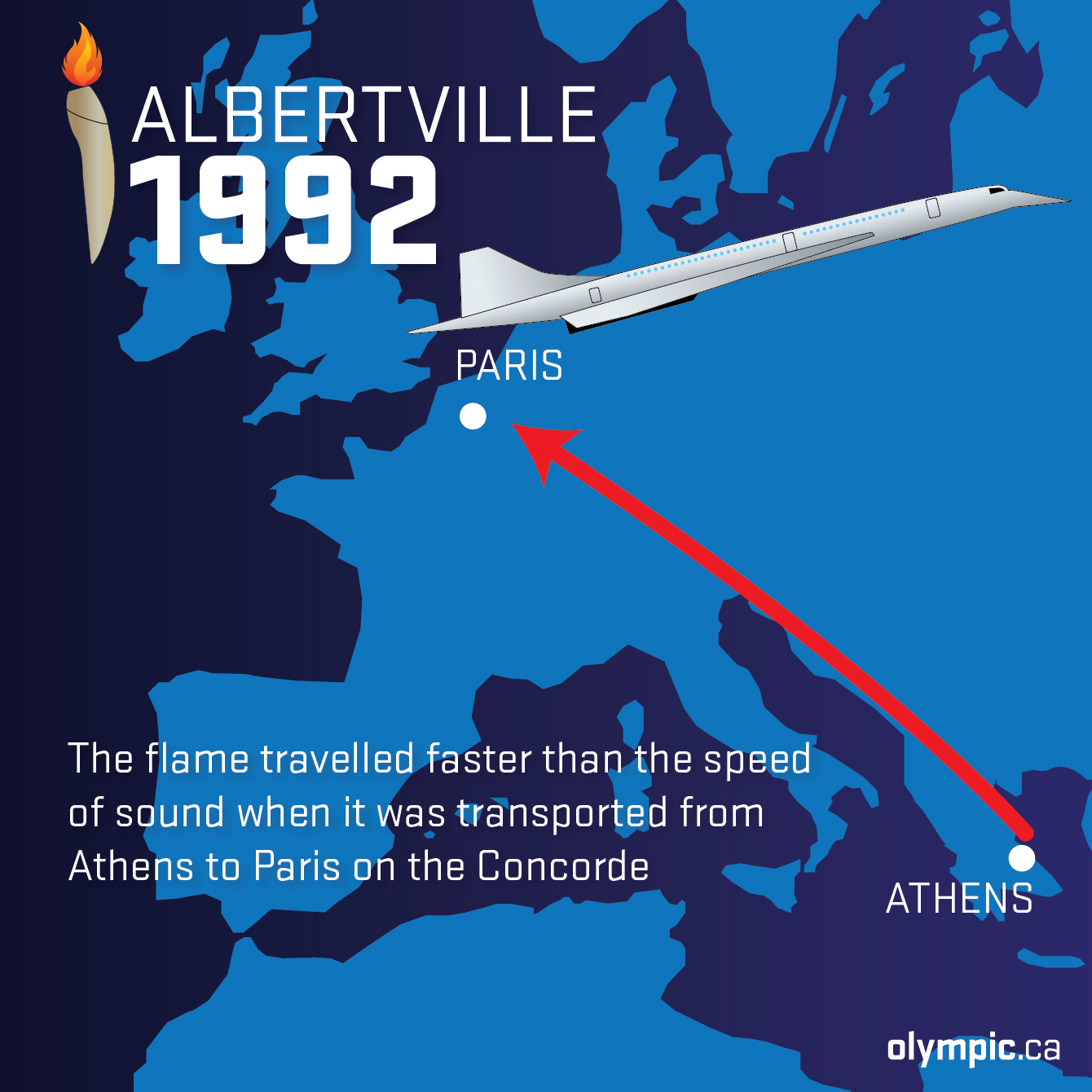 During the 1992 Olympic Winter Games relay, the torch traveled faster than the speed of sound, while flying from Athens to Paris on the Concorde. Albertville 1992 also marked the last time a summer and winter Olympic Games were held in the same year. Barcelona hosted the summer Games, its torch journey included travelling on the frigate Cataluña on the passage between Greece and Spain
Related: Everything you need to know about the Sochi Olympic torch
Lillehammer 1994
For the first time in history, a transfer of the flame took place between two parachute jumpers. The relay was capped with ski jumper Stein Gruben launching himself and the flame into the air before the cauldron was lit by Crown Prince Haakon.
Sochi 2014
Although the torch had been to space before, the Sochi 2014 relay marked the first time it was taken on a space walk, which first meant a blast off aboard a Soyuz rocket and some time aboard the International Space Station.
PyeongChang 2018
Among the accomplished and decorated torch runners that worked together in bringing the relay from Olympia to PyeongChang, one stood alone as the most memorable. HUBO, a charming humanoid robot, took a turn carrying the torch on December 11, 2017 in Daejeon, South Korea. HUBO's 150-metre leg was capped when he performed a disaster rescue operation by cutting a hole in a brick wall, a nod to South Korea's penchant for technological creativity and innovation.