16 of '16: Oleksiak peaks twice to become a swimming superstar
With the year coming to a close, Olympic.ca will look back at 16 of the most memorable Team Canada stories of 2016. As a new "16 of '16" story is revealed daily, you can find the entire series here.
In 2016 Penny Oleksiak became a household name.
The Canadian swimmer became an overnight celebrity after her unforgettable four-medal performance at Rio 2016. However, those who paid closer attention may have seen it coming, after her first breakthrough of the season on home soil.
Related: Penny Oleksiak: "She's awesome"
Oleksiak headed into Swimming Canada's Olympic trials like many athletes, just hoping for a spot on the Rio 2016 roster.
"I didn't even think I'd make the team," confessed the 16-year-old in Rio, because back in April Oleksiak had no idea Olympic trials would be her first major breakthrough.
On the opening night of competition Oleksiak shocked fans – and herself – when she smashed the Canadian 100-metre butterfly record to qualify for Rio. That wasn't the end for Oleksiak, the next day she lowered the national 100m freestyle mark by more than half a second, in addition to setting a World Junior record of 53.31 seconds.
Related: Oleksiak breaks more records as Olympic swimming team grows
At the time Oleksiak was only 15-years-old, and it appeared she peaked at just the right time to punch her ticket to Rio 2016. But after an outstanding performance at trials, did the teenager really have more left in the tank?
Yes, she peaked again.
RELATED: Canada wins 4x100m free bronze
RELATED: Oleksiak wins fly silver
At Rio 2016 Oleksiak made history over and over again. By the end of the competition she won four medals, becoming the first Canadian to do so at a single (summer) Olympic Games. Oleksiak got her first taste of the podium after anchoring the 4x100m freestyle relay to bronze, becoming first Olympic medallist born in the 21st century with her teammate Taylor Ruck. Her next two medals were in the 4x200m freestyle (bronze) and 100m butterfly (silver).
Without knowing it at the time, Oleksiak saved her best medal performance for last.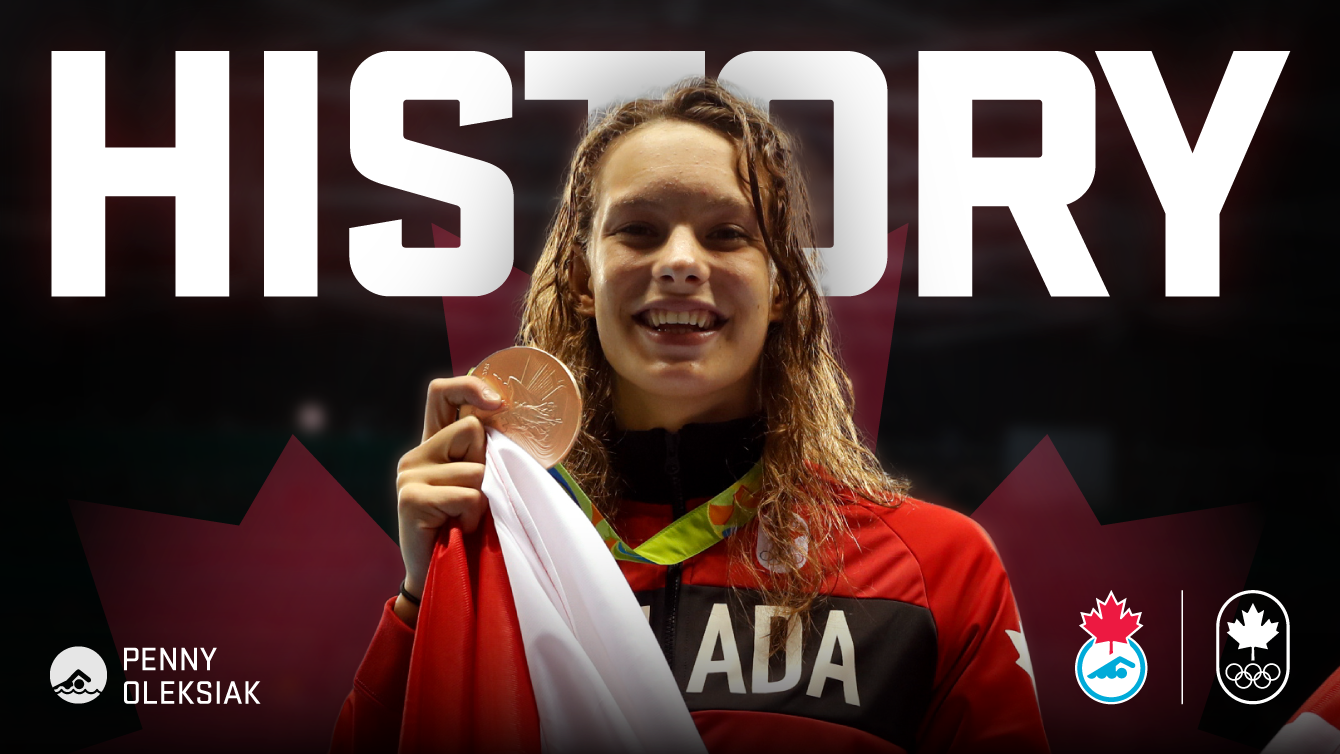 Related: "I never thought I'd win a gold," – Oleksiak
When Oleksiak stood on the start block for the 100m freestyle, a Canadian woman hadn't won a swimming medal since before she was born. However, after she touched the wall in 52.70s, everything changed. The teenager became Canada's youngest Olympic champion and set an Olympic record with Simone Manuel from the United States, who she tied for first.
Oleksiak capped off her incredible Olympic debut waving the Canadian flag at Rio 2016 Closing Ceremony.
After her successes in Rio, the 16-year-old continues to reach new career milestones. Most recently Oleksiak won the 2016 Lou Marsh Trophy – awarded to Canada's top athlete of the year – joining greats like Sidney Crosby, Christine Sinclair and Cindy Klassen.
Although it may not have been everyone's year, for Oleksiak it clearly paid off to be 16 in 2016.