Photo: Gian Ehrenzeller/Keystone via AP
Team Canada's pre-PyeongChang 2018 world championship medallists
Throughout this pre-Olympic season, Team Canada athletes climbed onto podium after podium. And at the world championships it was no exception.
So far in 2017, there have been world championship medals awarded in 90 of the events that will be contested at PyeongChang 2018. Canadian athletes have won 26 of them (5 gold, 13 silver, 8 bronze) sitting just above the United States' 25 medals (12 gold, 6 silver, 7 bronze), and just behind Germany's 34 medals (17 gold, 10 silver, 7 bronze).
There are still three world championships to come in 2017. The ISU World Team Trophy in figure skating begins on Thursday in Tokyo, with medals awarded on Saturday. The World Mixed Doubles Curling Championship will start Saturday in Lethbridge, Alberta and run through to April 29. The winter season will conclude with the IIHF Ice Hockey World Championship May 5-21 in Cologne, Germany and Paris, France.
So which athletes have already brought home the hardware? Here's a quick summary: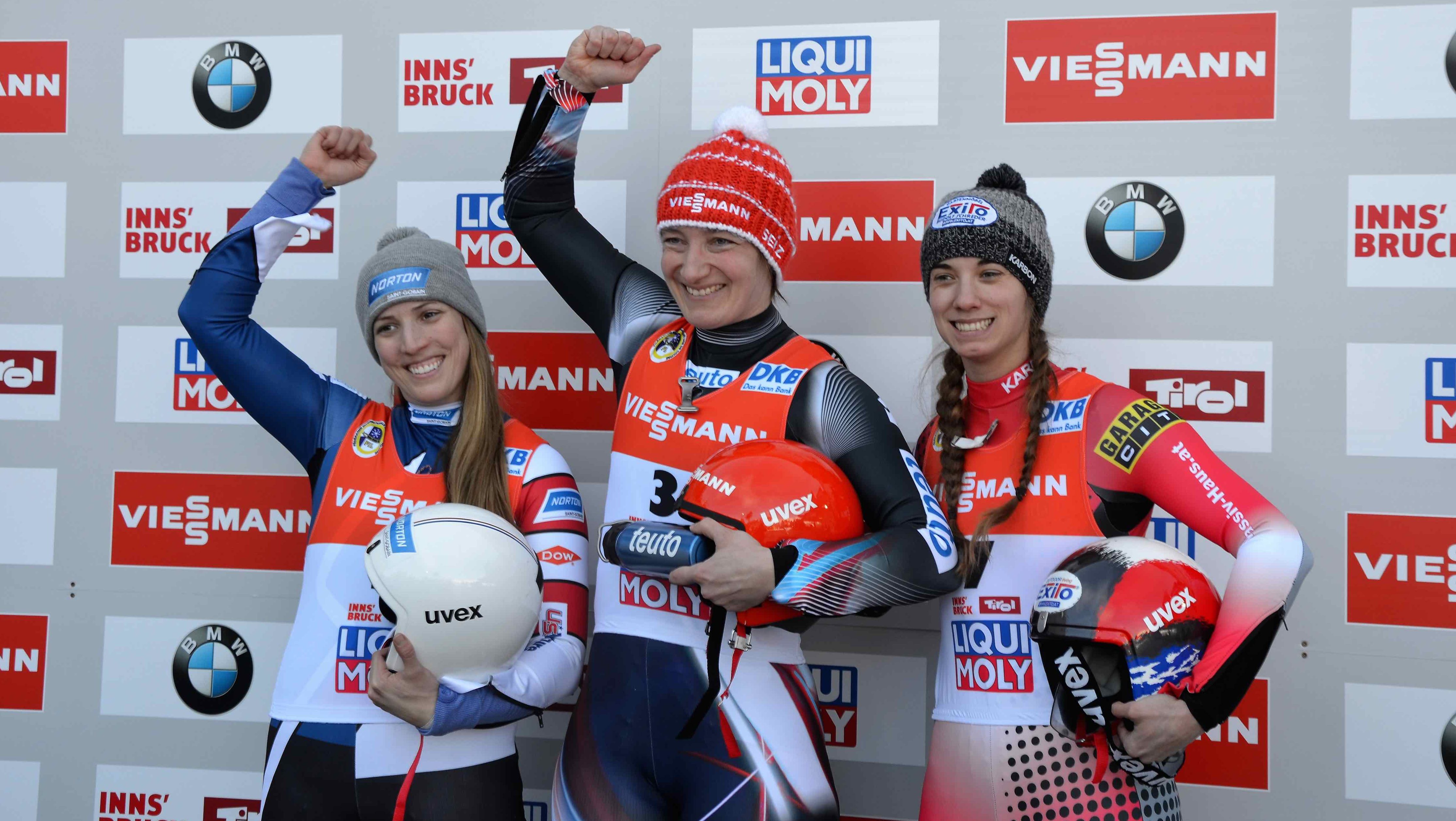 READ: McRae breaks through with bronze at luge world championships
McRae was the first Team Canada athlete to step on a world podium this season when she captured bronze at the FIL World Luge Championships in Innsbruck, coming back from 10th place after the first run. At 24, it was her first career world championship medal as she became just the second Canadian luger to ever win an individual medal at the year's most important event.
https://www.youtube.com/watch?v=7dVIPMgrzEc
READ: Guay wins gold, Osborne-Paradis bronze in world championship super-G
Guay had a week to remember in February when he was crowned world champion in the super-G followed by a silver medal in the downhill. He became the first Canadian man to win multiple medals at one edition of the alpine skiing world championships and the fourth man to ever win world titles in the super-G and downhill (which he won in 2011). At 35, he was the oldest alpine skiing world champion of all-time.
READ: Guay wins downhill silver for second medal of world championships
Joining Guay on the super-G podium was Osborne-Paradis, who celebrated his 33rd birthday by winning bronze for his first career world championship medal. It was the first time Canada had put two men on the same podium at the alpine skiing world championships.
READ: Blondin, De Haître bring home bronze, silver from world championships
One year after being crowned world champion in the mass start, Blondin climbed onto her first world podium in a traditional distance event by collecting the bronze in the 5000m. The World Single Distances Championships were also an opportunity for long track speed skaters to test the facilities that will be used at PyeongChang 2018.
De Haître won his first ever medal at the World Single Distances Championships by finishing second in the men's 1000m. No other Canadian had climbed onto the podium in this event since Denny Morrison did so in 2009.
Olivier Jean – Long Track Speed Skating
READ: Jean wins world championship mass start bronze after switch from short track
Former short track world champion Jean won his first world medal in long track in 2017, taking bronze in the mass start at the World Single Distances Championships in Gangneung in what was only his third start in the event this season.
READ: Humphries and Lotholz claim second straight world silver
Humphries and Lotholz won their second consecutive silver medal at the IBSF World Championships in Germany, missing the world title by just three one-hundredths of a second (0.03). The 2017 silver is Humphries' fifth career world championship medal and Lotholz's second.
READ: Kripps and Lumsden secure two-man silver at bobsleigh worlds
Just 24 hours after their teammates landed on the women's two-man podium, Kripps and Lumsden finished second in the men's two-man event at the bobsleigh world championships. It was Kripps' first ever world medal in one of the Olympic events while brakeman Lumsden won his first world medal since 2012.
Alex Harvey – Cross-Country Skiing
READ: Alex Harvey crowned 50km mass start world champion in Finland
Harvey became Canada's first individual world champion in cross-country skiing when he won the 50km mass start in Lahti, Finland in early March. It was the fourth straight worlds at which Harvey had won a medal. His gold is not included in Canada's total count of 24 won in Olympic events because the event is not on the program for PyeongChang 2018. At the world championships, the 50km race was contested in freestyle technique while at next year's Olympic Winter Games it will be in classic technique.
https://www.instagram.com/p/BRY4Fi-jJvM/?taken-by=freestylecanadaski
READ: Mikaël Kingsbury and Justine Dufour-Lapointe land worlds bronze medals in moguls
Kingsbury's incredible season did not end exactly as he hoped when he took third place at the world championships in Sierra Nevada, Spain. But it was still enough for the man who won his sixth straight Crystal Globes to meet the criteria for early nomination to the Olympic team for PyeongChang 2018.
Just like her teammate, Dufour-Lapointe didn't have her best showing at the world championships, but did come back from Spain with a bronze medal and an early nomination to Team Canada for PyeongChang 2018.
Laurie Blouin – Snowboard
READ: Blouin crowned snowboard slopestyle world champion in Spain
Blouin landed her best tricks when it mattered most, delivering the runs of her life to capture the world title in women's slopestyle in Sierra Nevada, Spain. Before being crowned world champion, Blouin had won the junior title in 2013 and collected two medals on the World Cup circuit.
READ: St-Gelais and Girard earn trio of silver medals at short track world championships
St-Gelais came very close to claiming the overall world title in Rotterdam, but was edged out by Great Britain's Elise Christie. Instead, it was one of four silver medals she won at the world championships as she finished second in the individual distances of 500m, 1000m and 1500m.
Samuel Girard – Short Track Speed Skating
https://www.youtube.com/watch?v=kbNcpH7iOqY
Girard earned his second career individual medal at the world championships, adding a silver in the 1500m in Rotterdam to the 1000m silver he captured last year. His results in all of the events put him into third place in the competition's overall standings.
https://www.youtube.com/watch?v=cDjj1jdsHNo
READ: Four more world championship medals for Canadian short track speed skaters
Four-time Olympic medallist Hamelin had some tough races at the world championships in Rotterdam. The Canadian only made one trip to the podium when he finished third in the men's 1000m.
READ: Riddle wins halfpipe silver at freestyle skiing world championships
Olympic halfpipe silver medallist Riddle matched that result at the world championships, capping a strong comeback season after being unable to ski for six months while he had to allow some injuries to heal.
Team Homan – Curling
READ: Team Homan wins gold at World Women's Curling Championship
Skip Rachel Homan and her rink of third Emma Miskew, second Joanne Courtney, lead Lisa Weagle and alternate Cheryl Kreviazuk defeated Russia for the third time in the tournament to get hold of the prestigious trophy. The Canadian women also became the first team in the history of the women's world championships to finish with a perfect record (13-0).
https://www.youtube.com/watch?v=ubkDuAZkHGM
READ: Historic double podium for Osmond and Daleman at figure skating worlds
With all the skills to compete with the world's best skaters, all Osmond had to do at the ISU World Figure Skating Championships was deliver two solid programs and that's exactly what she did in Helsinki. Her silver medal matched that of the last Canadian woman to stand on the world podium, Joannie Rochette in 2009.
https://www.youtube.com/watch?v=2L7pkjl2u0U
For the first time in history, two Canadian women stood on the world championship podium. Skating just ahead of Osmond in the free skate, Daleman had a near perfect performance to win the bronze medal. Combined with Osmond's silver, the result guaranteed Canada three women's spots at the Olympic Winter Games for the first time since 1968.
READ: Virtue and Moir cap undefeated comeback season with third world title
Whatever uncertainty existed at the start of their comeback season from a two-year competition hiatus was gone by the end. Virtue and Moir completed their first ever undefeated season with a pair of world record scores and their third career world title, helping to secure Canada three ice dance berths for the next Olympic Winter Games.
Women's National Team – Ice Hockey
https://www.youtube.com/watch?time_continue=33&v=WTjuSlehuWY
READ: Team Canada captures silver at women's world hockey championship
For the third straight year, Canada concluded the World Women's Ice Hockey Championship with a silver medal following a 3-2 overtime loss to the United States. After a difficult start to the tournament, the Canadian women managed to find their way to the gold medal game, but the Americans once again took first place from their northern neighbors. Shannon Szabados, Emerance Maschemeyer, Genevieve Lacasse, Jocelyne Larocque, Lauriane Rougeau, Laura Fortino, Meaghan Mikkelson, Halli Krzyaniak, Erin Ambrose, Renata Fast, Meghan Agosta, Rebecca Johnston, Jennifer Wakefield, Brianne Jenner, Haley Irwin, Natalie Spooner , Emily Clark, Marie-Philip Poulin, Sarah Davis, Blayre Turnbull, Laura Stacey and Sarah Potomak all received a silver medal for their contributions during the tournament.
Team Gushue – Curling
READ: Undefeated Team Gushue golden at World Men's Curling Championship
It was in front of Canadian supporters in Edmonton that skip Brad Gushue, with third Mark Nichols, second Brett Gallant, lead Geoff Walker and alternate Tom Sallows took gold at the World Men's Curling Championship with a spotless record. Gushue became the first skip in history to win gold at the Worlds, Junior Worlds and Olympic Games. Nichols also got the only major title he was missing in his career.
Joanne Courtney and Reid Carruthers – Curling
READ: Courtney & Carruthers win silver at mixed doubles worlds
Joanne Courtney and Reid Carruthers gave Team Canada its best-ever finish at a Mixed Doubles Curling World championship. The pair finished second in front of Canadian fans in Lethbridge, Alberta, securing the nation a spot at PyeongChang 2018. This was Courtney's second worlds medal of the year, the first came when she won gold with Team Homan in the women's event.
Men's National Team – Ice Hockey 
READ: Canada strikes silver following Sweden shootout at IIHF worlds
After taking home gold at the IIHF World Championships two years in a row, Canada's streak was brought to an end in a shootout loss against Sweden. In a tight game from start to finish, the Swedes found themselves on the board first, towards the end of the second period with just 21 seconds to go. Early into the third, the Canadians were able to even out the score with a power play goal from Ryan O'Reilly. However, 60 minutes of play wouldn't be enough to settle this game and the two teams would head into overtime tied at 1-1. After a scoreless 20 minute overtime, the game was pushed into shootout where the Swedes would came out on top with goals from Nicklas Backstrom and Oliver Ekman-Larsson. Though they played a strong game, the Canadians were no match for Swedish goaltender Henrik Lundqvist who shutdown shot attempts from Team Canada superstars Nathan MacKinnon, Brayden Point, Mitch Marner and O'Reilly.  This loss marked Canada's second of the tournament in 10 games.