Photo: Canadian Press
150 years of Canadian sport: the 1950s
We've come to the midway mark of the 20th century in Olympic.ca's countdown to Canada's 150th anniversary on July 1.
Before we dive into the 1950s, you can remind yourself of the moments we've already revisited here.
Now we present a decade that introduced us to some of Canada's top young sports stars and honoured one of the country's greatest athletes of all time.
1950 – Lionel Conacher, Canada's Male Athlete of the Half-Century
If there was anyone who could be described as an all-around athlete, it would be Lionel Conacher. Excelling in both individual and team sports such as boxing, wrestling, football, lacrosse and hockey, Conacher was named Canada's male athlete of the half-century in 1950.
Although most of his accomplishments occurred during his athletic peak in the 1920s and 1930s, four years before his death Conacher was bestowed the honour of having the award for Canada's Male Athlete of the Year named after him.
At 16 he had won the Ontario lightweight wrestling title. By 20 he was the national light heavyweight boxing champion. As a football player he won the 1921 Grey Cup with the Toronto Argonauts, scoring 15 of their 23 points in their shutout victory over the Edmonton Eskimos. In 1925 he joined the NHL, going on to win the Stanley Cup with the Chicago Blackhawks in 1934 and the Montreal Maroons in 1935, making him the rare athlete to have his name engraved on two of the most iconic trophies in sport.
Following his retirement from professional sports in 1937, Conacher was inducted to Canada's Sports Hall of Fame in 1955, the Canadian Football Hall of Fame in 1963, the Canadian Lacrosse Hall of Fame in 1966 and the Hockey Hall of Fame in 1994.
1952 – Last Ice Hockey Gold for a Half-Century
Since the beginning of Olympic hockey in 1920, Canada had dominated, winning five of six gold medals while outscoring opponents 332-20 and posting an all-time record of 30 wins, two ties and one loss. That trend continued at Oslo 1952 where the Edmonton Mercurys won Canada's sixth Olympic gold in hockey on the strength of seven wins and a tie with 71 goals scored and only 14 surrendered. But the arrival of the Soviet Union in Olympic competition combined with strict amateur rules for North American players made Oslo the site of Canada's last Olympic hockey gold for 50 years until the drought came to an end at Salt Lake City 2002.
1952 – Age No Obstacle for Golden Genereux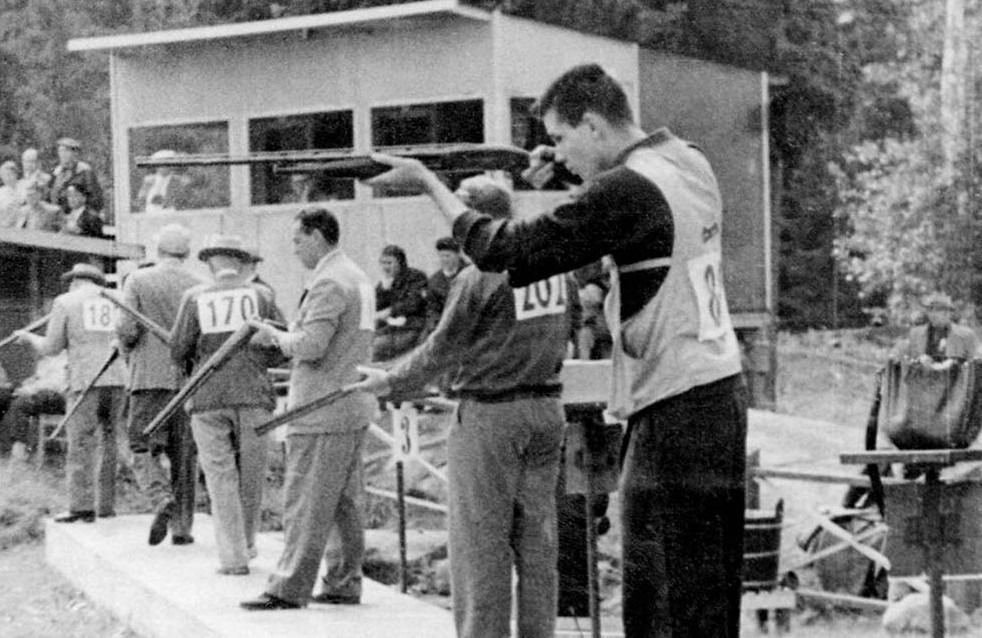 Canada lone gold medal at Helsinki 1952 came from trap shooter George Genereux. At just 17 years and 146 days old, he remains Canada's youngest ever male Olympic champion and the youngest man to ever win Olympic trap shooting gold. Genereux had finished the first day of competition tied for second place, one point behind the leaders. But on the second day he outshot them all, scoring 97 out of a possible 100 points, as one by one the challengers fell away until the gold medal was his. Making the feat even more impressive was the fact that he competed with a single-barrel, pump action gun while most of the men he defeated used a double-barrel gun in their allowance to take two shots at each target.
1954 – Bell Swims Across Lake Ontario
In 1954, the Canadian National Exhibition offered $10,000 to an American swimmer to cross Lake Ontario. Considering it an offence to Canadian athletes, Marilyn Bell decided to take on the same challenge for free. On the night of September 8, Bell and two others (Canadian Winnie Roach Leuszler and American Florence Chadwick) set out from Youngstown, NY.
After swimming for several hours, Roach was forced to give up when she couldn't find her escort boat. Chadwick also abandoned the quest only six hours into the 51km swim, having fallen ill with cramps and vomiting. But despite the poor navigation equipment, strong winds, frigid waters, and lamprey eels nipping at her limbs, 16-year-old Bell pushed on, making it to the shores of Sunnyside Beach in Toronto in 20 hours and 59 minutes. The CNE awarded her the $10,000 prize and she was that year's winner of the Lou Marsh Award as Canada's athlete of the year. In 1955, Bell became the youngest person to swim the English Channel.
1956 – First North American Medallist in Olympic Downhill
At a time when resources for Canadian skiers were severely lacking, Lucille Wheeler carved out her own space on the slopes. At Cortina d'Ampezzo 1956, she sent a shock rippling through the world of alpine skiing when she won bronze in the women's downhill. Since the event was added to the Olympic program in 1948, it had been dominated by men and women from Austria and Switzerland, with a few other European nations also represented on the podium. Wheeler was not just the first Canadian but the first North American to break into the club. Wheeler went on to win gold in the downhill and giant slalom as well as a silver in the combined at the 1958 World Championships, earning her Lou Marsh Award honours.
1956 – Shared Rifle for a Shared Podium
Gerry Ouellette had such a great teammate in Gilmour Boa that he used the latter's rifle to defeat him and win gold at Melbourne 1956. Competing with a rifle that had been damaged en route to Australia, Ouellette had performed so poorly in his first event that they opted to share Boa's rifle in the 50m prone event. The two men calculated that they must take one shot at the dime-sized target every 75 seconds to both finish within the two-and-a-half-hour time limit. Boa went first, coached by Ouellette, and matched his own world record score of 598 points. When they switched positions, Ouellette shot a perfect score of 600 to take the gold while Boa stood alongside him on the podium with the bronze medal.
1951-1959 – Streit Shoots to Stardom
Marlene Stewart Streit is the most successful amateur golfer in Canadian history, so it's hard to narrow her accomplishments to one decade. But we've picked the 1950s because that's when she was twice honoured with the Lou Marsh Award (1951 and 1956) and was given three of her four Bobbie Rosenfeld Awards as Canada's Female Athlete of the Year (1952, 1953, 1956, 1963).
In 1951 she claimed the first of her 11 Canadian Women's Amateur titles. In 1953 she captured the British Women's Amateur title. In 1956 she used her exceptional short game to win the 36-hold final at the U.S. Women's Amateur Championships. When she took the Australian Women's Amateur title in 1963 she became the only woman to ever hold all four of those national amateur crowns. Streit became the first Canadian inducted to the World Golf Hall of Fame in 2004.