Guy Fattal / Bobsleigh Skeleton Canda
Canadian Roundup: Medals at home and away
Team Canada had a successful weekend both on home soil and abroad.
Bobsleigh
Team Canada had an amazing first day at the Bobsleigh and Skeleton World Cup in Whistler. A double podium for the second weekend in a row for Chris Spring and Justin Kripps, this time it's the top two spots on their home track. Spring and Neville Wright won gold and Kripps and Alexander Kopacz won silver in 2-man bobsleigh.
RELATED: Kripps, Spring & Humphries steer Canada to the bobsleigh podium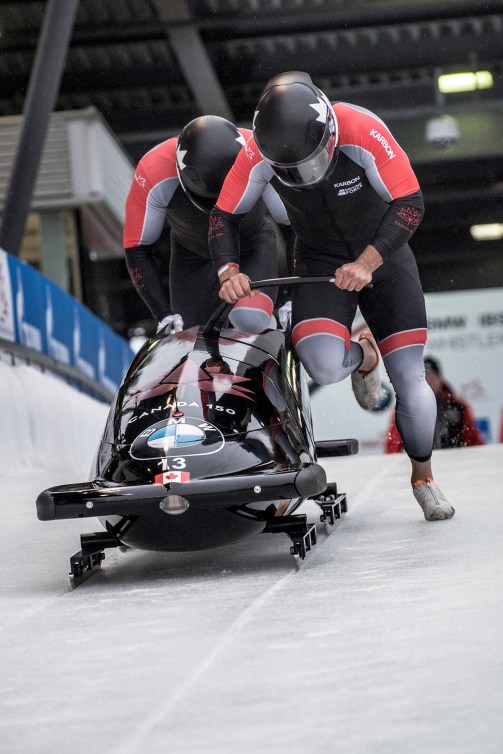 Spring lead the pack through the first heat with 51.84. He held the lead in the second heat with 52.33, winning by .02 over teammate Kripps. Spring won this World Cup in Whistler in 2015.
Despite shaky first start, Kripps had a clean second run with time of 52.17. He and Wright had a total time of 1:44.19. Kripps is the World Cup overall two-man points leader after three races, just ahead of Spring.
Kaillie Humphries and Melissa Lothloz also hit the podium again this weekend, this time it's in first place. It was a difficult night on the track with five teams flipping over, but Humphries maintained fast starts and clean lines on her home track.
Seeking her fifth consecutive world cup win on this track, Humphries did not disappoint. With a time of 1:46.67, the team had 0.48 margin under the second place USA team of Jamie Greubel Poser and Aja Evans. In third, another American team of Elana Meyers Tayler and Kehri Jones with a time of 1:47.50.
Skeleton
Jane Channell won the silver medal in women's skeleton Friday afternoon. Although her start in the first heat was a bit faster, she kept clean lines in her final run and claimed the silver medal. Her time in first heat was 54.03 and second heat was 54.58 with overall time of 1:48.61.
RELATED: 2017-18 Team Canada Winter Preview: Bobsleigh and Skeleton
Channell was second only to Jacqueline Lölling of Germany, who had a time of 1:48.38. Lölling's teammate, Tina Herrman, won the bronze with a time of 1:48.65.
Snowboard
Mark McMorris made a victorious return to competition, winning the FIS Snowboard World Cup big air in Beijing on Saturday.
It was his first contest entered since his life-threatening off-season snowboarding accident in British Columbia's backcountry this past spring.
RELATED: Mark McMorris suffers severe injuries on backcountry snowboard trip
McMorris had been the top qualifier out of his heat for the final, where he really put on a show, hitting all three of his runs, of which only two scores were counted.
McMorris started off with a frontside triple cork 1440, getting 91.75 points from the judges to put him just behind the 92.00 for New Zealand's Tiarn Collins, who had won the other qualifying heat.
The second trick for McMorris was a backside triple cork 1440 mute that earned him 92.75 points, leapfrogging him over Collins and into first place.
For his final jump, McMorris laid down a flawless backside triple cork 1440 indy, garnering him 95.25 points to secure the gold medal. McMorris totalled 187.00 points while Collins took the silver with 183.75 points and Norway's Torgeir Bergrem came in for the bronze with 179.75, bolstered by the 96.25 he scored on his third jump.
Ski Slopestyle
Evan McEachran started his World Cup season with a silver in Slopestyle at the Stubai World Cup in Austria. McEachran was ranked 2nd at Friday's qualifying round and managed to keep his ranking on Sunday after receiving a score of 86.20 for his second attempt on the jump and ramp course.
RELATED: 2017-18 Team Canada Winter Preview: Freestyle Skiing
The Canadian was beaten only by Norway's Oystein Braaten who was crowned champion after dominating both runs in the final, scoring a massive 91.40 in the final round.
American Colby Stevenson was in third with 81.80 points, also in his second attempt on the Austrian course. No other competitor in the final could get closer to the leader trio, all scoring less than 80 points.
Figure Skating
Meagan Duhamel and Eric Radford captured bronze at Skate America on Saturday, securing themselves a spot in the Grand Prix Final in the process.
The two-time world champions had been the leaders after the short program but dropped behind 2017 World silver medallists Aliona Savchenko and Bruno Massot of Germany and Xiaoyu Yu and Hao Zhang of China following Saturday's free skate.
Beach Volleyball
The new team of Rio 2016 Olympian Ben Saxton and Grant O'Gorman took the top step of the podium at the FIVB Sydney 2-Star tournament. They beat France's Youssef Krou and Quincy Aye in the final, while Americans William Kolinske and Miles Evans completed the podium finishes in third.