Photo: Chris Gordaneer
Virtue & Moir to lead Team Canada as PyeongChang 2018 flag bearers
Scott Moir skated off the ice at Sochi 2014 draped in a Canadian flag.
In just a couple of weeks, he and Tessa Virtue, his ice dance partner of 20 years, will carry the maple leaf into the PyeongChang 2018 Olympic Stadium together, leading Team Canada's approximately 230 athletes at the Opening Ceremony.
Before that exciting news was revealed to the country on Parliament Hill on Tuesday, they got the word from Skate Canada's high performance director Michael Slipchuk midway through the Canadian championships this past weekend.
"To have him tell us that we're going to have the honour to be flag bearers for Team Canada is a moment we'll never forget," said Moir.
"I think before the sentence even came out of his mouth, he said 'This is the best day of my career, I get to tell you guys' and we looked at each other and just started crying," added Virtue. "It was such a powerful, overwhelming sensation of pride and it's the ultimate honour and certainly the highlight of our career."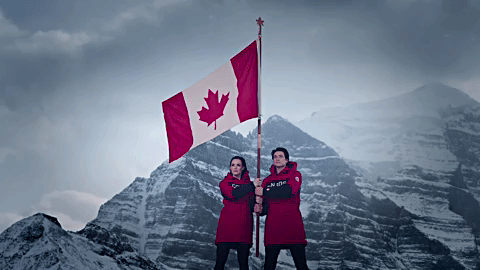 These will be the first Olympic Games at which Canada will have dual flag bearers in the Opening Ceremony. It will be the sixth time that figure skaters will march at the front of Team Canada in the Parade of Nations, as the 2010 Olympic champions join Kurt Browning (Lillehammer 1994), Brian Orser (Calgary 1988), Karen Magnussen (Sapporo 1972), Robert Paul (Squaw Valley 1960) and Norris Bowden (Cortina d'Ampezzo 1956).
"There's so many athletes on the team that we admire, that we follow, that we study to be just like, so to be chosen to represent them is nothing short of a dream come true," said Moir.
"Not just the incredible team of athletes, it's our friends and families, it's our neighbours, it's everyone in Canada who is cheering us on," Virtue continued. "It's a privilege to fly the flag together as a united country and celebrate everything that makes Canada so special and it's a responsibility we don't take lightly. We have to embody those Olympic values and we hope to make the country proud."
Heading into the final stretch of their competitive careers, Virtue and Moir are considered by some to be the greatest ice dancers of all-time and have the résumé to back that up.
They enthralled the home crowd at Vancouver 2010 to become the first North Americans and the youngest skaters ever to win Olympic ice dance gold. Four years later, they won silver in the ice dance and team events in Sochi.
After a two-year hiatus from competition, they returned better than ever in the 2016-17 season, winning every event they entered, including their first career Grand Prix Final title and their third world title, to go with the ones they previously captured in 2010 and 2012.
RELATED: Virtue and Moir cap undefeated comeback season with third world title
The winning streak continued this season until a silver medal at December's Grand Prix Final. That only motivated them more to do whatever was necessary to win gold in PyeongChang. They arrived at the Canadian championships in Vancouver with a revamped Moulin Rouge free dance which earned them a perfect score as they won their eighth national title.
RELATED: Virtue and Moir's perfect score highlights national championships
But it's not just about the medals.
Virtue and Moir are credited with advancing ice dance both technically and artistically. They arrived on the senior international scene just as figure skating's scoring system changed and quickly became known for their intricate footwork and their innovative lifts as they rocketed up the world rankings.
They also weren't afraid to experiment with their music choices. For many fans, their most iconic program will be their lyrical free dance to Mahler's Symphony No. 5 that won them Olympic gold. But they've run the gamut, from Pink Floyd (2008-09) to the musical Funny Face (2011-12) to the opera Carmen (2012-13) to last season's memorable short dance set to a Prince medley. In PyeongChang, they'll embody the samba, rhumba and cha cha in their short dance to the music of the Rolling Stones, the Eagles and Santana.
With their range and versatility and skating prowess, Virtue and Moir elevated the overall level of ice dance worldwide, forcing their rivals to be brilliant if they wanted to beat them.
They have a chance to make even more history in PyeongChang. Only one couple, Marina Klimova and Sergei Ponomarenko, has won ice dance medals in three Olympic Games (1984, 1988, 1992). And only one other ice dance couple, Pasha Grishchuk and Evgeny Platov, has won two Olympic gold medals (1994, 1998).
No matter the result when they step off Olympic ice for the last time, they know they have a truly memorable moment awaiting them in PyeongChang.
"Thinking about that moment before walking into opening ceremonies, there'll sure be butterflies, excitement," said Virtue. "I think it sort of marks the culmination of our 20-year partnership and I can't think of a better way to celebrate that."
SaveSave
SaveSave