Canada's Oldest and Youngest Winter Olympians and Medallists
I'm too old to go to the Olympics.
A thought that never even crossed the minds of the determined Canadians who pushed their way into the rankings despite competing with younger athletes. On the other end of the spectrum, while many might be intimidated by those of greater experience, many young Canadians continue to push the boundaries of their sport. Whether old or young, here are a few athletes you might surprise you in the age department.
Flashback to Grenoble 1968. Alpine skier Betsy Clifford competed when she was just 14 years and 118 days old, making her Canada's all time youngest Winter Olympian. Donald McPherson was just 15 years and 4 days old at the time of his men's singles figure skating event at Squaw Valley 1960, making him Canada's youngest male Winter Olympian to date.
Paul Savage became Canada's oldest Winter Olympian and oldest Winter Olympic medallist when he helped the men's curling team win silver at Nagano 1998 at at 50 years and 235 days. Another curler, Carolyn Darbyshire-McRory was 46 years and 82 days when she aided her team in securing silver at Vancouver 2010, making her Canada's oldest female Winter Olympian and Winter Olympic medallist.
Who were Canada's youngest and oldest gold medallists at the Olympic Winter Games?
Youngest Man:
Reginald "Hooley" Smith – Ice Hockey (19 years, 27 days on February 3, 1924)
After beginning his hockey career as a member of the junior-level Parkdale Canoe Club of the Ontario Hockey League in 1920, it is difficult to believe that only four years later at Chamonix 1924, Reginald Smith was celebrating an Olympic gold medal. At the top of their pool in the preliminary round, Smith and the Toronto Granites, primarily consisting of ex-servicemen from World War I, moved on to defeat Great Britain before taking on the United States in the final. A 6-1 victory over their southern neighbours allowed Canada to claim the gold. Throughout the five games, the right winger contributed to the Canadian efforts by netting a total of 18 goals.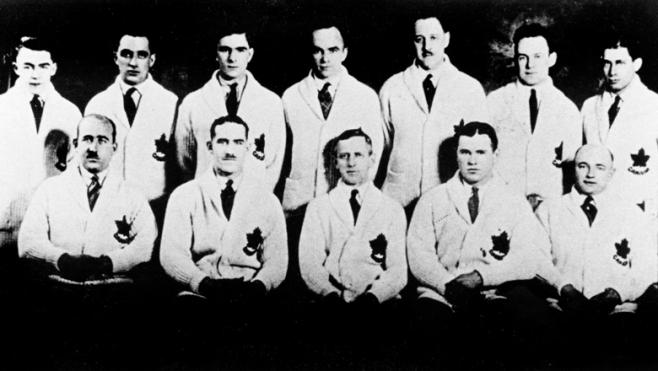 Youngest Woman:
Kathy Kreiner – Alpine Skiing (18 years, 285 days on February 13, 1976)
First appearing on the Winter Olympic stage at Sapporo 1972, Kathy Kreiner felt the weight of an Olympic gold around her neck four years later in Innsbruck. Kreiner began her skiing career at the tender age of three, admiring the victories and accomplishments of her idol Nancy Greene. Just fifteen years later, her dreams would be realized as she became the youngest skier in Olympic history at that time to win a gold medal. With Canada's sole gold medal for the Games, she won the Bobbie Rosenfeld Award recognizing her as the top Canadian female athlete of the year.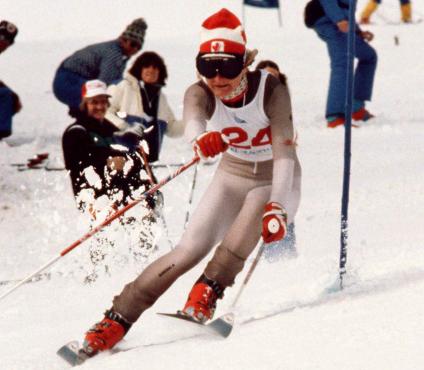 Oldest Man:
Russ Howard – Curling (50 years, 5 days on February 24, 2006)
No stranger to the rink, Russ Howard has experienced his share of provincial, national and world titles. Between 1980 and 1994, Howard led his team to eight provincial championships, two Briers, and two world championships,. In late 2005, he joined forces with Brad Gushue's foursome from Newfoundland, surprising almost everyone when they won the national trials to become Team Canada at Turin 2006. After battling through the round robin and semifinal, they met Finland in the final. It was a close match until Canada scored six points in the sixth end, going on to win 10-4. Howard made Canadian Olympic history as  a member of the team that won Canada's first gold medal in men's curling, just five days after  celebrating his 50th birthday during the Games.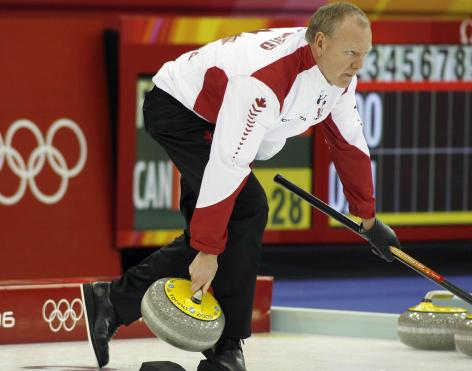 Oldest Woman:
Danielle Goyette – Ice Hockey (40 years, 21 days on February 20, 2006)
Prior to the gold medal at Turin 2006, Danielle Goyette already had a taste of Olympic success. In 1998, her team skated away with a silver medal, owing a lot to  Goyette, who became the nation's top scorer with  eight goals in six games. Four years later, the women's hockey team took a step higher on the podium at Salt Lake City 2002, taking home the gold. At Turin 2006, in addition to the honour of being Canada's Opening Ceremony flagbearer, Goyette also earned the title of the oldest Canadian female Winter Olympian to win a gold medal.
Who were Canada's youngest and oldest medallists at the Olympic Winter Games?
At 17 years and 44 days, figure skater Debbi Wilkes remains to be the youngest Canadian female medalist with her silver at Innsbruck 1964 with pairs' partner Guy Revell. The youngest male medallist is short track speed skater Marc Gagnon, who won bronze in the 1000m at Lillehammer 1994 when he was just 18 years and  274 days old. As noted above, a pair of curlers, Paul Savage and Carolyn Darbyshire-McRory are Canada's oldest male and female Winter Olympic medallists.