THE CANADIAN PRESS/HO, COC - Mike Ridewood
A story of friendship: How the Dufour-Lapointe sisters support each other through highs and lows
Picture it: The sound of "O Canada" rings out at the Sochi 2014 Olympic Winter Games as Justine Dufour-Lapointe climbs to the top of the podium to receive her gold medal for women's moguls.
The silver medallist to her right is her older sister, Chloé. They reach out and hold hands as a strong symbol of sisterhood.
Their oldest sister, Maxime, is watching close by after placing 12th in her Olympic debut. It was a remarkable and historic day for all three of them.
Canada's Justine Dufour-Lapointe and Chloe Dufour-Lapointe holds hands before climbing on the podium after winning the gold and silver medals in the moguls at the Sochi Winter Olympics Saturday February 8, 2014 in Sochi, Russia. THE CANADIAN PRESS/Adrian Wyld

Canada's Justine Dufour-Lapointe, right, is congratulated by her sister, Chloe, after taking first place in the women's moguls final at the 2014 Winter Olympics, Saturday, Feb. 8, 2014, in Krasnaya Polyana, Russia. Justine won the gold medal and Chloe took the silver. (AP Photo/Jae C. Hong)

Justine Dufour-Lapointe receives her gold medal and her sister Chloe a silver in the women's moguls at the Sochi Winter Olympics in Sochi, Russia, Sunday, Feb. 9, 2014. THE CANADIAN PRESS/HO, COC – Mike Ridewood
The sisters were young when they started skiing with their family. Their mother would bribe Justine down the hill with the promise of chocolate. Maxime was too adventurous to refuse a challenge and soon she was following her friends onto the harder runs filled with moguls.
Moguls are big bumps on a steep hill which the skier must navigate their way through. It is exciting and more than a little risky. The thrill appealed to Maxime and soon she was competing.
In competition, moguls skiers are timed as they race down a course and perform two aerial tricks. Their run is judged for its style, difficulty, and execution and their result is a combination of their score and time.
Maxime's success inspired her younger sister Chloé to join the fun.
At first, Justine preferred the social side of skiing and was not serious about competing. However, seeing Chloé in action at Vancouver 2010 sparked her own dream to compete at Olympics. It wasn't long before the three Dufour-Lapointe sisters were standing on medal podiums, making national teams, and traveling the globe for World Cup races.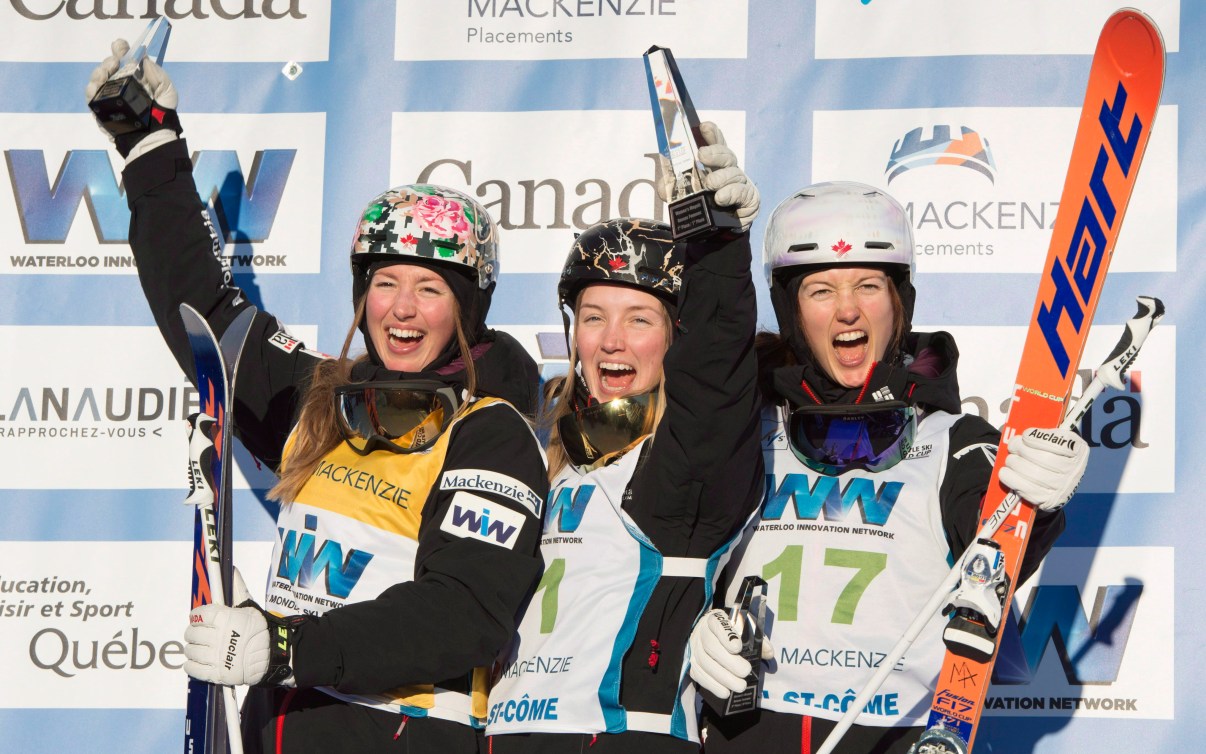 They were always there to support and motivate each other.
"It was a shared experience," explains Maxime. "It made us feel surrounded and never alone. No matter where we were in the world, we always felt at home being together."
The training was difficult but being together as sisters helped.
"There was always one of us that was more motivated than the others, and we knew how to talk to each other to get the others motivated," recalls Chloé. "We would often make a joke about it."
As anyone with a close friend or a sibling knows, sometimes there are disagreements. Living close together at training camps or at competitions can strain even the best of friendships. When conflict happened, they were able to talk it out.
"We could have hard discussions, because it was coming from a place of love and respect," remembers Justine.
"Sitting down and talking things through drew us closer," adds Maxime.
A key to being close was recognizing that they were each different people. They came to respect the differences. That acceptance helped them to be there for each other during the good times and the tough times.
"We always felt that we had a shoulder to cry on or someone to celebrate with," explains Justine.
Never were the emotions of being sisters more tested than at Beijing 2022. Justine entered having had an inconsistent season, but she was still a contender with her track record as an Olympic gold and silver medallist. Chloé was ready for what would be her fourth and final Olympic competition. The pressure was on, but the sisters were ready.
Justine Dufour-Lapointe, of Canada, reacts after her run during women's moguls finals at the Beijing Winter Olympics in Zhangjiakou, China, on Sunday, Feb. 6, 2022. THE CANADIAN PRESS/Sean Kilpatrick

Canada's Justine Dufour-Lapointe falls as she competes in the women's moguls finals at Genting Snow Park at the 2022 Winter Olympics, Sunday, Feb. 6, 2022, in Zhangjiakou, China. (AP Photo/Lee Jin-man)

Canada's Justine Dufour-Lapointe reacts after falling during the women's moguls finals at Genting Snow Park at the 2022 Winter Olympics, Sunday, Feb. 6, 2022, in Zhangjiakou, China. (AP Photo/Lee Jin-man)
Skiing in the first final, Justine raced down the first set of moguls and launched into her first jump. She landed well and proceeded to navigate the second set of moguls. Disaster hit on the second turn when she crashed. Her hopes for a medal had ended. She got up and asked for help retrieving her pole. She gathered herself and completed the run. There was no way she was going to quit.
"I knew I had to finish. It needed all the courage I had left," says Justine.
Chloé was told of the crash and immediately felt her sister's pain. Even though she was skiing in the competition, Chloé found Justine and helped to console her. She told Justine to be proud of her accomplishments.
Maxime was also there as an athlete mentor and the three sisters hugged, cried, and prepared to face the media. Maxime helped Justine to be ready to speak from her heart and let Canadians see her emotions.
Justine's message to Canadians was simple: "I never gave up on my dream and fought so hard to get there. I did everything I could to do my best and it was a bad day."
In life, there will be good times and more challenging times. When you have a brother, sister, or a good friend, you'll always have someone to share the hardship, push you upward and celebrate the victories. This is what the Dufour-Lapointe sisters are all about.
The Dufour-Lapointe sisters' story was originally featured as part of the Canadian Olympic School Program's resources. The resources at the link above are available at different reading levels and are accompanied by discussion questions and learning activities.