COC/Greg Kolz
Chef de Mission Lisa Weagle shares Olympic wisdom and hopes for Team Canada youth at Gangwon 2024
Right now, teenage athletes from across the country are in the midst of the qualification process to be part of Team Canada at the Gangwon 2024 Winter Youth Olympic Games.
Those that make it are going to feel ALL the emotions: Excited. Happy. Proud. Nervous. Scared. Overwhelmed.
I know because I've felt all those emotions too.
I represented Canada in women's curling at two Olympic Games: PyeongChang 2018 and Beijing 2022.
Competing in the Olympics was something I dreamed about since I was 12 years old, when curling became an official medal sport. I watched in awe as Sandra Schmirler and her team won gold at Nagano 1998. I felt so proud to be a curler and a Canadian. I was inspired watching them and, as improbable as it seemed, I wanted to follow in their footsteps.
As a kid, I loved the Olympics. Summer or winter, I watched it all. As far back as I can remember, I watched every Opening Ceremony and imagined myself marching in with Team Canada. Standing on the podium. Singing O Canada with a gold medal around my neck.
It was a dream that felt impossible. But that didn't stop me from trying.
Sports were important in my family. My parents insisted I always play a summer and a winter sport. I started curling when I was eight years old. I'll be honest, in the beginning, I mostly liked curling for the donuts and hot chocolate the instructors gave us at the end. But I quickly fell in love with the game.
Lisa Weagle, Team Canada Chef de Mission for the Gangwon 2024 Winter Youth Olympic Games, at the Ottawa Curling Club on February 11, 2023 (COC Photo/Greg Kolz)

Lisa Weagle, Team Canada Chef de Mission for the Gangwon 2024 Winter Youth Olympic Games, at the Ottawa Curling Club on February 11, 2023 (COC Photo/Greg Kolz)

Lisa Weagle, Team Canada Chef de Mission for the Gangwon 2024 Winter Youth Olympic Games, at the Ottawa Curling Club on February 11, 2023 (COC Photo/Greg Kolz)
I loved making shots and improving my skills. I loved being part of a team. I loved playing in big games. I especially loved winning. My dream at first wasn't to be a champion; I just felt compelled to keep chasing the next level of performance.
With hard work, some good timing, a bit of luck, a strong support system, incredible teammates, and strong coaches, my dream of being an Olympian eventually came true — twice.
My first Olympic Games were in South Korea in 2018. I remember arriving at our accommodations, exhausted from a seemingly endless travel day. When I got off the bus, I instantly forgot how tired I felt. I was wide awake. I was excited.
This was the OLYMPICS.
It was like living a dream come true. I was experiencing things I only imagined, like walking through the Olympic Village for the first time. Seeing the Olympic rings everywhere. Opening the door to the apartment I would share with my teammates. Wheeling the Team Canada suitcases that had been placed in our bedrooms into the living room and trying on every single piece of our clothing kits together. Visiting the dining hall and seeing competitors from every country mixed together, eating cafeteria-style. Stepping onto the Olympic curling ice for the first time and sliding over the Olympic rings. Marching in the Opening Ceremony in a sea of red, as part of one big Team Canada.
Lisa Weagle tries on her Team Canada kit at the PyeongChang 2018 Olympic Winter Games (Photo courtesy of Lisa Weagle)

Canada's Lisa Weagle shares a laugh with teammates prior to Canada's match with Switzerland at the Gangneung Curling Centre during the Pyeongchang 2018 Olympic Winter Games in Pyeongchang, South Korea, on Sunday, February 18, 2018. THE CANADIAN PRESS/HO-COC, Vaughn Ridley
The Olympics are like Disneyland for athletes: everything is magical. I hope the athletes who qualify for Gangwon 2024 remember to soak it all in. Enjoy every moment. Take lots of photos and videos, but don't forget sometimes to be present to just experience it.
A lot of work goes on behind the scenes to make the Games experience special and unforgettable for the athletes. The Canadian Olympic Committee is world-class at delivering Games and when you experience the Games as an athlete, you can see everyone's 100% dedication to creating an environment for you to excel.
Having experienced two Olympic Games as an athlete, I knew that I wanted to pay it forward one day and be part of the Mission Team. Giving back has always been important to me, and I'm excited for the opportunity to join Canada's support team in Gangwon.
As Chef de Mission for the 2024 Youth Olympic Games, my role is to be a leader, mentor, and cheerleader for Team Canada. In many ways it feels like I'm coming full circle, returning to the place where I had my first Olympic experience. I'm sure it will bring back some memories. But next January, I'll get to make new memories with Canada's next generation of high-performance athletes.
My hope for each athlete is that they shine in their big moment and reach their full potential. I know these athletes are well coached and supported. They've done the training and preparation. Knowing that, my goal as Chef de Mission is to be there for the team in whatever capacity I can, whether it's cheering on from the stands, joining in to celebrate a medal or personal best, or offering some support in a difficult moment.
Lisa Weagle, Team Canada Chef de Mission for the Gangwon 2024 Winter Youth Olympic Games, at the Ottawa Curling Club on February 11, 2023 (COC Photo/Greg Kolz)

Lisa Weagle, Team Canada Chef de Mission for the Gangwon 2024 Winter Youth Olympic Games, at the Ottawa Curling Club on February 11, 2023 (COC Photo/Greg Kolz)
For some of them, it will be their first time representing Canada in international competition. They'll soon see that being a member of Team Canada is something special. Having competed in two Olympic Games and three World Curling Championships, I can say that wearing the maple leaf on the world stage was truly one of the greatest honours of my life.
Along with the honour, there's also pressure. Sometimes the maple leaf can feel heavy, especially when the results don't go your way.
Every athlete who will compete in Gangwon dreams of standing on top of the podium with a gold medal, singing their country's anthem. But there's only three spots on the podium and three medals to be won. This means that a lot of athletes will go home disappointed.
I was one of those disappointed athletes at both of my Olympic Games. My teammates and I just missed the playoffs, falling short of our goal of bringing home a medal for ourselves and for Canada.
I won't sugarcoat it; it was devastating.
I remember feeling like not medalling was the worst possible thing that ever could have happened in my entire life. Before going to PyeongChang, I thought failure would look like a silver or a bronze medal. I had never even imagined the possibility of being off the podium.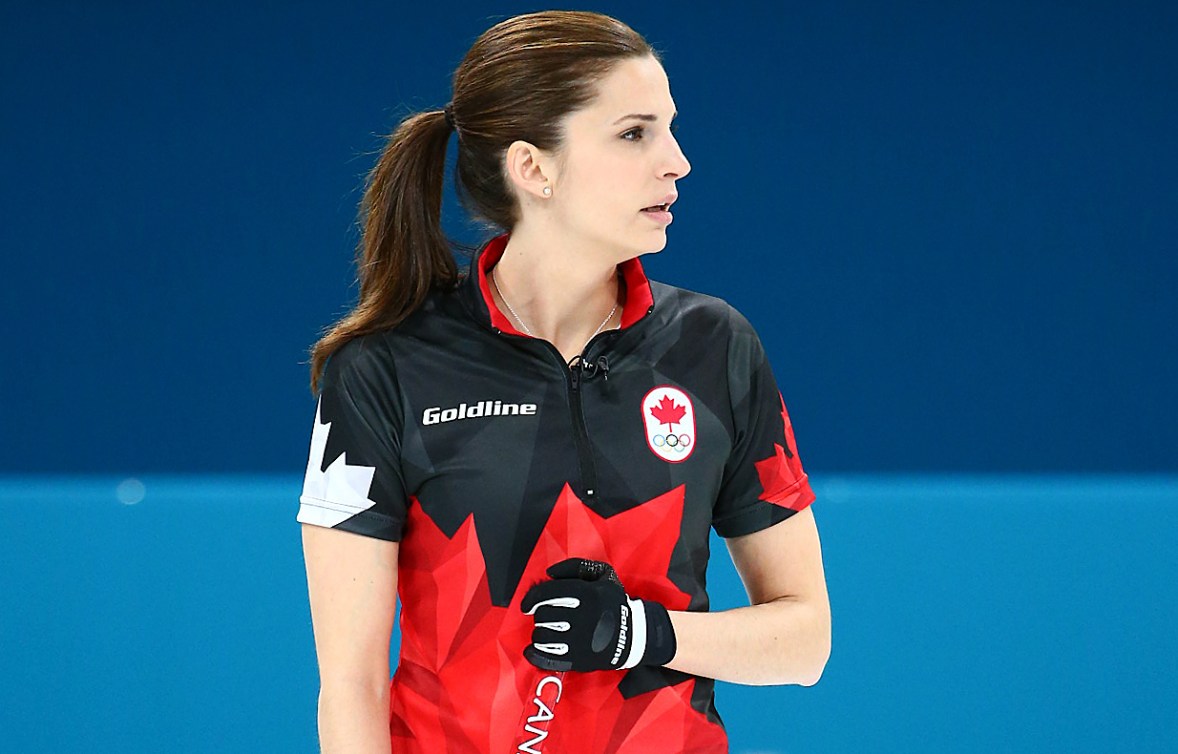 After we lost, I didn't let myself cry until I got back to my room and then the floodgates opened. Through tears, I checked my phone, and a message caught my eye. It was from a junior curler in Ottawa. She told me that she was proud of me, regardless of the result. That I was a role model to her and other athletes. That I was an Olympian for life.
Although losing stung, her message opened my eyes to a different perspective. She was right: even without a medal I was still a Canadian Olympian — an incredible accomplishment in its own right. I took some comfort in knowing I had tried my absolute best and never gave up.
Some days, your best gets you a medal and some days it doesn't. Depending on what side you're on, it's the beauty and the heartbreak of sport.
After the loss in 2018, I set out to enjoy the last few days of my Olympic experience with my teammates, friends, and family who had made the trip over to South Korea. We spent so much time at the curling rink, it was a nice change of scenery to take in some sports in the mountains. We cheered on our fellow Canadians and were lucky enough to be there to see snowboarder Sébastien Toutant capture big air gold. As the crowd cheered him on, my eyes were filled with tears — pure joy for him, but also grief over the golden Olympic moment I had hoped to have myself.
I have some beautiful memories of our time together touring around Gangwon.
We met locals who saw our bright red Canada jackets and stopped us on the street. There was a language barrier, but at the same time, the message was very clear: they were so excited to meet us, Canadian Olympians. They didn't care about our results. They wanted to greet us and shake our hands. We all laughed when one man put his child in my arms for us to take a photo together. There was just so much joy and, for a moment, it made me forget about my disappointment on the ice.
At the end of the day, I have to believe that sport is about more than medals. It can't just be about gold or nothing.
Do I wish I had a gold medal to show for my efforts? Of course. But I also think there are lessons to be learned through adversity. It's helped me see the bigger picture, that the Olympic Games are also about trying your best, making memories, celebrating the journey, and sharing the power of sport with others.
As they prepare for their Youth Olympic Games experience, I hope every athlete on Team Canada considers setting goals that have nothing to do with their sport performance. Winning shouldn't be the only measure of success.
To these young athletes I say: Choose to enjoy the moment. Embrace the rollercoaster of emotions you're sure to feel. Try your hardest. Show gratitude. Embody the Olympic values of excellence, respect, and friendship. Connect with others, make friends, and have fun. Take pride in representing Canada.
This is the experience of a lifetime, so soak it all in.
Lisa Weagle is a two-time Olympian in women's curling. She is a three-time national champion at the Tournament of Hearts who went on to capture gold (2017), silver (2014), and bronze (2013) medals at the World Women's Curling Championships. Over the course of her career, she won 10 Grand Slam of Curling titles.