THE CANADIAN PRESS/Frank Gunn
5 key takeaways from Team Canada's silver medal at IIHF Women's World Championship
Whether it be at the world championships or the Olympic Games, Team Canada has pulled off plenty of dramatic late-game heroics in women's gold medal hockey games. This past Sunday, they were unfortunately on the other end, allowing four third period goals in a 6-3 loss to Team USA in the final of the 2023 IIHF Women's World Championship.
Canada never trailed in the game until Hilary Knight scored on a five-on-three power play with 3:10 remaining in the third. Just 27 seconds later, Knight completed her hat trick, this time scoring on a five-on-four advantage to put the Americans up 5-3. Cayla Barnes added an empty netter.
READ: Team Canada wins silver at IIHF Women's World Championship
While disappointed in the result, the Canadians are looking at the game as a learning experience.
"It's hard to put into words right now," said captain Marie-Philip Poulin. "This one hurts, for sure, especially on home soil, but this group is very special; we'll learn from it and move forward, but it's a tough one to swallow."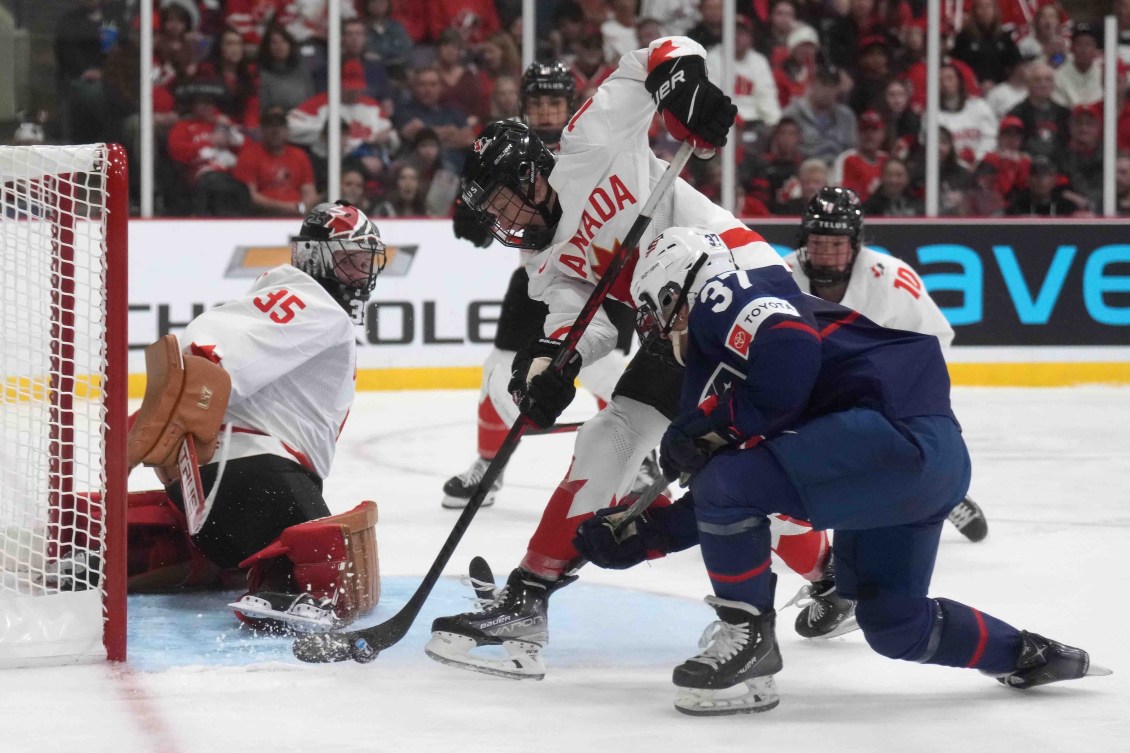 Veteran forward Brianne Jenner echoed Poulin's comments.
"I'm very proud; this is a really special group," said Jenner. "I think there's a bit of disbelief because in our dressing room we believed so much that we were going to find a way to win. It stings right now, but we will learn from it and we'll be back."
Team Canada, the reigning Olympic gold champion, was looking to win a third straight world title. This was the first gold medal for the United States since 2019.
There are still lots of positives for Team Canada to take away from the runner-up performance in Brampton, Ontario as we look towards the future.
The rivalry keeps on delivering
It may not have been the final result Canadian hockey fans were hoping for, but they were once again treated to an entertaining game between Team Canada and the rival Americans.
Canada and the United States have met in all but one gold medal game since the women's worlds began in 1990. Eight times the two powerhouses have needed overtime or a shootout to decide the championship winner while four other games were decided by a single goal in regulation time.
It looked as though Sunday's game was destined for extra time until Knight scored two late power play goals. In the preliminary round matchup between the two squads, the Americans also scored twice late in the game but ultimately fell in a nine-round shootout. Jamie Lee Rattray netted the winner for Canada.
No matter the final score, a high stakes game between these two programs is always thrilling — and this year's games lived up to that hype.
Fillier's future remains bright
At just 22 years old, Sarah Fillier continues to impress on the world stage.
Fillier, who was playing not far from her hometown of Georgetown, Ontario, was named the tournament's Most Valuable Player and Best Forward. She finished the event with seven goals and four assists in seven games. That included a hat trick in the semifinals against Switzerland.
Fillier finished last year's women's worlds with five goals and six assists after she had eight goals and three helpers at Beijing 2022. It's almost hard to believe she only made her world championship debut in 2021!
Veterans deliver
At some point, the veteran core of Team Canada will pass the torch to the next generation. But it doesn't appear that will be happening just yet.
Poulin, now 32, scored yet another gold medal game goal. She finished with four goals and four assists in seven games at the worlds, earning her a spot on the tournament all-star team.
The Canadian captain opened the scoring in Sunday's championship game, which seemed only fitting given her reputation for being a clutch performer. With a pair of goals in the Beijing 2022 gold medal game, Poulin became the first player – female or male – to score in four Olympic gold medal games.
Jenner, who scored nine times in Beijing, also had another strong gold medal game, scoring twice. The 31-year-old also scored twice in Canada's 2-1 victory over the United States in last year's championship match.
Goaltending is good
Winning a silver medal isn't easy, and for Team Canada, just getting into the championship game proved more difficult than it often is thanks to a couple of great goaltending performances.
In the quarterfinals, Swedish goaltender Emma Söderberg gave her team a great chance to pull off an upset, making 51 saves in a 3-2 overtime loss to Canada. Sweden tied the game in the final 10 seconds of the third period, forcing the extra frame. Sarah Nurse scored the winner to push Canada into the semifinals. Söderberg was named to the tournament all-star team.
But she wasn't named Best Goalie in the Directorate Awards. That honour went to Canada's Ann-Renée Desbiens, who started in five of the seven games and posted a 1.98 GAA. Emerance Maschmeyer started Canada's 5-0 win over Japan and the quarterfinal win against Sweden.
Though Canada's semifinal ended in a lopsided 5-1 score, Swiss goalie Andrea Brändli made an impressive 54 stops, including all 14 shots she faced in the first period.
"I think when you play really good goaltenders, it makes you a better goal scorer," Nurse said following Canada's semifinal victory. "It really does start from our group in the sense that with Ann-Renée, Emerance and Soupy (Kristen Campbell), those are some of the best goaltenders in the world. The fact that we can practice against them really enables us to be able to put what we practice into games, so when you can get 40 or 50 shots on goal a couple are going to end up in the back of the net."
Ready for revenge south of the border
Looking ahead, the 2024 IIHF Women's World Championship will return to the United States, taking place in Utica, New York. The games will be split between the Adirondack Bank Center and the Utica University Nexus Center with tentative dates set for April 4-14, 2024.
This will be the fourth time for the U.S. to host the event, but the first since 2017. Canada won gold in 1994 in Lake Placid, New York and 2012 in Burlington, Vermont. Canada fell 3-2 in overtime to the United States at the 2017 event in Plymouth, Michigan.
After what happened in Brampton, you gotta believe the Canadian women will have it mind to spoil the Americans' home ice party.