Photo courtesy of Brenda Taylor
How Olympic champion Brenda Taylor is powering rowing towards a carbon-free future
Brenda Taylor's dream is to decarbonize her beloved sport of rowing — and the two-time Olympic gold medallist is getting some help.
Taylor has received one of this year's OLY Canada Legacy Grants in the Planet category focused on environmental sustainability. She's spearheading a two-year pilot project aimed at empowering rowing clubs nationwide to switch from gas outboard motors to electric ones.
You may be asking yourself, how does rowing produce carbon emissions? Of course, the racing shells are fuelled by human strength. But the coach boats, which double as safety boats, are generally powered by gas outboards.
Taylor estimates one gas outboard produces emissions equivalent to one car, with many clubs owning upwards of a dozen motorized boats. And that's not the only problem.
"Greenhouse gas emissions, air pollutants, water pollutants, the noise for the coaches," points out Taylor. "A lot of them end up with hearing loss over time. The vibration is really hard on the coaches. And also the noise for the surrounding neighbours [of the rowing clubs]."
A lifetime of environmental care
Caring about the environment isn't new for Taylor, who grew up in Nanaimo, B.C. She's always loved the outdoors and rode horses as a child. She calls her mother "the original recycler" and says that environmental consciousness was part of the household ethos.
"It was just something we did," she said. "Not big into advocacy, but it was just the way you do things, the way you live. You don't live wastefully and you look after things."
Taylor's rowing career culminated at Barcelona 1992, where she won gold in the women's four and the women's eight after being victorious in both events at the 1991 World Rowing Championships. She went on to obtain a Master's degree in resource and environmental management.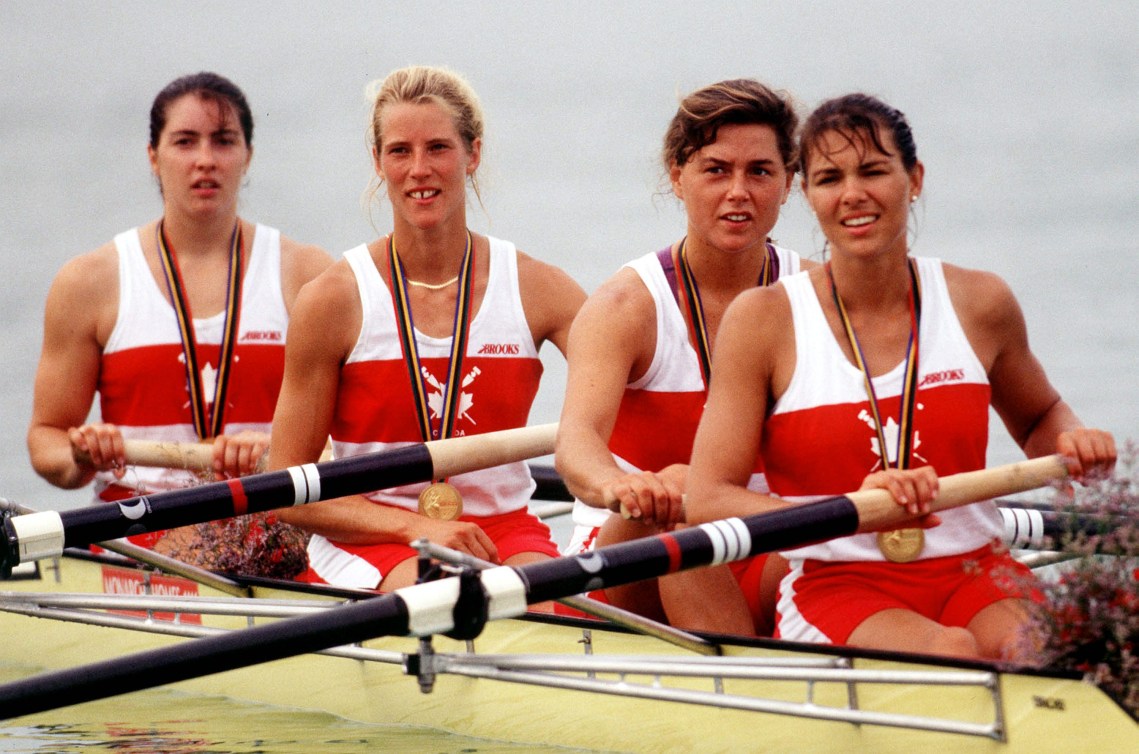 But she wasn't done with the sport — not by a long shot. She worked for the Victoria City Rowing Club up until 2021, when she began working on her pilot project.
"I thought 'we really need to start decarbonizing sport,'" she reflected. "Well, we need to start decarbonizing everything, but sport is the area I know best, and rowing is the area within sport that I know best."
She turned her attention to gas outboard motors. Coach boats are typically on the water for six hours a day, but that time can go up to 14 hours at a busy club in the summer months.
Witnessing the rapid growth of electric vehicles (and as a proud EV driver herself), Taylor saw similar potential for electric outboards.
"It's very similar to the transition from gas powered cars to electric vehicles — once you use one, you'll never go back," she said. "They're not noisy, they're super simple to use. It's more a matter of just introducing people to them and giving them the opportunity to use them."
Making the case for electric
The B.C. provincial government, through a program called CleanBC, offers subsidies to people buying EVs and e-bikes. When Taylor inquired about subsidies for e-outboards, she was told that none were available at the moment. However, she was encouraged to apply for funding through the Commercial Vehicle Pilots Program, to test the e-outboards, and to collect data that would help support the switch to electric.
Coach boats with gas-powered outboard motors are lined up by the boathouse at the Victoria City Rowing Club (Kevin Light Photography)

Coach boats with gas-powered outboard motors sit at the dock at the Victoria City Rowing Club (Kevin Light Photography)

An electric outboard motor in action on the water. This e-outboard is similar to what will be tested and tracked during Brenda Taylor's pilot project to decarbonize rowing (Thomas Deregnieaux/Torqueedo)

A closeup of an electric outboard motor. This e-outboard is similar to what will be tested and tracked during Brenda Taylor's pilot project to decarbonize rowing (Thomas Deregnieaux/Torqueedo)
Taylor's project takes a two-pronged approach. Firstly, there's the purchase of six e-outboards, spread out among four to six rowing clubs, and the tracking of data on fuel consumption, performance, user experience, and costs over a year.
Secondly, there's the hosting of between six and 10 "demo days" to provide clubs with information about transitioning to electric outboards.
While some may be unfamiliar with electric outboards, Taylor says they've been in small-scale use for over a century. Even now, their usage is somewhat patchwork. But Taylor hopes her project can convince rowing clubs in Canada and elsewhere to make full use of this rapidly advancing technology.
"I hope [the project] convinces people to switch over from gas to electric," she says. "I hope it provides CleanBC with the data they need to put in place a subsidy, because right now e-outboards are still quite expensive compared to gas outboards. I suspect they will pay off over time, but it's the initial cash outlay that's really difficult for clubs."
With outboard motors turning over every five to 10 years, Taylor says it would be "lovely" if the Canadian fleet of coaching boats is fully electrified within a decade. But there's a short-term target in mind too: the 2024 World Rowing Championships, being hosted in St. Catharines, Ontario.
"It would be really nice to pilot at least one electric outboard at that regatta," she says. "But I haven't pursued that yet, I've got to not bite off more than I can chew."