Darren Calabrese/COC
Brandie Wilkerson on big wins, learning from losses, and making a positive impact 
Brandie Wilkerson is the type of athlete that will tell you confidently that she and her first-year teammate, Melissa Humana-Paredes, can win the the beach volleyball world championship, and then in the next breath, when asked what part of her game still needs work, can laugh and say "every part!"
That is, Wilkerson is an athlete with great self-belief in her team's skills, as well as the humility to know that athletes are always students of their sport.
Wilkerson was a relative latecomer to beach volleyball, entering her first international event at age 22 after playing the indoor game collegiately at York University. Wilkerson has had a few partners on the international circuit, including a successful five-year run with Heather Bansley. The duo made it to the quarterfinals at Tokyo 2020, matching Canada's best ever Olympic result in beach volleyball. Wilkerson also made history as the first Black woman to represent Canada in the sport at the Olympics.
With Bansley's retirement, Wilkerson was in need of a new partner, teaming up first with Sophie Bukovec. But then, as fate would have it, Wilkerson's former York teammate Humana-Paredes and her teammate Sarah Pavan decided to go their separate ways. A Melissa and Brandie partnership felt like a natural fit with just over a year to go until Paris 2024.
The Melissa and Brandie Era
Wilkerson calls the team's experience together so far a "beautiful journey."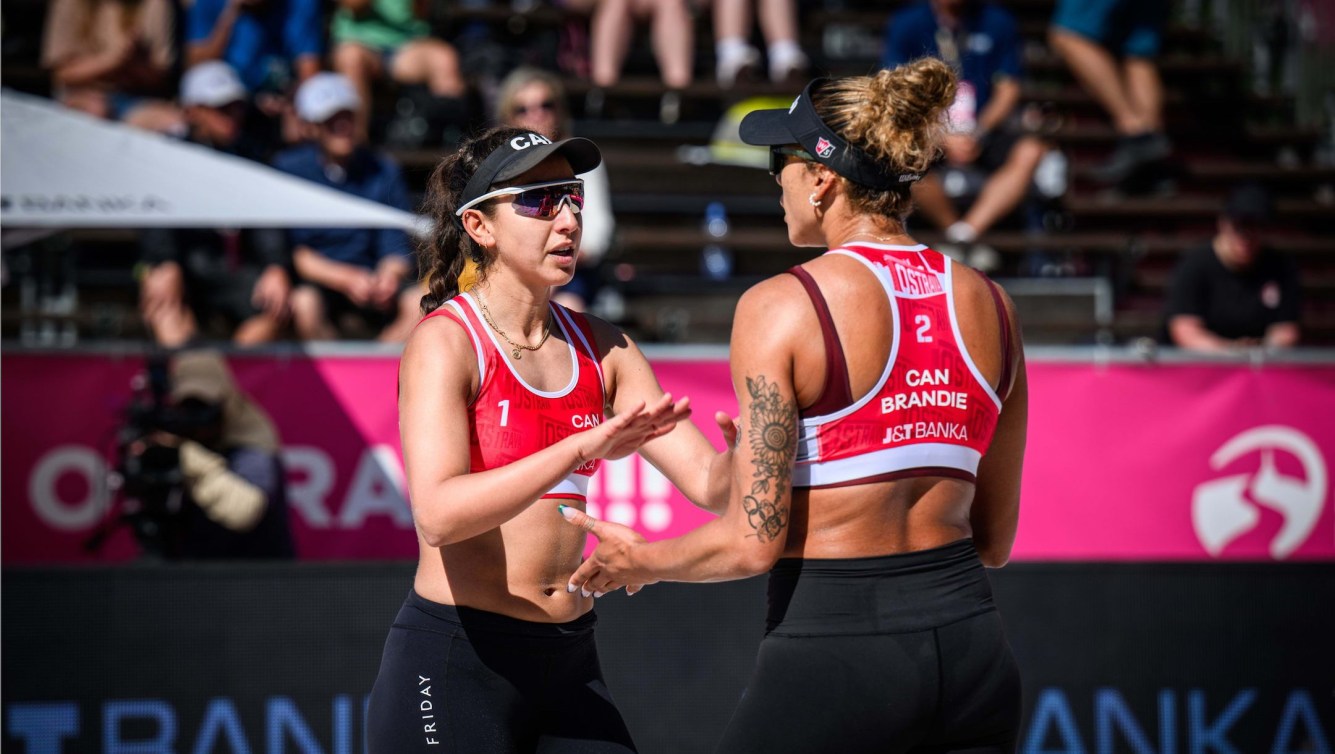 "We're competitors and individually we've been on top teams throughout our careers, so obviously we want to win gold every time. But, we're seeing the progression that comes with learning, evolving, and growing something with longevity in mind," Wilkerson said. "We're getting those glimpses of where our team can be this time next year."
As much as it might not be fun, Wilkerson also knows that losing is a part of learning. The key thing is not to lose for the same reason more than once.
"It comes with being a new team, and really just playing sports in general–you have to take your errors and your losses and see how you can come back stronger. And I think we're good at doing that," Wilkerson said.
There wasn't much "learning from losing" going on, though, when Wilkerson and Humana-Paredes took to the sand for the 2023 Beach Pro Tour Elite 16 stop in Montreal, which took place the last weekend of July. In the final in front of the home crowd, the pair defeated Americans Julia Scoles and Betsi Flint in three sets claiming their biggest victory together.
READ: Humana-Paredes and Wilkerson take gold at Elite16 in Montréal
Weeks later, Wilkerson was still flying high about the breakthrough win at home. "I don't think there is a word to describe the entire experience. To me, it was just such an important moment after having represented Canada all over the world, to be able to show that we are world class and win on home soil," Wilkerson said.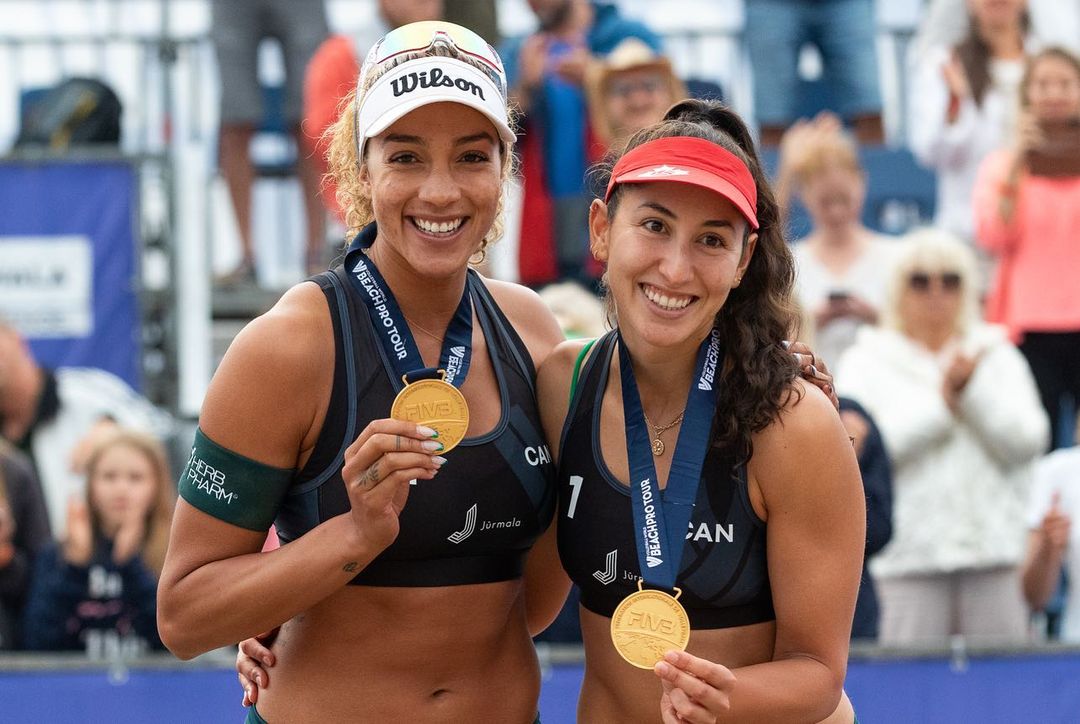 The pair have worked their way up the rankings bit by bit. The duo placed fifth at Elite 16 events in Qatar and Mexico, before snagging a bronze medal in Ostrava, Czechia. They secured their first gold as a team at a lower level Challenger event in Jurmala, Latvia followed by another Elite 16 fifth-place finish in Gstaad, Switzerland leading into the big Elite 16 win in Montreal.
Having family and friends able to attend the tournament was particularly meaningful, as Wilkerson's Olympic debut happened under strict health protocols that prevented supporters from travelling to Japan.
"I also just think there's something so inviting about a 'first,'" Wilkerson added. "We had never played in Montreal, it was the city's first time hosting the tournament, it's Mel and my first year together–so there was just so much newness that we could take advantage of to create our own story there."
Making Positive Impact
Regardless of where she's playing, Wilkerson's favourite thing is getting to meet and encourage young players, especially those within the BIPOC community.
"BIPOC representation is one of the most important things to me. One of the stories from Montreal that really stood out to me was a young biracial girl that was just so excited to see someone who looked like her playing. The girl's mother was also a volleyball player and she was saying how glad she was that her daughter had a mixed race role model in the sport they both love," Wilkerson said. "Those moments are the reason I play."
Wilkerson and Humana-Paredes were blown away by Montreal's enthusiasm for the sport. "It's a sport that people don't really think of as 'traditionally Canadian,' but I think the city fell in love with it," she said.
In Wilkerson's opinion, hosting more events like this in Canada could foster a lasting impact for generations to come, which is something she is personally invested in. Wilkerson is the co-founder of Project Worthy, a scholarship program aimed at increasing BIPOC representation in volleyball. In the midst of her very busy next few months, which she expects to include more Beach Pro Tour events, a couple of AVP tournaments, the world championships, and the Pan Am Games, Wilkerson is finding time to also host volleyball clinics as another Project Worthy initiative.
What's Next
According to Wilkerson, the busy schedule of tournaments brings complementary elements. The Beach Pro Tour tournaments are intense, serious environments where the team's Olympic qualification is on the line. The AVP tour stops in the United States are more of a "fun testing ground for some things" as well as a chance to "enjoy the sport, wear cool things and be individuals."
Though the rules have stated for over a decade that all beach volleyball players can wear shorts and a tank top or a swimsuit, many social media users still accuse the sport of forcing women to play in bikinis. Wilkerson counters that, believing that having autonomy over one's uniform choice is empowering, no matter what your preference is.
"Whatever makes you feel your strongest is what you should wear and what people should be happily supporting," she says. She personally prefers to compete in a bikini so as to not get sand stuck in sweaty clothes.
With several big competitions on the horizon, Wilkerson and Humana-Paredes are headed into a busy stretch well beyond what a typical person might think of as "beach" season, with the world championships and Pan Am Games taking place in October.
With Tokyo 2020 being Wilkerson's only multi-sport Games experience, she's excited to take in the environment at Santiago 2023 and support other Team Canada athletes. It would also be a special tournament for the duo, with Humana-Paredes having family roots in Chile.
Keep Learning, Keep Dreaming
In the meantime, you can find Wilkerson and Humana-Paredes working on their consistency, as well as their ability to take advantage of their "undersize" status, which allows them to move quickly around the court. At 5'11'', Wilkerson is one of the most undersized blockers in the world, and yet was named as both the FIVB and AVP's top blocker for the 2021 and 2022 seasons.
"We have a very dynamic offense that we want to keep running," Wilkerson says, "and we are such a strong defensive team, arguably the strongest defensive team on the world tour. So most of our work is on pushing the envelope to see what newness we can find and how to play the game in a nontraditional way."
It has already been a year of rapid skill development, with Wilkerson not only learning to spin serve, but shifting to it becoming her dominant serve, to great effect.
Most of all, according to Wilkerson, the two are "just having fun just being adult women pursuing our dreams, and supporting other adult women pursuing dreams."
– With files from Paula Nichols