(Balazs Czagany/MTI via AP)
Justina Di Stasio and Ana Godinez-Gonzalez on why wrestling is for everyone and making each other better
For a sport that is often stereotyped as requiring intensity and aggression, there is nothing but friendship and respect emanating between Team Canada wrestlers Justina Di Stasio and Ana Godinez Gonzalez.
Throughout a recent interview, the veteran Di Stasio gushed with pride over 23-year-old Godinez Gonzalez's rapid progress in the sport. Godinez Gonzalez affectionately calls Di Stasio "Juice" as well as the "mom" of the team who keeps her and her sister Karla in line ahead of big meets.
In fact, there are quite a few misconceptions about wrestling that the teammates want to debunk–that it isn't a social sport that can be done casually, that it's not size inclusive, that it's not a great sport for women.
But before we get to that–who are Justina Di Stasio and Ana Godinez Gonzalez?
Justina has the juice
Di Stasio is an accomplished wrestler. The 30-year-old has a long list of accolades, including gold at the last Pan Am Games in 2019 as well as the 2022 Commonwealth Games. In 2018, she earned the title of world champion.
Despite being a recognizable name on the international scene, Di Stasio hasn't yet made the Canadian Olympic team. The country can only send one wrestler per weight class, and Di Stasio has lost twice in domestic qualification to Erica Wiebe–who went on to win the Olympic gold medal at Rio 2016.
The challenge of not making the Olympics yet has made Di Stasio both determined and also resilient, in the sense that she recognizes keeping the bigger picture in mind beyond wrestling.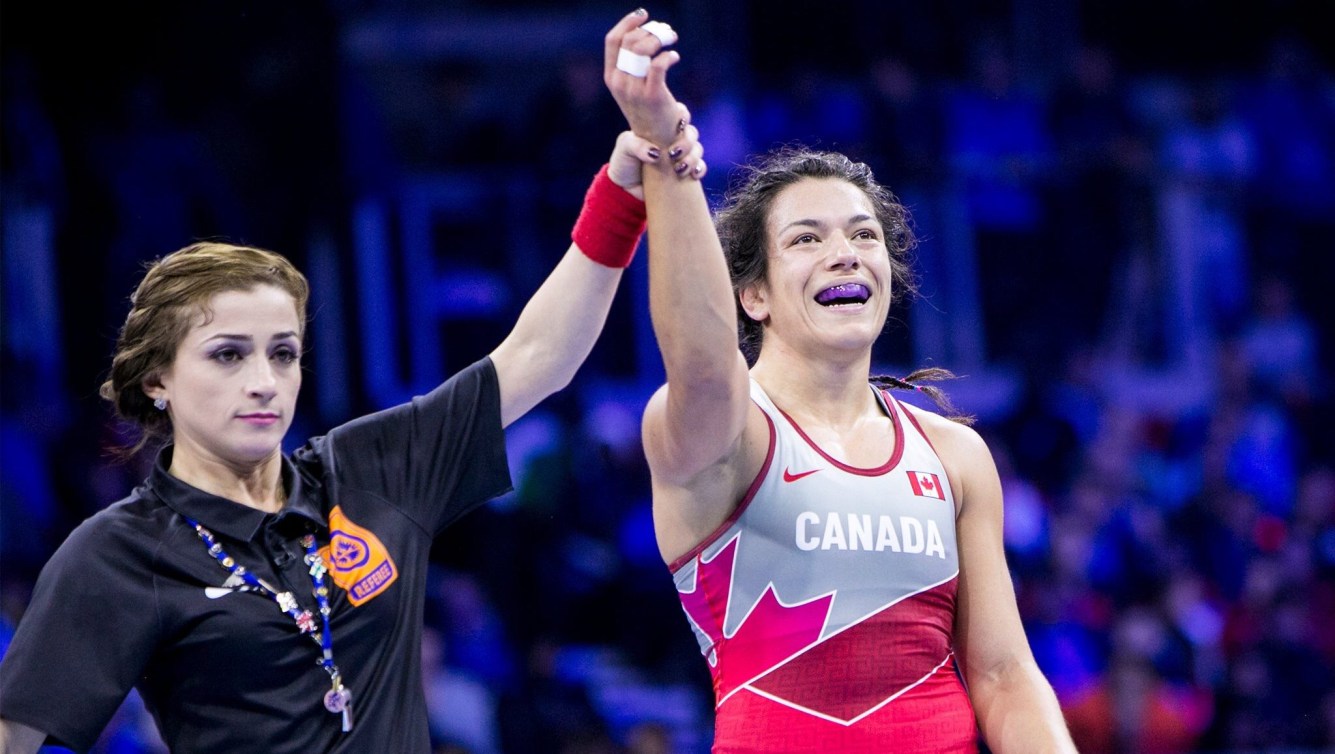 "I think about the idea of failing forward," she explains. "I've lost the Olympic trials twice. I've felt the lowest I've ever felt, twice. But in the aftermath of the first time, I started teacher's college and started winning world medals. And then the second time, I got a job, I met my boyfriend–all of these opportunities that maybe I wouldn't have had if I had gone to the Olympics."
But with Wiebe now retired, Di Stasio is keeping things balanced–supply teaching and training harder than ever, and with the knowledge that whatever happens, she'll be alright.
Di Stasio has also grown into feeling comfortable representing her Italian and Cree backgrounds. In a previous interview, she admitted to being hesitant at first to speak on Indigenous issues due to her Italian last name.
Now, she feels that if "people I meet learn I'm Cree and it brings a positive spotlight to that, great […], whatever positive effect or influence I can have with whatever lens someone wants to look at me with, it's going to be good."
Godinez-Gonzalez's journey to the wrestling mat
Godinez Gonzalez is a relative latecomer to wrestling. While Di Stasio started at 12, she didn't take up the sport until grade 11, despite an older sister (who was on a path towards MMA fighting) encouraging both Ana and Karla to try it out.
"I was like, 'That's a weird sport…why are they wearing those things?'" Godinez Gonzalez said with a laugh. "I told her: 'I am not wearing that!'"
What eventually convinced Godinez Gonzalez to try it out was the idea that wrestling might be a good secondary sport to improve her rugby. She soon realized that she liked elements of the individual sport.
"In rugby, I would get so mad when girls weren't competitive and were walking rather than running to the ball. One tournament, I even cried because I felt like these girls weren't trying, or didn't care as much as I did," she said with another chuckle, "but with wrestling, it was awesome to see that I could get out what I put in."
Godinez Gonzalez burst onto the scene in 2019, when she was finally able to compete for Canada. Her family moved from Mexico when she was a child to escape dangerous circumstances.
She says the decision to compete for Canada was easy for her and Karla: "We learned about wrestling in Canada, we train in Canada–it felt right."
Because Godinez Gonzalez hadn't been able to compete at nationals prior to gaining citizenship, much of the reaction to her arrival was, according to Di Stasio, "wait–who is this girl?!"
Since then, Godinez Gonzalez has accumulated numerous international medals, including gold and bronze at the U23 World Championships in 2021 and 2022, respectively, silver at the 2022 Commonwealth Games, and gold at the 2023 Pan American Championships.
Her sister, Karla, is also a national team member. The two stayed sharp during the pandemic by wrestling each other when gyms and training facilities were closed, despite competing in different weight classes.
What everyone should know about wrestling
When asked what they wish more people knew about their sport, Di Stasio hopped in to touch on multiple areas she sees as misconceptions.
"Wrestling is very size inclusive as you're growing up," she explains. "I'm 175 pounds right now and I can be on a team with a teammate who's 101 pounds and the sport is designed to be safe for both of us. I think I've benefited in other sports from being bigger, whereas in wrestling, it's inclusive for smaller athletes and bigger athletes."
Size inclusivity isn't necessarily the first thing a general audience might think of when it comes to weight-classed sports, which, like endurance and aesthetic sports, often bear the reputation for unhealthy dieting practices or body image issues as athletes try to compete at as light a weight as possible. But, according to Di Stasio and Godinez Gonzalez, the sport is shifting, and a big part of the problem has been broader societal pressure on women in particular to be thin.
Di Stasio says she experienced this herself as a developing athlete: "I was thinking– 'how small can I get?' Not, 'how good could my body be if I feed it? How strong could I get?'"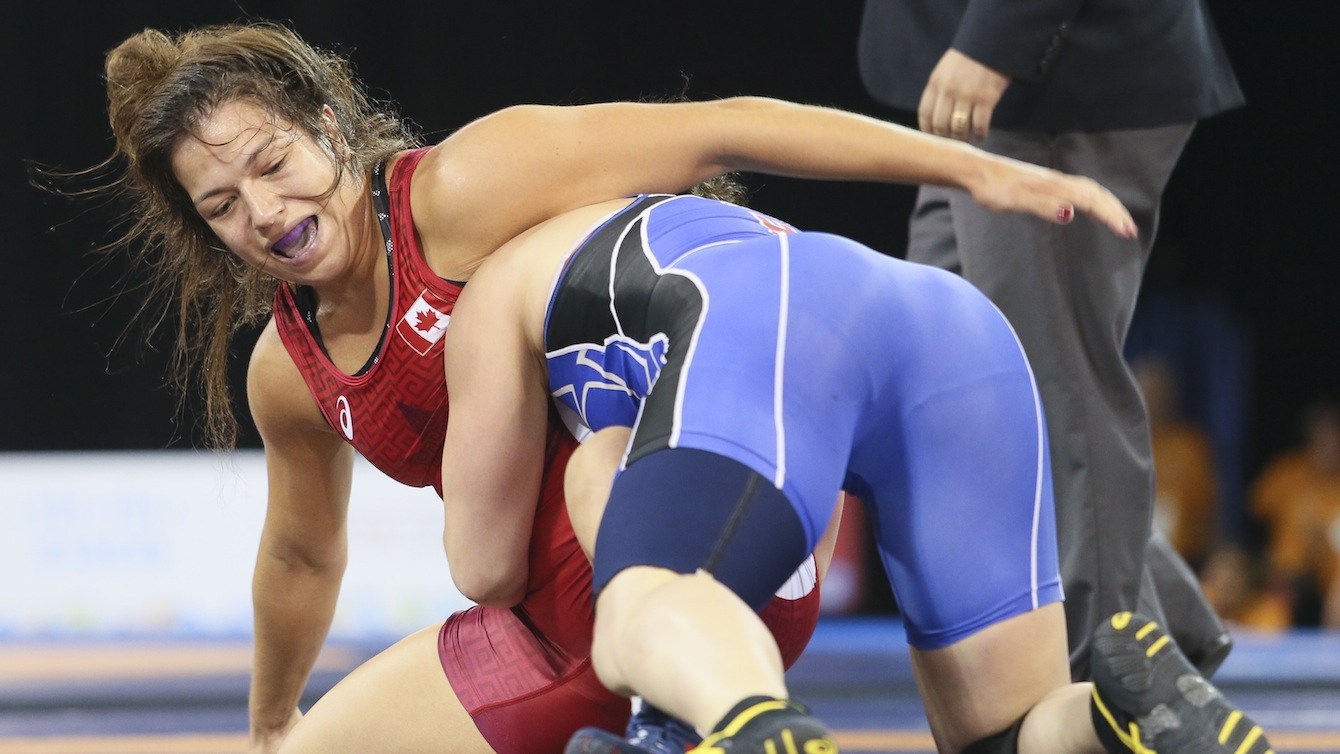 She says that while she was determined to cut weight in high school, her coach encouraged her not to, an example of the importance of the support systems surrounding athletes. Now, Di Stasio has a simple message for younger wrestlers: Wrestle what you weigh, and see how strong you can get.
While Di Stasio and Godinez Gonzalez recognize that this message isn't applicable only to women, they acknowledge that there are broader stereotypes that can make it tough to be a woman in wrestling.
"I would just say–It's nice to have muscles. It's nice to be gritty, to work hard and to lift more weight than most of the guys at the gym. That doesn't make you any less of a woman," Di Stasio said.
Perhaps another stereotype that wrestling faces is the idea that one has to take the sport super seriously and be intense and aggressive.
"Like any sport, it can be a social or recreational thing," said Godinez Gonzalez. She says that some of the more casual participants can actually add a lot as training partners to more competitive athletes, as it's good to mix up training partners. Godinez Gonzalez and her sister, for example, know each other so well that it takes some of the unpredictability out of practice sessions.
Godinez Gonzalez is still figuring out the balance between intensity, competitiveness, and having fun. While she has a reputation for going all-in on training, she's come to realize that she performs her best when she's also having fun.
"When I put pressure on myself and start thinking 'I have to win this match', I don't wrestle well," she says. "So I guess my advice would be to work hard, but keep it light."
Di Stasio agrees about keeping sport fun. For her, wrestling, and sports generally, can bring out an emotional side: "I think sport is a space where you can learn to be emotional and work hard through your emotions. It's okay to be emotional, but it's not okay to be rude, or be punching walls."
What's next
Team Canada wrestlers have a packed agenda over the next few months. They'll be competing at the UWW World Championships from September 16 to 24 in Belgrade, Serbia, where the first Olympic quota spots for Paris 2024 are on the line.
The plan is to train through to the Pan Am Games, taking place October 20 – November 5 in Santiago, Chile. Then, full focus on the Canadian Team Trials in December.
The key to success
When offered the opportunity to include any final thoughts, Di Stasio had this advice to offer up to athletes at all levels and all sports: surround yourself with people that are a bit better than you and they will constantly raise you up.
"Ana will beat me in practice and then pull me up off the mat," Di Stasio says, "She'll lift as much as me–which is annoying because I'm two, three weight classes above her–but then I want to work harder to be able to match her energy. You don't have to be the best in the group to be great when you go perform."
Godinez Gonzalez let out a slightly disbelieving laugh at the description, as it came from an experienced athlete she looks up to. But then again, the two athletes cracked each other up during the entire interview.
So maybe the key isn't just surrounding yourself with people who are better than you, but also cultivating friendship.