Thomas Skrlj/COC
Holmgren and Jackson kick off Pan Am Games with gold medal sweep in mountain bike
Canada has swept the men's and women's mountain bike events on Day 1 of the Santiago 2023 Pan American Games.
Gunnar Holmgren and Jenn Jackson both took home gold in their respective cross-country races early on Saturday.
Holmgren, 24, and a native of Orillia Ont., crossed the finish line in one hour, 17 minutes, and 59 seconds to earn Canada's first medal of the Pan Am Games.
He moved into first on the third lap of the seven lap course and never looked back.
He beat out Chilean Martin Vidaurre Kossmann and Brazil's Jose Gabriel Marques De Almeida. Vidaurre Kossmann finished 53 seconds behind Holmgren.
"We've raced each other all season long in the World Cup circuit," Holmgren said of the Chilean home favourite. "I spent the first few laps figuring out where he was strong, maybe where I was stronger, and then put it to work."
Ranked 34th in the world, Holmgren's Pan Am gold is the latest in a string of impressive results. He won cross-country silver earlier this year at the 2023 American Continental Championships and finished fifth at the official Olympic test event for Paris 2024.
"Everyone was cheering and yelling. It was one of the best atmospheres I had the privilege to race for."
Jackson races to gold in dominant fashion
Jackson, 28, from Barrie, Ont., won her first Pan Am gold in as many tries just over an hour after Holmgren's win.
Just like in the men's race, it was a Canadian who beat out a Chilean rider for gold.
Catalina Vidaurre Kossman placed second, but finished nearly three minutes behind Jackson. Raiza Goulao Henrique of Brazil rounded out the podium in third place.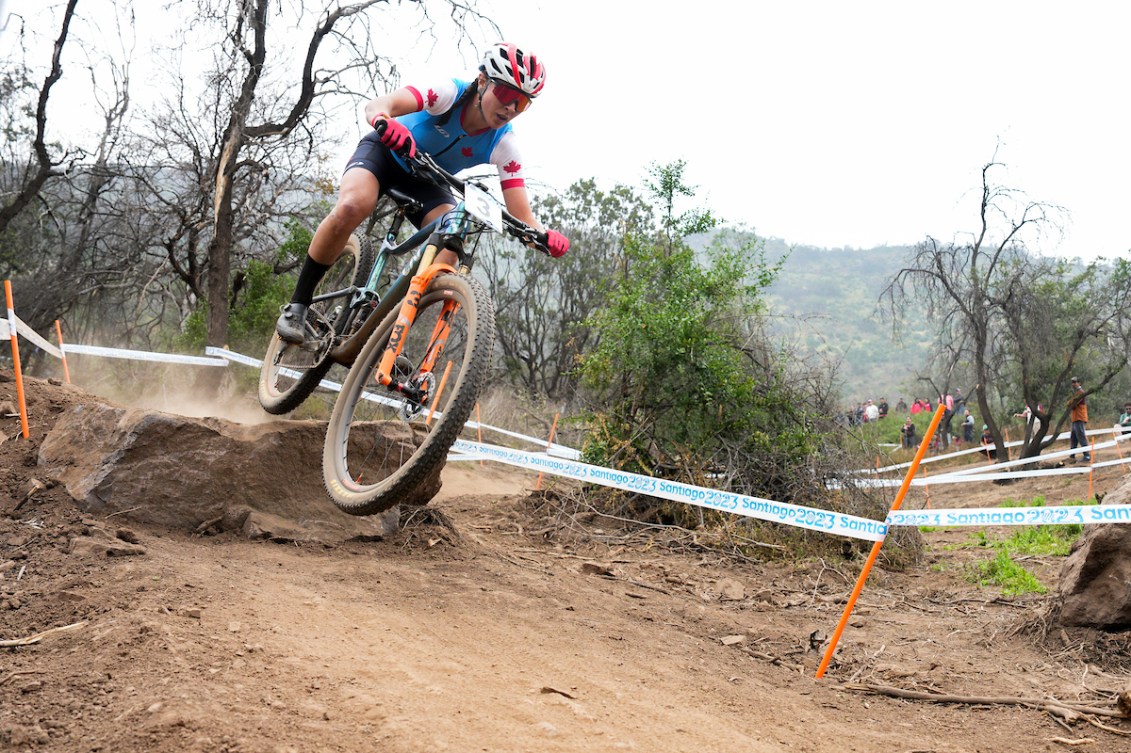 Jackson said in an interview following the race that Holmgren's gold gave her an extra push on the course.
"It feels like a perfect day," Jackson said. "There's just that little bit of (motivation), seeing one of your friends, someone you grew up riding with achieve the best result they could here… It just made me believe it's my turn."
Jackson is the 2021 and 2023 Canadian champion in cross-country.
"I just got to the front set my pace and just tried to have a really calm ride… It was perfect."
Holmgren and Jackson aren't the first Canadians to sweep the mountain bike races at the Pan Am Games. At Toronto 2015, Emily Batty and Catharine Pendrel finished with gold and silver medals in the women's race while Raphaël Gangé won gold in the men's event. Pendrel was watching proudly in Santiago as the national team coach.