Speed Skating – Short Track
Team Canada Medal Count
10
13
14
Sport Overview
Short Track Speed Skating at Beijing 2022
Venue: Capital Indoor Stadium
Competition Dates: February 5, 7, 9, 12, 14, 16 (Days 1, 3, 5, 8, 10, 12)
Events: 9 (4 men, 4 women, 1 mixed)
Trivia: Test your knowledge!
Short track speed skating takes place on a 111.12m oval which is marked on an international-sized ice rink. The smaller oval means there are tighter turns and shorter straightaways than in long track. There are nine events on the Olympic program.
In the 500m (4 ½ laps) and the 1000m (9 laps) there are four rounds of competition (heats, quarterfinals, semi-finals, finals) in which there are usually four skaters racing at a time.
With 13 and a half laps, the 1500m is the most strategic of the individual events. There are three rounds of competition (heats, semi-finals, finals) in which there are usually six skaters racing at a time.
In the men's 5000m relay (45 laps) and women's 3000m relay (27 laps), teams compete with four skaters each and there are four teams on the ice at a time. Instead of a baton, the exchange between teammates is made by pushing the next skater to maintain momentum and movement. Skaters will race one to two laps before making an exchange. In the event of a fall, a covering skater may tag the fallen skater and continue the race.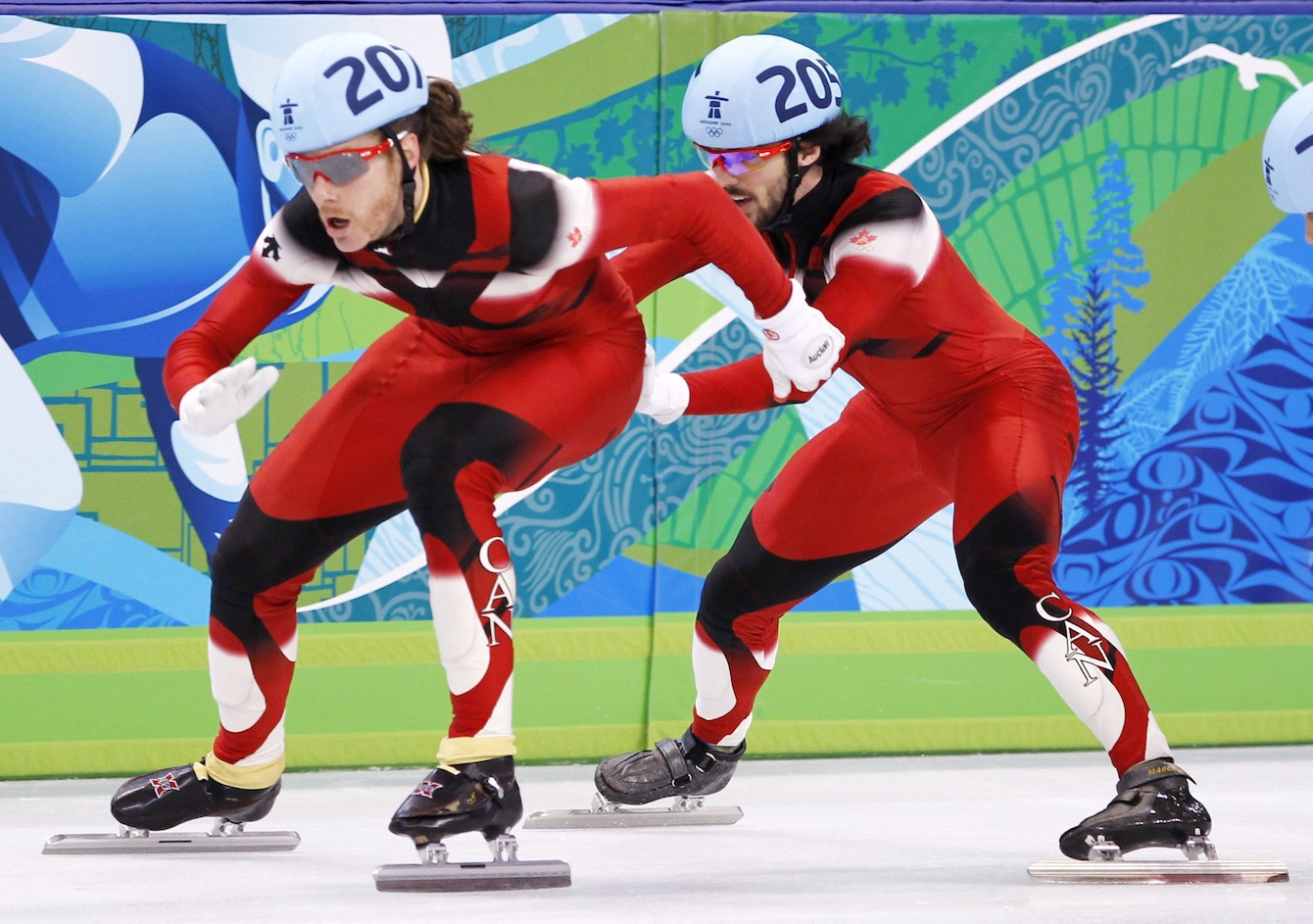 New to the Olympic program at Beijing 2022 will be a mixed team relay, which has a total distance of 2000m (18 laps). Each team includes two women and two men, who race in that order (woman-woman-man-man). Each skater covers two and a half laps before pushing the next member of their team into the race. Each skater races twice. If an athlete falls, only an athlete of the same gender can tag in to continue the race.
Canadian History (Pre-Beijing 2022)
Short track speed skating has only been on the Olympic program since Albertville 1992, but it is already Canada's second-most successful winter sport with 33 medals won.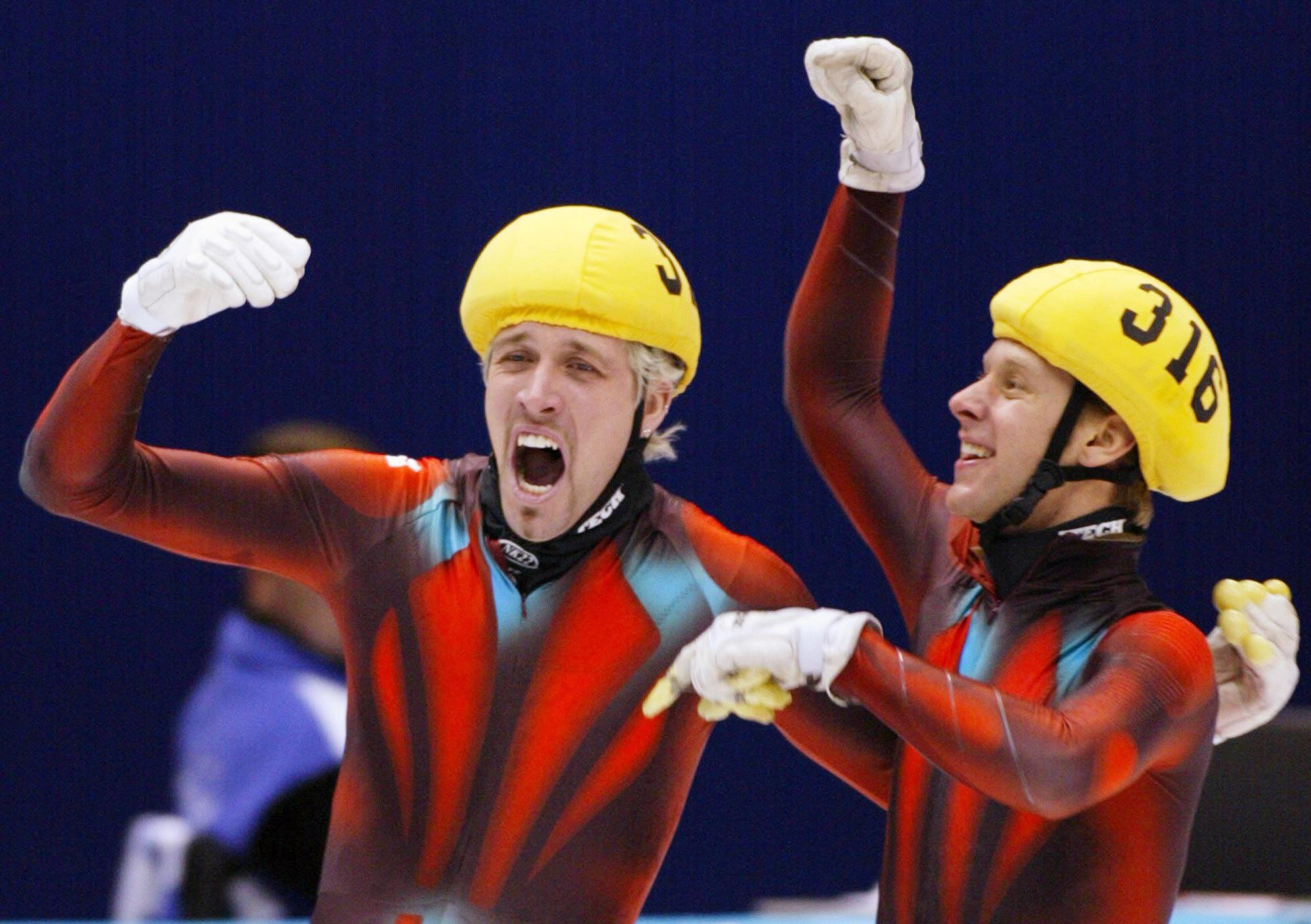 Canada's best Games were at Salt Lake City 2002, where six medals were won. Marc Gagnon contributed three of those, highlighted by his gold medal in the 500m as he shared the podium with silver medal-winning teammate Jonathan Guilmette. The duo also won gold as members of the 5000m relay. Gagnon added a bronze medal in the 1500m. He ended his career as one of Canada's most decorated Olympians with five medals, having previously won 1000m bronze at Lillehammer 1994 and relay gold at Nagano 1998.
Also on the most decorated list is François-Louis Tremblay, who won the first of his five Olympic medals as a member of the relay in Salt Lake City. He won relay medals at the next two Games, where he also stood on the podium in the 500m, winning silver at Turin 2006 and bronze at Vancouver 2010.
At Sochi 2014, Charles Hamelin won his third career Olympic gold medal when he finished first in the 1500m. Four years earlier he'd won gold in the 500m and as a member of the 5000m relay. He added a fifth career medal at PyeongChang 2018, winning bronze with the 5000m relay.
Canada's short track star in PyeongChang was Kim Boutin, who was the country's only triple medallist of the Games as she reached in the podium in all of the women's individual events. She was selected as Canada's Closing Ceremony flag bearer. Canada's only short track gold in PyeongChang was won in the men's 1000m by Samuel Girard.
Until 2018, Canada had never missed the podium in the women's 3000m relay, starting with a gold medal at Albertville 1992. Four silver and two bronze have been won since then. Tania Vicent was a member of four of those teams, making her Canada's most decorated female short tracker. The only Canadian woman to win individual gold was Annie Perreault in the 500m at Nagano 1998.
At Sochi 2014, Marianne St-Gelais won silver with the 3000m relay for her third career medal, adding to the relay silver and 500m silver she won at Vancouver 2010.
Canadian Medallists
| Event | Athlete | Finish | Games |
| --- | --- | --- | --- |
| Women's 3000m Relay | Angela Cutrone, Sylvie Daigle, Nathalie Lambert, Annie Perreault | Gold | Albertville 1992 |
| Men's 5000m Relay | Éric Bédard, Derrick Campbell, François Drolet, Marc Gagnon | Gold | Nagano 1998 |
| Women's 500m | Annie Perreault | Gold | Nagano 1998 |
| Men's 500m | Marc Gagnon | Gold | Salt Lake City 2002 |
| Men's 5000m Relay | Éric Bédard, Marc Gagnon, Jonathan Guilmette, François-Louis Tremblay, Mathieu Turcotte | Gold | Salt Lake City 2002 |
| Men's 500m | Charles Hamelin | Gold | Vancouver 2010 |
| Men's 5000m Relay | Charles Hamelin, Guillaume Bastille, François Hamelin, Olivier Jean, François-Louis Tremblay | Gold | Vancouver 2010 |
| Men's 1500m | Charles Hamelin | Gold | Sochi 2014 |
| Men's 1000m | Samuel Girard | Gold | PyeongChang 2018 |
| Men's 5000m Relay | Charles Hamelin, Pascal Dion, Steven Dubois, Jordan Pierre-Gilles, Maxime Laoun | Gold | Beijing 2022 |
| Men's 1000m | Frédéric Blackburn | Silver | Albertville 1992 |
| Men's 5000m Relay | Frédéric Blackburn, Laurent Daignault, Michel Daignault, Sylvain Gagnon, Mark Lackie | Silver | Albertville 1992 |
| Women's 3000m Relay | Christine Boudrias, Isabelle Charest, Sylvie Daigle, Nathalie Lambert | Silver | Lillehammer 1994 |
| Women's 1000m | Nathalie Lambert | Silver | Lillehammer 1994 |
| Men's 500m | Jonathan Guilmette | Silver | Salt Lake City 2002 |
| Men's 5000m Relay | Éric Bédard, Jonathan Guilmette, Charles Hamelin, François-Louis Tremblay, Mathieu Turcotte | Silver | Turin 2006 |
| Women's 3000m Relay | Alanna Kraus, Anouk Leblanc-Boucher, Amanda Overland, Kalyna Roberge, Tania Vicent | Silver | Turin 2006 |
| Men's 500m | François-Louis Tremblay | Silver | Turin 2006 |
| Women's 3000m Relay | Jessica Gregg, Kalyna Roberge, Marianne St-Gelais, Tania Vicent | Silver | Vancouver 2010 |
| Women's 500m | Marianne St-Gelais | Silver | Vancouver 2010 |
| Women's 3000m Relay | Marie-Ève Drolet, Jessica Hewitt, Valérie Maltais, Marianne St-Gelais | Silver | Sochi 2014 |
| Women's 1000m | Kim Boutin | Silver | PyeongChang 2018 |
| Men's 1500m | Steven Dubois | Silver | Beijing 2022 |
| Men's 1000m | Marc Gagnon | Bronze | Lillehammer 1994 |
| Men's 1000m | Éric Bédard | Bronze | Nagano 1998 |
| Women's 3000m Relay | Christine Boudrias, Isabelle Charest, Annie Perreault, Tania Vicent | Bronze | Nagano 1998 |
| Women's 3000m Relay | Isabelle Charest, Marie-Ève Drolet, Amélie Goulet-Nadon, Alanna Kraus, Tania Vicent | Bronze | Salt Lake City 2002 |
| Men's 1500m | Marc Gagnon | Bronze | Salt Lake City 2002 |
| Men's 1000m | Mathieu Turcotte | Bronze | Salt Lake City 2002 |
| Women's 500m | Anouk Leblanc-Boucher | Bronze | Turin 2006 |
| Men's 500m | François-Louis Tremblay | Bronze | Vancouver 2010 |
| Men's 500m | Charle Cournoyer | Bronze | Sochi 2014 |
| Women's 500m | Kim Boutin | Bronze | PyeongChang 2018 |
| Women's 1500m | Kim Boutin | Bronze | PyeongChang 2018 |
| 5000m relay | Charles Hamelin, Samuel Girard, Charle Cournoyer, Pascal Dion | Bronze | PyeongChang 2018 |
| Women's 500m | Kim Boutin | Bronze | Beijing 2022 |
| Men's 500m | Steven Dubois | Bronze | Beijing 2022 |
Teams