Team Canada 2SLGBTQI+ Resources
The COC stands behind its commitment of inclusion and diversity in the global sport landscape. We recognize that diversity is our greatest strength. Inclusion is the very foundation of what makes the heart of Team Canada.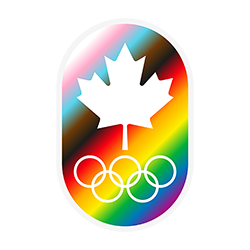 ORGANIZATIONS SUPPORTING 2SLGBTQI+ COMMUNITIES
Egale Canada (www.egale.ca) is a national organization that advances equality and justice for 2SLGBTQI+ (two-spirit, lesbian, gay, bisexual, transgender, queer, intersex) people and their families across Canada. This website has helpful resources including French Style guide for inclusive writing in French, research projects, training and workshops, and free webinars for educators.
You Can Play (www.youcanplayproject.org) works to ensure the safety and inclusion for all who participate in sports, including 2SLGBTQI+ athletes, coaches and fans. They achieve this by creating a community of allies that is able to foster a true sense of belonging. This website has a variety of resources including terminology, tips to creating an inclusive locker room, and offers in-person or virtual presentation and training sessions.
One Team (French & English) The One Team program aims at developing resources to promote LGBTQ+ inclusion and respect in schools and sport throughout the country. This introductory guide introduces the research and current challenges for LGBTQ+ children and youth in the education and sport landscape. Created by the COC in conjunction with You Can Play and Egale Canada.
Educational Resources
One Team: Creating safer spaces for LGBTQ Students – This educational resource guide is designed to support educators and coaches with their role in supporting LGBTQ students within the classroom and in sport. Included in the Guide are tips for creating LGBTQ+ safe spaces in schools, sports-specific suggestions and strategies for working with LGBTQ+ athletes and coaches.
One Team: Fostering Mental Fitness – The Brochure introduces the concept of Mental Fitness and the basic Mental Fitness needs of Acceptance, Competence and Relatedness. Educators, parents and coaches will learn how critical it is to support all children and youth (not just LGBTQ) in meeting their Mental Fitness needs on a daily basis.
Article: Play as you are: Olympians set positive goals for LGBTQ in Canadian sport
Scholarships
The Bill 7 Award is a registered charitable trust that awards scholarships to gay, lesbian, bisexual, trans, two-spirited and queer students who are in financial need and studying at any post-secondary institution in Ontario to attain their first degree or diploma.
The LOUD Foundation invests in future leaders of the Canadian 2SLGBTQI+community. They believe that by supporting the development of students that possess drive, vision, compassion and knowledge, they can improve society and increase awareness of our diverse community.
In The Locker Room Or On The Field
What is an Ally? Allies believe in the dignity and respect of all people, and are willing to stand up for their friends and colleagues who are part of another community. Allies do not identify as members of the group they are supporting (eg. a straight person could be an ally to 2SLGBTQI+ communities; a cisgender lesbian could be an ally to trans communities). Allyship is not a status a person can reach, but rather an ongoing commitment to creating more inclusive spaces.
The Canadian Centre for Gender + Sexual Diversity has created a supportive Guidebook for LGBTQI2S+ Athletes and Becoming a Better Ally in the Sports World – Sport Inclusion Booklet
You Can Play has produced several helpful and insightful resources for athletes, coaches, and parents: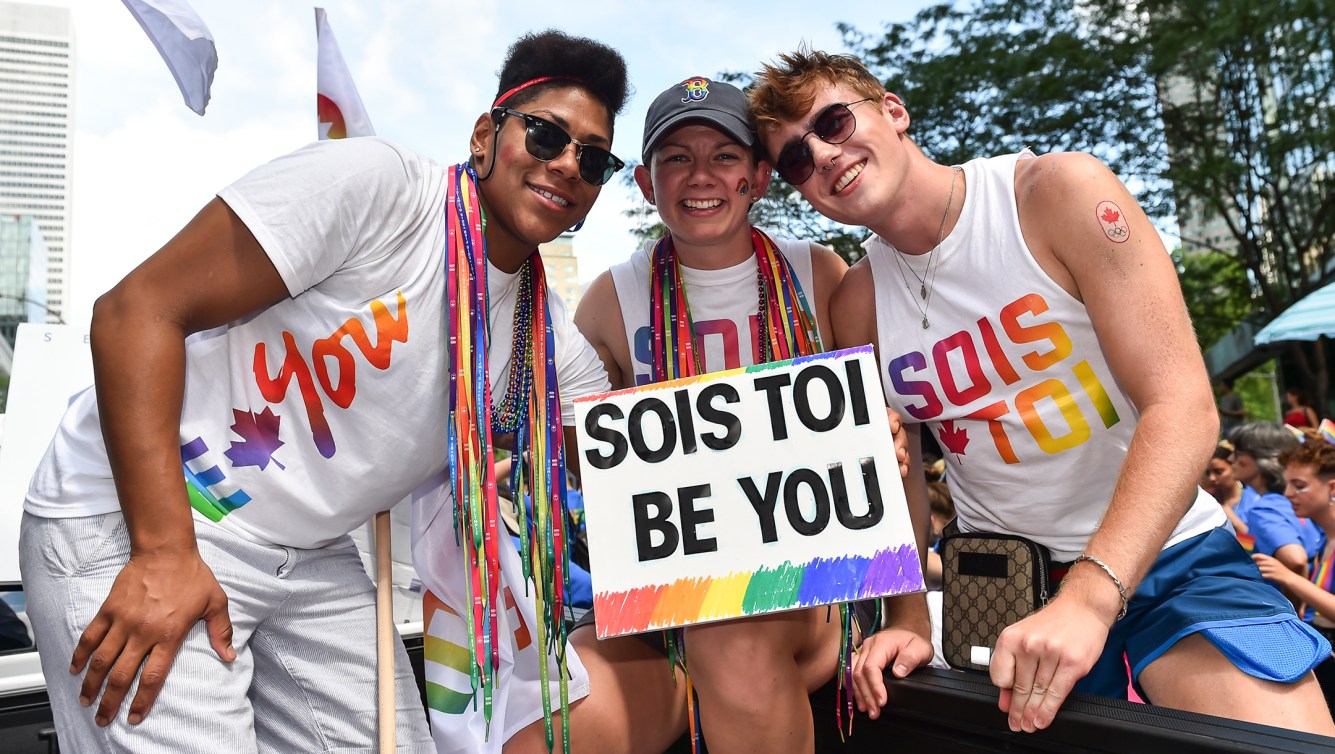 Coaching
Coaches play a critical role in creating a sport environment that is safe and respectful for all, regardless of ethnicity, religion, sexual orientation or gender identity. Click here for more information on Working with 2SLGBTQI+ Athletes and Coaches.
Pronouns In The Media
Covering LGBTQ Athletes at the 2020 Olympics and Paralympics – A resource for journalists and media professionals
Need Support?
LGBT youthline | 1 800 268 9688 | youthline.ca (English only)
Youth Line offers confidential and non-judgemental peer support through our telephone, text and chat services. Get in touch with a peer support volunteer from Sunday to Friday, 4:00PM to 9:30 PM.
Interligne | 514 866-0103 (Montreal) | 1 888 505-1010 (free of charge) | https://interligne.co/Interligne is a front-line centre for help and information for people affected by sexual diversity and gender diversity. Through our 24-hour service, we provide support to LGBTQ+ people, their loved ones and community, school, health and social service staff. Through our outreach activities, we also promote a greater openness of society towards the realities of LGBTQ+ people.
Trans Lifeline | 1 877 330 6366 | translifeline.org
Trans Lifeline provides trans peer support for our community that's been divested from police since day one. We're run by and for trans people.