Spring Training: Athlete Training Journal
Chris Spring is an Olympic bobsleigh pilot. He also works part-time as a general contractor. He's a busy guy. Read on to learn more about his yearly training schedule.
Summer (April – October)
Monday: 8 a.m. – 1 p.m. I train on the running track and in the gym. Monday is meant to be done in two separate workouts, both about 2.5 hours each but if I split it up into morning and afternoon then I can't get any work done so I just join the sessions together and do them all at once. The first part of the session is sprinting, medicine ball throws, jumps etc. The second part of the session is in the weight room, a lower body workout with exercises ranging from squats, power cleans, snatch, deadlifts, lunges etc.

From 1 p.m. – 6 p.m.: I work and to be honest, work could be anything. I'm basically the epitome of the saying 'jack of all trades, master of none'… unless you include driving bobsleds because I am pretty good at that! Last summer I was doing a full basement renovation, and this summer looks like a kitchen and bathroom renovation and some part-time work at Canada Olympic Park.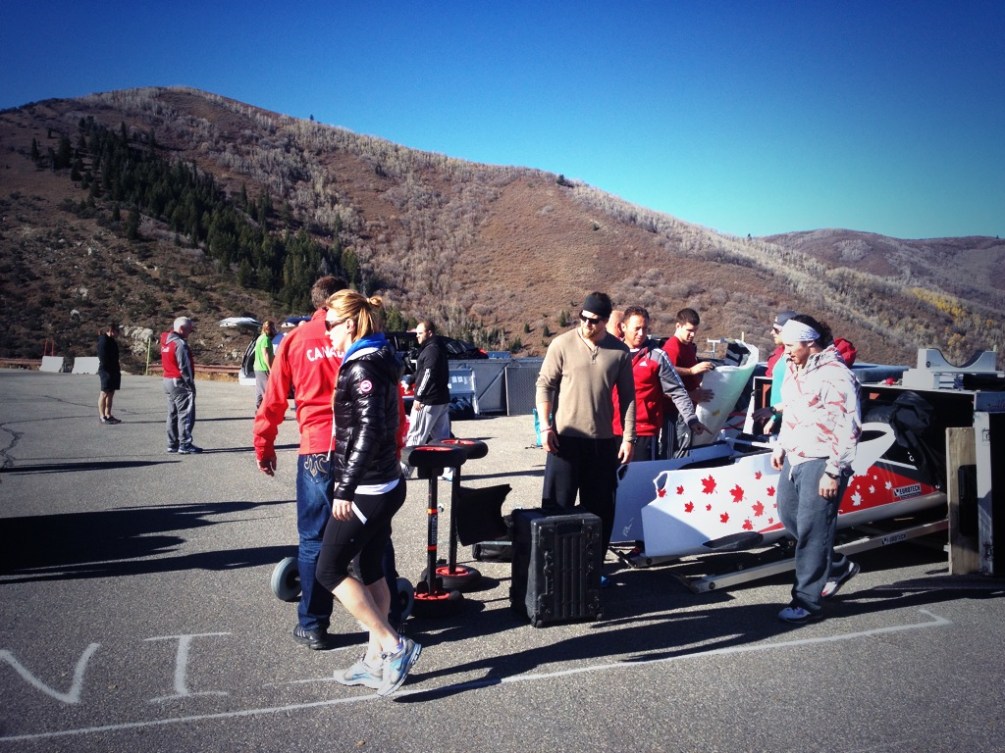 Tuesday: 8 a.m. – 5 p.m. I work and then I head to the gym for an upper body weight session. The range of exercises varies depending on the amount of time we have. But it's safe to say in the summer we do all of the major lifts like bench press, dips, chin ups, pull ups, seated rows, shoulder press, shrugs – basically any upper body exercise around we have done it. We also always throw in bicep curls. We have a saying in the gym sometimes, bobsled is just for now, the beach is forever – and that's why we do bicep curls.
Wednesday: 9 a.m. – 12 p.m. This day we usually push in the ice house. In Calgary they have an indoor push track, with ice where we can practice our starts. This day is fairly important and also very tiring so I try not to work after this training session if I don't have to.
Thursday: This is a complete rest day, well, a rest day from training and that means I can put in a full day's work so I usually work 8 a.m. – 5 p.m.
Friday: Friday's look a lot like Monday's. The training is a double session again and I do them back to back from 8 a.m. – 1 p.m. and then I head straight to work and get about 4 – 5 hours in at the 'office', wherever it may be that week.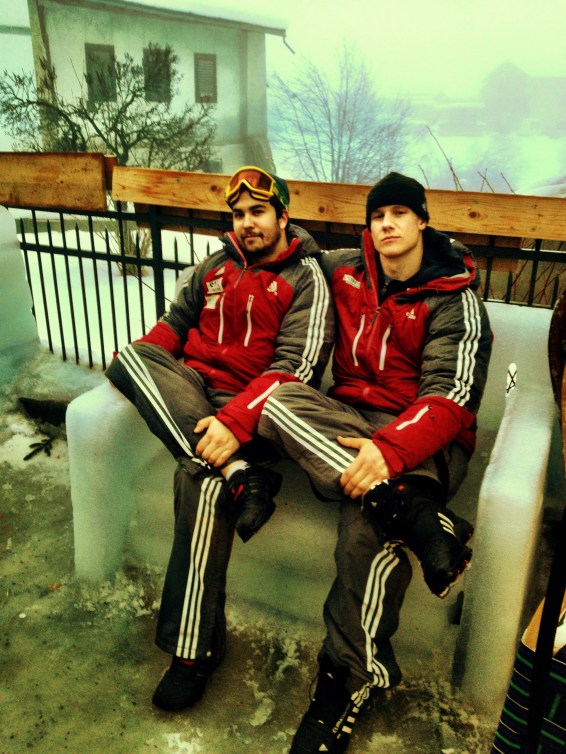 Saturday: I try and train early on Saturday, even though I am usually tired from the week. I like to get it over with and then I can have my weekend to do whatever I want. In the early parts of the summer, the Saturday workout is very similar to the Tuesday workout (upper body weights). But from about mid-August to October we start to push in the ice house on this day as well. By this stage I am tired from the week of training and work so my Saturday is fairly quiet, unless I have to work in which case I'll put in about 6 hours.
Sunday: If I can, I will head to the mountains or float down the Bow River, anything to get outside and enjoy nature. One of the things I love so much about Canada is the landscape and so I try and immerse myself in it as much as possible.  Hopefully I can get a little more nature time this upcoming summer (2015).
So to recap, I usually work about 25 to 30 hours a week, and train 20 hours a week and on top of that I have about 3 hours a week of physiotherapy or some type of treatment to keep my body together.  I'm not as young as I used to be!
Winter (October – March)
Through this period I don't work at all because we travel so much and I just don't have time. We usually only stay in one place for one week and then we move on, it's like a travelling road show (sometimes it feels more like a circus).

Monday: This day is usually the best day of the week because it's our only day off where we recover from the race that happened on the weekend. I just get to chill out and enjoy wherever I am in the world. In saying that, on Mondays we unload the travelling circus which includes all the sleds, the mechanic's tools, spare helmets, my own tools, about 30 sets of runners (the steel blades we slide on). Those things are HEAVY! We travel with our own gym so we unload that and set it up. It includes two squat racks, a bench press, Olympic bars and about 400 kg of weight. This unloading process usually takes about 1.5 hours for the whole team, that's about 15 athletes so we try to get it done early so we can basically just sleep all day or look around.
Tuesday:  This is a long day. I won't give specific times because sliding on the track can vary from week to week but basically we spend about five hours at the bobsled track on training days, and that's to do two runs down the track. Two runs! At one minute per run. And it takes five hours to do this, it's insane I know.  But in that time we load our sleds from the hotel and drive to the track. The other pilots and myself will go and walk the track and familiarize ourselves with the new course. A track walk takes about 45 minutes.  Then we go warm up for about 45 minutes and then it's time for our first run down the track. We are at the track with a lot of other countries because we all train together, so it can be anywhere from 90 minutes to two hours between runs. In this time we just sit around, chat to other competitors, do video review from the last run, visualize the course, etc. There's a lot of hurry up and wait that goes on in this sport. So after we do another run – we are done.  We are only allowed two training runs per day so we take the sleds back to the hotel and take them apart a little bit and do some work on them. That whole process takes about five hours and we still have to do a lower body session in the gym. We keep it simple, squats and power cleans and this usually takes about 60-90 minutes. We have video review in the evening (another 30 minutes of work) and we're usually all wrapped up by around 8 p.m.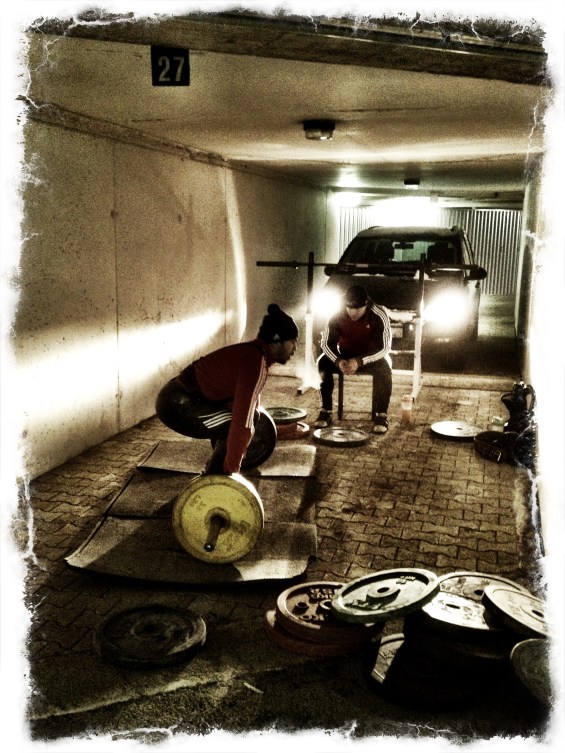 Wednesday: Very similar to Tuesday. Five hours at the track, upper body gym session, video review and then sleep. Our gym sessions are always very amusing to watch because we have to lift anywhere we can.  A lot of the places we go don't have gym access and that's why we bring our own weights with us. We usually do our workout in an underground parkade… they're rarely heated. If it's warm out (I mean sunny and + 2 degrees) then sometimes we will just lift outside on the snow – that's no joke either. I've lifted in sea containers, garages, outdoors, on the road where cars drive by… anywhere we can.
Thursday: Last day of training on the track, so another five hours there and then we spend about three hours preparing our race runners for the races on the weekend. This isn't as much hard work as it is time consuming.
Friday: A day off! Well, there is always about 1-2 hours of sled work to be done, a short warm-up to keep the body ready but all in all it's a relaxing day.
Saturday: Two-man race. Again five hours at the track for two runs and by the end of the race I'm tired.  Take an ice bath and try and rest for the race tomorrow.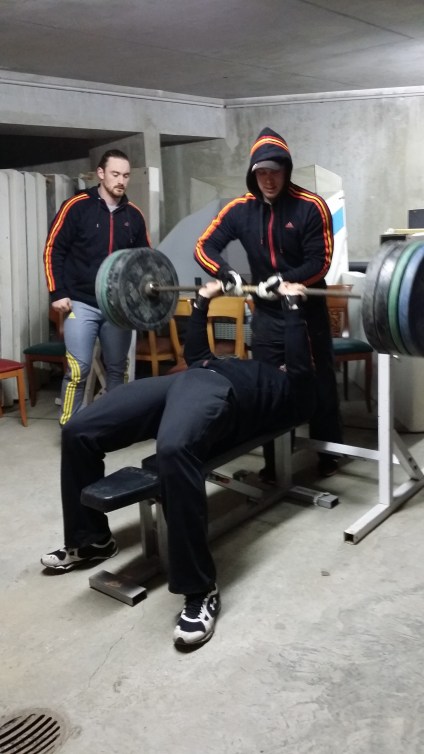 Sunday: Longest day of the week. Four-man race in the morning (again another five hours). After our five hours at the track, we pack up our travelling road show and then take off to our next destination. Sometimes this means flying but most of the time we drive. On the World Cup circuit, the drive can be as short as two hours or as long as 10 hours. Some Sundays start with us waking at 6 a.m. then our race, straight to packing sleds, drive and we don't get to the next place until 1 a.m. or so.  And to drive for that long after a race is just killer sometimes.