Spring Training: Road to the Olympic Games
From Canadian Olympic Foundation
To celebrate the one-year anniversary of Canada's success at the Sochi Games, the Help Build an Olympian campaign has partnered with six Sochi Olympians. Read their stories to learn about how the performance pillars fueled our athletes to Olympic victory.
The journey to the Olympic Games is a long and winding road. For Canadian Olympic bobsleigh pilot Chris Spring, the journey has been a little longer than most. Born in Darwin, Australia, he's hardly a likely candidate.
"My introduction into bobsleigh was definitely unplanned, unorthodox. Every time I'm asked how I started this sport it always surprises not only the person I'm speaking to, but myself as well," said Chris.
Chris discovered bobsleigh in 2007 when he moved to Calgary on a one year work visa as part of his travels around the world. He happened to catch the Canadian Championships and was immediately hooked.
"I went to the event with no intentions in learning the sport or to get involved, I was purely there as a spectator, a tourist who wanted to watch some winter sports. Watching these athletes rip down the track was something I will never forget for the first time," said Chris. "I was immediately drawn to the intensity of the sport and I wanted to get involved, so I did."
After two years competing on the developmental circuits, he made his Olympic debut at the Vancouver 2010 Olympic Winter Games competing for his native Australia.
Following the 2009-10 season, Chris began representing Canada. A decorated sprinter in his youth, his progress was fast and furious. He was a regular top-ten finisher on the World Cup circuit. On July 1, 2013 he took part in a Canadian citizenship ceremony which enabled him to compete for Canada at the Sochi 2014 Olympic Winter Games.
Sochi 2014 was bittersweet for Chris. He piloted the two-man sled to seventh place and the four-man sled to a 13th place finish in Sochi. Although not the medal he was hoping for, it was a drastic improvement from the 22nd place finish four years earlier– where he competed in a rented sled.
"The one minute that you see me slide down the track is just one minute in time where most people think medals are won and lost," said Chris. "But the real battle for the medals is all done behind the scenes, what fans and viewers see on TV is just the end-product. The countless hours we put in during the off seasons are where the medals are won and to have the ability to optimize my training with every possible resource available is what I need to become an Olympic Champion. "
Countless hours is right. Check out Chris's training schedule.
With all of the time spent training, it's difficult for athletes like Chris to find an employer who's understanding about the time commitment that their sport demands. The best way that Chris has found this balance is to work for himself. He's a home contractor.
"I have zero financial sponsors. This just means that I have to have my plans in place for work which I do," said Chris. "I am lucky that my coaches understand that I need to work and that sometimes I can't make the training session and to have that understanding without guilt is very important to me."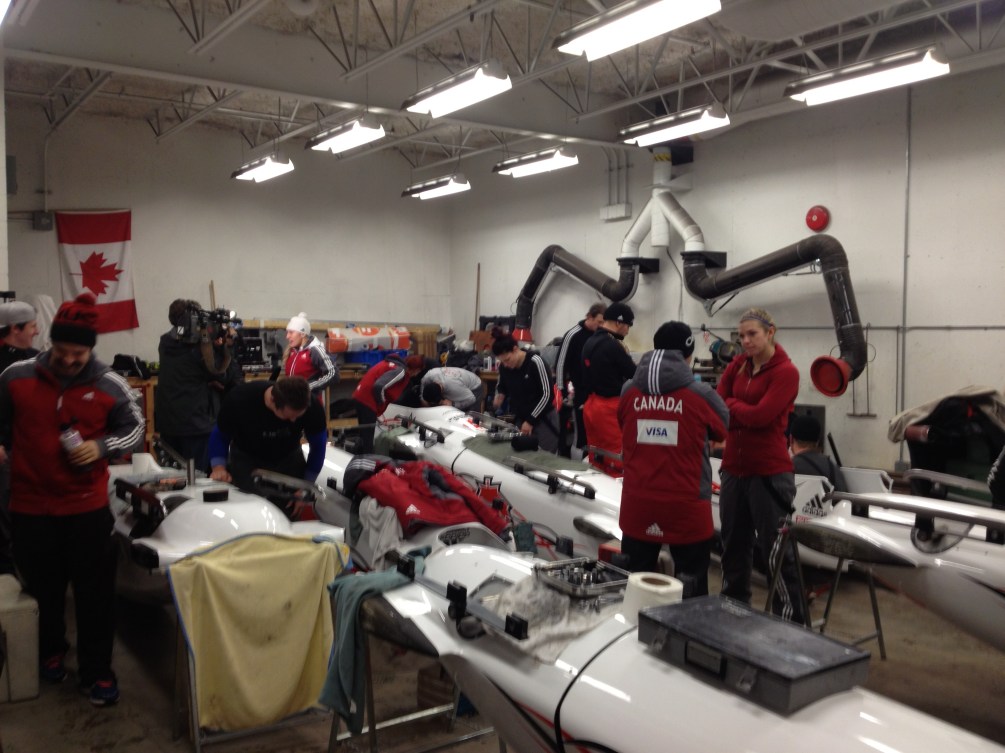 Like a number of athletes who train out of the Canadian Sport Institute (CSI) Calgary, he also works part-time at Canada OIympic Park. In essence, the athlete environment at WinSport is Chris' home.
"Having everything in one place is absolutely key for me. I mean you would think this is a very obvious thing to make happen for athletes – access to a running track, physiotherapists, gym, sports psychologists, testing equipment, rehab tools, doctors, a massive kitchen, athlete lounge, you name it, this place has got it."
High-performance, best-in-class facilities, like the CSI, give Canadians an edge against their international opponents and help them develop to their full potential.
"As Canadians we live and breathe these sports and we hope that our athletes bring home the medals, but instead of just hoping we win, reaching out and helping us win will give us the best chance of bringing home those medals," said Chris. "When I stand on the starting block ready to drive my sled at 150km/hour at the Games, I know that I have had every possible chance to be the best athlete I can be and that is the ultimate chance I have at bringing home an Olympic medal for Canada."