Hats off to the chef
Though he claims to make a mean lemon chicken, Curt Harnett's current gig has nothing to do with the culinary arts.
The Chef de Mission's role exists to represent the Canadian team members and their activities leading up to a Major Games and to serve as lead liaison between Canada, the organizing committee and representatives from other nations.
"I'm basically a glorified cheerleader," says the four-time Olympian track cyclist.
Curt is a three-time Olympic medallist (two silver, one bronze). And he's being modest.
As the lead delegate for Team Canada as we approach the Toronto 2015 Pan Am Games, Curt has worn many hats since he was named Chef in October 2013.
"It's my job to set the tone for the athletes and mission team as we enter the Games. Preparation is key; I help our athletes prepare for a multi-sport Games and I make sure that Canada's mission team (the team behind the team) knows the expectations of their roles and are motivated for the challenge," said Curt. "Given that it's a home games, I've taken a real interest in raising the profile of the team and getting Toronto and Canada excited about the events happening in July."
There are 725 athletes slated to compete and 181 full-time mission staff, creating the largest Canadian team ever fielded at an international-multi-sport competition. Getting over 900 individuals to work in tandem under great pressure is no easy feat so Curt has adopted two different philosophies to help with this task.
"The first idea is 'One Team'. The idea behind One Team is that we're all in this together. We must all be moving in the same direction and we must all have each other's back," conveys Curt. "The second key philosophy is 'En Garde.' It's a french term used in fencing to warn competitors to assume the preparatory position before a match. For Team Canada, it means that we'll leave no stone unturned in our preparation, but also be ready to expect the unexpected."
The concept of En Garde was such a hit that Hudson's Bay integrated it into the team kit. It will be printed on the rally scarves worn by the Canadian athletes and will be available to the public at their stores.
Curt is joined by assistant Chefs Waneek Horn-Miller and Élise Marcotte. Both retired Olympians, Waneek won a gold medal with the women's water polo team at the 1999 Pan American Games in Winnipeg and Élise was a double gold medallist in synchronized swimming at the Guadalajara Pan Am Games in 2011.
"Waneek not only ticked off all of the criteria we were looking for – home Games experience, Olympic level experience, Pan Am experience – but she has an unwavering commitment to human rights activism. She's one of Canada's most influential Native Olympic athletes and an inspiring role model," said Curt.
"Élise is an excellent communicator and has a strong vision. She is young, and her Games experience is recent, but this fresh approach brings amazing value to our team. She's mature beyond her years."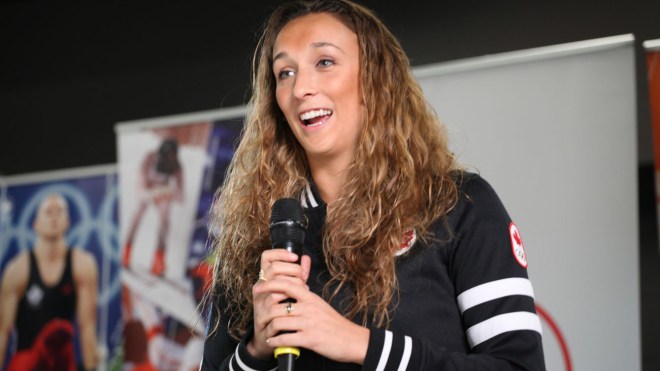 Curt is equally as complimentary of the Toronto 2015 Organizing Committee (Disclaimer: his wife sits on the TO2015 Board).
"TO2015 has done an incredible job of delivering these Games so far. Every decision they've made (with help from various levels of government) regarding sport infrastructure will create a positive and sustainable legacy for the 16 host municipalities."
The majority of the new or refurbished facilities allow for multi-use and will be an asset to the residents of those communities. A track cycling legend, Curt is especially excited about the Milton Pan Am Velodrome.
 "The word legacy is always used in future tense, but the legacy of the velodrome is now. From a high-performance perspective, our national team is training there today – they're benefiting from it today," said Curt.
In addition to the 250-metre timber cycling track, there's also three multi-use courts and a walking track.
"My dream for that facility is that a kid playing high school basketball at the gym, will see someone riding on the track and be inspired to try the sport."