Help Build an Olympian – Coaching key in all-Canadian badminton final
Feature: Michelle Li during Pan Am Games badminton (Photo: City of Markham)
In an all-Canadian final Michelle Li out-classed Rachel Honderich 2-0 (21-15, 21-9) to become a two-time Pan Am champion.
They are training partners just up the road from the Markham Pan Am Centre. And they are bronze-medallist doubles partners from earlier in the week. For all that there are no apologies on the court.
"Of course I would have wanted to beat another player, it sucks to have to beat a teammate and a really good friend but that's part of the game," said 23-year old Li.
Still, according to both her teammate Michelle and her coach Jennifer Lee, Rachel, the 19-year old Torontonian, is "the next big thing" in Canadian badminton.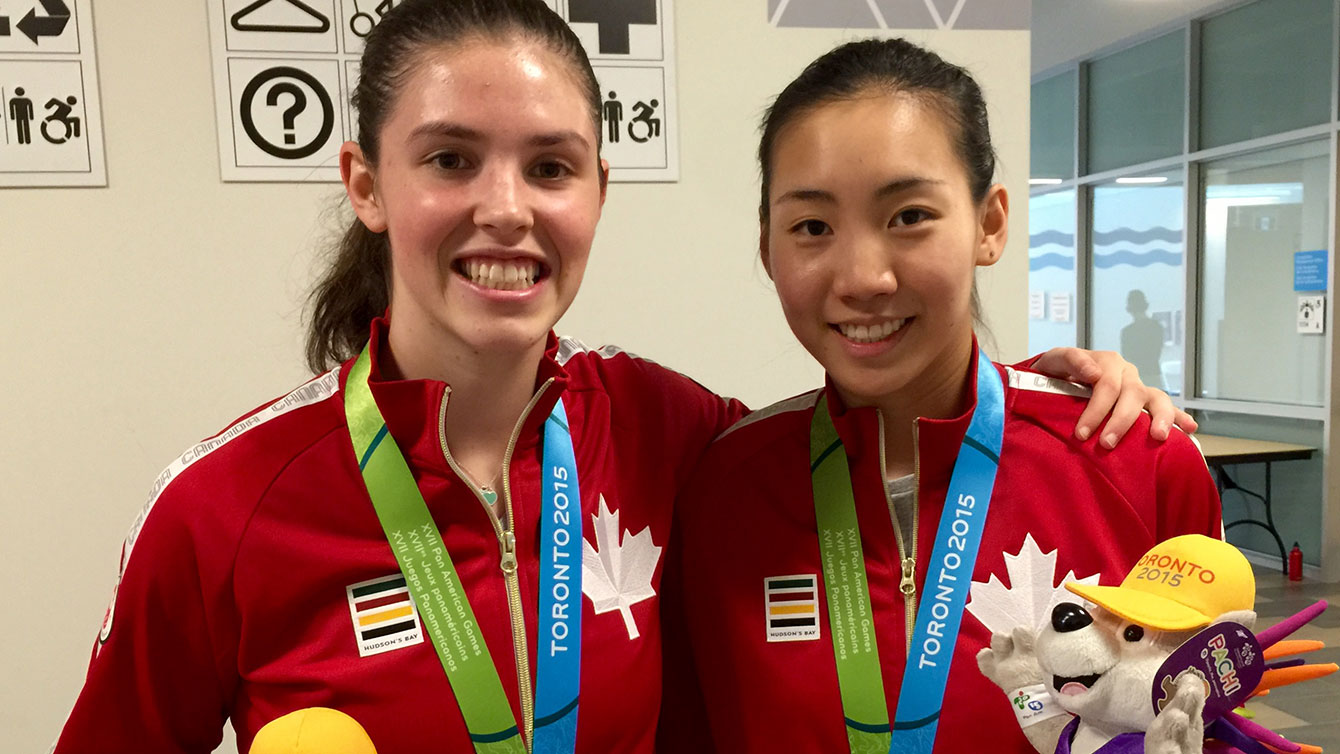 "Rachel Honderich is a great up and coming athlete who is now the second ranking women's single player in Canada," said Jennifer. "She has started to attend many international tournaments this year and will follow the path of Michelle to go for the Olympics."
The all-Canadian women's singles badminton final at the Toronto 2015 Pan Am Games was a win-win for Jennifer. As the head coach of both Michelle Li and Rachel Honderich and the owner of Lee's Badminton (where both athletes train out of), the 1-2 finish was an ideal ending to what has already been a successful Games.
The Canadian Olympic Foundation sat down with Michelle and Jennifer ahead of the TO2015 Games to discuss their relationship, their plans for the future and the state of badminton in Canada.
In the beginning
To understand the rapid trajectory of Michelle Li's career, it's important to learn about the history of Lee's Professional Badminton Training Centre. The facility and its programs – all the brainchild of Li's coach Jennifer – have turned Markham into the epicenter of Canadian badminton. And it almost didn't happen.
"When I moved to Toronto from Vancouver, I thought of giving up Badminton," said Lee, a former Hong Kong Badminton Team member. "But I was still very passionate about the sport and so I maintained the connection by selling badminton products. I applied to all major clubs to get a coaching job but no one was really interested in me.
But Jennifer was determined to do it on her own.
"I started off some private lessons and rented a warehouse with just half a court.  I continued to train and play at tournaments until I pulled my ACL and could not play anymore.  At that point, I decided to start my coaching career.  I have been very clear in terms of how I train and who I train. I do not accept just any students unless they have the desire to work towards the three elements I value in my pupils – hard work, discipline and a great attitude."
On the court
Enter Michelle Li. Michelle's family immigrated to Canada when she was six years old. She started training at Lee's when she was 11 and at age 15 she caught Jennifer's eye.
"Since Michelle was young, she has worked very hard and has demonstrated a remarkable amount of self-discipline," said Jennifer. "She is different from many of the other athletes. I guess you could say coaching Michelle has a very rewarding feeling. Unlike other athletes, whenever I teach something new to Michelle, she will constantly work on it until she has fully grasped the concept or whatever it is I am teaching her, and will comfortably apply it in training and competition."
Michelle's ability to try new things serves her well – one of the hallmarks of Jennifer's coaching is modernity; her innate ability to stay updated on current styles of play.
"She is able to learn herself and then teach me a variety of world class level skill that makes a huge difference in my game," said Michelle. "When she knows what needs to be improved on she is very good at attacking and working the specific problem in ways no other coach would have ever thought to do. Her methods are always challenging but very effective. Her mind is constantly thinking of ways to better her athletes; her coaching methods; as well as herself."
Off the court
The two share a special bond off the badminton court as well. They've traveled extensively over the last eight years and Michelle has matured into a young adult while in Jennifer's care.
"I remember in the beginning, when Michelle was 17, I brought her to watch and compete in her first world level tournaments; the All England Open and the Swiss Open, there was so much to teach and explain to her. Little things, like having to transfer flights, accumulating air miles points to save money, doing whatever she can to find resources or even finding other athletes to train with at tournaments when travelling by herself I had to teach and show her. You can imagine every step of the way, there is a life learning situation for me to help her to go on the right track."
Looking ahead
The pair hope that Michelle's rise through the international circuit will lead more youth to take up the sport. Youth enrollment at Lee's has spiked. Thanks to their efforts, badminton is no longer simply regarded as a backyard pastime. In a few years, the two would like to see North American badminton attain the same level of international respect that Canadian tennis has earned through the likes of Eugenie Bouchard and Milos Raonic.
"There is potential for badminton in Canada as Michelle has proven that Canada can produce a world class badminton athlete. I hope that what Michelle and I have done paved the way for future hopefuls for Canada.  We have overcome a lot of obstacles to achieve what we have accomplished today."
To develop an athlete to reach to the level like Michelle, it requires a lot of support, sacrifice, and understanding.  The success of Michelle is just the beginning.  For badminton to have a strong future in Canada, there are many things to consider.  Financial support for the athlete to travel to so many  international tournaments, physiotherapist, nutritionist, doctors, mental coach, massage therapist, strength conditioning trainer, these are needed by athletes at this level, the support to the personal coach to attend all major tournaments is essential. 
-Jennifer Lee, Lee's Professional Badminton Training Centre, Head Coach and Owner