Finding future Olympians through RBC Training Ground
Building on the success from its inaugural season, RBC Training Ground is ready to hit the road once again in hopes of finding future Canadian Olympians.
This winter, there are even more opportunities for athletes aged 14 to 25 to measure their speed, power, strength, and endurance against benchmarks set by national sport federations (NSFs) who will be scouting for young talent with Olympic medal potential.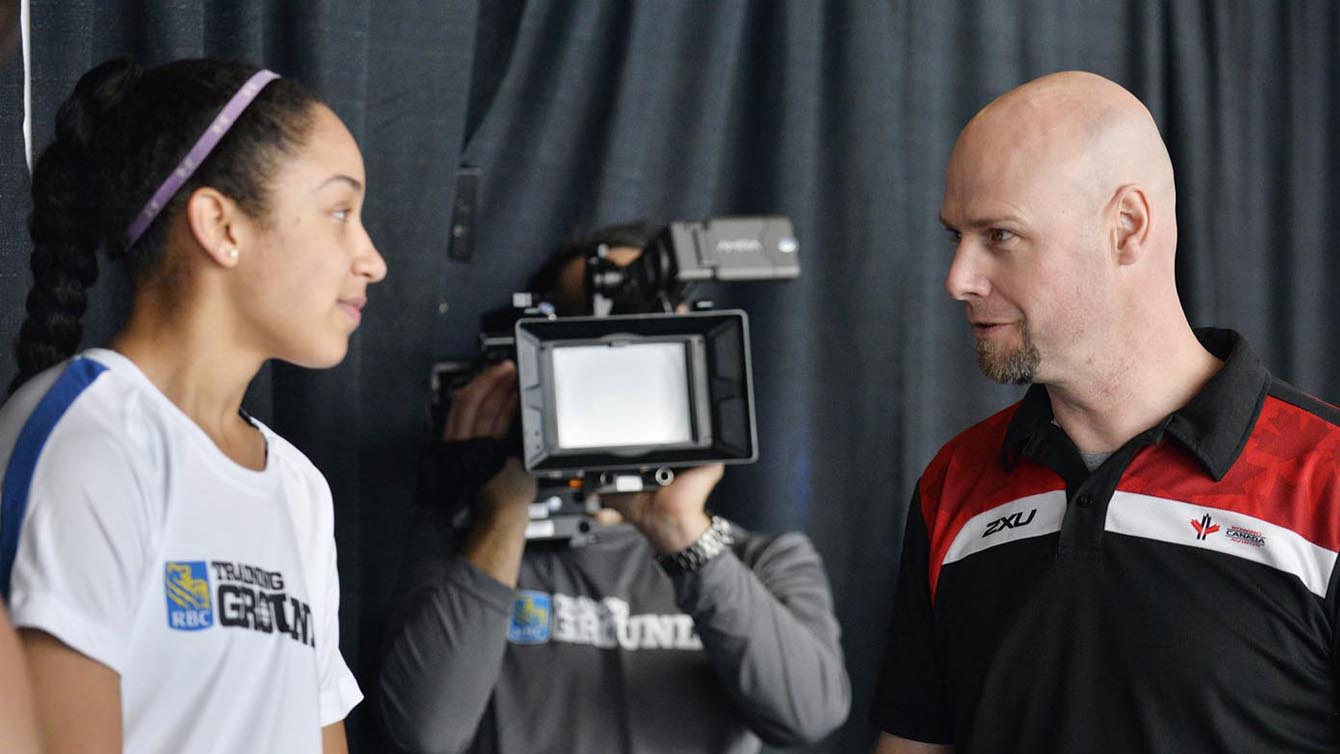 The cross-country search for Canada's future sports stars kicks off on January 15 in Langley, BC, which hosts the first of more than 24 free local qualifiers (list and registration link below).
In its first year, RBC Training Ground helped identify 25 athletes to receive ongoing support and funding through the RBC Future Olympian Program (a partnership with the Canadian Olympic Foundation). Two of those were 20-year-old Pierce LePage of Whitby, ON and 16-year-old Kieanna Stephens of Surrey, BC who were the top performers at the Toronto and Vancouver regional events.
Although LePage was already a decathlete, the increased support allowed him to fast track with Athletics Canada. In September, he competed at the Decastar meet in Talence, France. Part of the IAAF World Combined Events Challenge series, it featured Rio 2016 silver medallist Kevin Mayer.
"I was a little bit nervous because I knew there were really good athletes there, people who went to the Olympics a month before and I didn't know what to expect," LePage recalled to Olympic.ca. "But all the guys were really nice and after competing with them and talking to them, I realized I'm not that different from them."
After three personal bests, he actually held the lead through nine of the 10 events before finishing third overall with 8027 points, becoming one of the youngest in the world to break the 8000-point barrier in 2016 and getting him close to the Olympic qualifying standard of 8100 points.
"Without [the funding] from RBC I wouldn't have had the opportunity to go to France and do well. I wouldn't have this mindset now," said LePage. "I'm super grateful for what RBC Training Ground has done for me and I'm sure it'll help many athletes in the future."
Stephens had been a competitive hockey player, but based on what they saw at the RBC Training Ground combine, Rowing Canada wanted her for their NextGen program, Row to Podium. After finishing her hockey season, she got on the water for the first time in March, just to get the feel of the boat before beginning her solo training.
https://www.instagram.com/p/BFNq7Bdo-Jr/?taken-by=kieannastephens
"The first time I went out by myself was very interesting because the boats are so narrow they're not very stable, so I kind of had boat training wheels, if you want to call it that, for the first week and a half," Stephens told Olympic.ca. "Then once I started getting used to it we took those off and I was a little unstable at first, I was a little scared but I got used to it."
She entered her first regatta in June and after rowing for just five months, was one of the top five junior rowers in Canada competing at the national championships. She's aiming to be part of Team Canada at Tokyo 2020, something that wouldn't have been possible without the funding for private lessons.
https://www.instagram.com/p/BKua1A_gtpX/?taken-by=kieannastephens
"RBC Training Ground offers a tremendous opportunity for young athletes to open their minds to a sport they may not have considered," said Rio 2016 Chef de Mission Curt Harnett, who will serve as the official RBC Training Ground advocate. "Growing up I was focused on a hockey career, and was lucky enough to have a high school coach who introduced me to cycling. Just a few years later, I was standing on the Olympic podium with a silver medal around my neck and grateful to my coach for seeing my potential."
The top athletes from the open-call local qualifiers will be invited to one of five regional finals where they will perform for officials from 11 NSFs: Athletics Canada, Bobsleigh Canada Skeleton, Canoe Kayak Canada, Cycling Canada, Rowing Canada, Rugby Canada, Alpine Canada, Freestyle Canada, Judo Canada, Triathlon Canada, and Water Polo Canada.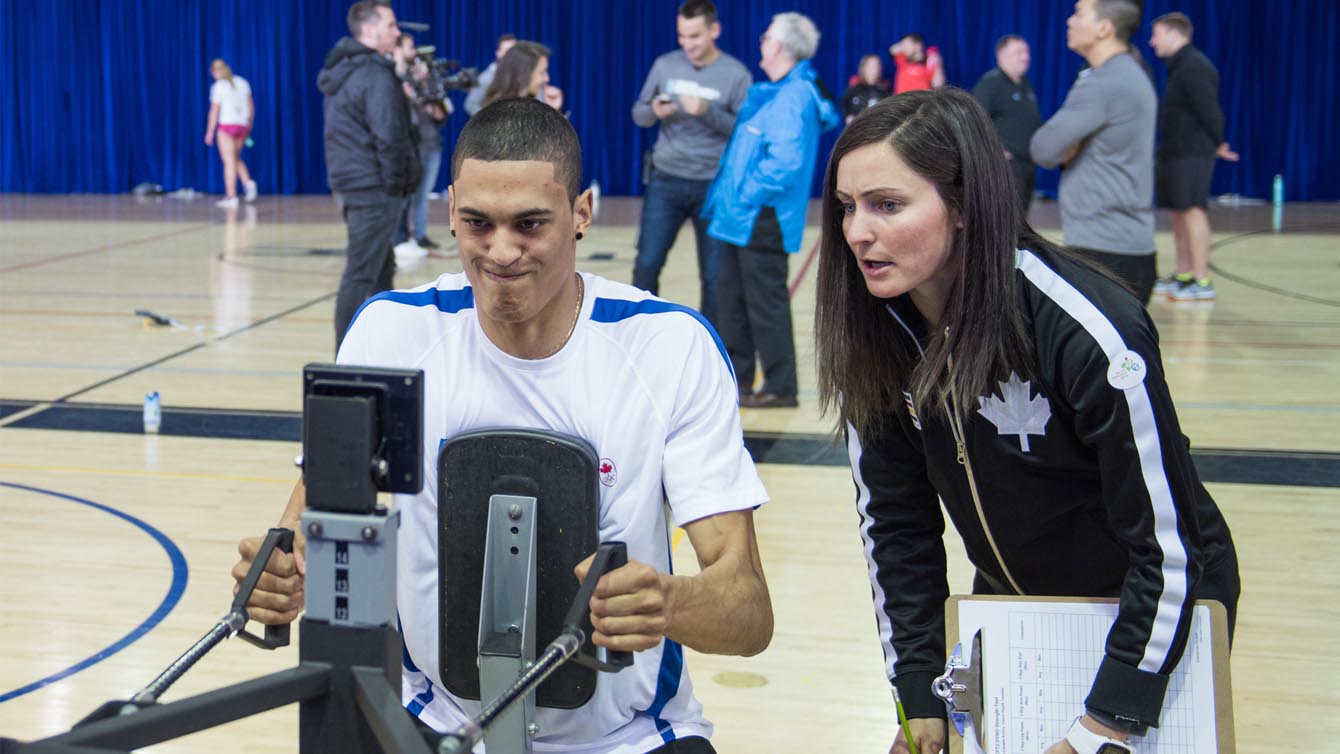 Following additional testing and analysis, up to 50 athletes will receive funding, resources, coaching and/or mentorship through the RBC Future Olympian Program. The five regional winners in 2017 will all travel to PyeongChang 2018 for a sneak peek at the Olympic experience, just as LePage and Stephens did at Rio 2016.
Athletes interested in attending one of the local qualifiers can register for free at RBCTrainingGround.ca.
RBC Training Ground Local Qualifiers 2017
January 15, 2017 – Langley, BC (Langley Events Centre) 
January 21, 2017 – Prince George, BC (Charles Jago Northern Sport Centre)
February 5, 2017 – Burnaby, BC (Fortius Sport and Health)
February 12, 2017 – Kamloops, BC (Tournament Capital Centre)
February 19, 2017 – Victoria, BC (University of Victoria)
March 18, 2017 – Grande Prairie, AB (Crosslink County Sportsplex)
March 25, 2017 – Lethbridge, AB (University of Lethbridge)
April 1, 2017 – Okotoks, AB (Crescent Point Regional Field House)
April 8, 2017 – Edmonton, AB (Foote Field Dome)
February 19, 2017 – Fredericton, NB (University of New Brunswick)
February 25, 2017 – Saint John, NB (University of New Brunswick, Saint John Campus)
March 25, 2017 – Antigonish, NS (St. Francis Xavier University)
April 1, 2017 – Halifax, NS (Dalhousie University)
April 15, 2017 – St. John's, NL (Newfoundland and Labrador Sports Centre)
April 30, 2017– Charlottetown, PEI (University of Prince Edward Island)
RBC Training Ground local qualifiers will be held throughout Quebec in May 2017 and Ontario in September 2017. Confirmed dates and locations will be posted on RBCTrainingGround.ca.
RBC Training Ground Regional Finals 2017
March 4, 2017 – Vancouver, BC (Richmond Oval in partnership with Canadian Sport Institute Pacific)
May 6, 2017 – Calgary, AB (Winsport in partnership with Canadian Sport Institute Calgary)
June 10, 2017 – Halifax, NS (Canada Games Centre in partnership with Canadian Sport Centre Atlantic)
October 7, 2017 – Toronto, ON (Toronto Pan Am Sports Centre in partnership with Canadian Sport Institute Ontario)
An RBC Training Ground regional final will be hosted at the Institut National du Sport in Montreal in early summer 2017. Participation at regional finals are by invite only. All participants must attend a local qualifier to be selected.
RBC is the longest standing partner of the Canadian Olympic Team, having come on board in 1947 to help send athletes to the 1948 Olympic Winter Games in St. Moritz. That relationship has just been extended through 2024. Canadians will be able to follow the action from RBC Training Ground throughout the year on CBC Sports.