Weekend Roundup: Four medals, one athlete and more amazing results for Team Canada
Team Canada continues to impress with multiple wins over the weekend. Ellie Black won four medals, Michael Woods finished with bronze and Canada's first National Champions in Skateboarding were named.
Here is the weekend roundup.
Gymnastics
READ: Ellie Black claims four medals at the Paris World Challenge Cup
Ellie Black claimed four medals at the Paris World Challenge Cup. She was the only female gymnast to medal in all four events. Black's gold medal came from the balance beam, she earned the top spot with 13.900, ahead of France's Marine Boyer and Spaniard Helena Bonilla.The reigning all-around world silver medallist finished second in floor and vault, with scores of 13.050 and 14.200. Her fourth medal came in uneven bars, where a score of 13.600 put her in third place.
Road Cycling
READ: Michael Woods wins bronze at the Road Cycling World Championships
Michael Woods finished in third, winning Bronze at the Road Cycling World Championships in Innsbruck. Woods came within one second of the leading time of 6:46:41. This podium finish matches Canada's best finish in this event, accomplished first by Steve Bauer in 1984.
Skateboarding
Annie Guglia and JS Lapierre become Canada's first National Amateur Champions in street skateboarding. With the sport making its Olympic debut in less than two years, Skateboard Canada announced this event would be the first counting towards athletes' national rankings, a crucial part of selection for Tokyo 2020.
Youth Olympic Games
READ: Everything you need to know about the Youth Olympic Games
READ: Team Canada will send 71 athletes to the 2018 Youth Olympic Games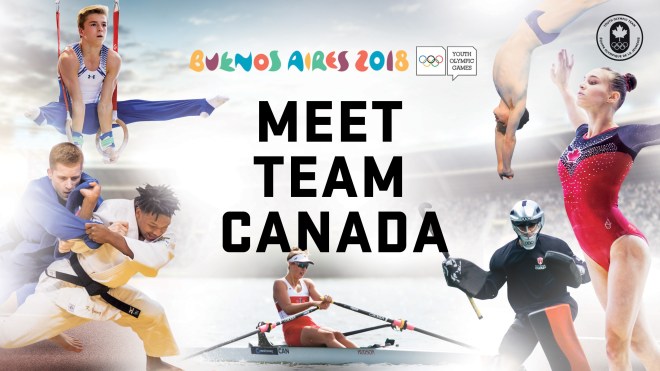 Team Canada will be heading to the Youth Olympic Games in Buenos Aires this week. There will be a grand total of 241 events that will take place from October 6 to 18. Buenos Aires marks the first Summer Youth Olympic Games held outside of Asia. Nearly 4,000 athletes from over 200 countries will compete across 32 sports and 36 disciplines. Stay up to date with the latest results by following us on Instagram and Twitter.