How to vote Yes for Calgary 2026
Calgarians are going to the polls to vote on whether the city should bid to host the 2026 Olympic and Paralympic Winter Games.
Vote Day is on November 13 for Calgary residents to have their say in a city-wide plebiscite. You can learn more about how to vote here, but here are the quick facts:
To be eligible to vote you must:
Be at least 18 years of age
Be a Canadian citizen
Have resided in Alberta since May 13, 2018
Be a resident in a City of Calgary ward on November 13
Present valid identification
Not already have voted in the plebiscite
You are eligible to vote if you are a student who:
Attends an educational institution within or outside Alberta
Temporarily rents accommodation for the purposes of attending an educational institution, and
Has family members who reside in Alberta and with whom you ordinarily reside when not attending an educational institution
When to vote:
There are now two ways to vote: mail-in ballot and at the polls.
Mail-in ballots are available by request from October 1 until noon on November 13. Mail-in ballots must be returned to the Elections & Census Office at 1103 – 55 Ave. N.E. by 4 p.m. on November 13.
Vote day is Tuesday, November 13. Voting stations will be open from 8 a.m. to 8 p.m. Voters must vote at their designated voting station.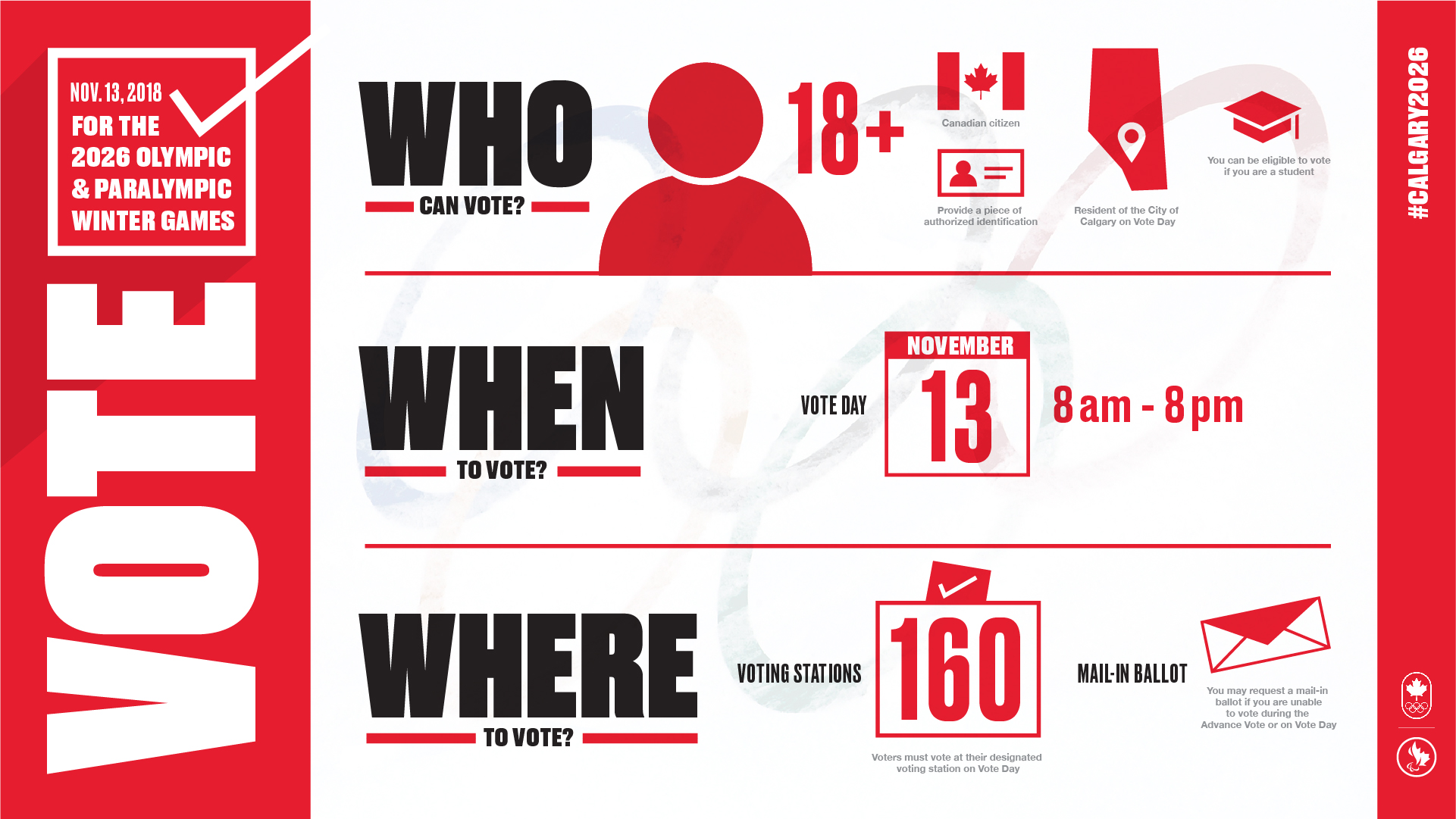 The Games of Montreal 1976, Calgary 1988, and Vancouver 2010 not only helped shape the cities, they started movements for Canadian sport. Hosting the 2026 Olympic Winter Games in Calgary will benefit the athletes for training, but also inspire and make sport more accessible for future generations. One of the most important legacies of the 1988 Winter Games is the continued availability of first-class facilities for use by members of the community. Now is the time to show Calgary how beneficial hosting the Olympic Games can be for their city and for the Canadian sport system. Learn more about Calgary 2026's hosting plan.
Can't vote? You can still spread the word with your friends and family in Calgary!
Wondering where to vote for Calgary 2026? Find your ward below: