On June 26, Canadians will get their chance to purchase tickets for the Tokyo 2020 Olympic Games. Here's what you need to know:
When is Tokyo 2020?
Tokyo 2020 runs Friday July 24 to Sunday August 9, 2020. Some sports, such as softball and football, will start preliminary matches on Wednesday July 22.
When can I purchase Olympic tickets?
As of 11am ET on June 26, tickets for the Tokyo 2020 Olympic Games are on sale for all Canadians.
Where can I purchase Olympic tickets?
Visit the ATPI Sports Events webshop (www.atpi.ca) to access Tokyo 2020 Olympic tickets. Once the webshop is live, Canadians will be able to purchase their event tickets directly on ATPI's website. ATPI will not reserve tickets in advance for customers, as all tickets are first come, first served. ATPI's webshop is the only place where Canadians can purchase tickets for Tokyo 2020.
What is ATPI?
As the Official Ticketing, Travel and Hospitality partner of the Canadian Olympic Committee, ATPI Sports Events is the official and exclusive source for Olympic event tickets in Canada.
ATPI Sports Events is your one-stop shop for all Olympic tickets and hospitality packages. Offering custom travel packages, ATPI can help you book your flights to Japan, secure hotel rooms or accommodations, organize all ground transportation and plan the best excursions that Japan has to offer.
In addition to these services, all ATPI hospitality packages will include:
• One-day admission to Canada Olympic House
• Visa Gift Card for venue meals
• Allowance for excursions
• Personalized meet and greet services and bilingual (French and English) on-site support
• Personalized itinerary and pre-travel information package
How many sports are there at Tokyo 2020?
There will be a total 339 events in 33 different sports, with 50 disciplines.
Karate, skateboarding, sport climbing and surfing are four new sports that will debut. Baseball and softball will make their return to the Olympic Games after last being part of the Olympic program at Beijing 2008.
Check out the full Olympic Games schedule here.
What venues will be hosting Olympic events?
There will be 42 venues, primarily divided into two zones: Tokyo Bay Zone and Heritage Zone.
The Olympic Village is location at the intersection of both, keeping the majority of the venues within an 8km distance.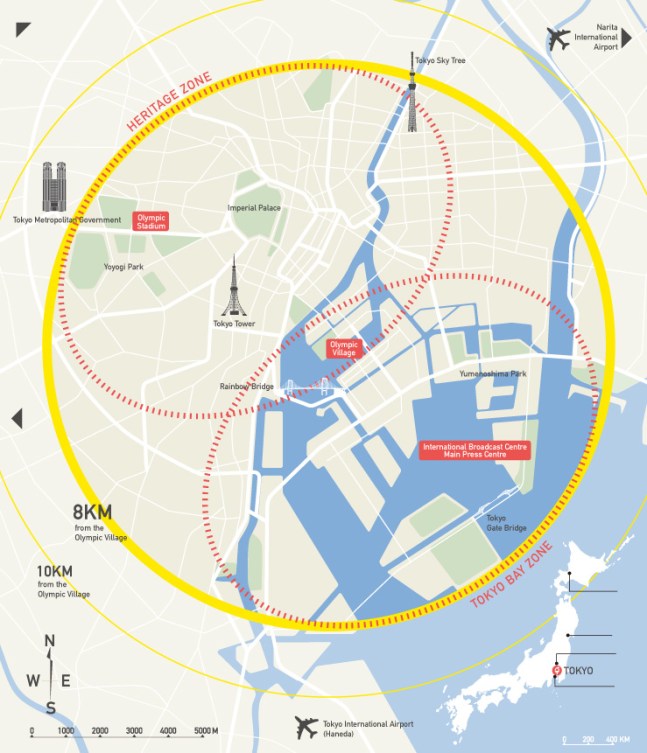 Visit the ATPI website for more information on Tokyo 2020 and how to purchase your tickets.