Team Canada names women's and men's rugby teams for Tokyo 2020
In the second Olympic Games to feature rugby sevens, Canada will be competing in both the women's and men's tournaments with rosters revealed on Friday.
The women's team includes six players returning from the Rio 2016 squad that won an exciting bronze medal in their sport's Olympic debut. Tokyo 2020 will mark the first Olympic Games for the Canadian men's rugby sevens team.
The women's team earned their ticket to Tokyo in 2019 after they won bronze at the World Rugby Sevens Series stop in Biarritz, France to finish third in the series standings.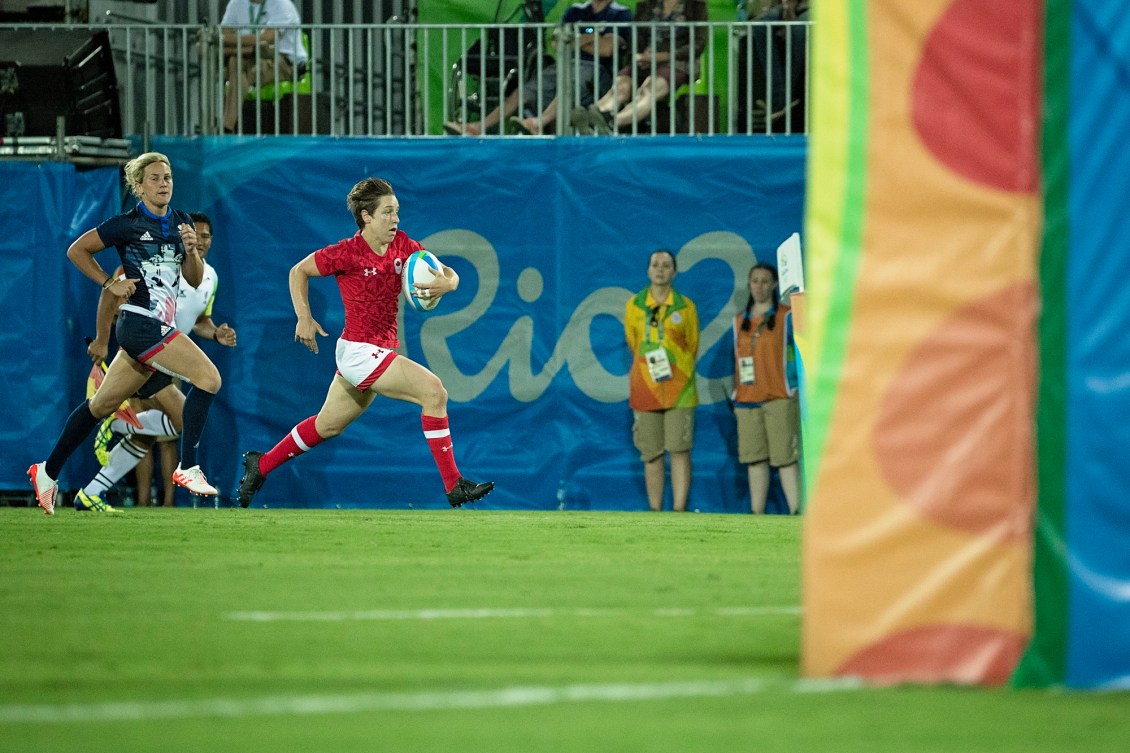 Leading the way will be captain Ghislaine Landry. Over the years, Landry has become one of the most prolific try scorers in women's rugby. At Rio 2016, she was Canada's leading scorer with 41 points – the second-highest total in the tournament – on five tries and eight of 14 conversions. Landry is the all-time leading scorer of the World Rugby Women's Sevens World Series with 1356 points, 340 points ahead of second place.
Number five on the all-time Sevens Series scoring list is Bianca Farella, also headed to her second Olympic Games. She scored five tries at Rio 2016.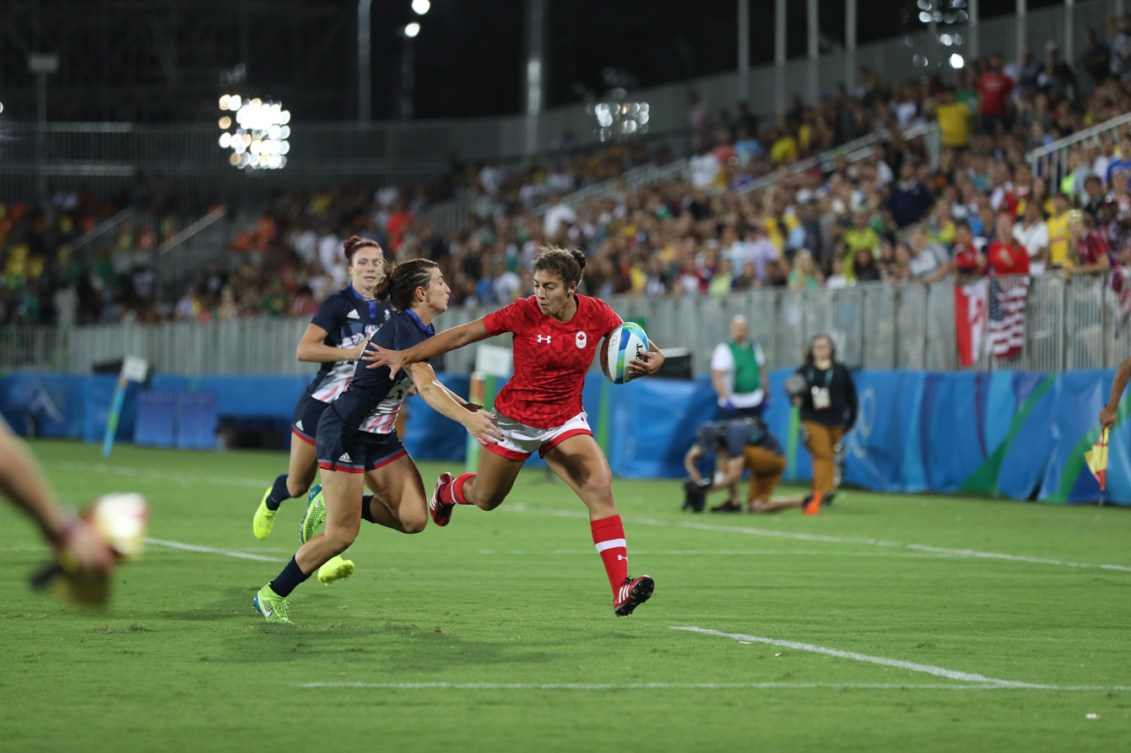 Britt Benn, Kayla Moleschi, Karen Paquin, and Charity Williams are the other players on the team who will be looking to add to the Olympic bronze medals they won five years ago.
Moleschi was also a member of the team that won gold at the 2019 Pan American Games in Lima. The 2020 Olympic team includes three members of that squad, including Breanne Nicholas, Pamphinette Buisa, and Kaili Lukan. Lukan will join older sister Megan, who won bronze at Rio 2016, as an Olympian.
The men's team will be led by co-captains Nathan Hirayama and Harry Jones.
Hirayama has been a core member of Canada's rugby squad since making his debut in 2006 as an 18-year-old. Known as a playmaker on the field, Hirayama is Canada's all-time scoring leader in rugby sevens. He also leads the team in tries (147) and matches played (363). Hirayama sits third all-time in World Rugby Sevens Series scoring with 1859 points at the end of the 2020 season. Over his decade long career with Team Canada, he's competed in three Commonwealth Games and three Pan American Games, winning two Pan Am golds and a silver.
"It's an honour to compete for Canada at Tokyo 2020," Hirayama said. "We travel the world representing Canada, but this will be my first Olympic Games and we're excited to get to Tokyo. It's been an unprecedented year, but we've been training and preparing as best we can and look forward to competing."
Jones made his Team Canada debut shortly after Hirayama in 2008. He's since played over 325 matches on the World Rugby Sevens Series and has scored more than 750 points to rank second and third all-time in those categories, respectively. In 2017, Jones had a career highlight at the Singapore Sevens, helping Canada win their first ever Sevens Series tournament.
In 2019, Hirayama and Jones led Canada to an undefeated record at the Rugby Americas North Sevens in the Cayman Islands to secure their spot at Tokyo 2020. Later that summer, the duo helped Canada take home silver at Lima 2019.
The men's team will feature two other athletes who won silver in Lima, Patrick Kay and Phil Berna. Berna made his debut with the Canadian men's sevens team at the World Rugby Sevens Series stop in Wellington in 2016, where scored in his first match. Kay made his debut in 2013 at a World Rugby Sevens Series stop in Gold Coast and has since become a regular fixture in the line-up.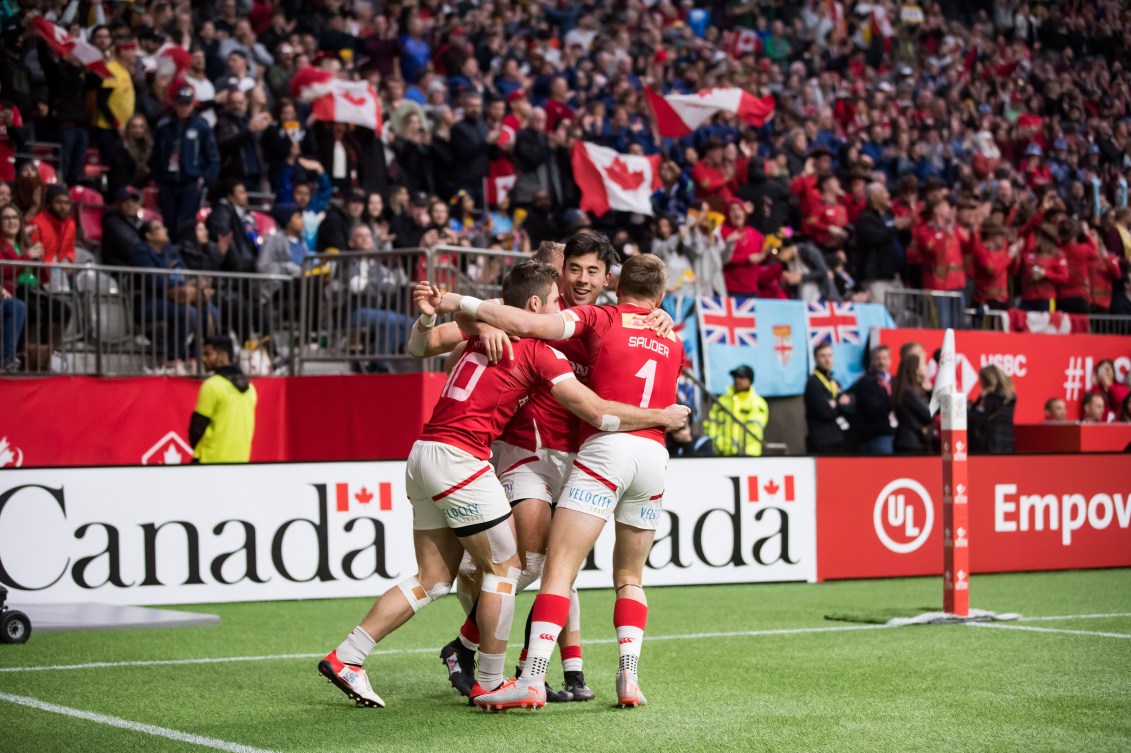 They'll be joined in Tokyo by Connor Braid, Andrew Coe, Justin Douglas, Mike Fuailefau, Lucas Hammond, Matt Mullins, Theo Sauder, Jake Thiel and Conor Trainor.
Most recently, both the men's and women's teams competed in April at the Emirates Invitational Sevens in Dubai preparation for the Olympics. The women's team won the first weekend tournament, while the men's team finished in fifth place. In the second weekend, both teams advanced to the Cup Finals and finished second overall.
Rugby at Tokyo 2020 will be played at Tokyo Stadium. The men's team will play first from July 26 to 28. The women's sessions will follow on July 29-31.
Team Canada Rugby Athletes at Tokyo 2020:
Women
Elissa Alarie (Trois-Rivières, QC)
Olivia Apps (Lindsay, ON)
Britt Benn (Napanee, ON)
Pamphinette Buisa (Gatineau, QC)
Bianca Farella (Montreal, QC)
Julia Greenshields (Sarnia, ON)
Ghislaine Landry (Toronto, ON)
Kaili Lukan (Barrie, ON)
Kayla Moleschi (Williams Lake, BC)
Breanne Nicholas (Blenheim, ON)
Karen Paquin (Quebec City, QC)
Keyara Wardley (Vulcan, AB)
Charity Williams (Toronto, ON)
Men
Phil Berna (Vancouver, BC)
Connor Braid (Victoria, BC)
Andrew Coe (Markham, ON)
Justin Douglas (Abbotsford, BC)
Mike Fuailefau (Victoria, BC)
Lucas Hammond (Toronto, ON)
Nathan Hirayama (Richmond, BC)
Harry Jones (West Vancouver, BC)
Patrick Kay (Duncan, BC)
Matt Mullins (Belleville, ON)
Theo Sauder (Vancouver, BC)
Jake Thiel (Abbotsford, BC)
Conor Trainor (Vancouver, BC)