Vincent Ethier/COC
Lima 2019
Team Canada Medal Count
35
65
52
Games Summary
Lima, the capital of and most populous city in Peru, hosted the XVIII Pan American Games in 2019.
Approximately 6700 athletes represented the 41 competing countries from North America, South America, Central America and the Caribbean.
The Opening Ceremony took place on July 26, with 16 days of competition before the Closing Ceremony on August 11.
The 2019 Pan Am Games featured 39 sports and 62 disciplines, with a total of 424 events, far more than on the summer Olympic program. In addition to all the core Olympic sports, there are some sports which are included at the Pan Am Games but not the Olympic Games, such as bowling, racquetball, squash and water skiing.
Lima was awarded the 2019 Pan Am Games on October 11, 2013, defeating three other bids (La Punta, Argentina; Santiago, Chile; Ciudad Bolivar, Venezuela) in the first round of voting. Lima had previously bid to host the 2015 Pan Am Games but lost the vote to Toronto.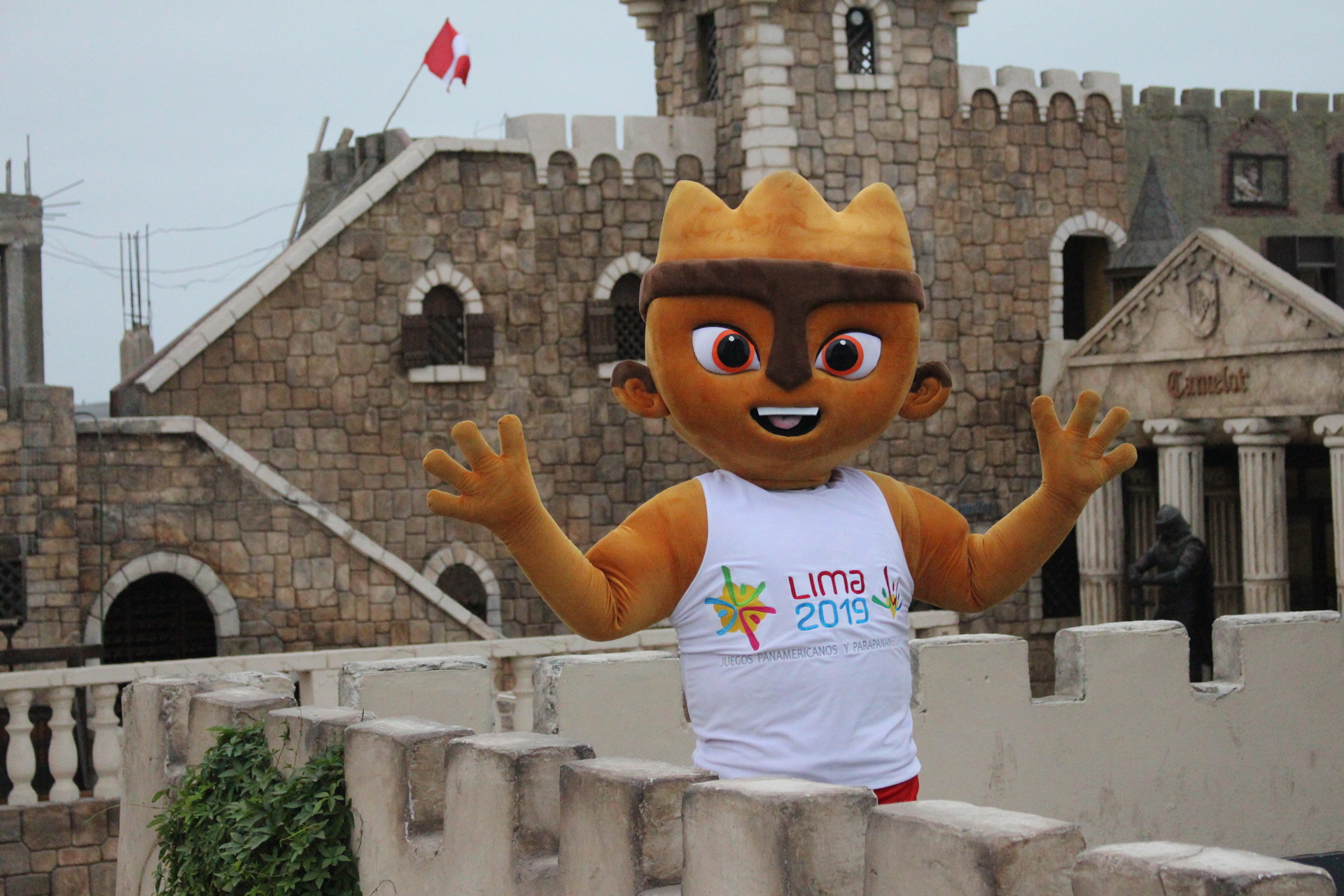 The mascot for Lima 2019 is Milco, he was inspired by traditional Cuchimilco sculptures, which were said to have been created to ward off bad energies. His outstretched arms are intended to welcome all participants to Lima.
Getting to know Lima and Peru
Peru is located in western South America and has 2414 km of coastline on the Pacific Ocean. It shares land borders with Ecuador and Colombia to the north, Brazil and Bolivia to the east, and Chile to the south. Lima is found in the coastal region.
About one-third of all Peruvians live in Lima, which has a population of approximately 10.4 million. The country's official language is Spanish and it is in the same time zone as Eastern Standard Time.
Lima was founded in 1535 by Spanish conquistador Francisco Pizarro and named "The City of the Kings". Peru gained its independence from Spain on July 28, 1821, so it will celebrate 198 years as an independent country during the 2019 Pan Am Games.
The national symbol of Peru is the vicuna, a camelid related to the llama. It is featured in the Peruvian coat of arms, which appears on the national flag of three equal vertical bands of red, white and red, the national colours.
LIMA, Peru. – Team Canada wins gold against the United States in Womens Seven's rugby at the Lima 2019 Pan American Games on July 28, 2019. Photo by David Jackson/COC

LIMA, Peru – Kelsey Mitchell takes the gold medal in the women's sprint in track cycling at the Lima 2019 Pan American Games on August 4, 2019. Photo by Dave Holland/COC

LIMA, Peru. – Rachel Cliffe, left, and Natasha Wodak of Canada show off their medals after coming first and third in the women's 10,000m race at the Lima 2019 Pan American Games on August 06, 2019. Photo by David Jackson/COC

Jérémy Chartier of Canada wins gold in men's trampoline gymnastics at the Lima 2019 Pan American Games in Lima, Peru on Monday, August 5, 2019. (Photo: David Jackson/COC)

Jill Irving, Lindsay Kellock, Tina Irwin, and Naïma Moreira-Laliberté of Canada win gold in team dressage at the Lima 2019 Pan American Games in Lima, Peru on Monday, July 29, 2019. (Photo: David Jackson/COC)

LIMA, Peru – Jennifer Abel poses with her medals at the Lima 2019 Pan American Games on August 05, 2019. Photo by Vincent Ethier/COC
Canadian Medallists
| Event | Athlete | Finish | Sport |
| --- | --- | --- | --- |
| Women's K4 500m | Canada | Gold | Canoe/Kayak - Sprint |
| Men's Recurve | Crispin Duenas | Gold | Archery |
| Men's Recurve Team | Canada | Gold | Archery |
| Women's 3000m Steeplechase | Geneviève Lalonde | Gold | Athletics |
| Men's 800m | Marco Arop | Gold | Athletics |
| Men's Decathlon | Damian Warner | Gold | Athletics |
| Mixed doubles | Eugene Wang, Mo Zhang | Gold | Table tennis |
| Women's 3m springboard | Jennifer Abel | Gold | Diving |
| Women's Individual | Samantha Smith | Gold | Gymnastics - Trampoline |
| Men's Individual | Jérémy Chartier | Gold | Gymnastics - Trampoline |
| Women's 10m synchronized platform | Meaghan Benfeito and Caeli McKay | Gold | Diving |
| Women's Sprint | Kelsey Mitchell | Gold | Cycling - Track |
| Women's 10m platform | Meaghan Benfeito | Gold | Diving |
| Men's Doubles | Jason Ho-Shue, Nyl Yakura | Gold | Badminton |
| Women's Doubles | Rachel Honderich, Kristen Tsai | Gold | Badminton |
| Women's Singles | Michelle Li | Gold | Badminton |
| Mixed Doubles | Josh Hurlburt-Yu and Josephine Wu | Gold | Badminton |
| Women's Floor | Brooklyn Moors | Gold | Artistic Gymnastics |
| Women's Rugby 7s | Canada | Gold | Rugby |
| Women's Individual All Around | Ellie Black | Gold | Artistic Gymnastics |
| Dressage - Team | Canada | Gold | Equestrian |
| Women's K2 500m | Andréanne Langlois, Alanna Bray-Lougheed | Gold | Canoe/Kayak - Sprint |
| Men's K1 200m | Dominik Crête | Gold | Canoe/Kayak - Sprint |
| Women's Vault | Ellie Black | Gold | Artistic Gymnastics |
| Men's Water Ski - Overall | Dorien Llewellyn | Gold | Water Skiing |
| Duets | Claudia Holzner, Jacqueline Simoneau | Gold | Artistic Swimming |
| Team | Canada | Gold | Artistic Swimming |
| Women's 3m synchronized | Jennifer Abel, Pamela Ware | Gold | Diving |
| Women's 10,000m | Natasha Wodak | Gold | Athletics |
| Women's 400m Hurdles | Sage Watson | Gold | Athletics |
| Women's Lightweight Double Sculls | Katherine Haber, Jaclyn Stelmaszyk | Gold | Rowing |
| Women's Single Sculls | Jessica Sevick | Gold | Rowing |
| Laser Radial | Sarah Douglas | Gold | Sailing |
| Women's – 76 kg | Justina Di Stasio | Gold | Wrestling |
| Women's 400m Individual Medley | Tess Cieplucha | Gold | Swimming |
| 4x100m medley relay | Canada | Silver | Swimming |
| Men's Team | Canada | Silver | Water Polo |
| Men's Team | Canada | Silver | Field Hockey |
| Men's Kumite +84kg | Daniel Gaysinsky | Silver | Karate |
| Women's Team | Canada | Silver | Softball |
| Women's Kumite -55kg | Kathryn Campbell | Silver | Karate |
| Women's 4 x 400m | Canada | Silver | Athletics |
| Sunfish | Luke Ramsay | Silver | Sailing |
| Women's | Canada | Silver | Water Polo |
| Women's – 68 kg | Olivia Di Bacco | Silver | Wrestling |
| Women's Shot Put | Brittany Crew | Silver | Athletics |
| 4x100m Mixed Medley Relay | Canada | Silver | Swimming |
| Women's 100m Backstroke | Danielle Hanus | Silver | Swimming |
| Women's 100 m freestyle | Alexia Zevnik | Silver | Swimming |
| Women's Individual Foil | Jessica Zi Jia Guo | Silver | Fencing |
| 100m butterfly | Danielle Hanus | Silver | Swimming |
| Individual Clubs | Natalie Garcia | Silver | Rhythmic Gymnastics |
| Men's Baseball | Canada | Silver | Baseball |
| Men's C-2 1000m | Drew Hodges, Craig Spence | Silver | Canoe/Kayak - Sprint |
| Individual ball | Katherine Uchida | Silver | Rhythmic Gymnastics |
| Individual Hoop | Katherine Uchida | Silver | Rhythmic Gymnastics |
| Women's Madison | Miram Brouwer & Maggie Coles-Lyster | Silver | Cycling - Track |
| Women's C1 | Lois Betteridge | Silver | Canoe/Kayak - Slalom |
| Men's 3m synchronized springboard | Philippe Gagné and François Imbeau-Dulac | Silver | Diving |
| Women's 10m platform | Caeli McKay | Silver | Diving |
| Men's Synchronised 10m Platform | Vincent Riendeau, Nathan Zsombor-Murray | Silver | Diving |
| Women's Singles | Rachel Honderich | Silver | Badminton |
| Mixed doubles | Josh Hurlburt-Yu and Josephine Wu | Silver | Badminton |
| Team Pursuit | Canada | Silver | Cycling - Track |
| Women's doubles | Samantha Cornett, Danielle Letourneau | Silver | Squash |
| Men's Rugby 7s | Canada | Silver | Rugby |
| Team Freestyle Poomsae | Canada | Silver | Taekwondo |
| Women's Team | Canada | Silver | Artistic Gymnastics |
| Pairs Traditional Poomsae | Michelle Lee, Jinsu Ha | Silver | Taekwondo |
| Men's doubles | Nick Sachvie, Shawn Deslierres | Silver | Squash |
| Women's Kyorugi - 57kg | Skylar Park | Silver | Taekwondo |
| Men's K1 1000m | Marshall Hughes | Silver | Canoe/Kayak - Sprint |
| Mixed Relay | Charles Paquet, Desirae Ridenour, Alexis LePage, Hannah Henry | Silver | Triathlon |
| Women's Water Ski Slalom | Whitney McClintock Rini | Silver | Water Skiing |
| Men's K2 1000m | Jacob Steele, Jarret Kenke | Silver | Canoe/Kayak - Sprint |
| Men's Water Ski Slalom | Stephen Neveu | Silver | Water Skiing |
| Women's K1 500m | Andréanne Langlois | Silver | Canoe/Kayak - Sprint |
| Men's Water Ski Tricks | Dorien Llewellyn | Silver | Water Skiing |
| Women's Water Ski Jump | Whitney McClintock Rini | Silver | Water Skiing |
| Men's 96kg | Boady Santavy | Silver | Weightlifting |
| Women's K1 200m | Andréanne Langlois | Silver | Canoe/Kayak - Sprint |
| Women's Water Ski - Overall | Whitney McClintock Rini | Silver | Water Skiing |
| Dressage - Individual | Tina Irwin | Silver | Equestrian |
| Women's Beam | Ellie Black | Silver | Artistic Gymnastics |
| Women's Team | Canada | Silver | Squash |
| Women's Team Sprint | Kelsey Mitchell, Amelia Walsh | Silver | Cycling - Track |
| Women's 69kg | Myriam Da Silva Rondeau | Silver | Boxing |
| Men's Singles | Brian Yang | Silver | Badminton |
| Women's 400m Freestyle | Danica Ludlow | Silver | Swimming |
| Women's 200m Butterfly | Mary-Sophie Harvey | Silver | Swimming |
| Women's Coxless Pairs | Larissa Werbicki, Jessie Loutit | Silver | Rowing |
| Women's Team Foil | Canada | Silver | Fencing |
| Women's Javelin | Elizabeth Gleadle | Silver | Athletics |
| Women's 5000m | Jessica O'Connell | Silver | Athletics |
| Women's Field Hockey | Canada | Silver | Field Hockey |
| Women's 4 x 100m | Canada | Silver | Athletics |
| Men's High Jump | Michael Mason | Silver | Athletics |
| Women's 4x200m Freestyle Relay | Canada | Silver | Swimming |
| Men's Team | Canada | Silver | Field Hockey |
| Mixed team | Canada | Bronze | Golf |
| Men's Individual Recurve | Eric Peters | Bronze | Archery |
| Women's 200m Individual medley | Bailey Andison | Bronze | Swimming |
| Men's 90kg | Mohab El Nahas | Bronze | Judo |
| Freestyle - Men's 125 kg | Korey Jarvis | Bronze | Wrestling |
| Freestyle - Men's 74 kg | Jevon Balfour | Bronze | Wrestling |
| Women's team | Canada | Bronze | Table Tennis |
| Women's 400m Individual Medley | Mary-Sophie Harvey | Bronze | Swimming |
| Women's 200m Backstroke | Mackenzie Glover | Bronze | Swimming |
| Men's Decathlon | Pierce LePage | Bronze | Athletics |
| Women's 400m Freestyle | Alyson Ackman | Bronze | Swimming |
| 10m platform | Vincent Riendeau | Bronze | Diving |
| Women's Doubles | Mo Zhang and Alicia Côté | Bronze | Table Tennis |
| Women's Individual Foil | Eleanor Harvey | Bronze | Fencing |
| 3m springboard | Philippe Gagné | Bronze | Diving |
| Women's Longboard | Mathea Olin | Bronze | Surfing |
| Eventing | Canada | Bronze | Equestrian |
| Men's K1 | Keenan Simpson | Bronze | Canoe/Kayak - Slalom |
| Women's Singles | Samantha Cornett | Bronze | Squash |
| Women's Singles | Hollie Naughton | Bronze | Squash |
| Men's Individual Poomsae | Abbas (AJ) Assadian Jr | Bronze | Taekwondo |
| Men's K1 Extreme | Keenan Simpson | Bronze | Canoe/Kayak - Slalom |
| Mixed Doubles | Andrew Schnell, Hollie Naughton | Bronze | Squash |
| Men's Kyorugi - 68kg | Hervan Nkogho | Bronze | Taekwondo |
| Men's team | Canada | Bronze | Artistic Gymnastics |
| Men's C1 1000m | Drew Hodges | Bronze | Canoe/Kayak - Sprint |
| Women's Water Ski Slalom | Paige Rini | Bronze | Water Skiing |
| Women's C2 500m | Anne Lavoie-Parent, Rowan Hardy-Kavanagh | Bronze | Canoe/Kayak - Sprint |
| Women's Water Ski Tricks | Paige Rini | Bronze | Water Skiing |
| Men's Water Ski Jump | Dorien Llewellyn | Bronze | Water Skiing |
| Men's Individual All Around | Cory Patterson | Bronze | Artistic Gymnastics |
| Women's Vault | Shallon Olsen | Bronze | Artistic Gymnastics |
| Women's Water Ski - Overall | Paige Rini | Bronze | Water Skiing |
| Women's Uneven Bars | Ellie Black | Bronze | Artistic Gymnastics |
| Women's 75kg | Tammara Thibeault | Silver | Boxing |
| Men's Team | Canada | Bronze | Squash |
| Trap - Mixed Team | Amanda Chudoba Obrigewitch, Curtis Wennberg | Bronze | Shooting |
| Men's Singles | Jason Ho-Shue | Bronze | Badminton |
| Men's Individual Foil | Maximilien Van Haaster | Bronze | Fencing |
| Individual Sabre | Gabriella Page | Bronze | Fencing |
| Women's 10,000m | Rachel Cliff | Bronze | Athletics |
| Women's 100m Breaststroke | Faith Knelson | Bronze | Swimming |
| Women's 4x100m Freestyle Relay | Canada | Bronze | Swimming |
| Women's Individual Time Trial | Laurie Jussaume | Bronze | Cycling - Road |
| Men's Singles | Eugene Wang | Bronze | Table Tennis |
| Individual Sabre | Shaul Gordon | Bronze | Fencing |
| Men's 1500m | Will Paulson | Bronze | Athletics |
| Women's Pole Vault | Alysha Newman | Bronze | Athletics |
| Women's – 53 kg | Jade Parsons | Bronze | Wrestling |
| 49er | Alex Heinzmann, Justin Barnes | Bronze | Sailing |
| Men's Team Foil | Canada | Bronze | Fencing |
| Women's Team Sabre | Canada | Bronze | Fencing |
| Freestyle - Men's – 57 kg | Darthe Capellan | Bronze | Wrestling |
Teams