THE CANADIAN PRESS/Ryan Remiorz
Athletics Olympic Trials: Brown and Emmanuel secure 200m titles, Warner wins 110m hurdles
On the second day of the 2021 Olympic Trials presented by Bell, Aaron Brown, Crystal Emmanuel and Damian Warner all nabbed their second gold medals of the weekend, adding to their lengthly resumes. A rainy Saturday presented delays in start times at the Claude Robillard Sports Complex in Montreal.
With less than a month before the Games begin in Tokyo, Canada's top track and field athletes looked to qualify for Tokyo 2020, while some are using the event as a chance to experience some much-needed competition.
READ: Athletics Olympic Trials: Brown, Emmanuel defend 100m titles
Men's 200m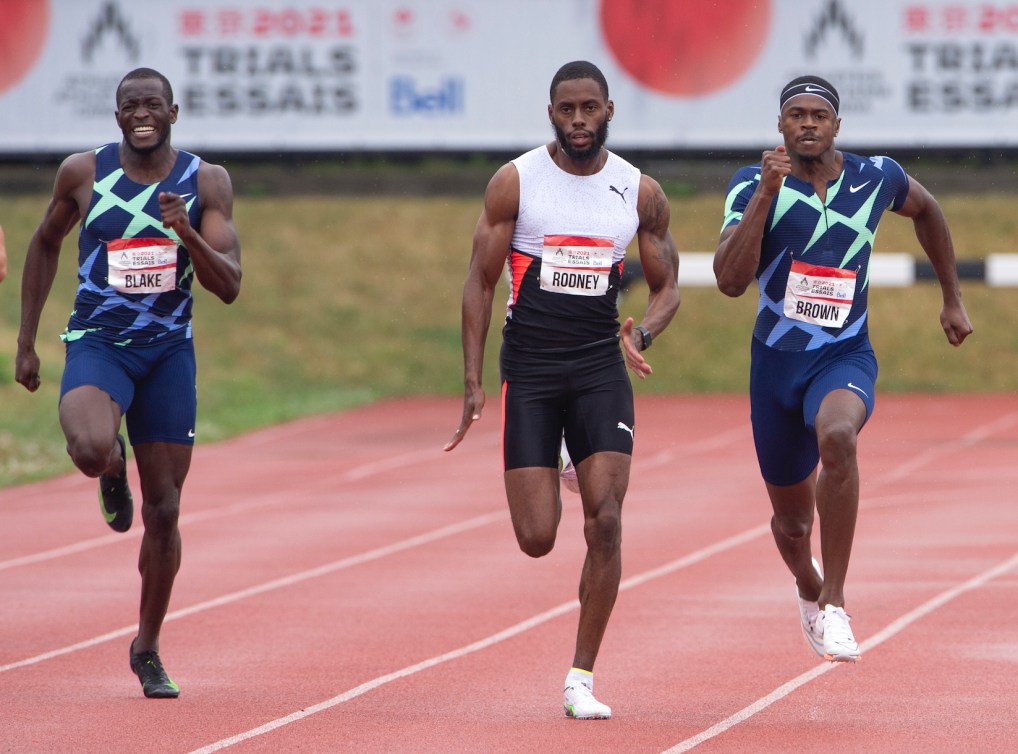 Olympic bronze medallist Aaron Brown secured the men's 200m crown for the third consecutive time and fourth time overall, crossing the finish line and matching Olympic standard time of 20.24 seconds. Brendon Rodney (20.49s) kept it close but Brown managed to break away from the pack and hold on for the win.
"My plan was to catch Brendon [Rodney] earlier than I did. But I caught him in the curve and brought it home. Another season's best, so I'm chipping away at that." said Brown following his race.
With this win, Brown also takes his third straight sprint double at Canadian Olympic Trials. He won the 100m on Friday in 10.12 seconds.
Women's 200m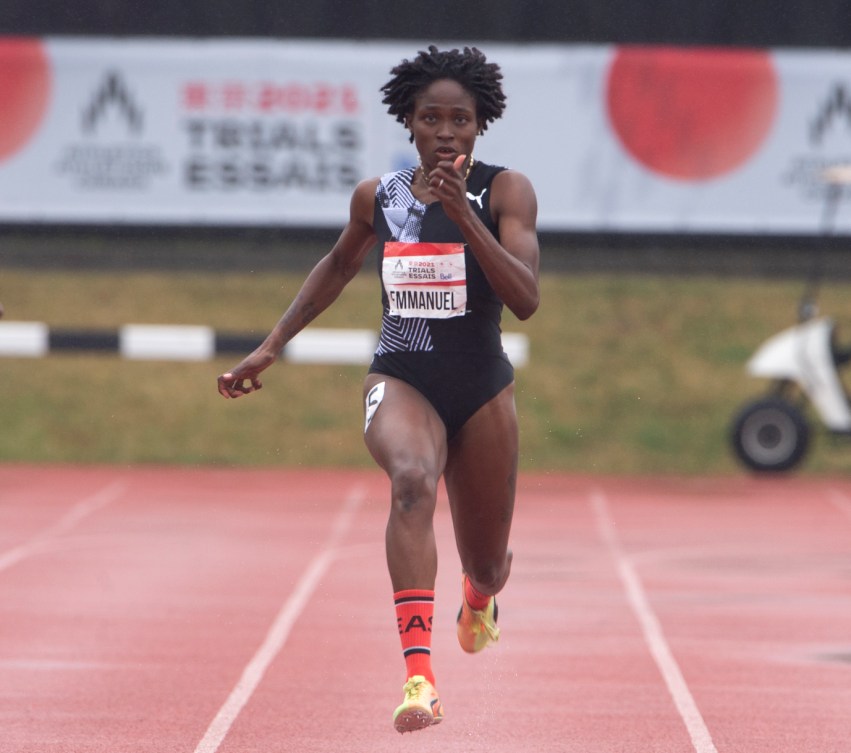 On the women's side, Crystal Emmanuel blazed past the competition to claim her sixth women's 200m title, posting 22.83 seconds. While she missed the olympic standard by 0.03s today, she has previously achieved the Olympic standard time for the 200m. Previously on Friday, she won the women's 100m final.
"It went really well, despite the weather. I came out and executed a good race and finished in good terms," said Emmanuel. "I'm healthy and I'm happy."
Men's 110m hurdles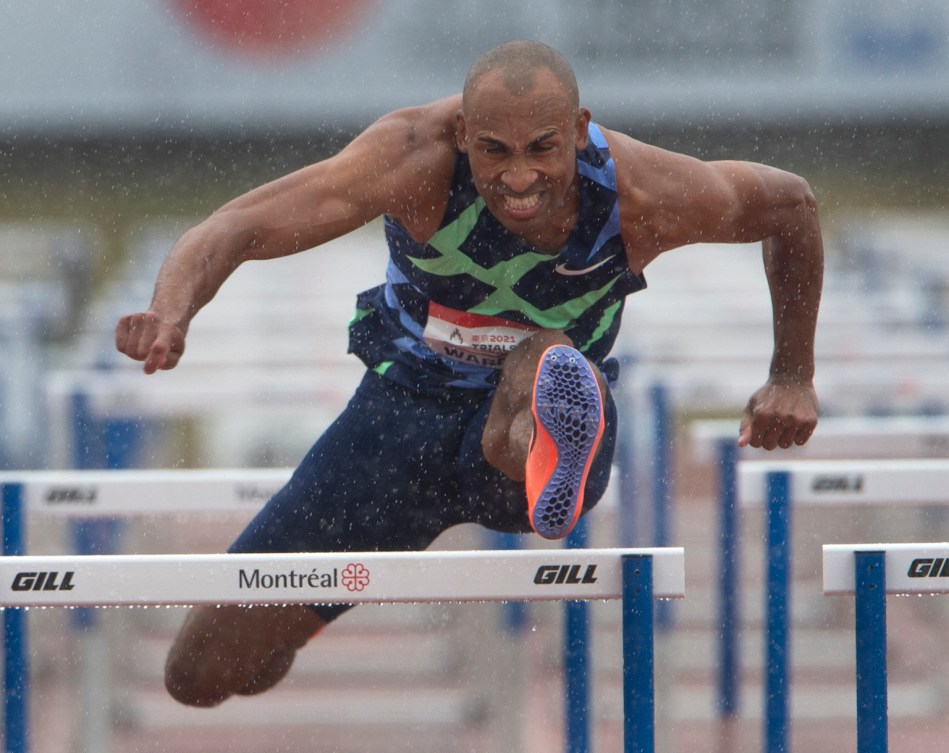 Damian Warner won the national title in the men's 110m hurdles event, clocking in at 13.64 seconds. This is his second gold medal of Trials. The rain didn't slow, with officials attempting to squeegee away any puddles right before hurdlers took the blocks. Warner had to squint to see the hurdles through a downpour during the event. He is using the trials as fine-tuning for Tokyo 2020 and was surprised by his final time with the weather conditions.
"I think it's important to kind of go through different situations, that way in Tokyo whatever happens, you're able to deal with it," Warner said. "And that's been the one thing that we've learned throughout this whole [COVID-19] pandemic is just to be adaptable. And I think going out here and winning this race kind of just reinforces that."
Craig Thorne finished in second with a time of 14.10 seconds, while decathlete Pierce LePage was third at 14.13 seconds.
Women's 100m hurdles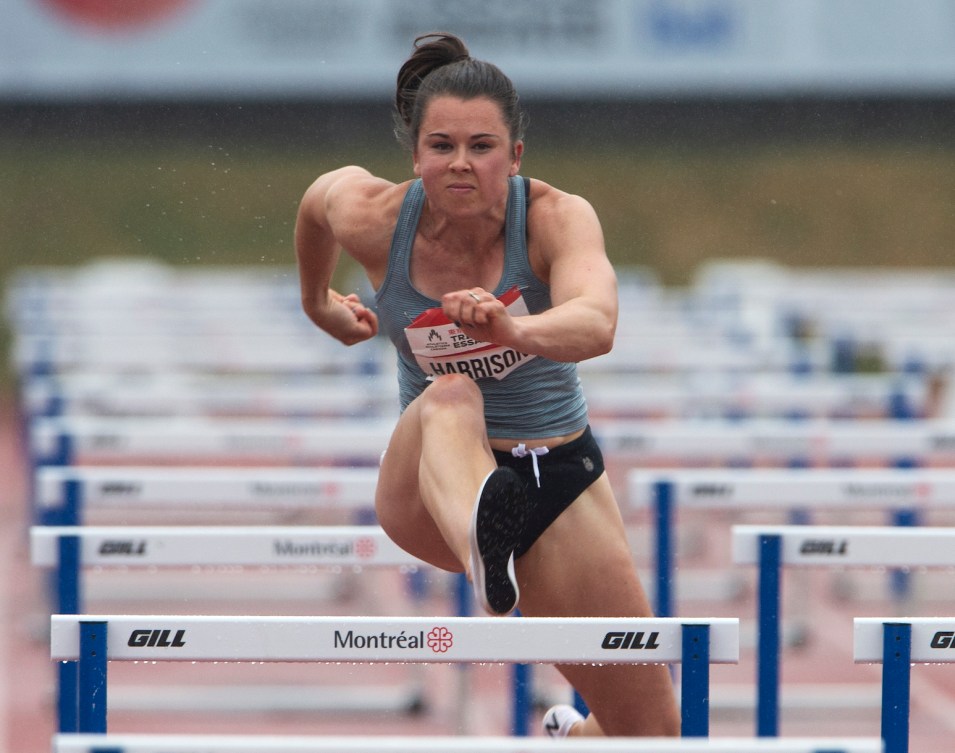 Michelle Harrison took gold in the women's 100m hurdles with a time of 12.98s, 8 seconds above the Olympic qualifying time.
Men's Decathlon
Nathaniel Mechler persevered through ten events across two days to finish in top spot at his first Canadian decathlon championship with a total score of 7701 points. At the beginning of the day he sat in second with 3921 points after Friday's competition. He finished first in the 100m and 400m on Friday, then first in the 1500m and pole vault on Saturday to seal the deal.
"If you had told me that I would be National Champion after the first day, I may not have believed you. I knew I had it in me, but I had a really tough Day 1 and really a tough first seven events," said Mechler. "That's part of the decathlon. You just can't give up if you want to have a shot at it. You never know what's going to happen."
Taylor Ehrhardt lead the men's decathlon after day one with 4053 points after a first-place finish in the long jump, high jump and shot put. Ehrhardt finished the competition in second place with 7632 points. On Saturday, he finished first in the 110m hurdles, 800g Javelin and the discus event.
Women's Long Jump
In the last event of the night, Jasmine Scott-Kilgo won the women's long jump competition with her jump of 5.86 metres in the pouring rain.
Sunday marks the final day of competition at the 2021 Olympic Trials with Canadian athletes competing in discus, 1500m and high jump events. For more information on the Olympic & Paralympic Trials series presented by Bell, please click HERE.