Team Canada at Beijing 2022: Day 12
A Canadian legend of short track speed skating caps his Olympic career with gold, Team Canada bows out in the men's hockey quarterfinals, and Team Gushue gets a pleasant surprise about the men's curling playoffs.
Here's what you might have missed on Day 12 at Beijing 2022.
Beijing 2022 Competition Schedule and Results
Short Track Speed Skating
Team Canada raced to gold in the men's 5000m relay. The quartet of Charles Hamelin, Steven Dubois, Pascal Dion and Jordan Pierre-Gilles took over the lead with 18 laps to go in the 45-lap race and never relinquished it. Maxime Laoun joined them on the top step of the podium after racing in the semifinals. Hamelin will end his Olympic career tied as Canada's most decorated Winter Olympian and Canada's most decorated male Olympian with six career medals. Four of those are gold, which also tie him for Canada's all-time lead. Dubois now has the full set of medals from Beijing, adding to his 1500m silver and 500m bronze.
READ: Gold for Canada in men's 5000m relay is 6th career Olympic medal for Hamelin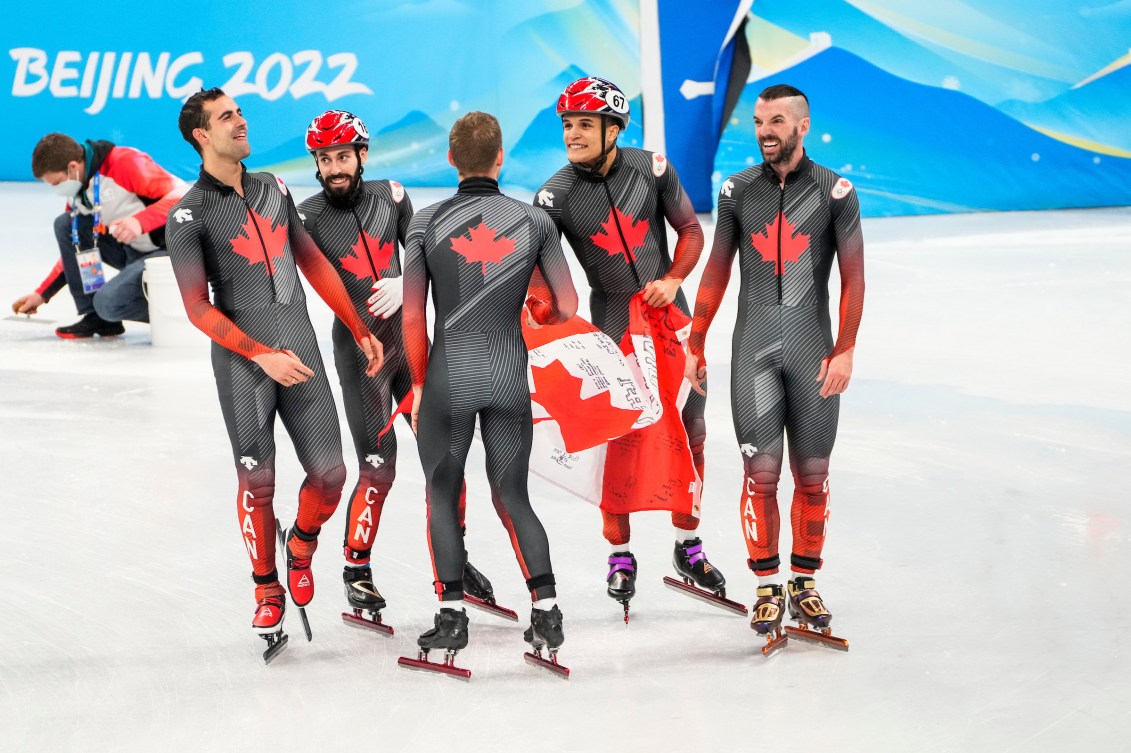 Kim Boutin, Courtney Sarault, and Danaé Blais raced in the women's 1500m. Boutin and Sarault advanced to the semifinals, but were not among the top two in their heats to earn a spot in the A final. They instead raced in the B final, where Boutin placed third and Sarault was fourth to rank 10th and 11th overall, respectively. Eliminated in the quarterfinals, Blais finished in 25th place overall.
Ice Hockey
Team Canada's men's hockey medal hopes came to an end in the quarterfinals, falling 2-0 to Sweden in a defensive showdown. Sweden scored the game-winner halfway through the third period and added an empty net goal late. Canadian goaltender Matt Tomkins made 24 saves in the loss.
READ: Team Canada falls to Sweden in men's hockey quarterfinals
Cross-Country Skiing
Antoine Cyr and Graham Ritchie put together a Canadian Olympic best-ever performance in the men's team sprint classic. After finishing fourth in their semifinal to advance to the final, they came through for a fifth-place finish overall. Canada's previous best ever result in a men's team sprint in classic technique was 11th place at Turin 2006. Canada's best finish in any men's team sprint was fourth place in free technique at Vancouver 2010.
In the women's team sprint classic, Katherine Stewart-Jones and Dahria Beatty finished sixth in their semifinal and did not advance to the final.
Freestyle Skiing
Max Moffatt was the lone Canadian competing in the final of the men's ski slopestyle event. In the best-of-three-runs final, he saved his best for last, scoring 70.40 for his third turn down the course. Some small issues on the opening rail section were the difference as he ended in ninth-place overall.
Alpine Skiing
Erik Read was the top Canadian in the men's slalom, placing 24th. Trevor Philp unfortunately recorded a DNF in his first run.
Biathlon
A great result for the Canadian women in the 4x6km relay. Emma Lunder, Megan Bankes, Emily Dickson, and Sarah Beaudry finished 10th, matching the result from PyeongChang 2018.
Curling
After a day off, Team Jennifer Jones returned for a pair of games against the United States and China as they look to climb into a playoff position. They took the first step with a 7-6 win over the the U.S. that boosted their record to 4-3 and a tie for third in the round robin standings. Jones made the draw she needed in the 10th end to get the winning point after giving up the steal in nine that tied the game. In their evening draw, however, they lost 11-9 in an extra end to China when Jones missed an attempted runback with the hammer. That puts Canada at 4-4 and in a three-way tie for fourth with one game to play.
READ: Team Canada's playoff hopes in women's curling brighter after win over U.S.
In another bit of good news, Team Brad Gushue learned that they would get a chance to play for a medal without even taking to the ice on Day 12. They are assured of a semifinal berth after China defeated Switzerland and Great Britain beat ROC. Currently at 5-3, Team Gushue sits third in the standings with one round robin game to play on Day 13 against the Brits.