FIBA Basketball
5 takeaways from Team Canada's historic performance at the FIBA Basketball World Cup
If you made Team Canada a part of your mornings over the last two-and-a-half weeks, then you were rewarded for being an early bird. The men's national basketball team had its best showing in FIBA World Cup history, coming home with the bronze medal after 127-118 victory over the United States.
Finishing with a 6-2 record, Canada took down some powerhouse nations en route to the podium and lived up to what many fans believed the national team program was capable of for a long time.
Here are a few key things we learned while watching them compete in Indonesia and the Philippines and what you'll want to keep an eye on next summer in Canada's return to Olympic men's basketball at Paris 2024.
Team Canada cashed in on their promise
After failing to qualify for the Tokyo 2020 Olympic Games, Canada Basketball held a press conference in May 2022. The plan, as announced, was to build a team with chemistry, continuity, and the ultimate goal of qualifying for Paris 2024. As a result, 14 players made a commitment to the national team program for three summers from 2022 through to 2024.
Fast forward 16 months to the FIBA World Cup where Canada not only secured Olympic qualification with a dramatic win over the defending champions from Spain, but went on to win its first men's basketball World Cup medal with a win over the U.S.
Canada took down so many basketball juggernauts, it's only appropriate to call themselves one. Although some players withdrew from the tournament due to injury, the majority of the 14 who committed were with Canada from the start of training camp through to the medal ceremony.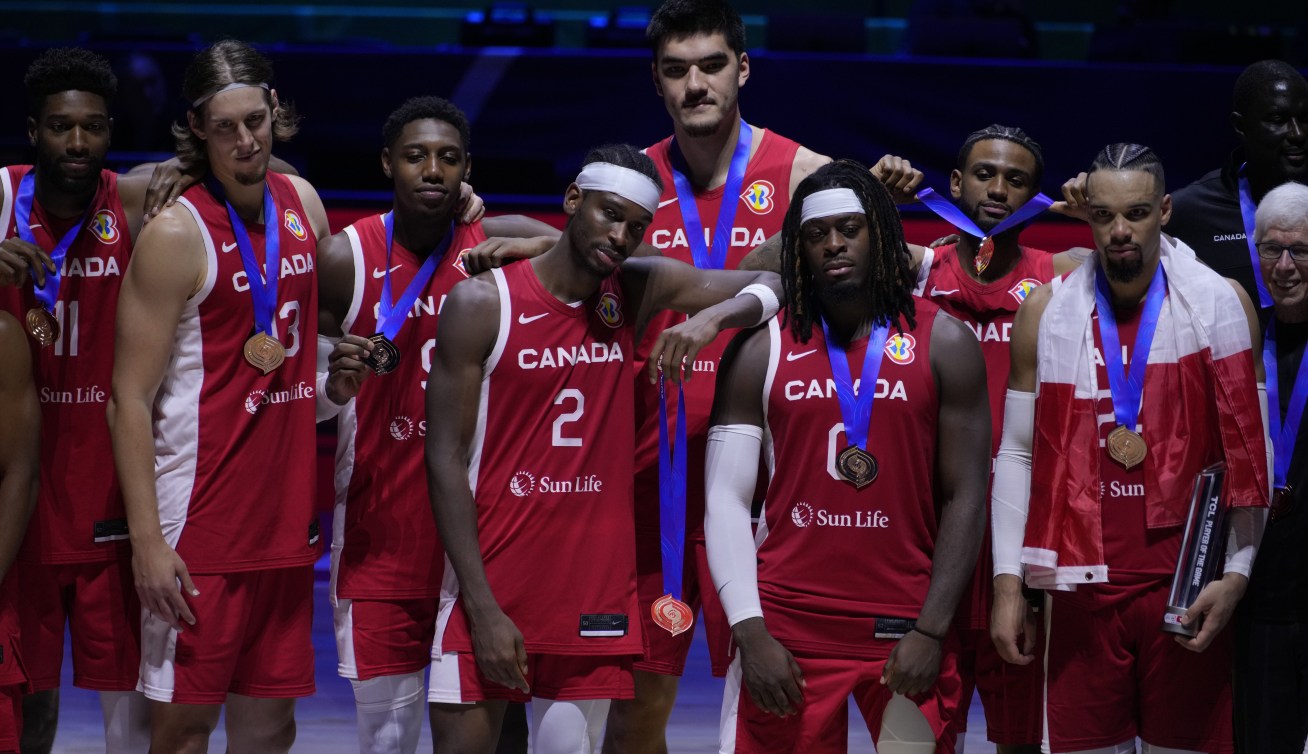 READ: Canada takes down U.S. to claim first ever FIBA World Cup medal with bronze
To qualify for Canada's first Olympic men's basketball tournament in 24 years, they needed to finish among the top two teams from the Americas teams. They were upset by Brazil to start the second round, putting their qualifying chances in jeopardy. Then, with an Olympic spot hanging in the balance, they were down by 12 points heading into the fourth quarter against Spain.
They were able to overcome it all and went on to beat two very good teams in the elimination rounds to come away with bronze.
After many years of disappointing tournament performances, Canada was able to construct a team that encompassed the wealth of world-level talent the country has to offer in men's basketball.
Team Canada has an all-world talent in Shai Gilgeous-Alexander
If you believe basketball is a star-led sport, then you didn't need much more confirmation than watching Shai Gilgeous-Alexander in action for Team Canada.
The 25-year-old came off an NBA season in which he averaged over 30 points per game and became only the second Canadian to ever be named to an All-NBA team.
He had not played in a World Cup before, but he answered any questions about adapting to international play with brilliant performances game after game. He finished as the tournament's second-leading scorer, averaging 24.5 points per game on a remarkably efficient 54.4 per cent shooting from the field. When defenses collapsed, he set up his teammates for open looks – take his 12 assists in the bronze medal win over the U.S. as a prime example.
Canada showed that an SGA-led offense is among the world's best. His ability to score from any area, control the tempo at point guard, and his sense of calm in big moments gave Canada the guy they haven't had at tournaments prior. SGA just raises the ceiling.
The margin between champion, contention, and early elimination is extremely thin
For the first time in their history, it was Germany that won the FIBA World Cup after going a perfect 8-0.
In the final, Germany took down Serbia, who Canada couldn't quite hang with in their semifinal. But had the Canadians drawn Germany, it could have been a different story. Canada actually beat Germany in the final of an exhibition tournament leading up to the World Cup. Fans of Team Canada may wonder what the result would have been had they never matched up with Serbia at all.
On the other side of the coin, Canada dropped a stunner to Brazil to open the second round and had to squeak by Spain just to make the quarterfinals. Down 12 heading into the final quarter of that game, if a few bounces don't go their way, they are staring down another last chance tournament for the hope of playing in Paris.
READ: Canada advances to World Cup quarterfinals, qualifies for Olympics with win over Spain
The competition is fierce and the margin is thin at the top – but the world doesn't need anymore convincing from Canada. They took down three of the top five-ranked teams in the world en route to winning bronze.
Embarrassment of riches at guard, but undersized frontcourt
While the SGA and R.J. Barrett pairing made for the one of the best backcourt lineups of this World Cup, another high profile guard was expected. Canada was without the help of Jamal Murray, who pulled out due to injury just a few days before the tournament. Murray is arguably the national team program's best player and is coming off of his best NBA season, in which he co-starred in bringing the Denver Nuggets their first title.
Canada can expect Murray to be available for Paris – he was one of the 14 who committed to Team Canada in 2022 – and they may other options such as Andrew Nembhard and Shaedon Sharpe at guard as well.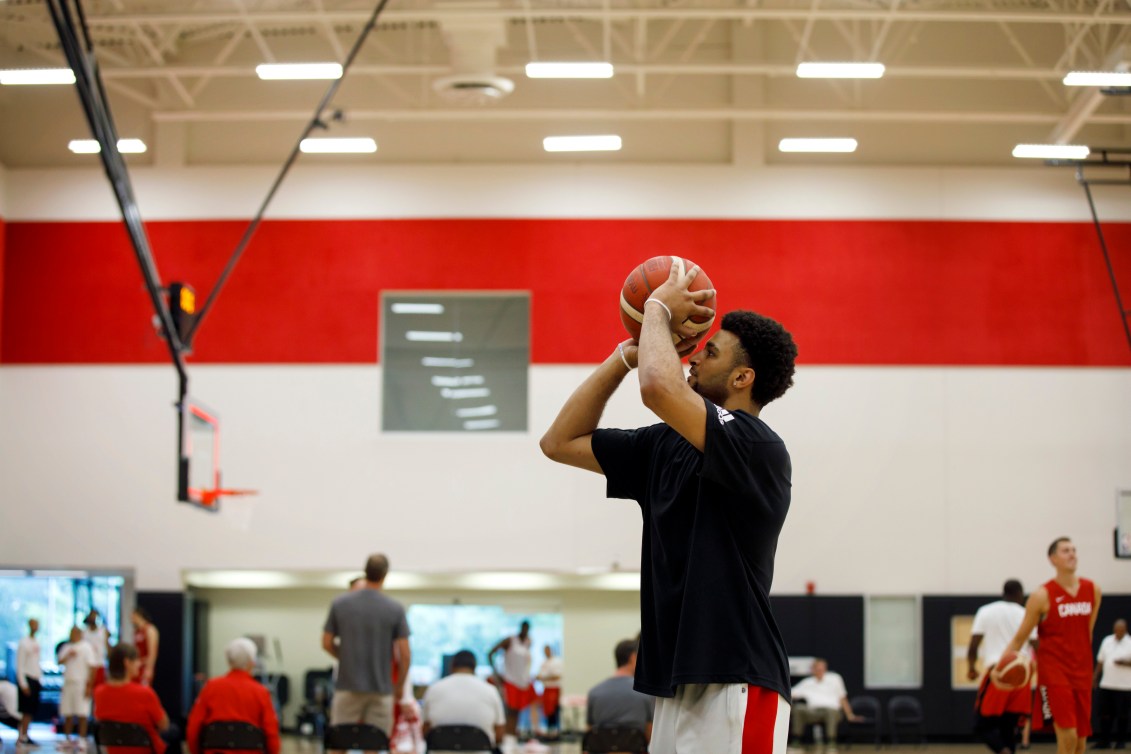 If there is one area for improvement, it might be Canada's lack of size. First-year head coach Jordi Fernandez made some fantastic adjustments to hide this weakness against France, Latvia, and Spain, but it finally caught up to them in their loss to Serbia.
The frontcourt of Kelly Olynyk and Dwight Powell couldn't outmuscle Serbian big man Nikola Milutinov and some of their gigantic wing players. Canada was out-rebounded by 11 in the game and dealt with foul trouble as they were forced to sell out for steals and blocks. Defending their size was no fun either; Serbia shot 71 per cent on two-point field goals, with most of those makes coming around the basket.
READ: Canada falls in semifinal to Serbia at FIBA World Cup
Help could be on the way in the form of Brandon Clarke, who was not with the team after tearing his achilles in March. Their tallest player, 7'4″ Zach Edey, will have another year to develop at Purdue where he was awarded NCAA Player of the Year last season.
In all likelihood, Fernandez will need to continue to get creative with lineups in order to match the size and physicality of the top teams in the world. Having elite perimeter defenders like Dillon Brooks and Lu Dort will help and adding someone like Andrew Wiggins to the mix wouldn't hurt either.
In his press conference following the bronze medal, Fernandez had this to say about the future makeup of the team:
"About the team next year? I don't know. We have a great program. We have guys that want to be a part of it, and we'll decide when the time comes. But all these guys have a no. 1 ticket because they've made this happen. We believe in loyalty. Obviously, you come and fight for a spot, but we owe a lot to these guys. If we want to build the right program and if we don't do it this way, it doesn't make sense."
Canada is poised to make more history at Paris 2024
With a World Cup medal checked off, Canada can look ahead to Paris 2024. That will mark Canada's first appearance in a men's Olympic basketball tournament since Steve Nash headlined the squad at Sydney 2000. They'll shoot for Canada's first Olympic medal in basketball since a silver medal in the sport's official debut at Berlin 1936.
Olympic rosters usually draw even more talent in comparison to the World Cup. The U.S. was without some obvious names like LeBron James and Steph Curry, who are reportedly ready to commit to being on the Paris roster. Serbia had their way with Canada in the semifinal even without the presence of two-time NBA MVP Nikola Jokic.
However, Canada had absences of their own and nothing can take away from what they accomplished in Indonesia and the Philippines. After years of disappointment, Canada has entered the conversation for best basketball country in the world. Not only is this team capable of a medal in Paris, but they will feel like they can upgrade from World Cup bronze to Olympic silver — or perhaps a gold medal — next summer.