Filippo Tomasi
Putting Canadian men's artistic gymnastics back on the map
It's been a bit of a dry spell for men's artistic gymnastics in Canada.
While the likes of Ellie Black and her teammates may be household names thanks to their success over the last few years, Canada has not qualified a full men's artistic gymnastics team for the Olympics since 2008. Meanwhile, the Canadian women are already qualified for Paris 2024, having secured their team spot after winning bronze at last year's world championships in Liverpool.
Felix Dolci, William Émard, and René Cournoyer, along with Zachary Clay and Jayson Rampersad are ready to put Canadian men's artistic gymnastics back on the map. That is the team that will compete at the FIG Artistic World Championships in Antwerp, Belgium, starting on September 30. They need to be among the top nine teams in the qualification round (not counting China, Japan, and Great Britain who are already qualified) to earn Olympic spots for a full men's team of five gymnasts.
Countries that don't qualify a team can qualify up to three individuals. Cournoyer was Canada's lone male artistic gymnast at Tokyo 2020.
While often thought of as one monolithic sport, there are key differences between men's and women's artistic gymnastics. While the men compete on six apparatus (floor exercise, pommel horse, rings, vault, parallel bars and horizontal bar), the women compete on four apparatus: floor exercise, vault, uneven bars and beam.
That last apparatus is a real sticking point for the men. Olympic.ca spoke to each of Dolci, Émard and Cournoyer separately, asking them what they wish people knew about gymnastics and, well, the beam came up repeatedly.
Dolci: "People don't know as much about men's gymnastics as they do women's gymnastics, and they often have the wrong idea about what events we're doing. You know, they think we do beam."
Émard: "Gymnastics can be really complicated to understand. It's one of the most beautiful and the hardest sports (I obviously have some bias). But people enjoy watching it because we make it look easy. So I would love people to understand more…Oh and I would love people to stop asking me if I'm doing beam."
Cournoyer: "Well, for one, I would like for people to know that guys don't do beam."
Out of respect for these athletes, this will be the last time the word "beam" comes up in this article!
On becoming an elite gymnast
Dolci, Émard, and Cournoyer were all energetic kids whose parents sought a sport to tire them out. For Émard and Cournoyer, the trampoline was an early love and gateway into broader gymnastics.
Now at this point in their careers, an average training day involves balancing hours at the gym for mobility, skills practice, conditioning, and rehab exercises with their school schedules.
Dolci says it is not unusual for him to get in three sessions a day–two training sessions at the gym in the morning and afternoon, and one rehab-focused session at home in the evening. Cournoyer is in the midst of a Masters of Physiotherapy and gets to put his academic learning in action every day at the gym, making tweaks to conditioning and mobilization exercises, and staying vigilant with injury prevention, a common problem in the high impact sport.
When these athletes say "gym" they mean training on the various gymnastics apparatus, not so much a weight room.
"Gymnastics is all body weight. So people will ask me 'Whoa, how much do you bench?' And I'm like 'I don't know?'," Cournoyer says with a chuckle.
And how does one learn a new gymnastics skill? Dolci says that the ready availability of video technology has sped up the skill acquisition process for gymnasts of this generation. When he wants to learn a new skill, he can look up videos of other gymnasts who perform it near perfectly, ideally seeing a variety of techniques and body types. This is a resource that gymnasts even a generation ago wouldn't have had at their fingertips.
Then, he and his coach break the skill down into smaller pieces and work on them separately. Once he's mastered the parts of the skill individually, he can start trying to complete them together.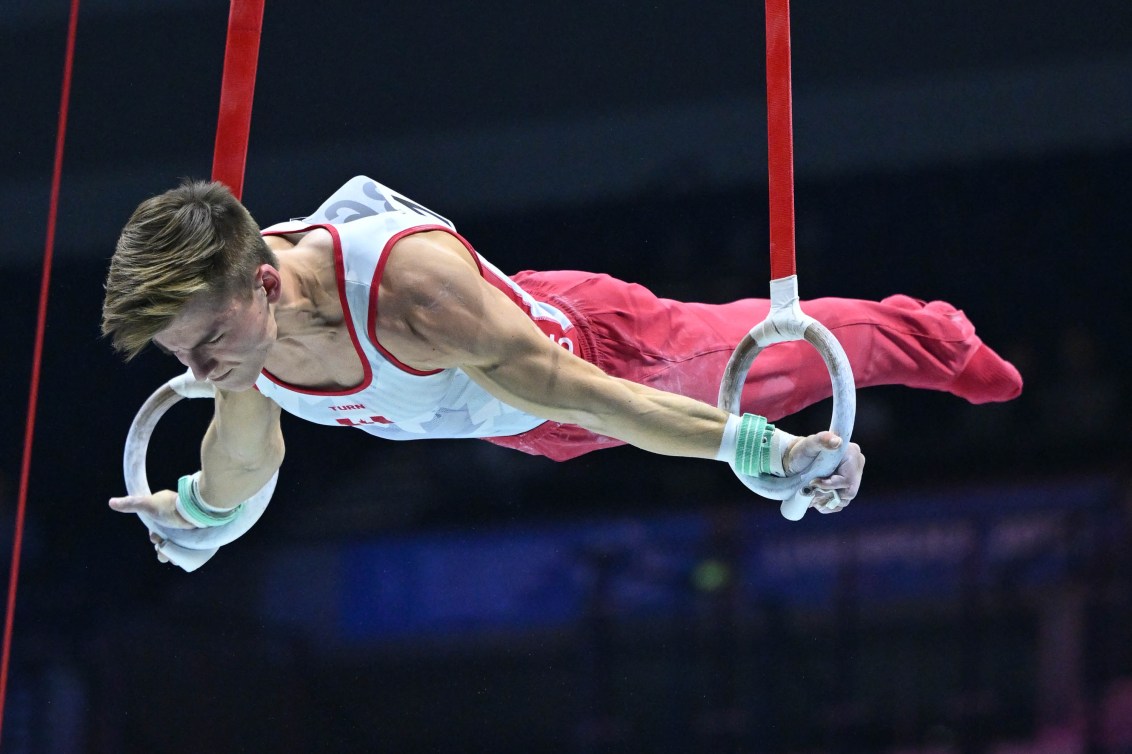 "It won't work the first time, that basically never happens," Dolci emphasizes.
Then, it becomes a numbers game, putting in reps on the skill until it becomes second nature. That's when he can start worrying about making it "perfect" with a focus on straightening legs and pointing toes.
Social media has also created a new reality where gymnasts are much better informed about what skills their international peers are able to do; previously, that knowledge would have only come from seeing one another at competitions.
"Let's say that after the world championships, the biggest vault in the world is a triple Tsuk, I'm just giving an example here, and then a few weeks later, somebody does a three and a half. They added a half turn switch," Dolci explains. "When we see that on social media, we all challenge ourselves to up that level, even when we're not facing each other."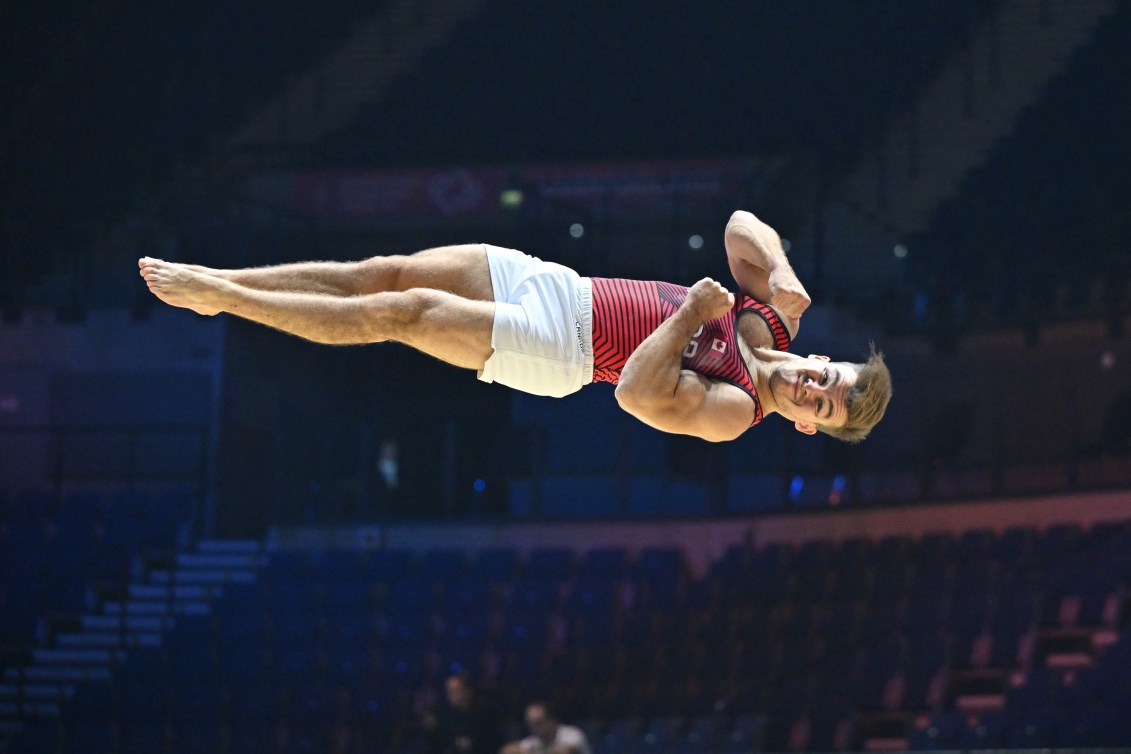 On the Canadian women's team success: "It lights a fire in us"
All kidding aside about the apparatus-that-shall-not-be-named, the men's team is supportive of and inspired by the success of the Canadian women's team. Dolci describes the women's team qualification for Paris as a "goosebump moment," while Émard called it "magical."
"It was just beautiful," Dolci says, "I was sitting there in shock and then feeling really emotional. It really lights a fire in us because we want to make it happen. It's been years since the men's team has stepped up for Team Canada and we know that's what we can do."
It was a similar experience for Émard: "I was in the stands when it happened, and it was probably one of the craziest feelings I've ever felt in gymnastics. So I can't even imagine what it would feel like for us to qualify."
In addition to the huge celebratory moments, Émard notes that the small moments matter too.
"I love those small moments. When Ellie Black won her first medal on beam [author note: he said it!], I just remember telling her afterwards, 'You deserve it. You really, really deserve it and I'm so happy for you.' Those are the small moments."
On the upcoming world championships
The team will be chasing those moments, big and small, at the upcoming world championships. They're staring down the competition with calm confidence and, crucially, trust in one another. That trust is especially high between Dolci and Émard, who have trained with each other in Laval since childhood.
Often thought of as an individual sport, when competing as a team, the dynamic changes. Trust is absolutely vital, and a mix-and-match of different strengths is the recipe for success. While the three of them are top all-arounders, they admit pommel horse is not a strength for any of them–Clay and Rampersad fill in with the necessary expertise on that apparatus.
"I feel like what's special about this team is that each guy going into the event, I know [my teammate] can make it. I'm really confident in him," Émard says. "When we were trying to qualify for Tokyo, there would be some guys going up and I'd be nervous about whether or not they'd make it. This time, I know each and every one of us can do it and if someone makes an error, I'm confident that we've got another person that can step up."
Cournoyer agrees: "When you know the other guys are going to do their job, it doesn't feel like you have to put everything on your own shoulders."
The team is feeling especially good after their final preparation competition leading into worlds, the RomGym Trophy which took place in Bucharest, Romania in early September. The team snagged silver, just 0.25 points behind Spain, a key competitor who will be at worlds.
On role models – having them and becoming them
The three gymnasts have all had the experience of going from being the younger kid in the gym, watching the senior athletes perform skills that seem unimaginably hard, to being that older athlete in the gym, with a consciousness that the next generation is watching.
Cournoyer can still remember watching an older gymnast at his gym when he was a kid, amazed by the way he would fly through the air. It's still a little funny for him to think about the fact that he's at a much higher level than what awed him as a kid. But that older athlete had a lasting influence on him.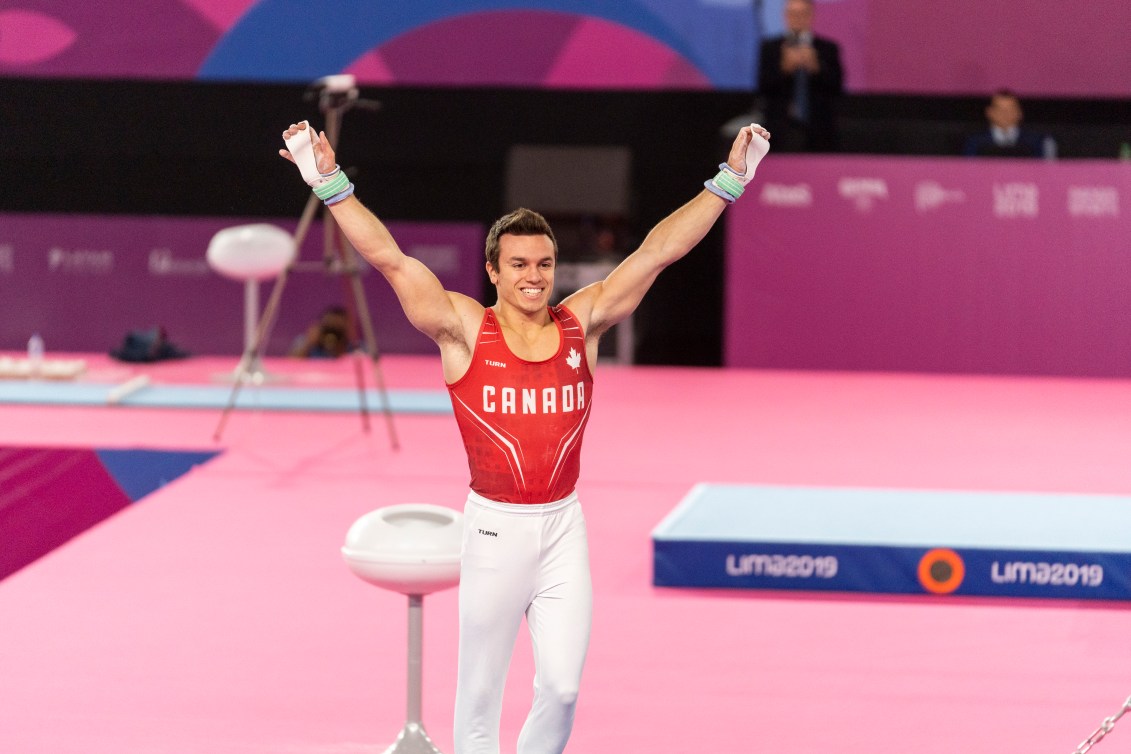 "There is still a high bar skill I'm known for called the Yamawaki. Some people say I have the best execution of that skill in the world," Cournoyer explains. "I first wanted to do it because there was an older guy at my gym when I was young who would do it in his routines. It was sort of his signature skill and I thought it was so cool. And now it's kind of iconic in my routines as well."
At 23 years old, Émard says it was really this year that it hit him that he is that "older guy" in the gym now: "We're training with 14- and 13-year-old boys that are pretty good, they could be the future of Gymnastics Canada. Now I'm thinking, 'Okay I have to be a role model and show you have to keep working hard as you get older.'"
Best of luck in Belgium
The men's team will travel to worlds alongside the women's team consisting of Ellie Black, Aurelie Tran, Ava Stewart, Cassie Lee and Rose Woo, hoping to return home as two qualified teams, not one.
"I think we have a better chance than ever before," Dolci says. "But the thing with gymnastics, though, is that no matter what you do in training, what matters is how you show up on the due date. For all the guys here, it's going to be one of the biggest moments of our careers. So I think we just need to be really cool-headed going into it and do our work, nothing more, nothing less. Take that moment to enjoy giving it all we've got."
And just in case you were wondering…they won't be competing on beam.
Check out the full World Championships schedule here. The finals will be streamable through CBC.
But before we let them go, we asked Felix, William and René to answer a few rapid fire questions…
What athlete do you admire?
FD: Connor McGregor—"I really admire his mental preparation"
WE: Roger Federer—"I admire him for how he acts during matches even when it's not going well. He's mature and calm. I really appreciate the way he conducts himself on the court."
RC: Kyle Shewfelt—"He's the gymnast who won the only [Olympic] medal that Canada has ever won gymnastics, and he was my first idol. As I got older, he became a mentor and then a friend. He really mentored me towards the Olympics in Tokyo with what to expect and how to manage stress."
What's your favourite skill?
FD: Cassina on horizontal bar—"It's a high difficulty and high risk skill, but the feeling when you fly in the air and catch the bar afterwards is absolutely incredible."
WE: Kovac on high bar—"It's a double back that you're throwing and then you're trying to catch the bar. It's the skill that I'm feeling the most like I'm flying, but in a controlled way. It's not just like throwing myself out there, I have to be precise. So the feeling of being like throwing yourself over a metal bar, doing a double backflip and catching it is amazing. When I was a kid I was so afraid of that skill and now it is one of my favorites."
RC: Yamawaki on high bar— "That feeling of flying is the most fun."