Photo Credit: Fiba
Canadian women go undefeated at FIBA Olympic pre-qualifying tournament
Team Canada completed the FIBA women's Olympic pre-qualifying tournament with a dominant 110-60 victory over the Dominican Republic.
Canada finished the weekend with a 3-0 record in front a home crowd in Edmonton on Sunday. Already with a ticket to an Olympic qualifying tournament next February, the Canadian women did not let out against the Dominican Republic.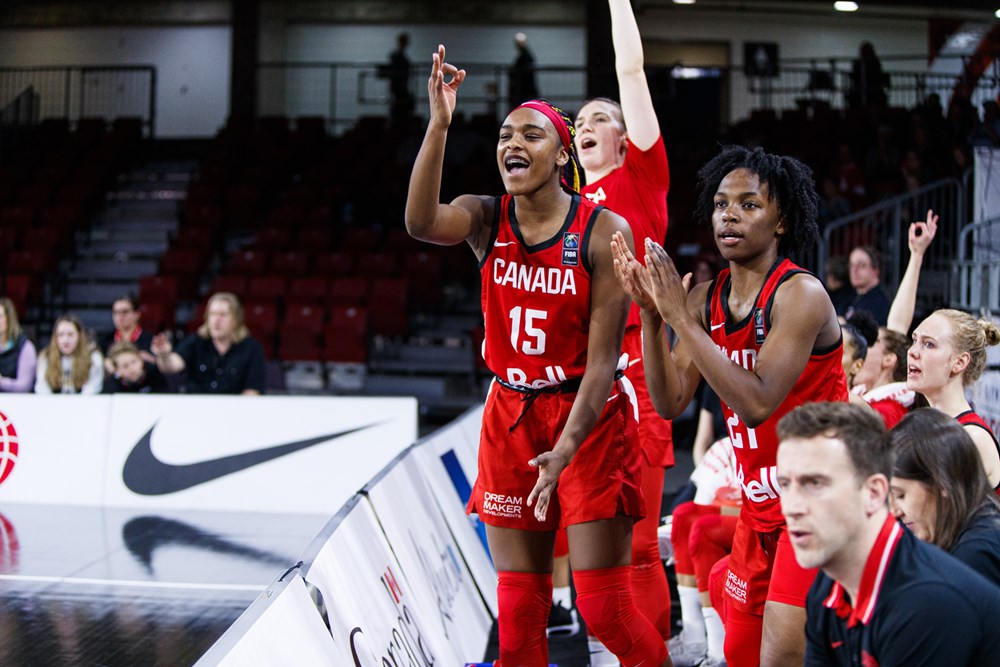 A strong sense of teamwork was present on the court again on Sunday evening in Edmonton. All 12 players hit the scoresheet, with six in the double digits. Sami Hill scored 16 points and had 3 rebounds, Shaina Pellington added 14, Bridget Carleton and Jamie Scott with 13 each, Ruth Hamblin and Natalie Achonwa added 11 apiece.
Game 2: Canada 84 – 80 Puerto Rico
Team Canada defeated Puerto Rico in their second game of the 2019 FIBA Women's Olympic pre-qualifying tournament on Saturday in Edmonton.
With this win Team Canada advances to the final stage of Olympic qualification process and have officially booked their ticket to the FIBA Qualifying Tournament, taking place in February 2020.
The Canadians fought to the very end against Puerto Rico to take win 84-80 in their second game of the tournament on Saturday evening in Edmonton.
Nayo Raincock-Ekunwe lead the board with 27 points and 11 rebounds, Kia Nurse chipped in with 17 points and Miranda Ayim added 11 points to take the lead in this match. Although, Puerto Rico ranked 24th in the world, they put up a fight against Team Canada ranked 4th overall.
Game 1: Canada 110 – 53 Cuba
Kia Nurse scored 28 points to lead Canada to a 110-53 win over Cuba in their first game of the 2019 FIBA women's Olympic pre-qualifying tournament on Thursday.
It was far from a one-woman show, though, as fourth-ranked Canada's offensive depth proved to be too much for No. 26 Cuba in front of the Edmonton crowd. Miranda Ayim added 14 points while Natalie Achonwa, Jamie Scott, and Sami Hill scored 10 apiece in the win.
The Canadian women are seeking to qualify for their third consecutive Olympics. They finished eighth at London 2012 and seventh at Rio 2016.