Five Team Canada weightlifters set to show their strength at Tokyo 2020
Team Canada will be represented by four women and one man in Olympic weightlifting this summer in Tokyo.
That will be Canada's largest Olympic weightlifting team since a squad of five competed at Beijing 2008. The four women are a new high mark for the country.
Maude Charron is the highest ranked of the four, sitting at number three in the 64kg IWF Absolute Ranking. She began weightlifting in 2015 and had a breakout performance at the IWF World Championships in 2017 when she placed second in the snatch portion of the event and fifth overall while competing with the B group, beating out many athletes from the higher-seeded A group. She has gone on to win gold at the 2018 Commonwealth Games and most recently at the Pan American Championships in April 2021 where she broke three continental records for her weight class.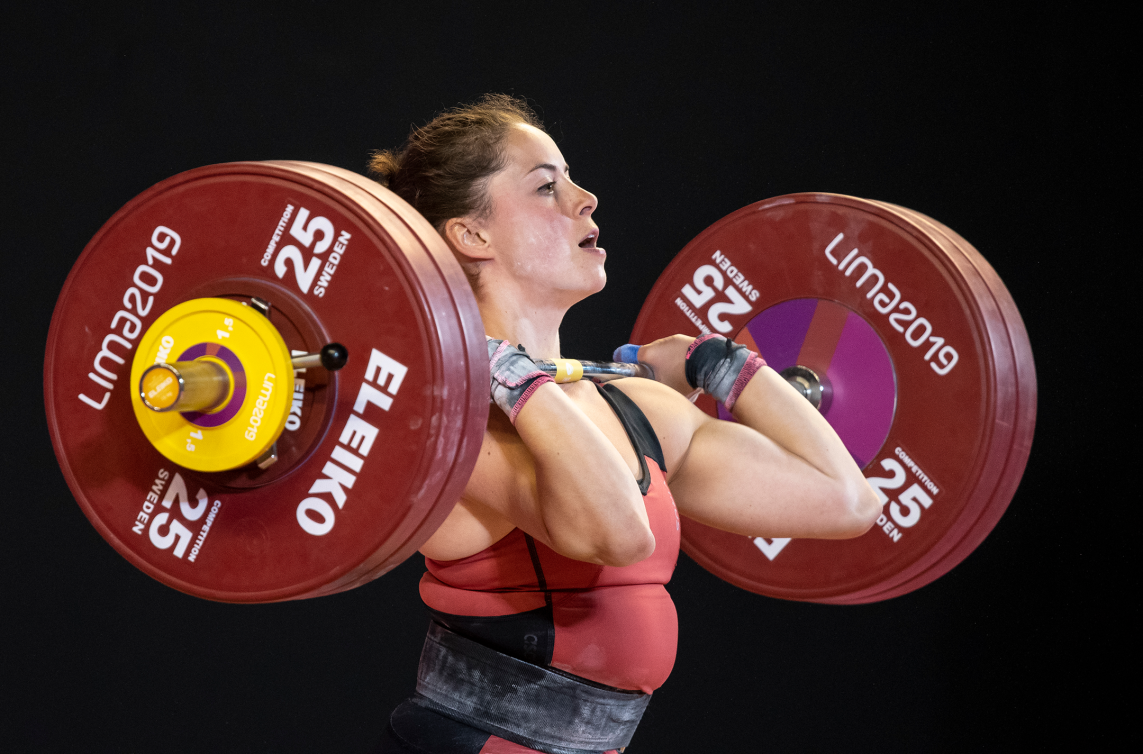 Training mates Tali Darsigny and Rachel Leblanc-Bazinet will be the Canadian entries in the women's 59kg and 55kg events, respectively. They are both coached by Darsigny's father, Yvan, who is a two-time Olympian from Los Angeles 1984 and Barcelona 1992.
Darsigny had her breakout year in 2018 when she won 58kg silver at the Commonwealth Games and bronze at the IWF Junior World Championships. She also represented Canada at 2019 Pan Am Games, where she lifted a personal best 203kg. In her lone competition of 2020, she won bronze at the IWF World Cup event in Rome.
Leblanc-Bazinet is a relative latecomer to weightlifting, not starting to train seriously until she was 26. She earned her first international podium at the 2018 Commonwealth Games, where she took home a 53kg bronze medal. In 2019, she finished fifth at both the Pan American Championships and Pan American Games. Later that year, she broke into the top 10 at the IWF World Championships by breaking two Canadian records in her weight class.
Kristel Ngarlem will make her Olympic debut in the 76kg event after representing Canada in senior international competition since 2014. Unfortunately, Ngarlem dislocated her shoulders twice in 2015, keeping her out of the world championships that year. Since then, she has finished inside the top 10 at the last three IWF World Championships (2017-19) and at the IWF World Cup in Rome in 2020, she set a personal best, lifting a total of 233kg.
Boady Santavy will be the sole Canadian man competing in Tokyo, heading to the Games as the fifth-ranked man in the 96kg IWF Absolute Ranking. He will become the second Olympian in his family, following his grandfather Bob who competed at Montreal 1976 and was also named to the Mexico City 1968 team before sustaining an injury two days before the start of his event, forcing him to withdraw. Santavy's international success includes a silver medal at the 2018 Commonwealth Games, a silver medal at the 2019 Pan American Games, and a silver medal at the 2020 IWF World Cup in Rome. Most recently, he finished second at the Pan American Championships in April 2021.
All Olympic qualification in weightlifting was based on the IWF Absolute Ranking, which took into account results from November 2018 to the end of April 2020 and from October 2020 to the end of May 2021.
Tokyo 2020 marks the first time in Olympic history that weightlifting will be completely gender equal, with seven events for both men and women.
Leblanc-Bazinet will be the first Canadian to compete on July 26. Darsigny and Charron will both be in action on July 27. Santavy competes on July 31 with Ngarlem finishing off on August 1.
Canada has won four Olympic weightlifting medals, including one gold, two silvers and one bronze. Christine Girard is Canada's most decorated athlete in the sport, winning gold at London 2012 and bronze at Beijing 2008, where she became the first Canadian woman to win an Olympic weightlifting medal. Canada's silvers came at Helsinki 1952, where Gerry Gratton won Canada's first medal in the sport, and from Jacques Demers at Los Angeles 1984.
Team Canada Weightlifters at Tokyo 2020
Maude Charron (Rimouski, QC) – Women's 64kg
Tali Darsigny (Saint-Hyacinthe, QC) – Women's 59kg
Rachel Leblanc-Bazinet (Richelieu, QC) – Women's 55kg
Kristel Ngarlem (Montreal, QC) – Women's 76kg
Boady Santavy (Sarnia, ON) – Men's 96kg