Darren Calabrese/COC
Team Canada gets first women's water polo win of Tokyo 2020
Team Canada's women's water polo team picked up their first win of Tokyo 2020 on Wednesday.
Gurpreet Sohi scored a game high four goals in Canada's dominant 21-1 win over South Africa at the Tatsumi Water Polo Centre. The victory improved Canada's record to 1-2-0 with one game remaining in preliminary round action.
Canada's speed and quick offensive movement was no match for the South African side. The Canadians also had a strong showing on defense, recording 16 steals while goalkeeper Clara Vulpisi, making her first appearance of the Olympic Games, made eight stops.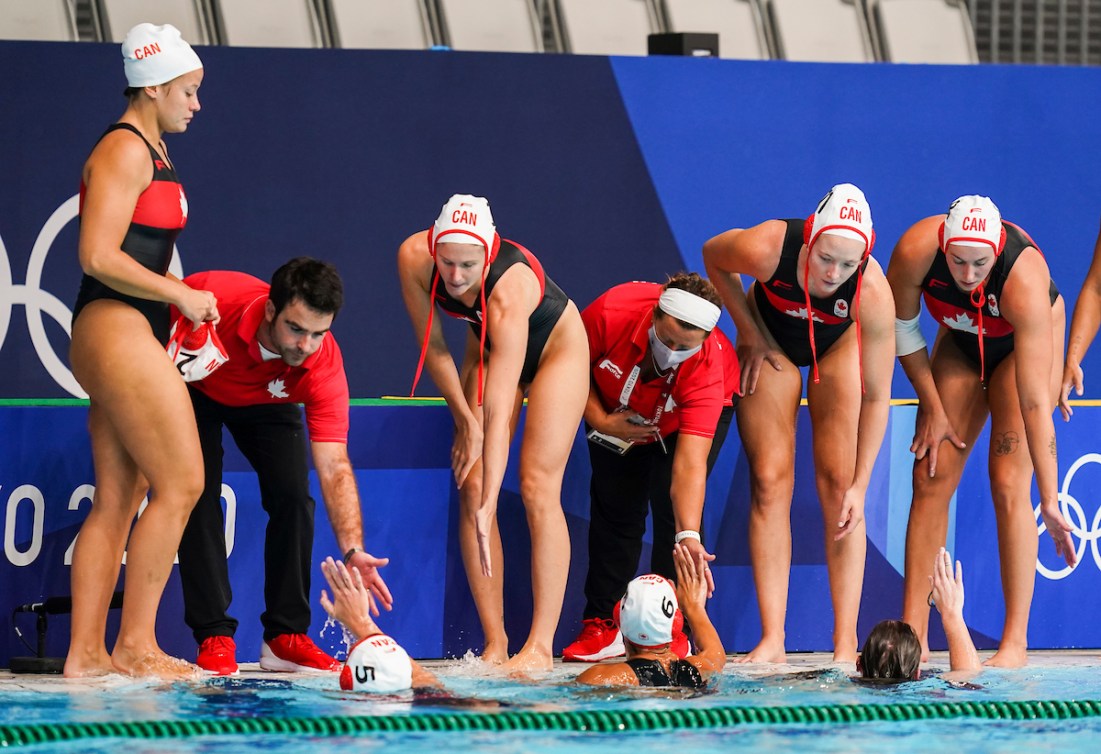 This is Team Canada's first women's Olympic water polo tournament since Athens 2004. The team qualified for Tokyo 2020 with a silver medal performance at the Lima 2019 Pan Am Games.
Kyra Christmas opened the scoring for Canada at the 7:03 mark of the first quarter. Monika Eggens connected less than two minutes later, doubling Canada's early advantage. After South Africa got on the board, Emma Wright scored before Shae La Roche buried back-to-back goals, giving Canada a commanding 5-1 lead after one quarter.
Axelle Crevier scored twice to quickly put Canada up 7-1 in the second quarter. Hayley McKelvey and Sohi also scored to give Canada a 9-1 lead at halftime.
READ: Canadian water polo team ready to make waves at Tokyo 2020
Eggens fired a hard shot that went off the South African goalkeeper's arm and trickled in just 31 seconds into the third quarter, setting the tone for Canada's second half. Canada added four more goals in the third quarter to go up 13-1. They would add eight more goals in the fourth to make it a 21-1 final.
"It was good," said head coach David Paradelo about his team's performance. "It was according to plan. We wanted to play our system against South Africa, not deviating from any type of plan because they're a team that has a bit less experience. We played how we had to play."
Team Canada opened the women's water polo tournament with an 8-5 loss to Australia and a 14-10 loss to Spain. Their final game of the preliminary round is Sunday against the Netherlands.