THE CANADIAN PRESS/Adrian Wyld
Champions crowned at Canadian figure skating nationals
The eyes of all figure skating fans were on the Canadian Tire National Skating Championships taking place this weekend in Ottawa.
The nationals are the final competition to be considered in the selection of the Canadian Olympic figure skating team, which will be announced on Sunday. Results at nationals are not the sole determining factor in Olympic team selection, as Skate Canada's high performance committee will also take into account results achieved at international competitions over the last year.
READ: Figure skaters make final stop on road to Beijing 2022 at Canadian championships
Following Friday's short programs, here's a look at what happened in Saturday's free skates:
Messing captures long-awaited first national title
Keegan Messing didn't let his nerves get the better of him, leading to him finally standing atop the podium at the Canadian championships. It was the first time he has done that at any level in his 19 years of attending a nationals.
After popping his planned triple Axel in Friday's short program, Messing rotated the two he had in his free skate and also landed two nice quad toes. He scored 173.65 in the free skate and 258.03 overall to win the gold medal by more than 10 points.
By Saturday, Messing had had one more day to reacclimatize to his own skates. They had gotten lost en route from Alaska to Ottawa and only arrived the night before the short program. He had practiced on Thursday in brand new skates and said he had some small issues making the switch back to his usual boots on Friday.
Taking the silver was Roman Sadovsky, who climbed up from fourth place after the short program to reach the podium for the second straight nationals. He was the champion the last time the event was held in 2020. Known for his smooth skating skills and musical interpretation, Sadovsky successfully landed two quad Salchows in a program that only had one major error when he bailed on a planned triple Lutz. His total of 247.60 allowed him to leapfrog over 16-year-old Wesley Chiu (232.04) who won the bronze medal in his first senior nationals.
Canada has two men's spots for Beijing 2022 and it was Messing and Sadovsky who earned those for the country. Messing's sixth-place finish at the 2021 World Championships locked up one and made Canada eligible to earn a second spot. Sadovsky was selected to compete at the Nebelhorn Trophy in September, which also served as the secondary Olympic qualifier, and secured the extra spot.
Moore-Towers and Marinaro push past season struggles to win third pairs title
Kirsten Moore-Towers and Michael Marinaro had the competition they've been looking for all season, putting together back-to-back clean programs to win their third straight national title in the pairs event.
Kirsten Moore-Towers and Michael Marinaro perform their routine during the senior pairs free program at the National Skating Championships, Saturday, Jan. 8, 2022 in Ottawa. THE CANADIAN PRESS/Adrian Wyld

Kirsten Moore-Towers and Michael Marinaro react after finishing their routine during the senior pairs free program at the National Skating Championships, Saturday, Jan. 8, 2022 in Ottawa. THE CANADIAN PRESS/Adrian Wyld
Skating with confidence in the free skate, their performance would have prompted a standing ovation if there had been an audience in attendance. Sadly, that wasn't the case, as dictated by COVID-19 protocols. With a total score of 212.54 points, Moore-Towers and Marinaro claimed the gold medal by 26 points over Evelyn Walsh and Trennt Michaud (186.52).
"With all our struggles over the last couple months, I think we officially have parked that in the past with two performances that we're happy with. We have some stuff to work on in the short and the free that we will be dialing in over the next three weeks, but these were some rebound performances that we're definitely extremely happy with," said Marinaro.
"This one is special for sure especially considering the first half of the season we had. I don't know if anyone thought we were capable of this and so, yea it's special. They're all special in their own way," said Moore-Towers of their trio of titles.
For Walsh and Michaud, it is the third straight time they've been the runners-up at nationals, where they have always tended to bring their best, even when the fall international season hasn't gone quite as smooth as they hoped. This year was no exception as they also laid down a clean free skate program in Ottawa.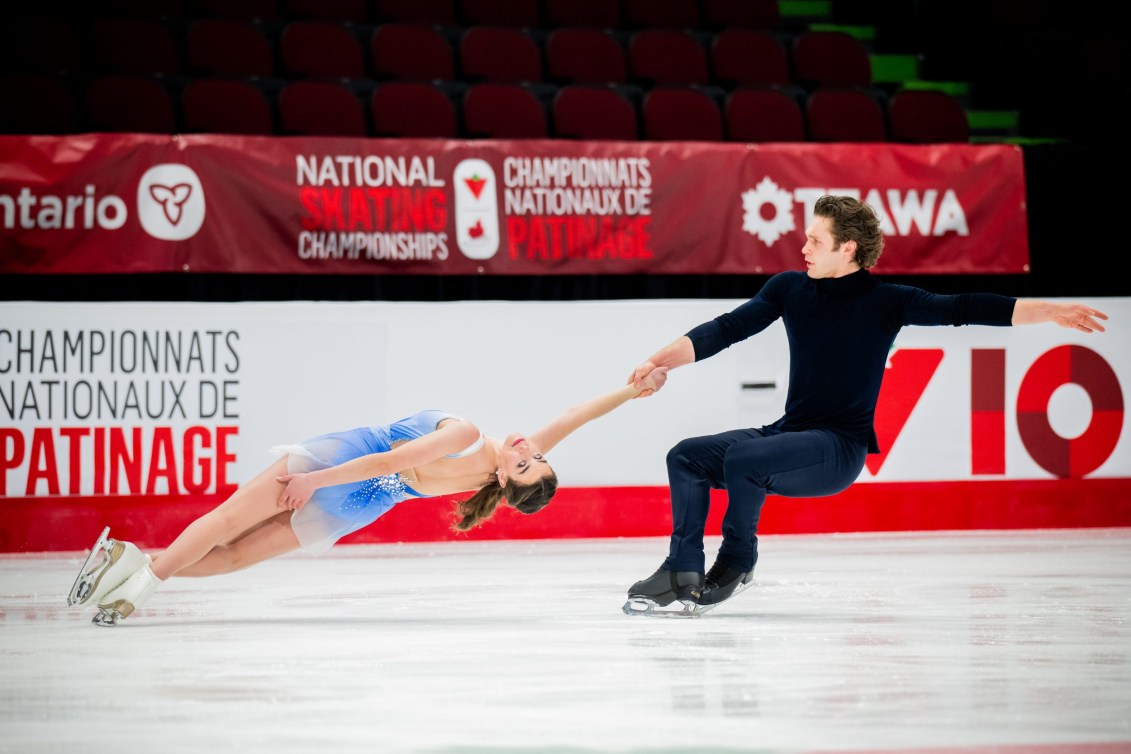 Taking the bronze medal were Deanna Stellato and Maxime Deschamps with 178.60 points.
Earlier in the day, Vanessa James and Eric Radford withdrew from the free skate. They had placed fourth in the short program, just about a point behind Stellato and Deschamps, after having the best Grand Prix results of any of the Canadian pairs this season.
Now the discussion will take place about who will fill Canada's two pairs spots for Beijing 2022.
Gilles and Poirier dance to second straight gold
The long and winding road for Piper Gilles and Paul Poirier has led them to a second straight national title.
Skating to a cover of The Beatles' tune "The Long and Winding Road" by Govardo for their free skate, Gilles and Poirier received the highest level four on all of their technical elements. All of those elements received high grades of execution and they also received nine individual perfect 10s in their components scores. They got 132.26 points in the free skate for an overall total of 219.24.
"I think we're really proud of what we did out there," said Gilles. "I think we felt pretty strong, I think we were a little nervous competing at nationals. We made so many changes since the Grand Prix series so we just kinda were testing out the waters a bit, our legs were like 'remember to do this', nothing's on auto pilot yet. I'm glad we had this opportunity to put that program out there and build upon it and when we get to the Olympics we'll be in tip top shape."
Capturing the silver medal were Laurence Fournier Beaudry and Nikolaj Soerensen with 206.65 points. Marjorie Lajoie and Zachary Lagha scored 192.67 points for the bronze.
Partners for more than a decade, Gilles and Poirier had reached the world championship podium for the first time in March in their eighth appearance at the worlds. Their bronze medal combined with the eighth-place finish of Fournier Beaudry and Soerensen to qualify three ice dance spots for Canada for Beijing 2022. Lajoie and Lagha, the 2019 World Junior Champions, finished 14th in their senior worlds debut.
Schizas dazzles in women's singles
Madeline Schizas dominated the women's event to win her first national title by 27.59 points. Schizas came close to breaking the 200-point mark for the first time in her career, totalling 198.24 for both the short program and free skate.
Now she'll wait for the official word on being nominated to Canada's lone women's Olympic spot for Beijing 2022, something that didn't seem possible to her until just this past spring when she finished 13th at the world championships.
"I am a very logical person," she said after her victory. "Realistically one person is going to Olympics and the chances it was going to be me were very slim. Obviously now that I've won a Canadian title the Olympics are on my radar but I never like to get too far ahead of myself. I think one moment at a time and I think that makes it even better qualifying."
Unlike many skaters who gain a lot of competitive experience as juniors, Schizas has been thrown in the proverbial deep end over the last year, learning how to compete and win at the highest level on the fly. She not only accepted the challenge, she has thrived.
In her first senior nationals in 2020, she won the bronze medal. She should have competed in her first Grand Prix events that fall, but the COVID-19 pandemic preempted that plan. After winning the Skate Canada Challenge, which was held as a virtual event last season, she was named to the team for the 2021 World Championships, where Olympic qualification was on the line. But that pressure didn't derail her. In just her second ever senior international competition, it was her result that ensured Canada would have a women's entry at Beijing 2022.
Schizas has continued to impress this season, finishing the Grand Prix series as the top-ranked Canadian woman, highlighted by her sixth place finish in Russia, where she had placed fourth in the short program among a very tough field.
Veronik Mallet won the silver medal with 170.65 points while Gabrielle Daleman earned the bronze with 167.50 points.