COC/Mark Blinch
Everything you need to know about Canada at the 2023 FIFA Women's World Cup
Team Canada, the reigning Olympic champions in women's soccer, are ready for action at the 2023 FIFA Women's World Cup.
Held every four years, the World Cup is the showcase global event in women's soccer. This year's edition is being co-hosted by Australia and New Zealand from July 20 to August 20.
Whether you're new to the tournament or just need a refresher, here's a handy guide to supporting Team Canada.
What is the history of the FIFA Women's World Cup?
Australia & New Zealand 2023 is the ninth edition of the FIFA Women's World Cup. The United States has won half of the previous editions (1991, 1999, 2015, 2019). Germany has won twice (2003, 2007), while Japan (2011) and Norway (1995) have also triumphed.
This will be the first FIFA Women's World Cup to be co-hosted by two nations and also the first one to include 32 teams. That's twice as many as the 2011 tournament, owing to the explosive recent growth of the global women's game.
How has Canada done at the FIFA Women's World Cup?
Though Canada has hit the podium at three straight Olympic Games, the World Cup has proven a tougher nut to crack. The team's best-ever finish was fourth place, back in 2003, when just 16 teams were entered.
In more recent years, Canada reached the quarterfinals as the host team in 2015, but lost 2-1 to England at B.C. Place in Vancouver. Four years ago, Canada was eliminated in the Round of 16 when they lost 1-0 to Sweden. Many of the same players for both teams were on the pitch when Canada came out on top in the Olympic final at Tokyo 2020.
Who is on Team Canada at the FIFA Women's World Cup?
Head coach Bev Priestman's side features 15 players who won gold at Tokyo 2020. The headline name is, as always, captain Christine Sinclair, who looks to become the first player — male or female — to score at six World Cups. She made her first appearance back in 2003 when she was part of Canada's fourth-place finish. Brazilian legend Marta was also named to her sixth World Cup squad in 2023.
Joining Sinclair are plenty of familiar faces, including Kadeisha Buchanan, Ashley Lawrence, Jessie Fleming, Quinn, Deanne Rose and Adriana Leon, as well as budding stars like Julia Grosso and Jayde Riviere. There are also four players who've yet to represent Canada at an Olympics or World Cup: Lysianne Proulx, Simi Awujo, Olivia Smith, and Cloé Lacasse.
But there will be notable absences as well. Versatile midfielder/forward Janine Beckie is out with a knee injury and erstwhile number one goalkeeper Stephanie Labbé retired after earning the "National Minister of Defence" nickname in Tokyo. Kailen Sheridan can be counted on in goal, though how Priestman will address Beckie's absence is yet to be seen.
Goalkeepers:
Defenders:
Midfielders:
Midfielders/Forwards:
Forwards:
Who will Canada be playing against?
Canada (No. 7 in the world) is in Group B with Australia (No. 10), Republic of Ireland (No. 22) and Nigeria (No. 40).
Their first match (July 20, 7:30 p.m. PT/10:30 p.m. ET) is against Nigeria, who've proven to be a good opponent. The teams played two friendlies in British Columbia in April 2022 — a 2-0 Canada win and a 2-2 draw. They also squared off at the 2011 World Cup, with Nigeria winning 1-0.
Up next is the Republic of Ireland (July 26, 5:00 a.m. PT/8:00 a.m. ET), who are making their World Cup debut. Canada and Ireland have met only once before, a 2-1 Canada win at the 2014 Cyprus Cup.
Canada's final group-stage game is against the co-hosts, Australia (July 31, 3:00 a.m. PT/6:00 a.m. ET). It will be a familiar experience, as the two teams met in a pair of friendlies Down Under in September 2022. Canada won both games, 1-0 in Brisbane and 2-1 in Sydney.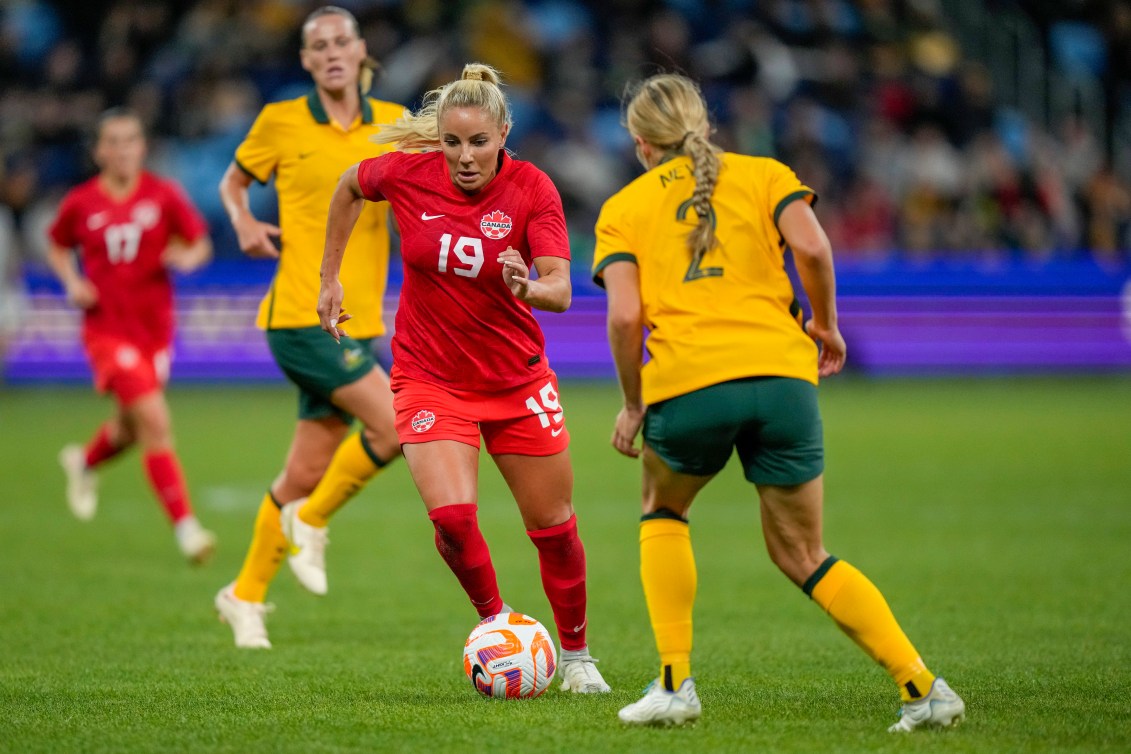 What are Canada's chances at the FIFA Women's World Cup?
In a 32-team tournament, only the top two sides in each of the eight groups advance to the knockout stage. Priestman says Canada is in the "Group of Death", a label reserved for the World Cup's most difficult grouping.
While nothing is ever guaranteed in a tournament of this magnitude, Canada will still be favoured to advance.
Should they reach the Round of 16, Canada will face either the winner or the runner-up from Group D. That group includes a powerful England team that won last year's European Championship, as well as perennial contenders Denmark and China.
How to watch the FIFA Women's World Cup
All of Canada's group stage games will be broadcast by CTV, TSN, and RDS. Non-Canada games will be available on TSN and RDS.
The Round of 16 will take place August 5-8, followed by the four quarterfinal games August 10-12. The semifinals will be placed August 15 and 16 with the third-place game on August 19 before the big final on August 20.