THE CANADIAN PRESS/Scott Barbour
Canada falls to Australia at Women's World Cup
Updated July 31
Canada faced co-host nation, Australia, for their third game in the 2023 FIFA Women's World Cup. Canada entered the match with a win against Ireland and a draw against Nigeria under its belt, with a win or a draw needed to advance out of group play.
The Australian team, "the Matildas" scored first. As in the game against Ireland, Canada conceded the lead early with a goal by Aussie Hayley Raso in the ninth minute of play. At first the goal was called offside, but video review overturned the call to give Australia the lead.
Canada dominated possession in the first 33 minutes of play, 73% to Australia's 27%, but failed to get a shot on goal.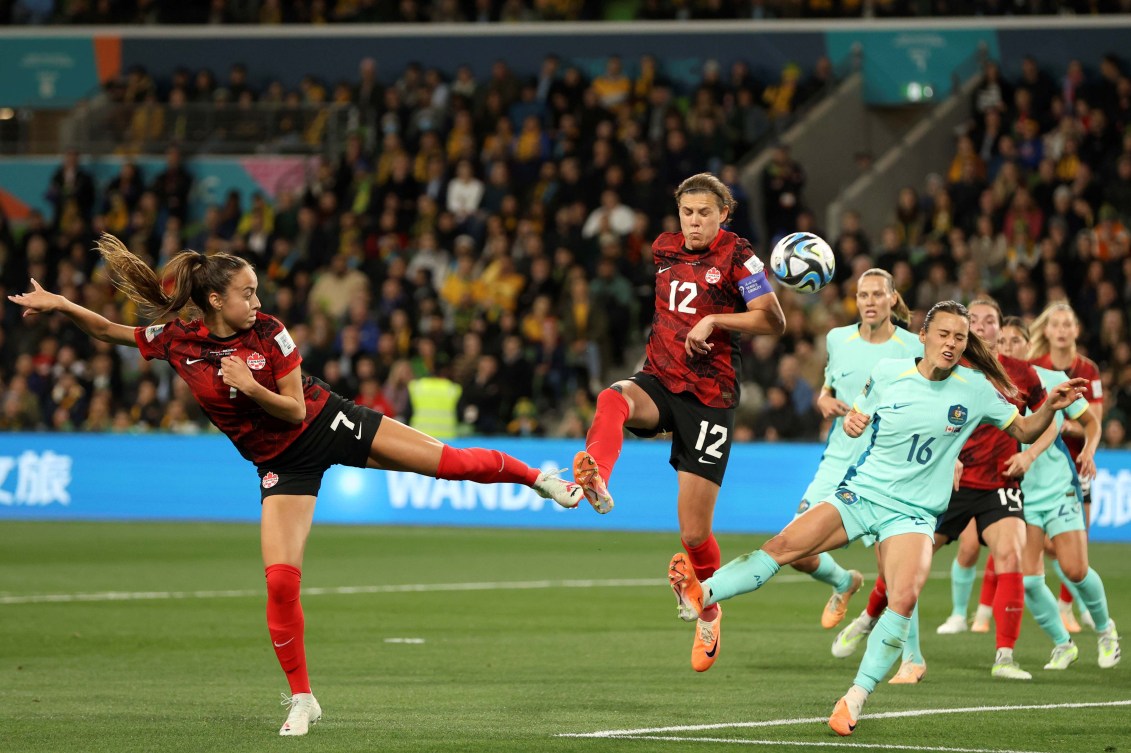 At minute 34, the Matildas appeared to score again, but this time video review determined the goal offside. Five minutes later, Hayley Raso notched her second of the match to take Australia up 2-0.
Trying to change the momentum, Canada made four lineup changes at halftime, with Cloé Lacasse, Allysha Chapman, Deanne Rose and Sophie Schmidt coming in for Christine Sinclair, Jayde Riviere, Jordyn Huitema and Julia Grosso. 
Despite these changes, Australia managed to strike again, with Mary Fowler getting one by Canadian keeper, Kailen Sheridan, at the 58th minute. 
With things going from bad to worse, a foot-on-foot tackle penalty against Canada's Jessie Fleming awards Australia a penalty kick. Aussie Steph Catley capitalized on the opportunity, taking the score to 4-0.
This is the first time Canada has not advanced out of group play since 2011. A devastated Sophie Schmidt, who has announced that she will retire after the World Cup, said after the match, "We feel we let Canada down." 
Schmidt, who embraced Canada's youngest player, 18-year-old Sophia Smith, also added that the future of Canadian women's soccer is incredibly bright with the next generation of talented players coming into their own.
Canada defeats Ireland 2-1 at Women's World Cup
Team Canada faced Ireland in rainy, slippery conditions in Perth on Wednesday morning for their second game in the 2023 FIFA Women's World Cup. Canada started off the match without captain Christine Sinclair on the field and with Jessie Fleming shouldering the captain's armband. Fleming missed Canada's opener against Nigeria due to injury.
It was a tough start for Canada with Ireland scoring within the first five minutes of play. The goal was scored off of a corner kick (known as an "olimpico" goal) by Irish captain Katie McCabe. Her goal marked Ireland's first ever goal at a Women's World Cup.
As the first half dwindled down, Julia Grosso put Canada back in the game with a shot that deflected off of Irish defender Megan Conolly and past goalkeeper Courtney Brosnan for an own goal to tie things up.
The second half saw Sinclair enter the fray. Team Canada hit the reset button and entered the second half with renewed energy brought on by the late first half equalizer.
Adriana Leon kept that momentum, securing the go-ahead goal for Canada in the 53rd minute of play, her 29th career goal in 98 appearances for the national team.
Canada hung on to the 2-1 lead as an increasingly frenzied Ireland tried to save their tournament, to no avail.
Team Canada will face off with the Australian home team next. The match will take place on Monday, July 31 at 6:00 a.m. ET.
Canada kicks off World Cup journey with 0-0 game vs Nigeria
Team Canada began their FIFA Women's World Cup journey Thursday night with their first game against Nigeria. The Canadian team enters the tournament ranked seventh, despite being the reigning Olympic champions from Tokyo 2020.
At the pre-match press conference Captain Christine Sinclair compared this year's World Cup to the Olympics: "We were overlooked heading into the Tokyo Olympics and showed what we can do. We can beat any team in the world. It's contagious (winning), you want to do it again and it's just motivated us to prove to the world what we can do again."
READ: Everything you need to know about Canada at the 2023 FIFA Women's World Cup
The Canadians are playing in the B pool along with no. 10 ranked Australia, no. 22 Ireland, as well as their first opponent, no. 40 Nigeria.
The highest drama of the game came when Sinclair appealed for a penalty in the early minutes of the second half after being clipped by Nigeria's Francisca Ordega. While there was initially no call on the field, referee Lina Lentovaara awarded Canada a penalty kick after video review.
A solid shot from Sinclair was blocked by Nigerian goalkeeper Chiamaka Nnadozie. Had she scored, it would have been Sinclair 191st career goal.
Team Canada played its first game without regular starter midfielder Jessie Fleming, who is sidelined with injury. Coach Bev Priestman has said the injury is not tournament-threatening, but that Canada is resting Fleming for now.
While not the result they had hoped for, an early tie has served Team Canada is the past. They opened their Olympic tournament with a 1-1 draw against Japan at the Tokyo Games before going on to win it all.
Canada plays next on Wednesday, July 26 against Ireland, who lost to Australia earlier this week.