Olympic and Paralympic dreams get boost with 2023 Petro-Canada FACE grants
For athletes and coaches, teamwork makes the dream work — and that's what the 2023 Petro-Canada FACE (Fuelling Athlete and Coaching Excellence) grants are all about.
Olympic and Paralympic hopefuls are driven by skill, ambition, and the relentless support of their coaches. But there's another factor that affects high-level athletes, particularly as up-and-comers: funding.
Since 1988, Petro-Canada has supported over 3,500 Canadian athletes and their coaches by providing more than $13.5 million in financial support.
This year, 56 athlete-coach pairs were awarded $10,000 each in their pursuit of the biggest stage in sport. Here's a look at some of their stories, including how the FACE grants could make a big difference.
Marie Al-Ahmadieh – Boxing
For this 18-year-old from Montreal, boxing is in her blood.
She first picked up the gloves at age four, inspired by her father. Now, both she and her brother, Keoma, are 2023 Petro-Canada FACE grant recipients with their eyes on the Olympic Games.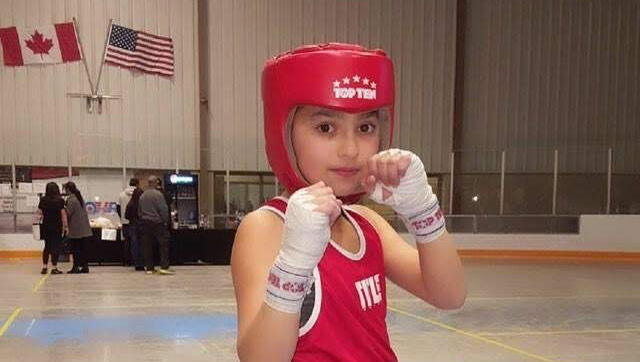 "My dad had this dream to have children who loved boxing as much as he did, and to hopefully be their coach," she says.
Al-Ahmadieh's father did coach her until about two years ago. Now, she works with Marie-Jeanne Parent, who won bronze for Canada at the 2018 Commonwealth Games.
The two first met as teammates, with Parent taking care of Al-Ahmadieh like a "little sister." That grew into a solid friendship and then an athlete-coach dynamic, with Al-Ahmadieh putting full trust and confidence in Parent.
"Our friendship helped a lot because I always felt like she was 100% confident in the things I showed her," says Parent. "This confidence helped me grow up very fast as a coach."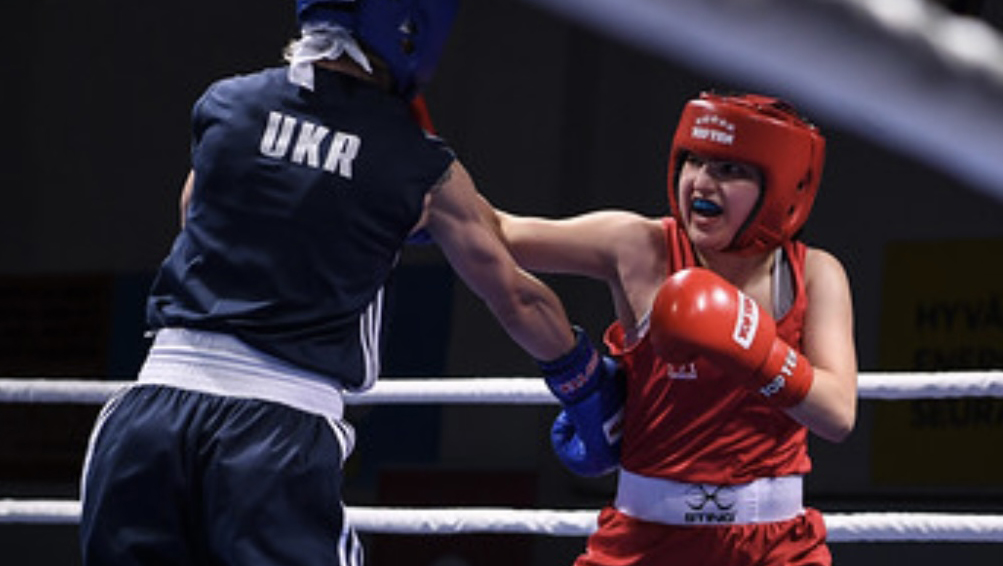 The Petro-Canada FACE grant will support Al-Ahmadieh's participation in upcoming competitions as she seeks crucial international experience.
"I [will] be able to focus solely on boxing," says Al-Ahmadieh. "I wouldn't have to worry as much about ways to fund the trips and opportunities that are essential in my development as an athlete."
Jérémy Briand – Triathlon
At 28, Briand has spent nearly half his life working with his coach, Luc Morin.
Together, they've found success. Briand became a national champion in 2019 and is now competing on the triathlon's top international circuit. But they have one more goal in mind: qualifying for the Olympic Games.
"I've got the biggest part of my career behind me at this point," says Briand. "What was always my long-term goal has now shifted to become my main short-term goal: Paris 2024."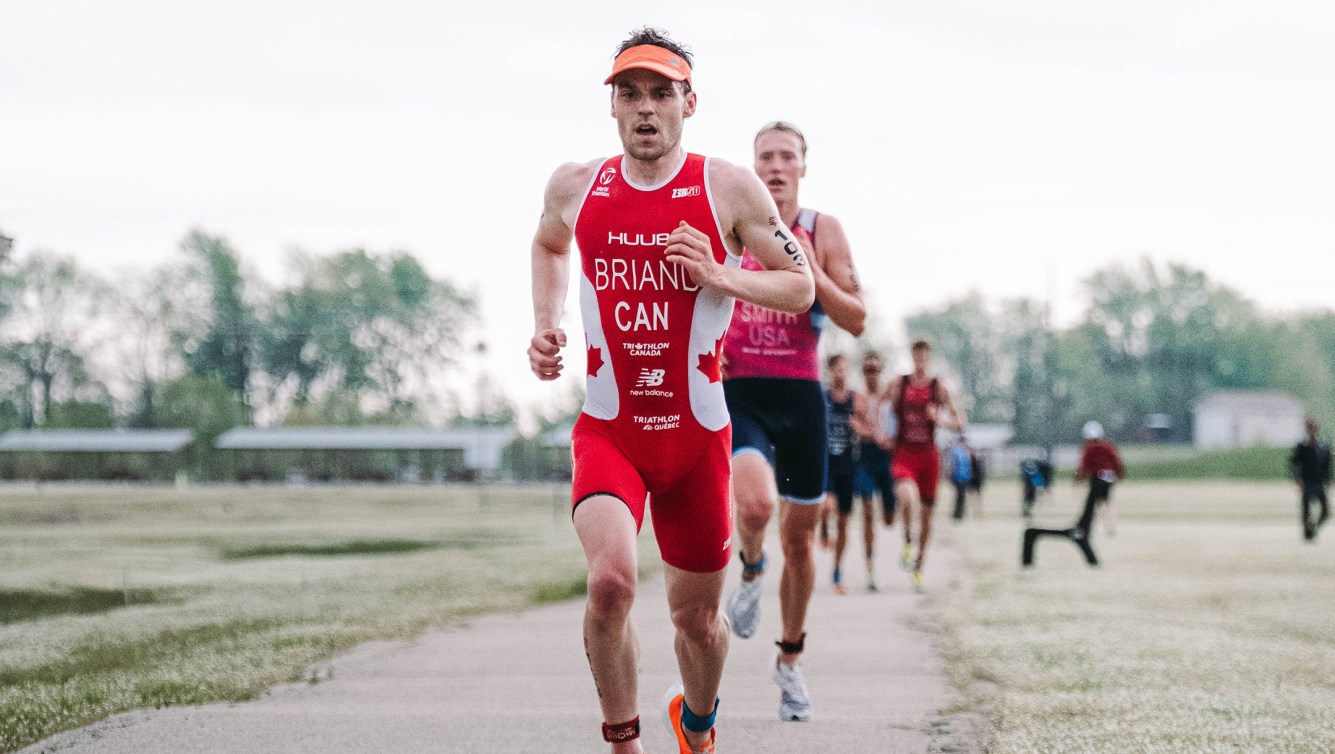 To get there, he'll need to maximize his points at World Cup and World Triathlon Championship Series events. His Petro-Canada FACE grant will allow him to plan for two additional events in the Olympic qualifying process, which he calls "crucial."
It will also allow Morin to be on-site for those events and provide support, something that Briand has had for his entire career.
"Luc is an amazing person," says Briand. "An athlete has to have that inner drive. Luc is a catalyzer who makes great things happen when the drive is there."
Stephen Calkins – Swimming
After nearly drowning as a child, Calkins' father insisted his family learn how to swim.
This has paid off for the 24-year-old from Calgary, who's been nominated to Team Canada for the Santiago 2023 Pan Am Games. But it very nearly wasn't this way.
Calkins actually retired from swimming in April 2022, feeling that he couldn't make things "click" in important competitions. Just days later, coach Mike Blondal informed Calkins he'd been asked to fill a spot at the Commonwealth Games.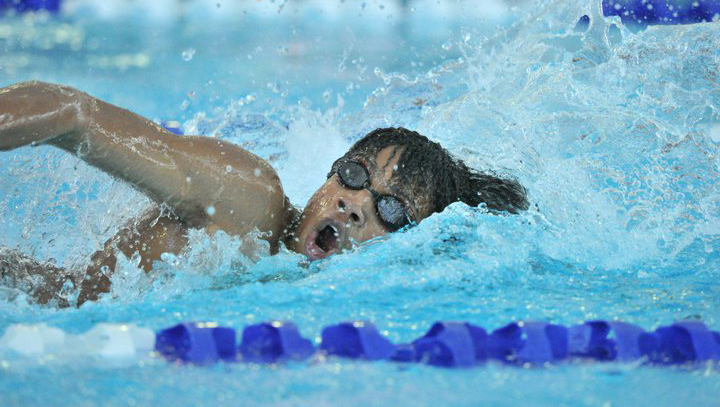 At Birmingham 2022, he posted personal bests in every event and helped Canada win two bronze medals in relays.
Now, he has eyes on hitting the podium at Santiago 2023 and qualifying for Paris 2024. It may never have come to pass without his coach's guidance.
"Without Mike, I would have stopped swimming years ago. I struggled to find a program I fit in with until I started training with Mike," says Calkins. "Mike helps push me to the next level by understanding my training style and optimizing it so we can produce the best results."
With the Petro-Canada FACE grant helping with essentials like rent and food, Calkins can fully focus on the Pan American Games in October.
Tae-Ku Park – Taekwondo
Park's coach has been there for him since the beginning; he is, after all, his dad.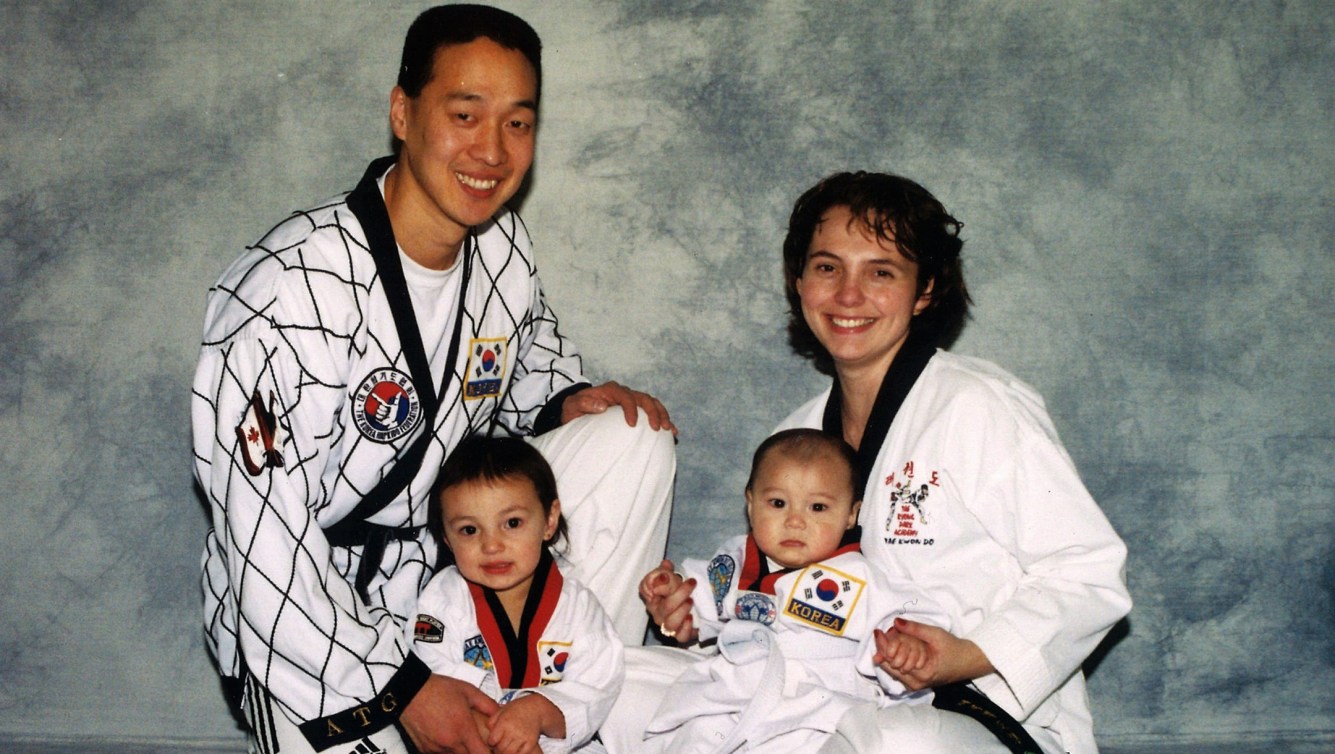 "I was born into taekwondo," says the 22-year-old. "I grew up in our academy surrounded by family learning to kick before I could walk. I began learning at three years old and my love for the sport continuously grows."
Tae-Ku, along with siblings Skylar and Braven, will be headed to Santiago 2023 under the guidance of their father, Jae.
"Working with my coach sometimes feels like the work doesn't stop because after practice I come home to see him across the dinner table," says Tae-Ku. "People sometimes ask how I deal with my dad being my coach but it's all I've known and wouldn't have it any other way."
These Pan American Games will be Tae-Ku's first major multi-sport Games. But both father and son have a clear target in mind: winning a gold medal for Canada.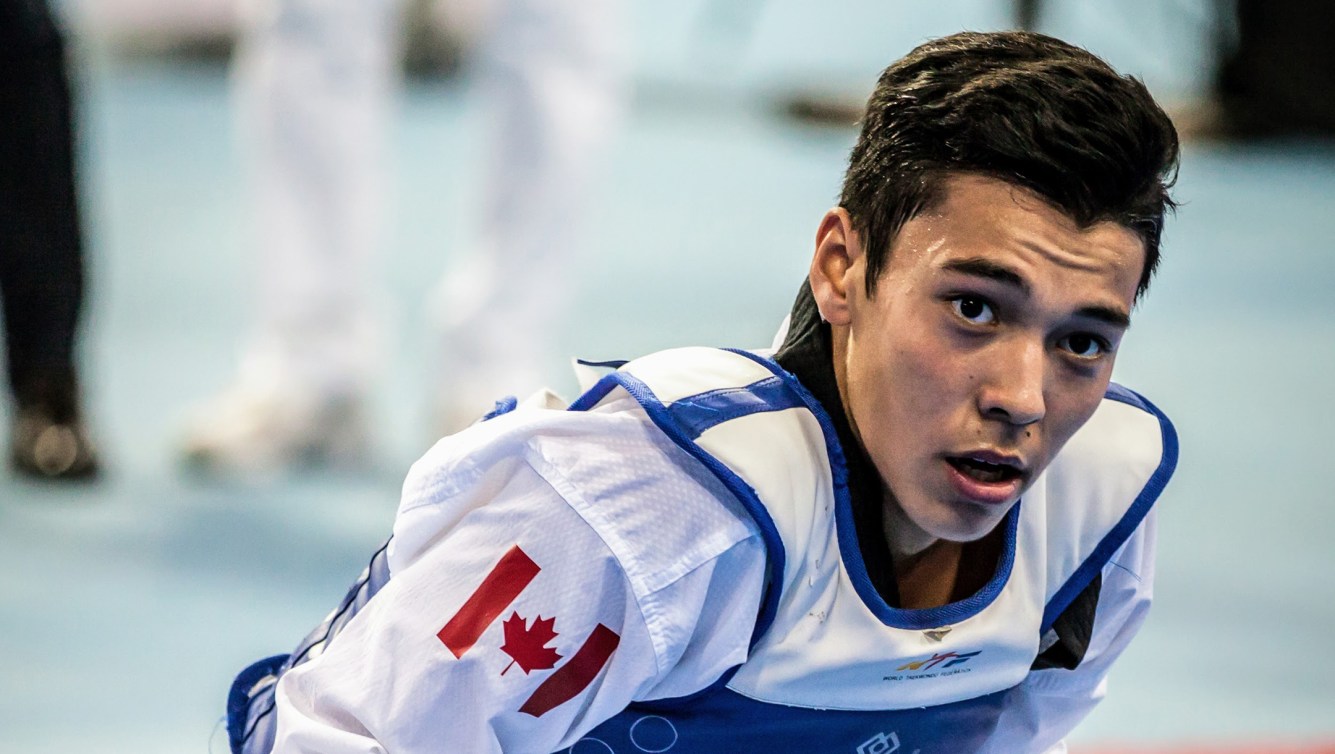 To get there, he'll need more opportunities to train with and compete against the world's top athletes. That's where the Petro-Canada FACE grant will come in big, says Jae.
"Living and training in Canada with limited exposure to top athletes in Tae-Ku's division, it is crucial that we have the resources, thus the opportunities to train and learn from as many top athletes as possible to get to the top," says Jae.
Ava Kemp & Yohnatan Elizarov – Figure Skating
This could be the start of something great.
Both Kemp and Elizarov have worked with coach Kevin Dawe for years. But none were involved in pairs until 2021, when Kemp and Elizarov started skating together.
The Winnipeg duo arrived on the scene in February 2022, finishing first in novice pairs at the Canadian Figure Skating Championships. A year later, they were second at the junior nationals and went on to be Canada's top-ranked pair at the 2023 World Junior Figure Skating Championships.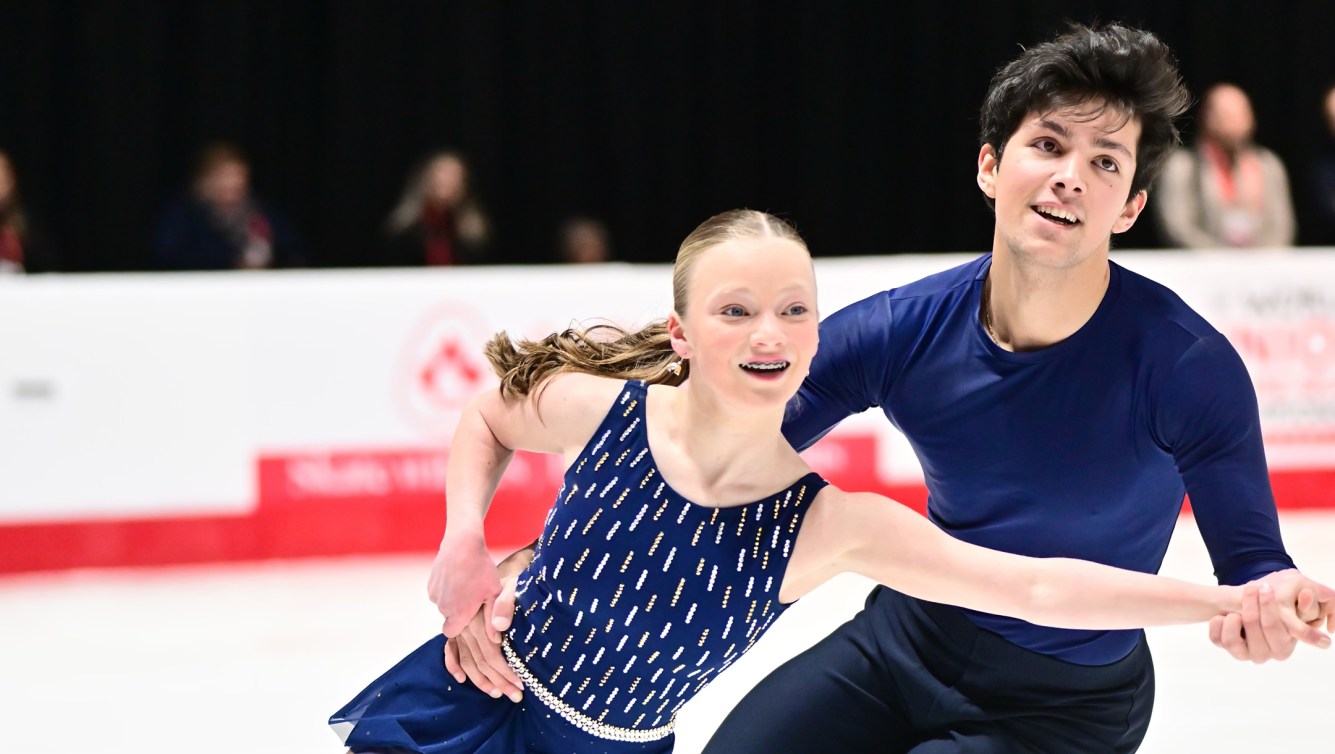 "When I first started pairs skating I had no expectations or any idea how far we would come," says Elizarov, 19. "Yet here we are, sixth junior team in the world. I am incredibly proud of our sixth-place finish because in just two years we could compete with the top teams in the world!" On that journey, their Petro-Canada FACE grant will help pay for training equipment, costumes, and choreography, as well as travel and training expenses.
Dawe believes it could all be building to the pair qualifying for Milano Cortina 2026. But there are short-term targets too, including competing in Junior Grand Prix events and, eventually, medalling at the Junior Grand Prix Final.
They're also focused on getting fully acclimated to pairs skating, including raising difficulty levels in their program.
"One of our short-term goals is improving skating skills as a pair and finding ways to connect to the music," says Kemp, 14. "The best thing about pairs skating is all the cool and fun tricks we do. I love the feeling of flying in a lift or the feeling of landing a throw."
Nicole and Megan McNamara – Beach Volleyball
This is a tale of a very old connection and a very new one.
These 25-year-old twin sisters had their love of beach volleyball ignited during a childhood trip to Mexico. They won silver at the 2014 Youth Olympic Games and were two-time NCAA champions with UCLA in 2018 and 2019.
Their favourite part of the sport is travelling to beautiful beaches and playing alongside each other. They both aspire to stand on podiums on this year's FIVB World Tour and qualify for Paris 2024.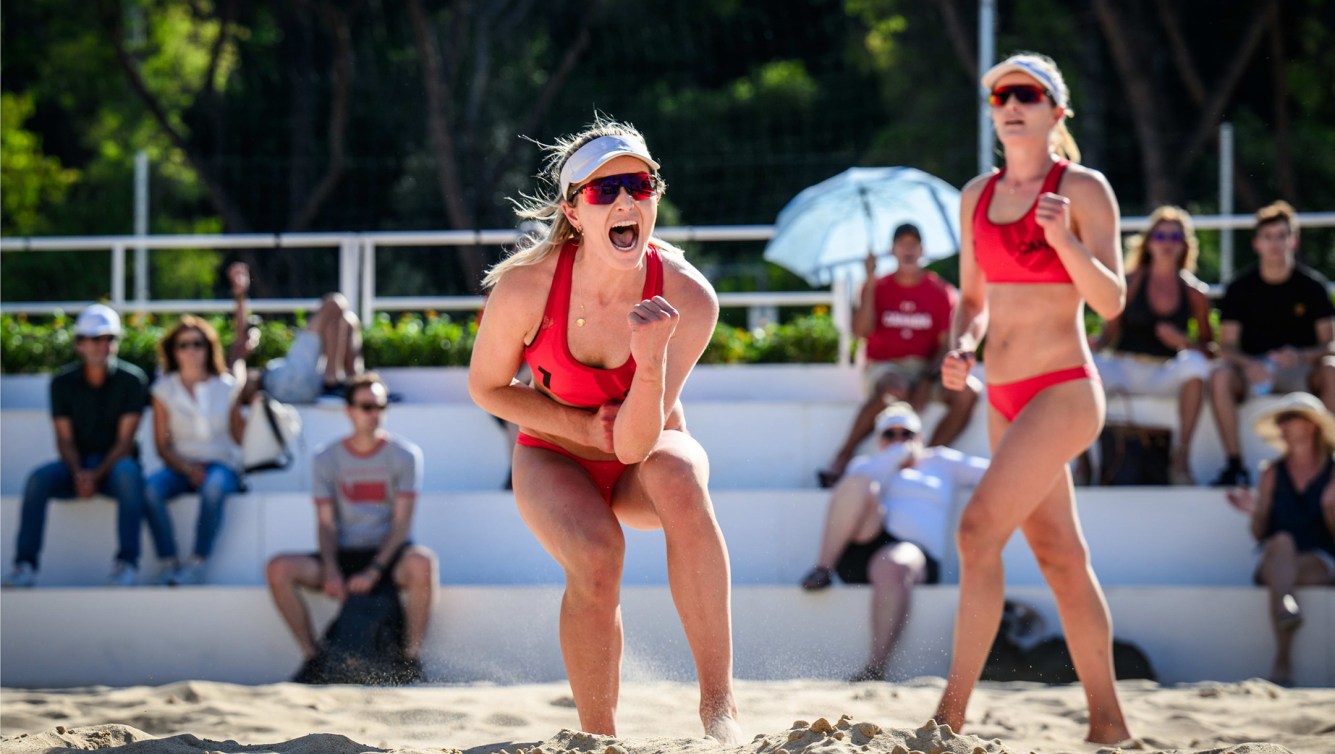 But there's a new face on the scene to help them: Christian Redmann, who only came on as their coach in April. Already, though, there's a connection forming.
"The girls are a great team and very easy to get along with," he says. "I like their desire to work hard and overcome obstacles. They have a positive attitude and are willing to work hard."
With the Petro-Canada FACE grant helping with travel and accommodations, Nicole and Megan can focus on the sport. In that, they're both driven by a quote from soccer legend Mia Hamm:
"Somewhere behind the athlete you've become and the hours of practice and the coaches who have pushed you is a little girl who fell in love with the game and never looked back… play for her."
Samantha Secours – Skateboarding
With a big summer of qualifiers ahead, Secours is counting on every bit of support she can get.
The 21-year-old from Montreal is aiming to participate in every World Skate event this year, something she missed out on last year due to lack of funds. She will also compete at the Santiago 2023 Pan Am Games.
But the Petro-Canada FACE grant will help put her mind at ease and provide access to physio care and important training camps.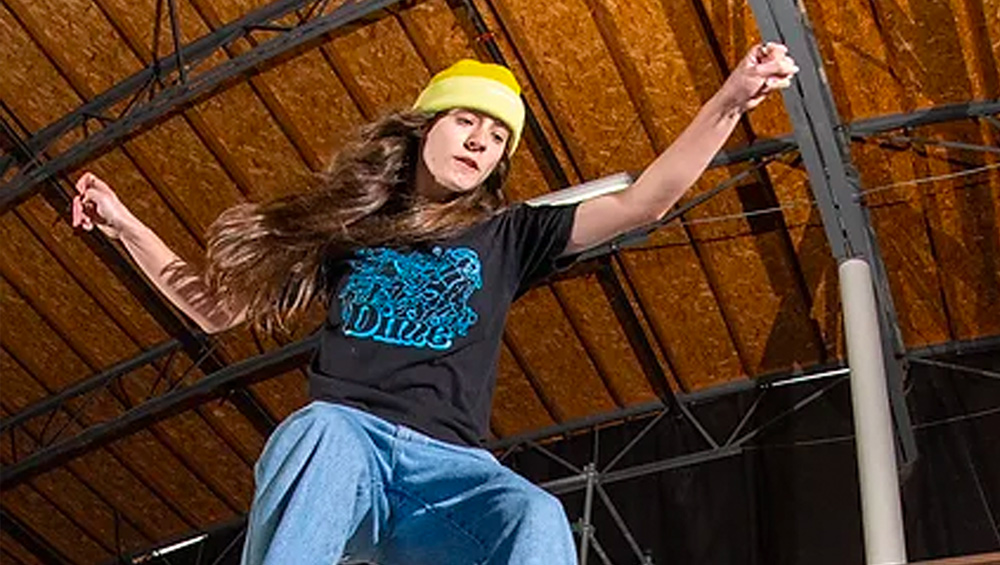 She won't just be bolstered by financial support; she's also benefiting from a burgeoning connection with coach Sean Hayes.
"It really makes a difference for me since he is always there to tell you what you could improve," she says. "Also, he is just someone funny to be around.
"I tend to put myself in a bad mood space when I'm not skating good. He is the only one who can make me smile and laugh during those hard times. Honestly, I don't know how I would do it without him."
Hayes, who helped coach Canada's inaugural skateboarding team at Tokyo 2020, began working with Secours about a year and a half ago. He's looking to help Secours "build her incredible story as an athlete" and inspire other up-and-coming skateboarders.
"Sam expresses herself through her skateboarding with courage, commitment and style; she has massive potential," he says. "Her attitude and determination will be some of her winning strengths as she continues."
Jenna Sherrington – Biathlon
"Sometimes when you're fighting your way up a hill and you can taste blood and your vision is spotty, you need to remember that you do in fact love what you're doing."
Those are the words of Jenna Sherrington, who overcame illness and debilitating anxiety to perform at this year's World Junior Biathlon Championships. The 21-year-old from Canmore is proud of her 15th-place finish in the individual event but is aiming for the podium next year and a spot at Milano Cortina 2026 down the road.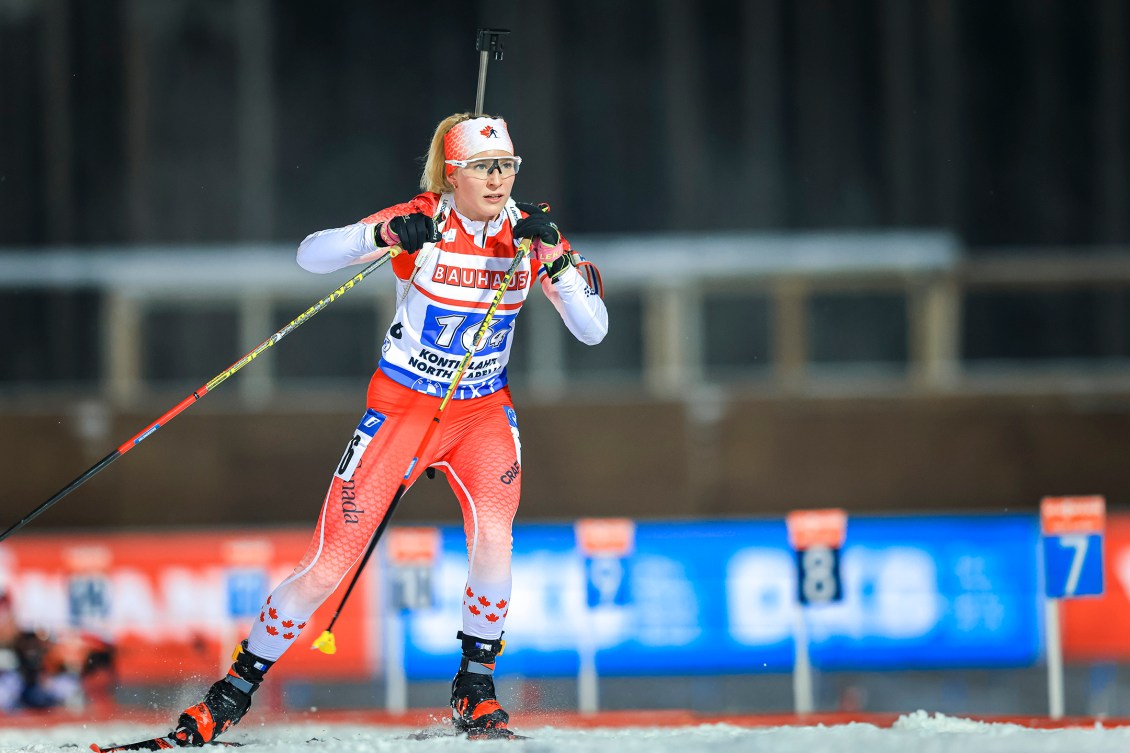 "The best thing about biathlon is that it is wildly unpredictable," she says. "I love how difficult biathlon is too, it's definitely not for the faint of heart. It tests you both physically and mentally." She's clearly got the determination and she's also got guidance from coach Justin Wadsworth, whose work behind the scenes helped multiple biathletes achieve Canadian best-ever Olympic results at Beijing 2022. Wadsworth's background is as a cross-country skier, having competed at Lillehammer 1994, Nagano 1998, and Salt Lake City 2002.
"As a three-time Olympian myself, who didn't get great coaching, I have always wanted to make sure that Nordic sport athletes in Canada would have the level of coaching they deserve," says Wadsworth. "My coaching philosophy is always coming from the perspective of the athlete."
That approach works for Sherrington: "I really appreciate his dedication to making the national team a professional environment. […] You can tell that he believes in each of his athletes completely."
Yankun Zhao – Long Track Speed Skating
As one of Canada's rising stars in long track, Zhao has plenty of inspiration to draw from.
The 19-year-old's relationships with teammates help him work through discouraging times. His coach, Michael Ireland, is a four-time Olympian and former world record holder. His idol, Clara Hughes, is a paragon of perseverance and endurance.
And then there's his mother, Xiuli Wang. A two-time Olympian herself, she coached Hughes and Cindy Klassen, two of Canada's most decorated Olympians.
"We have a very healthy relationship, and she offers me support unconditionally through my journey as an athlete professionally, mentally, and as a parent," says Zhao. "She always gave me double thumbs up through the most difficult training practices and through bad competitions, which always gave me encouragement to push myself further."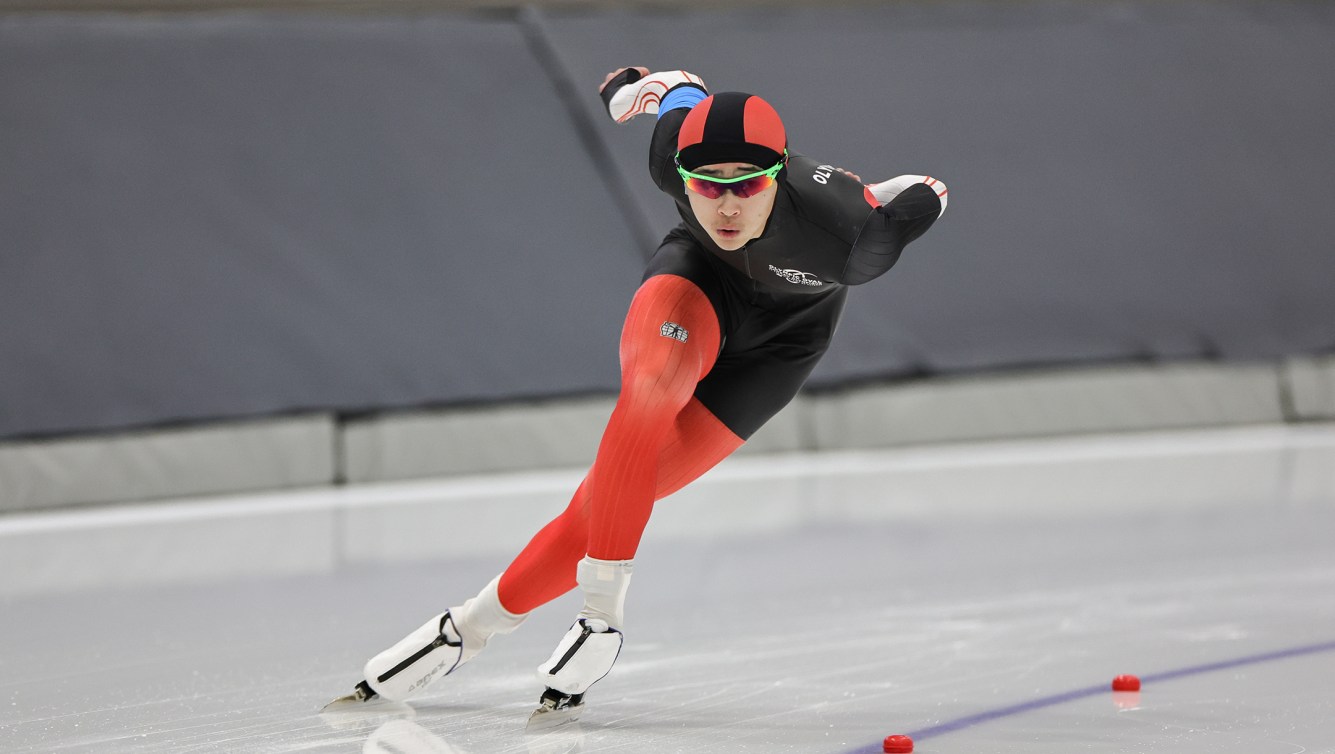 Ireland knows very well about Wang's approach; she was a coach when he was an athlete for Team Canada. And having first coached Zhao when he was 12, Ireland has had a front-row seat for the skater's impressive ascent.
"He has a special sense of humor that tends to be contagious," says Ireland. "He bounces back well from failures and is very determined to keep improving. As he sets lofty goals, it can be tough to always hit those targets but it also keeps that internal drive going."
One of those goals is to, one day, be an Olympic champion. He's on his way, as the reigning national junior champion who represented Canada at the 2023 World Junior Speed Skating Championships.
And he'll have plenty of support along that path – from home, from his coach, and from the Petro-Canada FACE grant.
---
Here are all of the athletes and coaches who have received Petro-Canada FACE grants in 2023:
| Athlete | Sport | Coach |
| --- | --- | --- |
| Marie Al-Ahmadieh | Boxing | Marie-Jeanne Parent |
| Keoma Al-Ahmadieh | Boxing | Jordan Mathieu |
| Justin Alkier | Alpine Skiing | Cam McKenzie |
| Leonarda Andric | Taekwondo | George Koh |
| Emma Archibald | Para Nordic Skiing | Sheila Kealey |
| Annie Balasubramanian | Sailing | Chris Hewson |
| Sofia Bieber | Long Track Speed Skating | |
| Jérémy Briand | Triathlon | Luc Morin |
| Christopher Byam | Volleyball | Shawn Sky |
| Stephen Calkins | Swimming | Michael Blondal |
| Laura Calovini | Para Athletics | Ken Hall |
| Florence Carrier | Para Alpine Skiing | Mark Newton |
| Louis-David Chalifoux | Freestyle Skiing | Philippe Marquis |
| Nataliee Chan | Archery | Soha Mahmoud |
| Logan Cox | Para Nordic Skiing | |
| Kelly Deguchi | Judo | Antoine Valois-Fortier |
| Hayden Denouden | Para Alpine Skiing | Shelley Johnston |
| Yohnatan Elizarov | Figure Skating | Kevin Dawe |
| Collyn Gagne | Swimming | Liam Donnelly |
| Ian Gaudet | Canoe/Kayak Sprint | Kevin McIntyre |
| Janice Grundahl | Biathlon | Matthias Ahrens |
| Georgia Hock | Artistic Swimming | Alison McKenny |
| Ava Holmgren | Cycling | Robert Holmgren |
| Isabella Holmgren | Cycling | Robert Holmgren |
| Grace Hu | Fencing | Huan Qiang Hu |
| Desiree Isaac-Pictou | Wheelchair Basketball | Clary Stubbert |
| Ava Kemp | Figure Skating | Kevin Dawe |
| Reese Ketler | Wheelchair Rugby | Mike Whitehead |
| Jessy Lacourse | Athletics | Félix-Antoine Lapointe |
| Natalia Lanucha | Wheelchair Tennis | Étienne Bergeron |
| Andrew Livingstone | Powerlifting | Kim Cousins |
| Megan McNamara | Beach Volleyball | Christian Redmann |
| Nicole McNamara | Beach Volleyball | Christian Redmann |
| Christopher Niehaus | Artistic Swimming | Stephanie Breitigam |
| Tae-Ku Park | Taekwondo | Jae Park |
| Mitchell Penning | Ski Jumping | Nigel Laughlin |
| Nikola Petrovic | Judo | Jeremy Le Bris |
| Reed Platenius | Surfing | Shannon Brown |
| Carter Plumb | Boccia | Tiffany Gaudette |
| Tianna Rissling | Para Athletics | Kim Cousins |
| Félix Roussel | Short Track Speed Skating | Yannick Desmeules |
| William Roussy | Para Badminton | Éric Dufour |
| Olivier Roy | Boccia | Véronique Messier |
| Quinn Schulz | Modern Pentathlon | Joshua Riker-Fox |
| Samantha Secours | Skateboarding | Sean Hayes |
| Jenna Sherrington | Biathlon | Justin Wadsworth |
| Youri Simard | Weightlitfting | Yvan Darsigny |
| Lila Stewart | Diving | Laura Desautels |
| Alexandra Stoddard | Water Polo | Krystina Alogbo |
| Samuel Talbot | Diving | Isabelle Cloutier |
| Raleigh Tarte | Cross-Country Skiing | Pauline Forren |
| Isaak Ulmer | Bobsleigh | Christopher Spring |
| Amelia Wojtyk | Canoe/Kayak Sprint | Cheyanne Farquharson |
| Wendy Zhang | Badminton | Darryl Yung |
| Vanessa Zhang | Golf | Robert Ratcliffe |
| Yankun Zhao | Long Track Speed Skating | Mike Ireland |