Cortina d'Ampezzo 1956
Team Canada Medal Count
0
1
2
Games Summary
VII Olympic Winter Games
Four years before hosting the summer Olympic Games in Rome, Italy welcomed the world's best winter athletes to Cortina d'Ampezzo, a resort in the Dolomites. For the first time, there was live television coverage. For the second straight Olympic Winter Games there was an Olympic flame, this one lit at one of Rome's seven hills, the Capitoline.
These were the first Olympic Winter Games to include athletes from the Soviet Union, who were housed separately from the other delegations. They immediately went to the top of the medal table, led by three podium finishes from Pavel Kolchin who became the first non-Scandinavian to win a cross-country skiing medal. Soviet athletes also won gold in three of the four speed skating events.
It was the Soviets who brought an end to Canada's ice hockey dominance. The Kitchener-Waterloo Dutchmen advanced to the medal round where they lost 4-1 to the United States. After the Soviets defeated the U.S. 4-0, they handed Canada a 2-0 loss, giving Canada the bronze medal for its lowest placement since ice hockey was added to the Olympic program. The unbeaten Soviets won gold.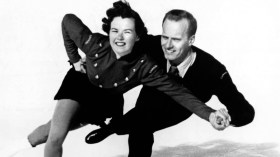 Lucile Wheeler became the first Canadian skier to win an Olympic medal with her bronze in the downhill. The star of the slopes was Austrian Toni Sailer who won all three men's alpine events. Canada's third medal of the Games was a silver in pairs' figure skating by Frances Dafoe and Norris Bowden, the last time their sport would be held outdoors. In ski jumping, the Finns introduced a new aerodynamic style in which their arms were placed against their sides rather than forward, helping them win gold and silver.
Canadian Medallists
| Event | Athlete | Finish | Sport |
| --- | --- | --- | --- |
| Pairs - Mixed | Frances Dafoe, Norris Bowden | Silver | Figure Skating |
| Men | Denis Brodeur, Charles Brooker, William Colvin, James Horne, Arthur Hurst, Byrle Klinck, Paul Knox, Ken Laufman, Howard Lee, James Logan, Floyd Martin, John McKenzie, Donald Rope, George Scholes, Gerry Theberge, Rob White, Keith Woodall | Bronze | Ice Hockey |
| Downhill - Women | Lucile Wheeler | Bronze | Skiing - Alpine |
Overall Medal Count
| Rank | Country | Gold | Silver | Bronze | Total |
| --- | --- | --- | --- | --- | --- |
| 1 | Soviet Union | 7 | 3 | 6 | 16 |
| 2 | Austria | 4 | 3 | 4 | 11 |
| 3 | Sweden | 2 | 4 | 4 | 10 |
| 4 | Finland | 3 | 3 | 1 | 7 |
| 5 | United States | 2 | 3 | 2 | 7 |
| 6 | Switzerland | 3 | 2 | 1 | 6 |
| 7 | Norway | 2 | 1 | 1 | 4 |
| 8 | Italy | 1 | 2 | - | 3 |
| 9 | Canada | - | 1 | 2 | 3 |
| 10 | Unified Team of Germany | 1 | - | 1 | 2 |
| T12 | Poland | - | - | 1 | 1 |
| T12 | Hungary | - | - | 1 | 1 |